Cole Anthony cards are flying to the top amid breakout Magic season
While everyone was busy investing in stocks of Lamelo Ball and Anthony Edwards, the real action is starting to heat up with Cole Anthony cards in the market. Often overlooked when compared to other members of the Class of 2020, the Orlando Magic's sophomore guard is now making himself known across the NBA. And with a string of great performances under his belt, it seems that he's ready to make a leap this season.
But is Anthony's recent showing a sign of good things to come for him in his career or will a regression soon take place? We take a look below at his situation in Orlando and why his card value is trending up.
The reason why Cole Anthony cards are soaring high
Who would've thought that Anthony will be among the few second-year players who are really good right now? Well, a lot of collectors placed their bets on the usual names, like those of Ball and Anthony. Some expected Patrick Williams, James Wiseman, Immanuel Quickley, and even Aleksek Pokusevski to shock the league during their sophomore campaign. Turns out, it was the Magic's flashy point guard who's getting everyone's attention.
Rightfully so because Anthony didn't have the same impact last season as he is making now. When he finished his rookie year, the 6'2″ guard notched 12.9 points, 4.7 rebounds, and 4.1 assists in 27.1 minutes per contest. What caused him to fly below everyone's radar is his efficiency with the ball, or the lack thereof.
In the 47 games Anthony played, he only connected on 39% of his field goals, 33% from beyond the arc, and 83% from the free-throw line. Moreover, he was also committing 2.1 fouls and 2.3 turnovers for a Magic squad that failed to reach the playoffs earlier this year. Needless to say, collectors went low on those Cole Anthony cards while investing in more solid names, like Ball and Edwards.
An offseason later and it seems like Anthony is a man on a mission for Orlando. In the span of 11 games, all of which he started as the Magic's point guard, he averaged 20.2 points on 44% shooting from the field, connected 41% of his 7.9 attempts from deep, and made 84% of his free-throw shots. He also improved other areas of his game by posting 7.1 rebounds, 5.2 assists, and 1.1 steals in 34 minutes per contest.
Cole Anthony took over late to lift the Magic to a win over the Jazz ♨️ pic.twitter.com/3nwXNqsAm4

— NBA on ESPN (@ESPNNBA) November 8, 2021
These numbers, as it turns out, are becoming a nightly affair for the sophomore guard. Anthony would eventually explode at some point during this young season. That, of course, recently happened when the Magic hosted the Utah Jazz at home and took care of business by getting away with a 107-100 win.
In a contest that saw Wendell Carter Jr. post 22 points and 15 rebounds, it was Anthony who shone with a much brighter performance. In 32 minutes on the court, the sophomore scored 33 points on 65% shooting from the field, 50% from downtown, and 100% from the charity stripe. Along with Carter, Anthony lifted the often-overlooked Magic past the Donovan Mitchell-led Jazz team, one of the top teams in the league right now.
"Facts."

This Cole Anthony postgame interview is gold 🤣 pic.twitter.com/xw0ZcCnw7d

— SportsCenter (@SportsCenter) November 8, 2021
As much as some people see Anthony as a one-trick pony who doesn't offer anything else except his scoring prowess, the market is now starting to disagree. His impending leap, along with the emergence of a young Orland squad, is certainly generating a lot of interest among collectors this early in the season.
The state of Cole Anthony cards in the market
Those who are looking to grow their collection by adding Anthony's rookie cards have a lot of options to consider. For starters, there's his Prizm Silver, which is currently worth $65 on eBay right now. Although the exact PSA 10 value of this card can't be determined right now, it's safe to say that this is the one to get for those who want to start collecting Cole Anthony cards.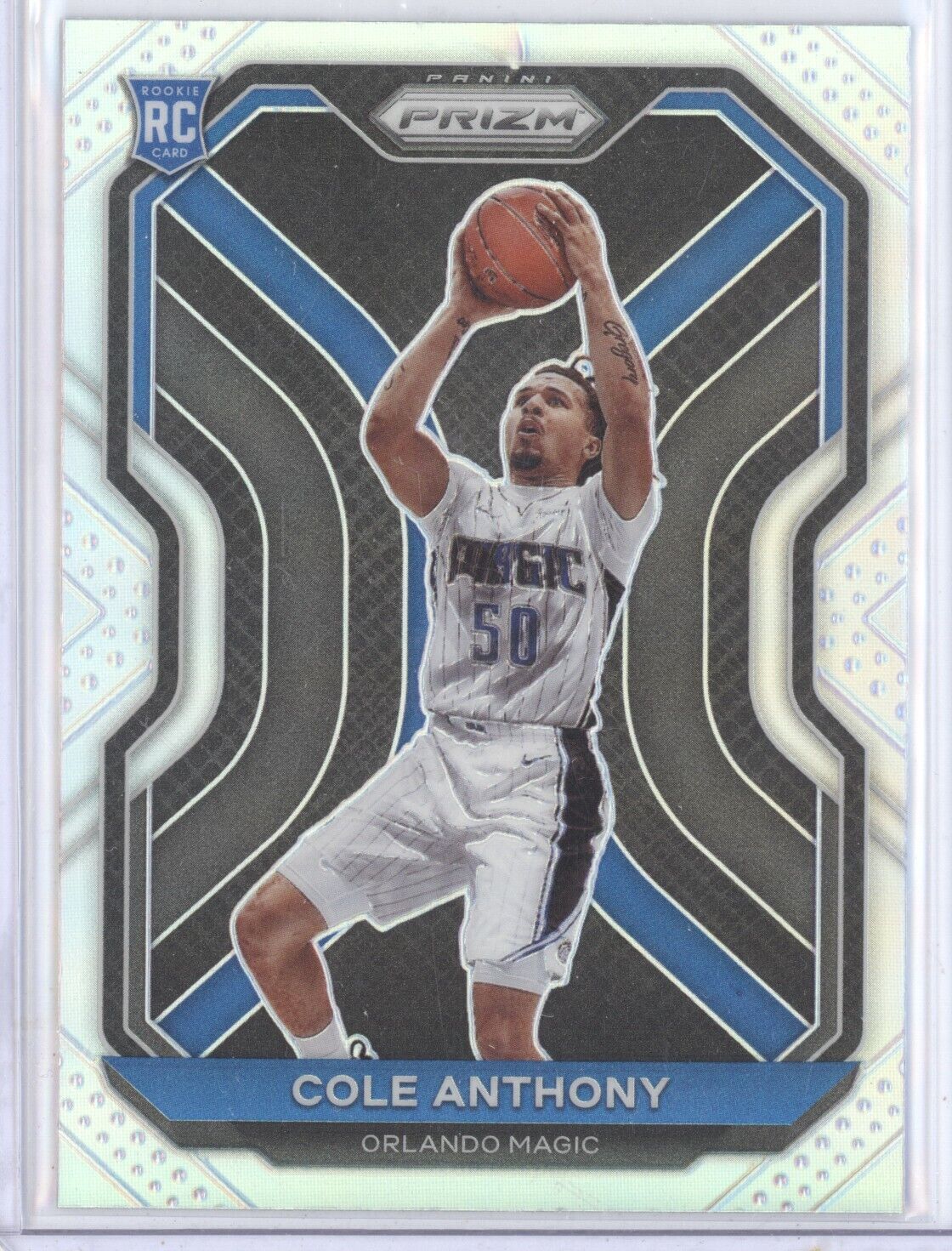 Along with Prizm, collectors can also go for Anthony's Optic and Select rookie cards in the market. The holo variant of the former goes for $45 while the Courtside Level Silver, one of the most valuable cards from Panini's Select set, is worth $140 in the market. And while these prices seem steep, keep in mind that their prices were way below a few months ago. This means that these Cole Anthony cards have risen in value and can potentially go for more if he continues his hot streak.
Keep in mind that the NBA is nearing its one month-mark now. There's still a long way to go before the postseason even starts, which means there'll be a lot of time for Anthony to go supernova. It's best to be prepared and have his stock in your collection in the event he does so as the regular season progresses.