The story of Devin Booker has been one of a historically young scorer on a Phoenix Suns squad anchored to the depths of the Western Conference. As one of nine players to average 23 points and 4.5 assists from ages to 20 to 22 — his second season through this one (his fourth) — Booker is riding an MVP-level trajectory (at least offensively) in the company of; Kobe Bryant, Michael Jordan, Tracy McGrady, Geoff Petrie, Derrick Rose, Chris Webber, and LeBron James.
Include multiple seasons of the aforementioned statistics and Booker — who completed it twice — stands next to only LeBron, who's done it three times (though it's worth noting Jordan and Petrie entered the league after their 21st birthdays). Factor in three-point shooting — Booker has hit 2.2 threes a game — and he's on an island.
No LeBron. No MJ. No Kobe. Just Devin Booker.
His calling card is the way in which he scores — with ease. 12th in scoring this season, Booker is knotted up with two perennial all-stars, Kemba Walker and Blake Griffin. Prior years shed him in the same light: had he qualified for the statistical minimum in 2017, (he played in 54 games, four games shy of the necessary 58-games) sandwiched between him would be Kyrie Irving and Russell Westbrook for eighth. In 2016, before he even was of legal age to purchase alcohol, he was next to a pair of mid-tier all-stars, Klay Thompson and Gordon Hayward.
Despite his ability to get buckets at a moment's call, Booker has earned a damning reputation as a "good stats, bad team" guy. It sort of makes sense. Take a peek at the aforementioned bucket-getters — Walker, Griffin, Irving, Westbrook, Thompson, and Hayward — and you see players synonymous with playoff teams (of varying seeds). Booker's Suns teams, on the other hand, have been buried at the bottom of the Western Conference — winners of 24, 21, and 16 games, in descending order — since Booker claimed the featured scoring role.
Over the last 11 games, Devin Booker — who is producing 26.1 points on 44.2/34.8/95.3 splits with 6.6 assists and 5.1 rebounds in that time — and the Suns have steered from their usual course. The team has won the last five games —going 5-2 over the last seven — with notable wins over the two best teams in the NBA, Milwaukee Bucks — their second win of the season over Milwaukee before, rattling off ten straight losses (only their second-longest losing streak of the season, behind the franchise-record 17-game streak) — and the Golden State Warriors — to whom they lost by 20 in their last meeting. That's impressive.
Before, things were different. While Booker was having a career-season, averaging 24.9 points on 46.3/32.4/84.4 splits with 6.7 assists, the important part wasn't visible in the box-score: the myriad of injuries, ones in which sidelined him for 16 games.
The injuries were inflicted throughout Booker's body. He suffered back spasms from taking a charge in the first half of a game against the Denver Nuggets on December 29. Despite noticing a bruise contused on his lower back, Booker played in 35 minutes the next three games — versus the Warriors, 76ers, and Clippers. After starting and playing 12 minutes in the next game against Charlotte, Booker left in the second quarter.
Though he sat for the next three games, Booker was thrown into the flames once he came back, recording 33.5 minutes over the next 11 games, including nine games of 30 or more minutes and two above 40 minutes. Out of precaution, Booker sat out the next two games against Utah and Golden State, returning on February 10 against Sacramento. And on February 10, with 6:27 to go against Houston, Booker felt his other (right) hamstring tighten.
*Exhales*
Injuries? Part of the plan, according to Interim Vice President of Basketball Operations James Jones — who was a member of the "7 Seconds or Less" Suns for two seasons from 2005 to 2007.
"Devin has to be our Steve Nash but he's not there yet," Jones told Bright Side of the Sun staff and ticket donors at Talking Stick Resort Arena on January 11. "Our goal and our challenge is to continue to push him to be greater, push him to the limit. I know he's been banged up a lot this year, and some of that is by design. We have to push him, we have to force him to get out of his comfort zone because that's the only way the team moves forward."
Not only was Booker overwhelmed by the daunting task of minutes, but the main creating role — he's third in the NBA in usage rate (30.8) for players who have appeared in 1850 plus minutes.
Alternating between De'anthony Melton and Elie Okobo — two raw point guards chosen in the second round of last year's draft — the Suns scoured the market for a starting point guard in the meantime — Dennis Smith Jr., Frank Nikilita, and Kris Dunn were those rumored. It was obvious that Melton and Okobo were not ready to handle the rigors of running an NBA team on a full-time basis, as two of the worst offensive players in the league.
A day before the NBA trade deadline wrapped up, the Suns dumped the Ryan Anderson and his hefty contract for combo guard Tyler Johnson. In doing so, Phoenix created opportunities for Booker to handle the ball and play off it when his fatigue levels reached a boiling point.
The arrival of Johnson has unsurprisingly coincided with more off-ball shooting opportunities for Booker, who has experienced a slight increase in his catch and shoot profile — going 1.2/3.2 (38.1%) before to 1.8/3.5 (51.3%) after February 10.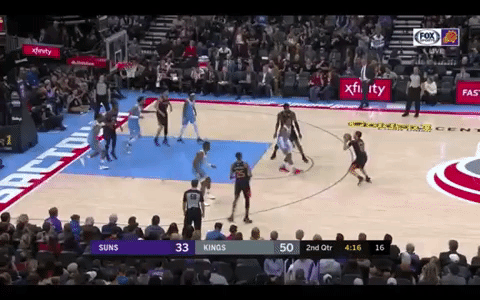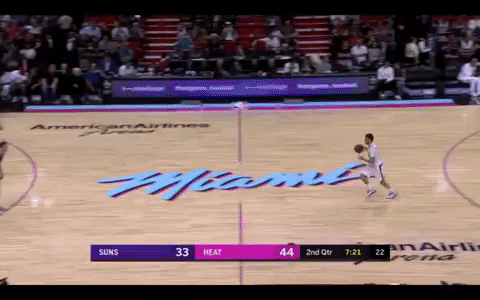 Johnson has proven to be a seamless fit, especially next to Devin Booker. Since the trade, the starting backcourt has been Phoenix's second-most common (306 minutes) and third-highest scoring duo (110.2 offensive rating). Next to Johnson and injected into the well-oiled and fast-paced system of Igor Kokoskov, Booker's off-ball scoring skills have been maximized.
Predicated on deception of movement, Phoenix's offense deploys Booker as a decoy, running him around a slew of cross-screens, screen-the-screener and hammer screens. In other instances, they transform big men into shifting walls of drag-screens and double-screens.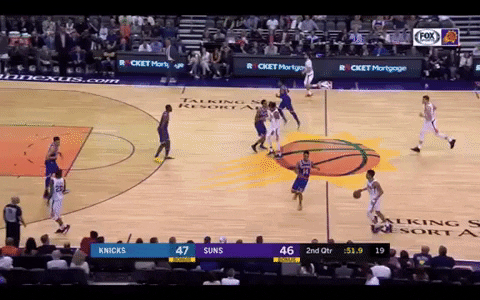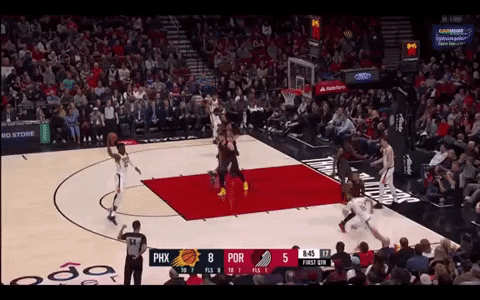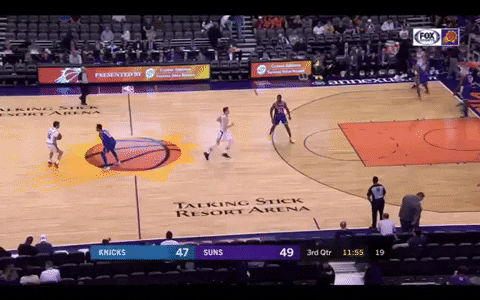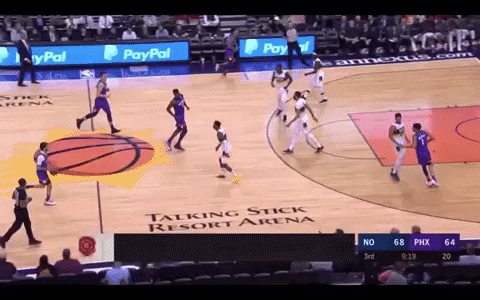 Tyler Johnson has benefited from playing next to Devin Booker, too. Johnson has never played with an off-guard capable of heating up at the simmering temperature of Booker. Dwayne Wade was a fraction of himself, Josh Richardson was inconsistent, and Winslow lacked a palpable jumper.
Johnson is averaging 5.0 assists per 36 minutes in the aforementioned time span, in contrast to the 3.6 assists he was averaging with Miami. Johnson is able to kick-out to Booker when he gets in trouble, with 3.9 passes going to Booker, the most to any teammate.
The Johnson-Booker duo has proven to be a necessary cog in Phoenix's fiery offense, which is blazing down the court faster (100.69 pace before Johnson to 103.82 after Johnson). Reaping the benefits of the Johnson trade, the team boasts the 23rd-rated offense (108.4 offensive rating) since having the 28th-rated offense (104.2 offensive rating).
By no means is Booker a specimen of speed, but he still has a variety of off-hand-finishes from which he can yank from his bag to trick defenders. Striding downhill, his speed buffers as he prepares to either lead a break or flank the perimeters.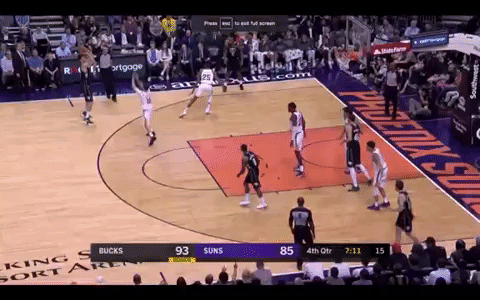 It's a positive that Booker can be played off-the-ball. But rising stars need to have the ball in their hands to break through the outer layer of superstardom.
For a while, him playing full-time point guard looked tenable. Before Johnson arrived, Isaiah Canaan was the starting point guard, of which lasted for first 20 games of the season. Canaan averaged 7.5 points on under 40% shooting and 3.3 assists — including 15 games below five assists. He underwhelmed. That, combined with Booker's penchant for threading needles, led the Murray State product to be cut loose. Booker had to be the de facto point guard.

The decision to release Canaan is eerily similar to the move the Rockets made when they shipped Jeremy Lin to the Lakers. They gave James Harden the keys to their high-fueled car, which thrust him to MVP-levels and beyond in Houston. Averaging 3.9 assists per game over the course of his first two seasons, Harden provides Booker a template in which to Xerox.
"I watched a lot of film, reading defenses and watched the players who have had success with it, including James [Harden]," Booker told NBA.com in late January. "Guys that have the ball in their hands most of the game and have that role of making plays for other people."
One teammate with whom Booker has produced a healthy-dosage of highlight-reel plays is DeAndre Ayton — the 1st pick in last years' draft. Only the two-man lineup of Kelly Oubre and Devin Booker boast a higher offensive rating than DeAndre Ayton and Devin Booker for those who have appeared in over 500 minutes, scoring 109.3 points per 100 possessions.
The two detonate their damage in the pick and roll, an area in which Phoenix sorely lacks other options — ranking 27th in pick and rolls this season. Both players rate above the 70th percentile for their respective pick-and-roll tendencies. The only other duos with two players who combine for more PPP according to NBA.com's pick and roll playtype statistics is Utah's Donovan Mitchell and Rudy Gobert and LA's Lou Williams and Montrezl Harrell.
What puts Ayton in the company of Gobert and Harrell is a sheer domination in the restricted area, where he scores nearly as efficiently as Giannis, at a 74.4% clip. Booker doesn't have to be an adept passer — which, to be clear, he's not — when hounded by double-teams, to deliver the ball to the 7'1'' Bahamian beast. Like Mitchell and Williams, he can hunt for his shot first and elect to pass second.
Now, easy reads are manifesting in the box-score as assists, of which he's producing the most of his career (6.7 this season compared to 4.7). The main reason for the rise is the budding relationship with DeAndre Ayton, to whom he's completing 9.4 passes per game and recording 2.0 assists per game.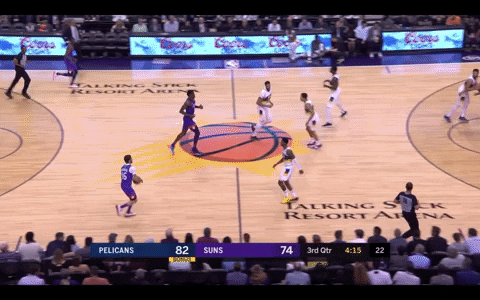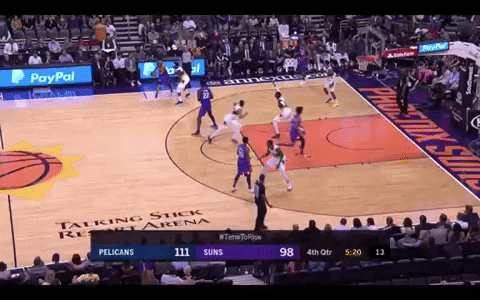 The Ayton-Booker combination cracks open the shell of defenses, spilling opportunities for teammates.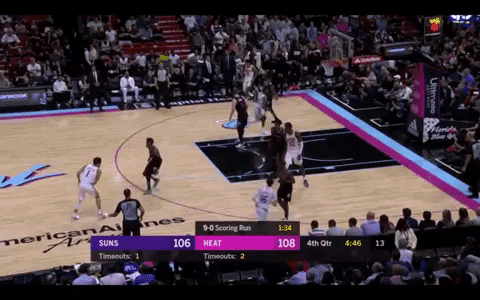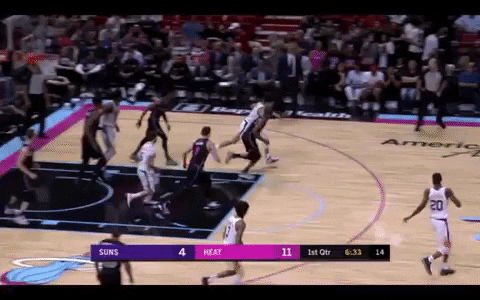 Booker is one of the rare players that can both create for himself and create for others. He's one of four players to produce 24 points and six assists this season, alongside James Harden, LeBron James, and Damian Lillard. With a bundle of creating sieves pervading throughout Phoenix roster, Booker is simply necessary.
The sheer volume in which Booker assumes is nothing short of incredible, especially when compared to those aforementioned players. Booker nearly makes up for 40% of Phoenix's isolation plays and 50% of their pick and roll plays. Houston staggers Harden and Eric Gordon a ton, and occasionally stagger Harden and Chris Paul, so they are equipped with lethal options at all times.
In Portland, McCollum and Lillard split ball-handling duties together; rarely are they staggered. And when Brandon Ingram was healthy, LeBron and him were better off without each other (though the Lakers should have taken to staggering them more). The Suns don't present Devin Booker with that secondary, let alone tertiary, option. He's only getting lonelier, too.
Since T.J. Warren went down with an injury in late January, the Suns have been stricken with even less creators. Josh Jackson's struggles with decision-making have persisted, Mikal Bridges is an overly-cautious rookie, and De'anthony Melton and Elie Okobo look the part of G-League players offensively. Though Phoenix glues Johnson and Booker together on-the-court, defenses can divert their attention from Booker's teammates without much consequence — which is why Booker flings the third-most turnovers in the league (4.7).
He makes his own luck. He veers around corners with a keen sense of angles. He rolls the ball in a yoyo motion across his body. He lowers his center-of-gravity to a crouching position, chops his feet, and scores.
Forget all that mumbo-jumbo. He just makes everything look so easy.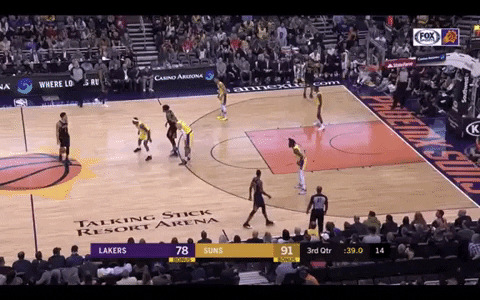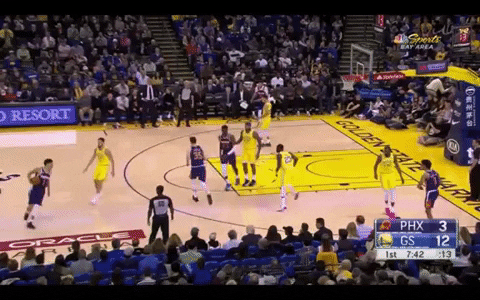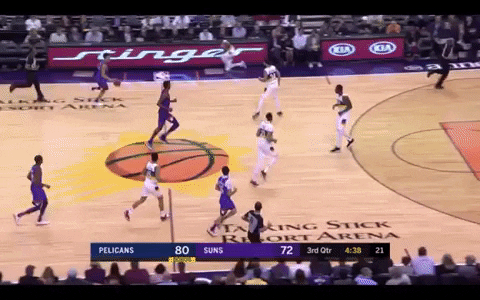 His speedometer is ticked with mileage, but his change-of-pace and sleight-of-hand deception are what keeps the wheels turning.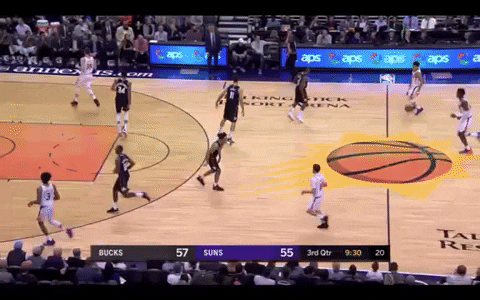 There are other areas aside from pick-and-roll situations that render Booker an elite shooting guard, one being isolation play. For players who isolate 3 or more times per games, Booker is 11th in scoring, with 0.88 PPP.
The team overloads one-side of the court; they let Booker go to work.
A guru of footwork, Booker teaches if you reach, using an array of jab-steps and shot-fakes. He presses pause on his hesitation and as he dupes fools, he hits play.He draws fouls by using a sleepy southpaw gather dribble. Everything is on time and has a purpose.
It's easy to look at Booker's stats and the win column and discern that his buckets are empty and his impact is somewhat pointless in the grand scheme of things. If the advancement of statistics have taught us anything, though, it's that one player can't shoulder a team. Booker couldn't and still can't. That rings true on the topic of the recent play of the Phoenix Suns, who have upgraded with Tyler Johnson at point guard.
Still, the Phoenix Suns are a bad team even with Tyler Johnson. They're on pace to place second in the Zion sweepstakes, according to Tankathon, even with a remaining 12-game schedule that slates five playoff teams. The Suns aren't playing for this year, though.
The rest of the year should provide a spreadsheet of whom their young core truly contains. There still are a ton of questions. Kelly Oubre Jr. seems to be taking the next step at age-23. Playing on his contract-year, what is his worth? Tyler Johnson will probably accept his $19 million player option for next year. Is he a combo guard or can he be a full-time point guard?
With the news of Kemba Walker wanting out of Charlotte, how would #15 look draped in a Suns jersey? How much better that would make the Phoenix Suns? And, perhaps, how would winning alter our perception of Devin Booker?