LaMelo Ball, Anthony Edwards card holders look like geniuses after sophomore debut
There was a time during the past few months when no one was paying attention to LaMelo Ball or Anthony Edwards cards in the market. Thanks to both the Charlotte Hornets and Minnesota Timberwolves failing to make the postseason, the interest in these two waned in favor of other more prominent names. But now, as the NBA is back in full force, the tables have apparently turned on both of these guys and their respective stocks in the card market.
We take a look below at how the cards of these young studs are rising up and the reasons why.
The Reason Why LaMelo Ball and Anthony Edwards Cards Are Trending
As mentioned earlier, there was a significant period of time when both Ball and Edwards were sleeping in the card market. At some point, base Prizm rookie cards of the Hornets' point guard plunged to $20 while the number one pick last season saw his value reach $15 just last week. Of course, their stocks are due to go up, especially after making a splash during their return to the court.
Just this week, Buzz City was scheduled to face the Indiana Pacers to open their season. Things got off to a slow start for the Hornets, especially when the first half ended and they were behind by 16 points. But thanks to a well-coordinated offense led by Ball, Charlotte overcame Domantas Sabonis's monster 33-point game with a close 123-122 victory.
Of course, the sophomore point guard was the largest factor to this win. Ball efficiently notched 31 points on 47% shooting from the field, 77% from deep, and a whopping 100% from the free throw line. He also posted nine rebounds and two assists in almost 29 minutes on the court.
While Edwards didn't have that insane game Ball had against the Pacers, his performance against the Houston Rockets is still spectacular. In 31 minutes on the floor, the sophomore scored 29 points on 47% shooting from the field and connected six of his 12 attempts from beyond the arc. Edwards also contributed six rebounds, three assists, and a steal to Karl-Anthony Towns' 30 points and D'Angelo Russell's 22 point-game to help the Wolves overcome Space City with a 124-106 victory.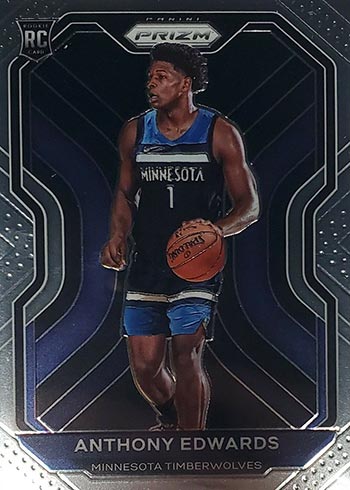 Just by looking at how Ball and Edwards performed, it's safe to say that they've gotten used to the speed and physicality of the NBA. With a full offseason to hone their game, both of these young stars are looking ahead to solidify their cases as the future of this league.
As a result of their stellar sophomore debuts, these two saw their base Prizm rookie card value shoot up. Ball's stock went up to $50 while Edwards' is behind at $38.
The Outlook On LaMelo Ball and Anthony Edwards Cards For This Season
Taking a look at last year's draft class, collectors will see that most of them are role players. Unlike the 2018 and 2019 classes, majority of those drafted last year might never reach the likes of Luka Doncic, Trae Young, Ja Morant, or Zion Williamson. The exceptions, of course, are no other than Ball and Edwards.
Just by looking at their set of skills and how they have used them recently, one can come to a conclusion that these two can be the number one options of their respective teams. It can even be argued that Ball can make that leap as early as this season. In Edwards' case, he has to prove that his on-court impact is way above Russell or Towns as the season progresses.
By all means, the outlook on both LaMelo Ball and Anthony Edwards cards are shining bright. Just like buying stock of Doncic or Young, investing in these two young stars is a pretty safe and good bet. Keep in mind that the best time to get their cards are when they go below the radar, which will cause their prices to dip. In this way, you're going to make the most out of your hard-earned money from these two.