Lauri Markkanen corralled the rebound, looked up for less than a split-second, and dribbled. He weaved once, spinning his defender, Bruno Caboclo, around. By the time he strode into the half-court, gone was the advantage of numbers.
Caboclo caught up, triggering Robin Lopez to signal for a high ball-screen, though neither would stop Markkanen at this point. Nothing would. Instead, "The Finnisher" ducked left, dug a shoulder into Caboclo's chest, 1-2 stepped, and faded away.
The high-arcing ball heat-seeked into the basket, like Markkanen was an engineer and programmed it to do so.
In the month of February, these plays aren't particularly unique — the ones oozing with confidence. Markkanen is desensitizing his acts of violence; he makes these plays every game. In this stretch of 12 games, the second-year player is averaging a blistering 26 points, 12.2 rebounds, and 2.4 rebounds, on 48.6/34.8/92.3 shooting splits. In nine of the 12 games he's posted the arbitrary 20 points and 10 rebounds. Those numbers sell him short, though: six games he's snagged 15 rebounds or more, and four games he's scored 35 points or more.
However, the above clip is unique given Markkanen's play before the month of February. Rarely would Markkanen spearhead offensive attacks, let alone a coast-to-coast transition. From the date Markkanen returned from his elbow injury, on December 1st to January 30th, he averaged 17.1 points, 8.0 rebounds, and 1 assist on 42.5/38.6/83.8 shooting splits. Those figures are undoubtedly solid, especially for a second-year player, but left a lot to be desired in the eyes of Chicago fans who witnessed him exceed expectations in his rookie year (when he was legitimately the third-best rookie).
That, combined with, promising signs over the offseason — such as pictures of him packing on serious muscle and him balling at the Fiba World Cup — only snowballed fans' expectations. Plus, Markkanen was on the verge of his 21st birthday, an age at which players tend to flash their true colors. All things considered, Markkanen stagnating was a disappointment, as well as a cause for worry.
Aside from an elbow injury (one that sidelined him until game 24), his early offensive struggles were simply due to the sudden change in head coaches. Jim Boylen replaced Fred Hoiberg on December 3rd, and prided himself on being much the opposite of his predecessor.
Whereas Fred Hoiberg's offense was defined by speed — 19th, 13th, and 17th in pace the past three years — Jim Boylen's offense inched along at a snail's pace. The idea behind the coaching switch, according to John Paxson at the time, was that a slower offense would lessen opponents' transition opportunities.
However, waiting for the "perfect" shot late in the shot clock bred poor possessions, plain and simple. Up until January 30th, Chicago was seventh in shots with 4-7 seconds remaining on the shot clock, yet last in the league in effective field goal percentage. Slow offenses require shot creation, in which Chicago lacked.
Looking at the roster, the problem was obvious. Point guards are tabbed as designated creators, yet Chicago didn't boast a true NBA starter at that position. At point guard was Cam Payne (before he was released on January 4th), Kris Dunn (after getting healthy on December 10th) and Ryan Arcidiacono. Arcidiacono has been proven to be an NBA player, Dunn has disappointed, and Payne was released after 31 games of underwhelming. Markkanen had to create for himself. He was overwhelmed.
On February 25th, Boylen recognized his roster deficiency and altered his scheme, much to the delight of management.
"We've simplified our offensive selections," Boylen told reporters after three straight wins. "We've played more out of flow. And we put in a multiple-ball-handler system in the last 30 days where we designate that certain guys can handle the ball off the board and bring it. And other guys have to honor that by running, spacing, giving them a lane."
The Bulls transformed from a garbage-fire to a respectable eastern-conference team, armed with an explosive offense.
Winners of six of their last 12, the Bulls are third in offensive rating, at 116.2, joining the company of the Houston Rockets, Portland Trail Blazers, and Houston Rockets. The ripple effect pervades throughout the roster.  Zach Lavine has improved his assist to turnover ratio to 6.1 to 2.9. His scoring is also up to 26.5 points on 52.4% from the field and 47.6% from three. The wings, Otto Porter, Wayne Selden, and Timothe Luwawu-Cabarrot are all undergoing their own versions of career revivals (with Porter averaging 19.8 points since joining Chicago). Even Robin Lopez is playing the best basketball of his life, scoring 15 points a game. One player, though, has seen the largest jump: Lauri Markkanen.
Markkanen has been a menace in transition. By exchanging time-wasting post-ups for transition opportunities, Markkanen is realizing his potential as a creator. He is a matchup nightmare for anyone — guards, forwards, centers, you name it. Guards trying to defend him is akin to a parent taking their kid to an R-rated movie and expecting them to take something meaningful from the experience. It's just not happening; Markkanen is going to score. He drives to the hoop, chucks transition three's, slams alley-oops, and flings extra passes to shooters.
"You've seen what Markkanen has done with the ball in his hands," Boylen told reporters the morning after the Bulls lost to the Bucks 117-106. "(The changes have) not only energized him to do that but to rebound, to get it and bring it. He has even said he has gotten a feel of the ball more, which is good."
Boylen, however, wasn't Markkanen's inspiration. Rather, that title belonged to his Finland coach and mentor, Henrik Dettmann. After averaging 13.0 points while shooting 40.3% FG and 12.3 attempts on a five-game road trip spanning from January 6th to January 15th, Dettman flew across the globe to offer advice to the slumping Markkanen.
"We talked about what I am good at and what I can improve at," Markkanen told Finnish broadcasting company Yle. "He is obviously not the coach of our team, so he really can't say anything (about my role). We talked about how can I improve and find my spots. One thing we talked about was the transition thing. I know I have the green light when I get the rebound to push it, and I tried to be more aggressive with it tonight."
At the tail-end of the road trip, against Denver, Markkanen dropped 27 points. Though his scoring fluctuated throughout the rest of January, the game acted as a much-needed precursor to a dominant February and March.
Transition isn't the only area where Markkanen is doing frighteningly fun things with the ball in his clutches. In the half-court — Boylen's calling card — Markkanen is a swiss-army knife, flipping anywhere from gigantic small forward to stretch-four to small-ball center.
Boylen's original plan hammered away at "crawling" until the team ripened. Markkanen's widespread repertoire was locked inside a box, with most of his opportunities coming solely on stale post-up plays. In Boylen's antiquated offense, the ball graced Markkanen's hands just below the wing area, too far for him to inflict wounds to the defense.
Markkanen, who is wiry strong, not brawny, was stabbed from his line of attack too often. And until the month of February, Markkanen was shooting 51.5% at the rim on 3.6 field goal attempts, a stark contrast to the 63.6% FG and 7.0 attempts in his statistical-profile the last 12 games.
The second-year player is flourishing on post-up opportunities, with the root of his improvement stemming from closer post-ups.
The below video provides an example. Here, Markkanen cuts into the lane off the "cross-screen." Dipping his toes into the painted area, he patiently waits for the "entry pass" to drop into his palms. Then, and only then, does "The Finnisher" zap his magic.
Watch a Bulls game and you'll see Markkanen on the receiving end of these passes. Playing the four or five position, that isn't necessarily a surprising notion. However, it's the reflection that Markkanen evokes — dribbling and creating and zipping passes — that render him a versatile demigod. Chicago, still lacking a true point guard, have continued pressing Markkanen to shoulder the creating load, and Markkanen is finally responding to the call.
However awkward and stilted his gallop appears, Markkanen has flashed the ability to run the pick-and-roll as the ball-handler.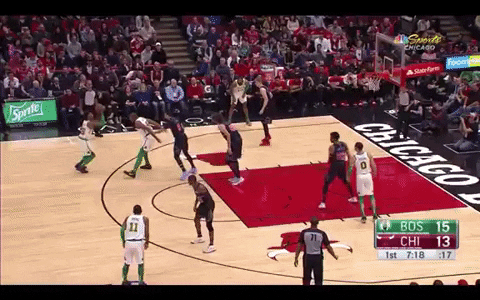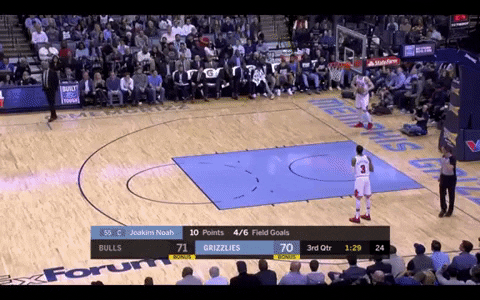 He knows what to grab when he reaches into his bag of tricks. Using his size against guards, Markkanen dribbles once with his left-hand and spins with a vicious whirling motion of a smoothie blender. Against bigs, he puts the ball down with his right-hand and knifes through the lane.
Mismatch or not, Markkanen is finally using an underrated dribbling package to beat unsuspecting defenders. In the aforementioned time-span, he's increased his number of drives per game, from 4.9 to 8.0, and is taking 1.1 more field goal attempts on such drives (3.0 to 4.1). He's not only acting more aggressive taking the ball to the rim, but finishing shots, too, at a 10.4% higher clip (45.2% to 55.6%).
Even non-basketball watchers can appreciate the genuine feeling of honesty to his step. He knows speed isn't his redeeming quality. He hangs in the air and waits for defenders to whiz by. Yes, even his former teammate, Nikola Mirotic.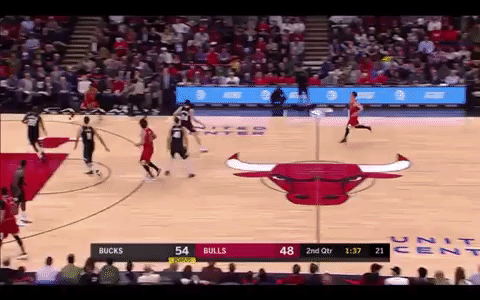 These skills aren't only self-fulfilling, but impact the rest of the team, too. For five-man lineups clustered together for at least 100 minutes, Only Charlotte's starting-five (Kemba Walker, Jeremy Lamb, Nicolas Batum, Marvin Williams, Cody Zeller) has a greater offensive rating than Chicago's starting lineup of Dunn, Lavine, Otto Porter Jr., Markkanen, and Lopez.
They need him, specifically his shooting. On a team that is 28th in three-pointers attempted and made since Boylen was hired, Markkanen is the highest-volume shooter on the team (6.6 per game) and the second-most efficient deep-shooter (behind Otto Porter Jr.).
No one has benefitted more from Markkanen's increased aggressiveness than Zach Lavine. Instead of forcing shot-after-shot, which he tended to do in early games, LaVine sees Markkanen tethered to him like a life-raft.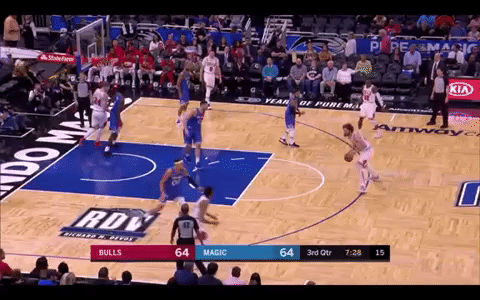 Since the aforementioned offensive shift, Chicago's most popular two-man lineup contains Lavine and Markkanen. The duo is Chicago's highest-octane combination, with a 122.7 offensive rating, sitting behind only Detroit's duo of Blake Griffin and Andre Drummond as the highest-scoring two-man lineup logging over 200 minutes (382 minutes) in that specific time-span.
Bracing those statistics are the two wins against the Boston Celtics on February 24 and Atlanta Hawks on March 1st, in which they combined to score 77 of Chicago's 126 points and 78 of 168 points, respectively.
"Even at points in the game where I'm hot and he's hot, we can still help each other get shots because there's so much attention on either one of us at that time," Lavine said after the Celtics game. "We're going to be a good one-two punch. Any given night, whoever is hot, you have to feed him."
While Markkanen-led pick and rolls are worth a further look, LaVine-led pick and rolls are already penned in as Chicago's deadliest play.
Rooting for a team on a crash-course for the lottery (as the third worst-team in the East and fourth-worst overall), a majority of Chicago fans wish for more tanking artillery. Given the recent success of the young core, including Markkanen, fans should be grateful for the end result, regardless of the means.
With nine of the remaining 18 games versus teams out of the playoff race, there's no reason to camouflage Markkanen among the withering trees of Chicago's role players. If Chicago wants to maximize its ceiling in the coming years, Jim Boylen needs to keep the current offensive scheme intact with Markkanen leading the charge.
Statistics courtesy of NBA.com and Basketball-Reference.