A lot of fans entered this season with a lot of hope for the Minnesota Timberwolves. For one, D'Angelo Russell will finally get to play with Karl-Anthony Towns for a full year and dazzle the league with their combined talent. You've also got a roster that boasts the likes of Ricky Rubio, Malik Beasley, and various developing talents to help the Wolves contend in the West.
Unfortunately, none of those things have come to reality. Minnesota is currently the worst team in the league with a 9-31 record. They possess a -7.59 net rating, the 29th worst among 30 teams. Both their offensive (109.57) and defensive (115.1) ratings are nothing to be proud of either. Plus, tanking this year would amount to nothing because they owe their 2021 draft pick to the Golden State Warriors after a trade that netted them Russell.
But among all of the things that are going wrong for the Timberwolves right now, the franchise and its fans have something to be optimistic about. The number pick of this year's draft, Anthony Edwards, is finally making his presence felt. We examine how Ant Man has done in the 40 games he played during his rookie season and how it has made an impact on his card value.
A look at Edwards' rookie season so far
In the 40 games Edwards has played for Minnesota this season, he has tallied 16.2 points, 4.1 rebounds, and 2.5 assists in 29.8 minutes on the court per game. While he has increased his points per game, the rookie's overall game is not showing any signs of becoming an efficient one.
Take a look at his numbers and you'll how inefficient Edwards can be with his shot selection. He only connects 43% of his 9.1 attempts from inside the perimeter and 32% of his 6.5 attempts from beyond it. Overall, Edwards has a 39% field goal rating in all the games he has played this season, a number that's way below the league's 46% average.
While his game isn't as efficient as one would expect, Edwards' athleticism and rim-finishing ability are turning more heads towards the rookie's direction. His fearlessness in slashing through the opposing squad's defenses is also very evident in the Ant Man's most recent games.
WELCOME TO THE ANTHONY EDWARDS DUNK SHOW. (via @NBA) pic.twitter.com/GZVydqAWkV

— SLAM (@SLAMonline) March 15, 2021
And speaking of recent games, Edwards has been killing it by averaging 24.5 points during his last eight contests. The last four games also saw him averaging 42% on 33 attempts from downtown. These numbers are a clear sign that the Ant Man is evolving right before our very eyes, not only as a dangerous slasher, but as a capable shooter as well.
The state of Anthony Edwards rookie cards in the market
As of the moment, the best Anthony Edwards rookie card on the market is from Panini's latest product – the 2020-21 Revolution set.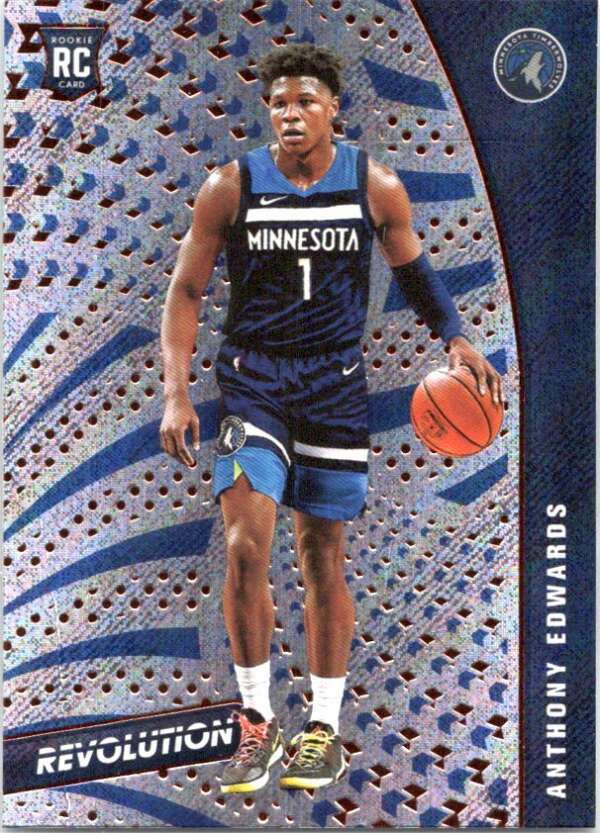 The lowest recorded sale of this card on eBay is $2 while the most expensive reached $65. Ant Man's Revolution rookie card has settled around the $37 to $55 price range. This number can go up if Edwards increases his points per fame, or go down if the Timberwolves end the season as the league's worst team.
The verdict on Anthony Edwards's card stock
It's easy to overlook Edwards this year, especially with the impressive development of LaMelo Ball. But since he's exhibiting tremendous performances during Minnesota's last eight games, it only makes sense to raise Edwards' ceiling as a potential All-Star in the NBA.
This isn't a far-fetched possibility since he'll be given a lot of minutes on the court down the road, or even become a permanent part of the starting lineup. He also has the necessary tools to become a great defender, respectable shooter, and credible playmaker. 
Of course, be wary of the risk involved because Edwards is playing for the Wolves, a team that is devoid of relevance recently and one that's poor in developing their talent. In this case, it's best to practice caution while monitoring for the ideal price to invest in Anthony Edwards rookie cards. Doing so will protect your capital while maximizing the profit from your card investment on the Ant Man.