When it comes to sneakers, nothing goes quite as hard or looks as clean as a pair of white sneakers. In the realm of iconic sneakers, the allure of white Air Jordans in 2023 stands as a testament to timeless style and undeniable swagger. The crisp and clean aesthetic of white sneakers, coupled with the legendary heritage of the Air Jordan line, creates a fusion of versatility and boldness that's hard to match — let's be real, white sneakers can go with anything. Yes, even suits. Our comprehensive guide dives into this fusion, curating a selection of must-have white Air Jordans that embody both the classic appeal and the unmistakable spirit of the brand, allowing you to step out with confidence and make a statement on and off the court.
Whether you're pairing them with your casual ensemble or using them to complete a sporty look, white Air Jordans remain an essential piece of any sneakerhead's collection. Our guide is your trusted companion, leading you through the latest releases and coveted classics, ensuring that you're equipped with the perfect pair that reflects your personal style and passion for iconic footwear. Step into a world where versatility meets legendary heritage, embracing the undeniable allure of white Jordans that effortlessly elevate your sneaker game and reflect your individuality. Here's the best available to buy right now.
Read more:
Best overall: Jordan Air Jordan 1 Low – White/White/White

When it comes to white Jordans, there can only be one sneaker that is as useful as the iconic Men's Jordan Air Jordan 1 Low Sneakers — they embody a classic and iconic style that resonates with sneaker enthusiasts. These sneakers pay homage to the legendary Air Jordan 1 silhouette in a low-top design, offering a versatile blend of timeless aesthetics and modern comfort. From a perfect-fitting pair of denim, a more formal set of khakis, a tailored suit, or some shorts, these shoes go with everything. With their premium construction and signature Air cushioning, these shoes provide a comfortable and supportive feel for everyday wear. The distinctive Jordan branding and familiar color scheme add an authentic touch to your sneaker collection. The Men's Jordan Air Jordan 1 Low Sneakers capture the essence of basketball heritage and urban fashion, making them an essential addition for those who appreciate both iconic design and contemporary street style.
Most versatile: Jordan Team Elite 2 – White/Pure Platinum/White
Transitioning seamlessly from the courts to your daily routine, the Men's Jordan Team Elite 2 Sneakers redefine versatility in footwear. Embodying the very spirit of basketball culture, these sneakers effortlessly encapsulate the Jordan Brand's unwavering commitment to excellence. Meticulously engineered for durability and boasting a cushioned midsole, they guarantee unparalleled comfort and support throughout your active endeavors. More than just a representation of quality and style, the Men's Jordan Team Elite 2 Sneakers exemplify a new paradigm of adaptability within the Jordan lineup. With their unique blend of performance and flair, these sneakers transcend boundaries, seamlessly merging with both athletic wear and street attire.
Most iconic design: Jordan 1 Mid Men's Shoe – White/White/White

The Men's Jordan 1 Mid "White/White" Shoe, available at Hibbett, represents the epitome of iconic Jordan design and is universally recognized as a symbol of basketball heritage. With its classic colorway and silhouette, these sneakers capture the essence of the Jordan brand and its storied history. Featuring the most recognized design in the Jordan lineup, these shoes hold a special place in sneaker culture. Their enduring popularity stems from their timeless aesthetic and historical significance. The Men's Jordan 1 Mid Triple White Shoes stands as a testament to the enduring legacy of the Jordan Brand, making it a must-have for those seeking to wear a piece of basketball history on their feet.
Best budget sneakers: Nike Air Force 1 '07 – White/White

Anchored in affordability and a true testament to their enduring design, the impact of this sneaker on pop culture remains nothing short of iconic. Presenting themselves as an equally strong contender for the finest all-around white Jordan sneakers, the Men's Nike Air Force 1 '07 Shoes emerge as a beacon of versatility within our selection. Their timeless aesthetic effortlessly traverses the realms of basketball heritage and everyday fashion, particularly within the vibrant streetwear scene. Defined by an unmistakable silhouette, these shoes harmoniously complement an array of styles, solidifying their status as a reliable choice for myriad occasions. With a history of unwavering popularity and a design that seamlessly adapts, the Men's Nike Air Force 1 '07 Shoes proudly stand as a pinnacle of versatility and a can't beat price, within our collection.
Best game-ready Jordans: Air Jordan 12 Retro 'Twist' – White/University Red/Black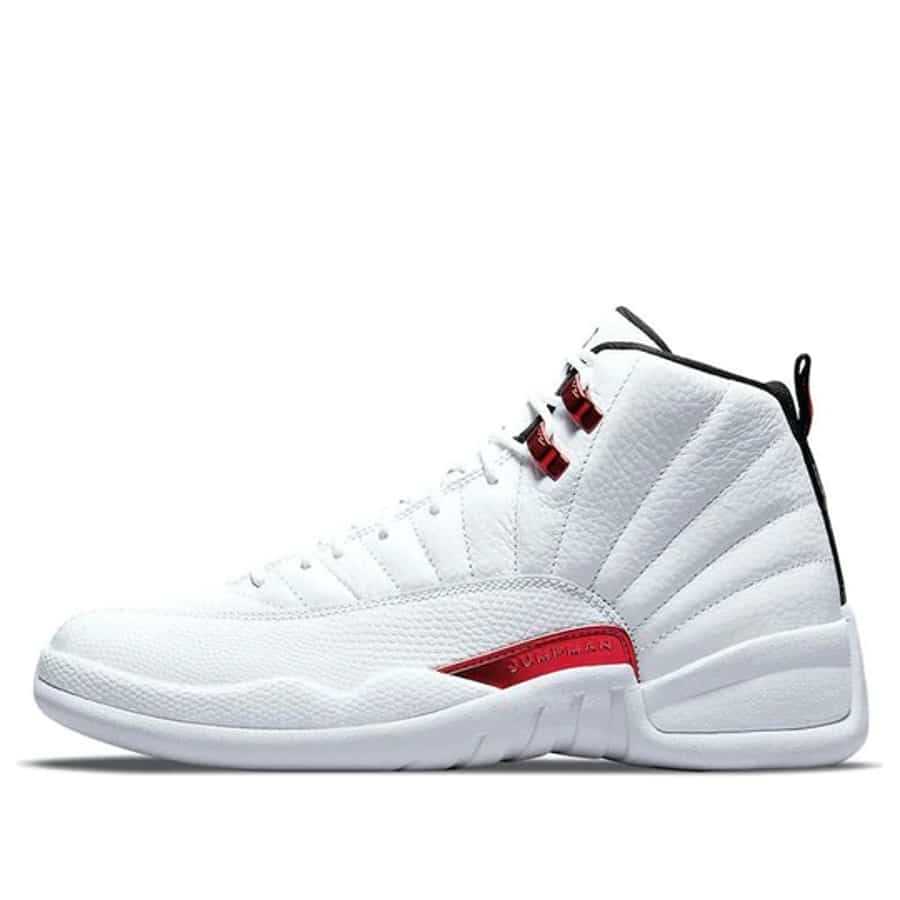 The legendary Nike Air Jordan 12 Retro "Twist," stands out as the ultimate choice for game-ready sneakers suitable for various scenarios, including pick-up games, practice sessions, and competitive matches. Combining a distinct design with the classic Air Jordan 12 silhouette, these sneakers pay homage to basketball heritage while offering modern performance. Crafted to excel both on and off the court, they provide the perfect balance of style and functionality. The Nike Air Jordan 12 Retro "Twist" is the epitome of game-ready footwear, tailored to those who demand top-tier performance during any basketball activity, from friendly pick-up games to intense competitive matchups. In an almost white-out color, the pop of color gives just enough life to make you stand out from the crowd, just like your game.
Best retro Jordans: Air Jordan 3 Retro 'Pure Money' – White/Metallic Silver
While not as legendary as the Cement Gray colorway, these 'Pure Money' sneakers are as clean as they come. The Jordan 3 Retro stands out as the pinnacle of retro Jordan sneakers. Renowned for their timeless design and iconic silhouette, these sneakers capture the essence of basketball heritage and sneaker culture. With a clean white-out colorway and classic features, they showcase the perfect blend of nostalgia and contemporary style. The Jordan 3 Retro "Pure Money" takes the crown as the ultimate choice for those seeking the very best in retro Jordan sneakers, offering a piece of history along with unmatched streetwear appeal.
Best of the rest: Air Jordan 11 CMFT Low – White/Black/Varsity Red
The Men's Nike Air Jordan 11 CMFT Low Shoes embody the perfect fusion of style and comfort for sneaker enthusiasts. Combining the iconic Air Jordan 11 design with modern elements, these shoes offer a contemporary twist on a classic silhouette. With their cushioned midsole and supportive construction, they provide exceptional comfort for both on-court performance and off-court wear. The Men's Nike Air Jordan 11 CMFT Low Shoes are a testament to basketball heritage and modern innovation, making them a top-tier choice for individuals who appreciate the intersection of style and functionality in their footwear.
Air Jordan 2 Retro Low 'UNC'- White/University Blue/Cement Grey
The Air Jordan 2 Retro Low "UNC" showcases an exquisite blend of basketball heritage and contemporary style. With its iconic silhouette and the added twist of the "UNC" colorway featuring Carolina blue, these sneakers pay homage to both the Air Jordan legacy and the University of North Carolina. The combination of classic design and modern aesthetic makes these shoes a versatile choice for various occasions. The Air Jordan 2 Retro Low "UNC" captures the essence of both sport and fashion, offering sneaker enthusiasts a unique blend of history and innovation that stands as a timeless addition to any collection.
Air Jordan 13 Retro – White/Wolf Grey/True Red
The Nike Air Jordan 13 Retro Shoe is a true embodiment of basketball heritage and style. Renowned for its distinctive design, these sneakers pay homage to the iconic Air Jordan 13 silhouette. With its signature holographic eye and unique color scheme, this sneaker captures the essence of both the basketball court and the street. Crafted for performance and designed for everyday wear, the Nike Air Jordan 13 Retro Shoe perfectly bridges the gap between sport and fashion, making it a must-have for sneaker enthusiasts who seek to infuse their wardrobe with a touch of basketball history.
All white and all clean
Discover the epitome of style and swagger with our comprehensive guide to the best white Air Jordans available in 2023. From their versatile elegance to the indomitable Jordan legacy, these sneakers are a must-have for any enthusiast. Let our guide be your compass as you explore the realm of iconic footwear, helping you choose the perfect pair to embrace the enduring allure of white Jordans and make a bold statement that resonates both on and off the court.