Through the first 95 games of his young career, Los Angeles Lakers forward Kyle Kuzma was a rather one-dimensional player. You knew what you were going to get from him on a nightly basis. He wasn't going to play effective defense, rebound particularly well, or do much playmaking. But you could rely on him for one thing: buckets.
That was how he was described on the scouting report. But as of late, Kuzma has been giving teams around the league reason to make serious revisions to said report.
Last season, his scoring acumen was well polished beyond his years, allowing him to put the ball in the hoop at a rate impressive for a player with so little NBA experience. As is the case with many score-first players, this made him an instant fan favorite.
While his presence helped to bring a long-desired element of joy back to Lakers basketball, he was a blatantly flawed player, making it hard to envision that version of him being anything more than a sixth man or spark plug scorer on a decent team. This wasn't a huge issue when he was just another young player on a rebuilding team whose timeline allowed him to develop at a natural place.
But upon the arrival of LeBron James to Los Angeles, it became time for the Lakers to be a winning team, and the pressure that comes with that began to mount upon the shoulders of the team's young prospects, forcing to become players who can contribute on a winning team at a much earlier stage of their careers than previously expected.
Kuzma began this season in a similar bench role to when he was a rookie, but with one key difference. The team was now experimenting, out of necessity, with lineups that included Kuzma playing center. While it was a captivating proposition on paper, it would end up as an utter failure, as those lineups displayed some of the worst defense we have seen from any unit on any team this season.
The team posted an abysmal defensive rating of 117 while these lineups were on the court, landing in just the fourth percentile of all lineups in the league this season, per Cleaning the Glass. To the surprise of no one, the "Center Kuzma" era was not long-lived. The team would soon add veteran big man Tyson Chandler to the rotation, mitigating the need for a small ball center.
Just a few games into the season, Kuzma was inserted into the starting lineup following the suspension of Brandon Ingram. Kuzma immediately found success in this new role, shining offensively in the Lakers' fast-paced offense, feasting off of the scoring opportunities generated as a result of playing alongside LeBron James. He has started every game since.
As expected by any team that adds LeBron James, the Lakers began to improve with the passing of each game as they slowly meshed together, building the necessary chemistry to become a well-oiled machine capable of pumping out wins at an impressive pace. While the team was winning games, Kuzma's play was failing to live up to the level displayed by the rest of the team's budding roster.
He was still scoring at the level we have grown accustomed to seeing from him, and still lacked the facets of a well-rounded game we have grown accustomed to him lacking. But there was one big difference — his shooting.
Through the first 18 games of the season, Kuzma was shooting just 29 percent from three, while still continuing to defend poorly and play with a sort of tunnel vision that prevented him from doing much playmaking for others. Without a reliable outside shot from Kuzma, the team's half-court offense struggled mightily.
Outside of LeBron James, Kuzma was the only other reliable (in theory) three-point shooter in the starting lineup. Without the spacing his shot was supposed to provide, the advantages that come with having him in the starting lineup were simply not outweighing his colossal flaws. It got to the point where many wanted to see Josh Hart replace him in the starting lineup.
But then, seemingly overnight, everything we thought we knew about Kyle Kuzma changed. He made his critics eat their words.
These were Kuzma's traditional stats through 18 games: 16.2 points, 1.2 assists, 4.8 rebounds, 46 percent field goal percentage, 29 percent three-point percentage, and a -0.1 plus-minus.
In the following 10 games he has averaged 21.7 points, 3.8 assists, 7.2 rebounds, 50.3 percent field goal percentage, 35.3 percent three-point percentage, and a 6.7 plus-minus.
He has seemingly flipped a switch, improving offensively in every way and playing like the scorer he has always been expected to be.
During this stretch, he has continued to eat in transition, score around the rim effectively with the myriad of floaters, turnarounds, and hook shots that his expansive offensive arsenal is comprised of, and most importantly, his three point shot is beginning to fall again.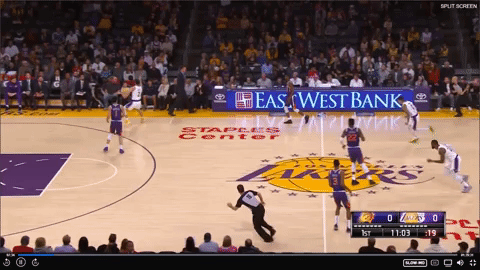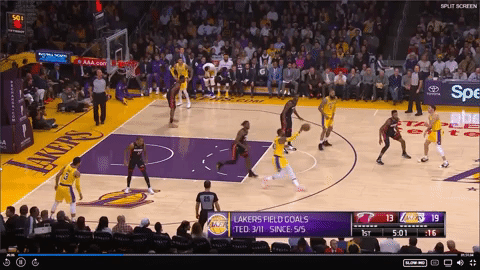 While it is encouraging to see Kuzma excel in each of these areas, they're nothing we haven't seen him do before. He has simply refined the skills that he displayed last season, something you can expect to see from most second-year players. But that is not to say he isn't also building upon his already impressive skill set.
On top of the scoring ability we saw from him last season, Kuzma has begun to improve greatly as a pick and roll scorer.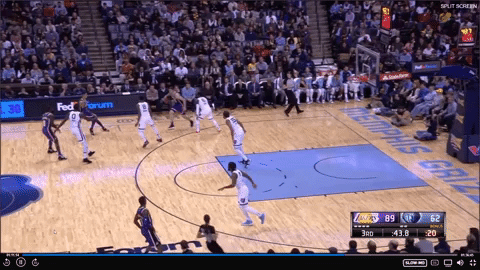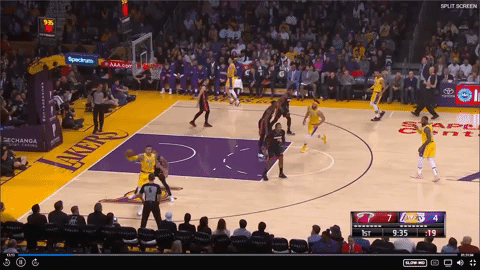 Being able to create his own shot in a half-court setting allows him to be the secondary creation option to LeBron James that the team envisioned Brandon Ingram becoming, a role of great importance to any team with aspirations that include success in playoff basketball.
This sentiment is made all the more true by the improvements Kuzma has made in the playmaking department. His previous lack of playmaking was one of the biggest knocks on his game, preventing him from becoming a truly great offensive player. While he is still not perfect in this regard, he has come a long way as of late, tripling his average assists over the last 10 games.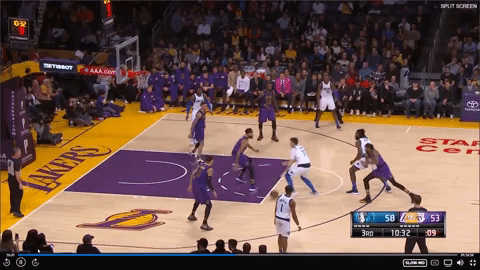 He is beginning to learn how to leverage his gravity as a scorer to collapse the defense and turn these looks into easy buckets for his teammates. He doesn't need to be a great facilitator playing on a team that includes LeBron James, Lonzo Ball, Rajon Rondo, and Brandon Ingram, but becoming at least average in that area, something we previously couldn't attribute to his game, raises his offensive ceiling significantly.
It is no accident that this change is occurring at this moment. If you ask Kuzma himself, it's all due to a change in mindset. In an interview after the team's dominating win over the Memphis Grizzlies, Kuzma said this to Spectrum SportsNet:
"Recently I really haven't thought about scoring too much because I know that comes naturally. I'm really just trying to defend, rebound and try to find my team-mates because I know scoring is going to be there."
This change in thought process is precisely what was needed from the second-year forward, allowing him to naturally fix some of the inefficiencies that plagued his game up to that point. While his improved playmaking is huge for his development, there is another area Kuzma has made an even bigger jump throughout the last 10 games. An area of weakness that was previously so egregious it placed a hard cap on his perceived ceiling. His defense.
As you can tell by the previous quote (or if you have ever watched him play before the last two and a half weeks), Kyle Kuzma has spent the majority of his career playing with scoring as the only thing on his mind. And it showed in his defense or lack thereof.
As a rookie, the Lakers surrendered 3.5 points per 100 possessions more with Kuzma on the court, placing him in the 24th percentile of players at his position, per Cleaning the Glass. He was also just the 455th ranked player out of 521 in ESPN's defensive real plus-minus stat, with a DRPM of -1.54.
While those stats do not necessarily prove that he was a bad defender, what we saw on the court backed it up. Kuzma was a human turnstile that granted any opposing power forward instant access to a free two points any time they pleased. But things have changed.
As of late, the Lakers have adjusted Kuzma's role in the defense, prompting an improvement in play so drastic that even the most optimistic of Kuzmaniacs wouldn't have predicted it taking place this season, if ever. This adjustment was the decision to have Kuzma primarily guard wing players instead of bigs, allowing him to use his quick feet and length to stick with players on the perimeter, a task he is far more equipped to handle.
Kuzma told this to reporters after the team's recent victory over the Phoenix Suns:
"I've always kinda guarded perimeter guys," Kuzma said. "I'm a little bit more comfortable guarding guys off screens. It kinda keeps me engaged in the game, locked in. Because if you fall asleep on a shooter, they're gonna come off that screen and hit, so I don't wanna get yelled at."
From games 19 to 28 of this season, the Lakers have had a defensive rating of 103 when Kuzma is on the court, a massive improvement over the 112 defensive rating seen over the first 18 games. This change in role, along with improved technique and intensity, has turned Kuzma from a defensive liability to an above average individual defender making meaningful contributions to a great team defense.
If these improvements to his defense and playmaking are indeed a sign of what's to come for Kuzma going forward, we need to completely rethink just how much potential he has.
If he continues at his current paces and finishes this season as an extremely well rounded 21 points per game scorer who shoots a respectable three-point percentage, brings in nearly four assists per game, snags over seven rebounds per game, and defends at a more than passable level of a player within a good defensive system, he will establish himself as the clear-cut second best player on this team, despite the massive potential and budding skill-sets of Brandon Ingram and Lonzo Ball.
While, admittedly, the sample size is very small, there is reason to believe that the improvements we are seeing take place in Kuzma's game are sustainable. If we are operating under that belief, that begs the question: are we currently witnessing Kyle Kuzma evolve into a future star before our very eyes? We just might be.