3 way-too-early bold predictions for Browns WR Odell Beckham Jr. in 2019
Odell Beckham Jr. is poised for a breakout year with the Cleveland Browns.
The reality of Beckham wearing Brown and Orange hasn't sunk in for some members of the Dawg Pound. It is surreal, to say the least.
The Browns acquired the controversial wide receiver in a trade with the New York Giants on March 12. In return, Cleveland surrendered the 17th and 95th picks of the 2019 NFL Draft as well as safety Jabrill Peppers to New York.
Beckham is arguably the best wide receiver Cleveland has had in recent past – he can help Browns fans forget about the waste of talent known as Josh Gordon.
Beckham's arrival couldn't have come at a better time. The Browns are coming off a 7-8-1 season in 2018 – a far cry from its pathetic 0-16 showing the year before. Cleveland should build on its success with Beckham in the fold.
Let's check out three bold and early predictions for new Browns wide receiver.
3. Insane Chemistry with Baker Mayfield
When was the last time a Browns quarterback clicked with a wide receiver for at least three seasons?
With Cleveland's shaky quarterback situation prior to the arrival of Baker Mayfield, you can make a case for Bernie Kosar and Webster Slaughter from the late 1980s to the early 1990s.
The Frank Ryan and Paul Warfield connection back in the mid-1960s also comes to mind. That duo played a vital role in the Browns' NFL Championship season in 1964 (yes, it's been that long since Northeast Ohio last tasted gridiron glory) – Ryan threw for 25 touchdown passes while Warfield caught for nine touchdowns that year.
Mayfield to Beckham is the new phrase we better get used to in the 2019 NFL season. We're talking about two skilled players who will make the Dawg Pound woof loudly during the season.
Mayfield threw an impressive 27 touchdown passes during his rookie campaign. This ranked him 11th among NFL quarterbacks. He's off to a tremendous start. With Beckham now one of his weapons, Mayfield figures to throw more TD passes in the next few years.
2. Breakout Year
Beckham could join the ranks of Brian Brennan, Webster Slaughter, and Paul Warfield as the best wideouts in Browns history.
Among those three, Warfield had the most touchdown receptions in a season with 12 in 1968, per Pro-Football-Reference.com. Beckham hauled in 13 with the New York Giants during the 2015 NFL season.
Let's keep it real: Beckham isn't the same player he was during his first three years in the pros (he caught for 35 touchdowns during that span). The fractured left ankle injury he sustained in Week 5 of the 2017 NFL season clearly took its toll. Beckham caught for just six touchdown passes a season later (the Giants missed the postseason with a 5-11 win-loss mark).
Nonetheless, expect a rejuvenated Beckham to take the field in 2019.
First off, Beckham gets to share wide receiver duties with Jarvis Landry – his LSU Tigers teammate and best friend since high school. If you're Beckham, there's no reason why you shouldn't feel pumped for the upcoming football season.
Second, Beckham has something to prove to New York Giants general manager Dave Gettleman. The latter allegedly contradicted himself when he said he wouldn't deal Beckham months after signing him to a lucrative five-year, $95 million contract extension in August 2018. Big Blue fans will cringe at the sight of Beckham's touchdown celebrations decked out in Cleveland Brown and Orange.
#Giants GM Dave Gettleman on Odell Beckham Jr.: "We didn't sign him to trade him."

On drafting Saquon Barkley: "If I was in that situation 100 times, I'd draft him 100 times."

— NFL Update (@MySportsUpdate) January 2, 2019
Finally, a change of scenery should serve Beckham well. The Giants made the postseason just once in Beckham's five years in the Big Apple. While the Browns were the laughingstock of the league for years prior to Beckham's arrival, that is no longer the case. They are a team on the rise – Beckham is an integral part of their success.
These reasons should motivate Beckham to exceed expectations in 2019. Expect him to catch at least 10 touchdown passes and make headlines (as usual) this season.
1. Postseason Berth
Odell will help the Browns make their first postseason berth in 17 years. He will also make Cleveland perennial title contenders for years to come.
ESPN NFL analyst and former NFL quarterback Dan Orlovsky predicted the Browns will be Super Bowl contenders in 2019.
There's no doubt about it. No doubt about it. First of all, not a very flawed football team anymore. They don't have many holes.

You talk about (the) New England (Patriots), Kansas City (Chiefs), and the Browns right now in third place.

So, they've got Baker Mayfield, right? Now, Odell Beckham, Jarvis Landry, Antonio Callaway, (David) Njoku, (Nick) Chubb, Kareem Hunt, Duke Johnson…NFL defensive coordinators will go, 'How do we stop this team?'
For his part, SI.com's Connor Orr ranked Cleveland's receiving corps the best in the NFL.
Realize I'm going to get killed for this, but these are two of the best talents (Beckham and Landry) in the league right now, playing with a budding star at quarterback, a sought-after offensive coordinator and their college position coach.
These are credible assessments. Let's not fool ourselves – this Browns team is legit.
Super Bowl? It's a bit of a stretch. However, anything is possible.
Postseason team? Absolutely.
Cleveland's 4,007 passing yards ranked 14th in the NFL in 2018.  With Beckham in tow, that statistic will improve. We're talking about a ranking somewhere in the Top 10. The Browns' aerial attack will figure prominently in its postseason quest.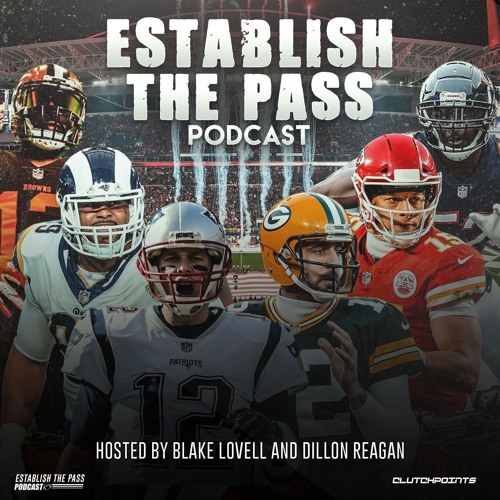 Full NFL Week 7 Predictions | CP NFL Pod