After extending Nikola Jokic to a five-year, $148 million contract and flirting with the luxury tax this summer, the Denver Nuggets appear to be a nearly finished team. What they have yet to master is being a team that finishes, missing the playoffs by one spot for two consecutive years.  
Denver is right to be all-in on Jokic. He's an elite offensive player whose passing gives the Nuggets a puncher's chance in most games.  
Unfortunately, the team has lacked a knockout blow during Jokic's time. The team has been mediocre-to-bad in the clutch the past two seasons. In 2016-17, Denver went 16-24 in clutch situations, per NBA.com, getting eliminated on a Russell Westbrook buzzer beater in their second-to-last game of the season.  
Last season, they improved to 22-21 in clutch situations. Far better, but still not enough for a team whose Net Rating (0.8) is still razor thin in a brutally competitive Western Conference. The team is limited defensively on average, but were actually a respectful 11th in clutch situations last season with a defensive rating of 103.1. Where they struggle is offensively, when the Nuggets' sixth-ranked offense drops all the way to 18th, scoring 105.3 points per 100 clutch possessions.  
The problem is, the Nuggets don't really have a top-shelf bucket getter when the defense keys in on system points (cuts, screens, etc.) and tightens down the stretch. They've lost a number of games the past two seasons, notably in elimination game last season when they scored only five points in overtime against the Minnesota Timberwolves.  
Denver isn't an isolation team by any stretch of the imagination but they could still use the kind of top-shelf scorer who can get a bucket under duress.  
Jokic can be that guy sometimes, but he's not nearly aggressive enough as a scorer to do it consistently, yet. Paul Millsap is a well-rounded offensive player but lacks the quickness or creativity to be a hub. Gary Harris is hyper efficient, but is assisted on 61.1 percent of his two-point buckets over the course of his career. Will Barton has been the stopgap option but works to mixed results when he tries to take over.  
That leaves Jamal Murray.  
To his credit, Murray stepped up in that role and looked better as the year progressed through his season season; boasting a scorching 62.4 True Shooting percentage on a 23.0 usage rating in the clutch last season—the highest mark of the three highest clutch usage percentage players (Jokic and Barton) on the team.  
If not for Murray's late-game heroics, the Nuggets would've been out of the playoff race much sooner. And on a team full of high-efficiency players, he's possibly the best option to develop into the high-volume star the Nuggets need.  
He made a huge leap as a three-point shooter this year, improving from 33.4 percent as a rookie to 37.8 percent in his second season; including a team-high 42 percent in catch-and-shoot situations. If he can improve on his pull-up three-point shooting (32 percent last season), it will unlock several layers to his game.  
Murray was markedly improved with the ball in his hands in his second season, appearing significantly more explosive as a ball-handler. He was able to get where he wanted on the court, keeping his dribble on his string. Murray finished just behind Barton for team lead in drive with 8.0 per game, leading the team with 4.1 field goal attempts off those drives.  
Just watch him break down Jrue Holiday with a lightning quick in-and-out dribble into a crossover before sprinting to the rim.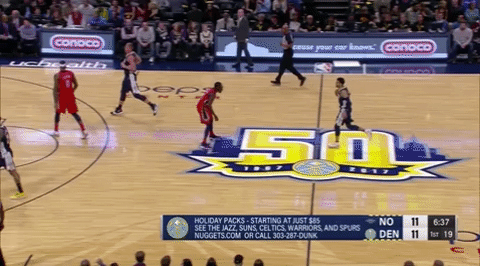 The play, from the spectacular move to the miss, was wholly emblematic of him as a scorer last season; doing everything perfectly right up to the shot.  
Creating separation is difficult in the NBA and Murray already has a knack for it. The next step for him as a scorer is finishing once he gets it. He shot a reasonable 57.5 percent on shots less than five feet from the rim, but far too often was out of control and off balance as he got into the lane.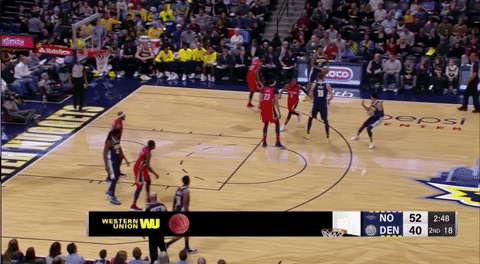 That imbalance and recklessness turned into a theme with Murray's scoring profile this year. Across the board, he was plagued by an inability to stay upright and keep his head up with the ball in his hands; which is a reason his pull-up jumper efficiency is so far behind where his spot-up and free throw numbers suggest he should be.  
He's had moments offensively where everything comes together and shows some intriguing flashes of shooting off the dribble. Like in the sequence below where he pump fakes and jumps into a quick side-step before balancing himself and draining a three: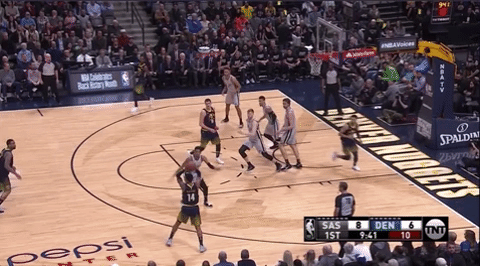 Even with those current flaws, he looks primed for a breakout season. Murray is one of the hardest-working young players in the NBA and his leap from year one to year two should give the Nuggets hope. He went from an inconsistent spark plug off the bench to a viable weapon in the starting lineup at just 20 years old.  
Young guards usually take a while to fully get their bearings and with another year of experience he should return with new tricks up his sleeve. If he can shore up his finishing around the rim and become just a marginally better shooter off-the-dribble, could easily become a 20 points per game scorer and fill a void on a Nuggets' roster depending on internal development to break into the Western Conference playoffs.  
Jokic is the cornerstone who sets the foundations for everything the Nuggets do. In Murray, Denver has a player who can help raise its ceiling and get them over the top.