Russell Westbrook rookie cards worth their weight in Purple & Gold after Lakers move
For a long time, basketball fans have nurtured the idea that having Russell Westbrook on a team won't lead to a championship. No matter how talented he or the roster around him is, Brodie always falls short of success in the postseason. But that narrative is being threatened after his trade to the Los Angeles Lakers and eventual pairing with two of the league's top superstars: LeBron James and Anthony Davis.
We take a look below at why the All-Star point guard's legacy can take a turn for the better and how Russell Westbrook rookie cards can benefit from his move to Hollywood.
The Main Reason Why Russell Westbrook Rookie Cards Are On The Rise
On the surface, a lot of people think that Russell Westbrook's style of play has been detrimental to him and the teams he played for in the past, even despite his gaudy numbers. When looking at his stints with the Oklahoma City Thunder, Houston Rockets, and Washington Wizards, it's easy to believe that he pads his stats every chance he gets.
The Lakers and Wizards have formally agreed on the deal sending Russell Westbrook to LA for Kyle Kuzma, Kentavious Caldwell-Pope, Montrezl Harrell, and the 22nd overall pick in tonight's NBA Draft. pic.twitter.com/T7dCPQ1hhP

— ClutchPoints NBA (@ClutchPointsNBA) July 30, 2021
The thing is, there's more than meets the eye when it comes to Brodie. There are few active players in the NBA right now who can come close to his impact on the court and the passion he has for the game. With the right system in place, Westbrook can elevate his teammates and unlock a formula to win games. This was seen during the latter half of last season when he unleashed himself, much to the benefit of Bradley Beal and the Washington Wizards.
Now, this is where things get interesting for Westbrook and the Los Angeles Lakers. He has never played with quite the collection of talented guys the Purple and Gold have on their roster, though some of those Oklahoma City Thunder teams were really darn good.
For starters, Westbrook won't need to handle as much of the playmaking with James by his side. The potential pick-and-roll plays Westbrook can pull off with Davis can add another layer to their offense. Not to mention, the addition of Carmelo Anthony and other veteran wings will give him more scoring options than before.
The Lakers Championship odds have jumped as L.A. is on the verge for trading for Russell Westbrook 👀

Lakers Title Odds: +600 📈 +450 pic.twitter.com/S2ktaFrol3

— ClutchPoints Betting (@CPBetting) July 29, 2021
Even though age and injuries may hinder Russell Westbrook and the Lakers, the positives seem to outweigh everything else at the moment. Thanks to the hype and excitement Brodie's trade has generated, his value has risen on the market. Just last month, Westbrook's PSA 10 Topps Chrome rookie card was priced at $1,625 on eBay. Once the trade was announced, the figure jumped up to $2,700. As shown by the numbers, it's not just the fans who are excited by this move. Apparently, the card market is hyped about it as well.
The Outlook On Westbrook NBA Cards This Coming Season
Needless to say, a lot of collectors are looking forward to seeing Russell Westbrook donning the Purple and Gold. With Panini slated to release a new set of products for the 2021-22 season, there will be a lot of attention to cards that feature Brodie in a Lakers uniform.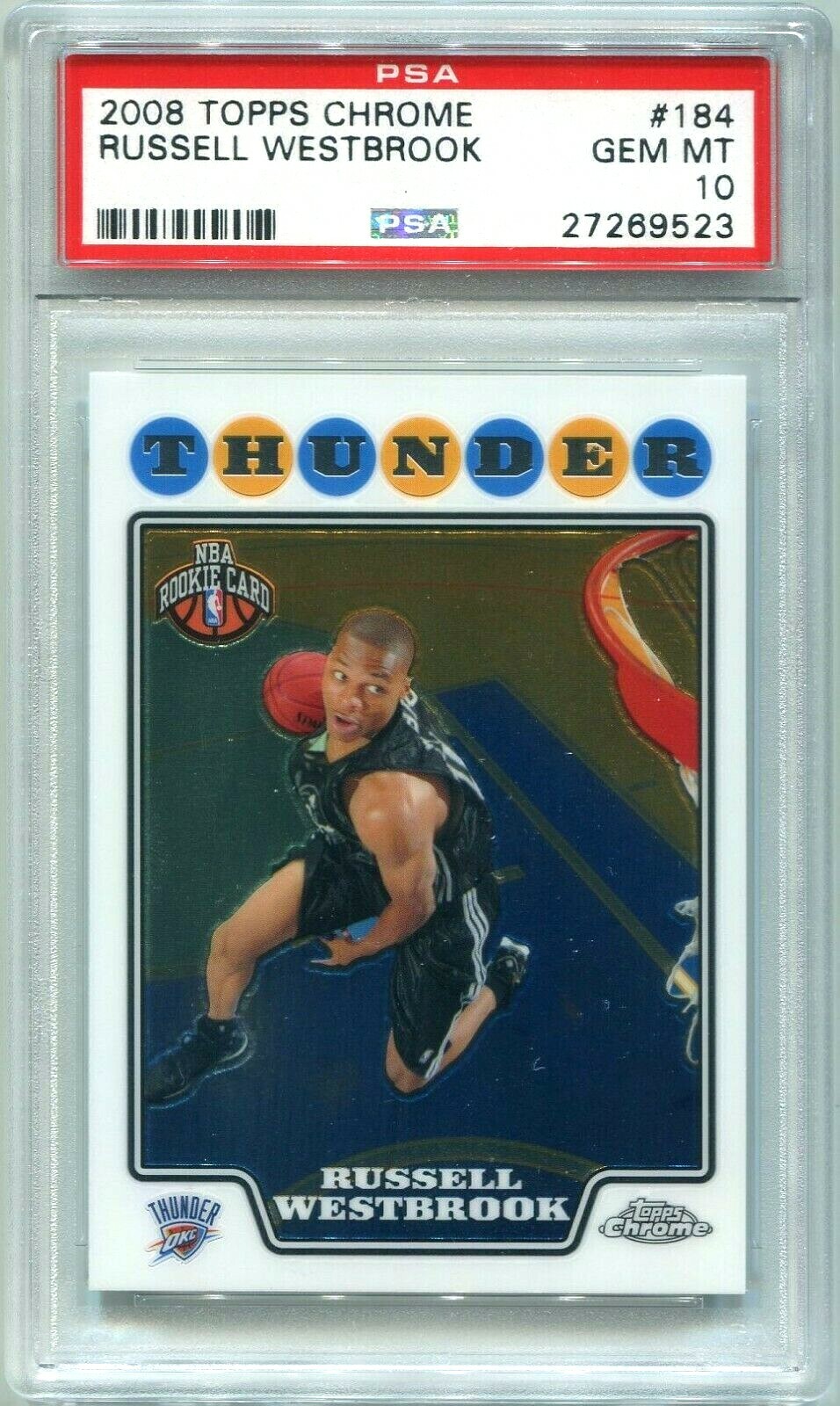 Keep in mind, though, that there will be some risks attached to Westbrook, with injuries and perhaps a questionable fit being the biggest factors. When he sustains one and sits out for a long period of time, you can expect his card stock to go down. Nevertheless, it's still wise to take a shot at Russell Westbrook cards because the upside is way bigger now that he's in Los Angeles.