2 reasons Ben Simmons rookie cards are a sneaky great buy amid trade drama
There was a time people were thinking Ben Simmons was going to be the second coming of LeBron James. If that were the case, Simmons' cards would be a top tier get on the market.
After last season, Simmons' career is in limbo, especially with ongoing drama occurring between him and the Philadelphia 76ers. While both his on-court and card value have plummeted, there are still several reasons why he's a sneaky investment option. We tackle down below why Ben Simmons cards should be on your radar.
The Demand For Ben Simmons Rookie Cards Has Hit Rock Bottom
With the new NBA season coming soon, the demand for the hobby's biggest stars is steadily ramping up. Ask any collector about their investment options and you'll see them go for Luka Doncic, Zion Williamson, LaMelo Ball, or LeBron James cards. Even fringe All-Stars, like Shai Gilgeous-Alexander and Michael Porter Jr., are popular choices right now.
Unfortunately, Ben Simmons isn't one of them. After his horrendous showing in the playoffs, interest in his cards has dipped. After the 76ers were eliminated by the Atlanta Hawks, his PSA 10 Prizm Silver rookie card dropped from $2,000 to $860. The Base version's PSA 10 value, meanwhile, took a fall to $156.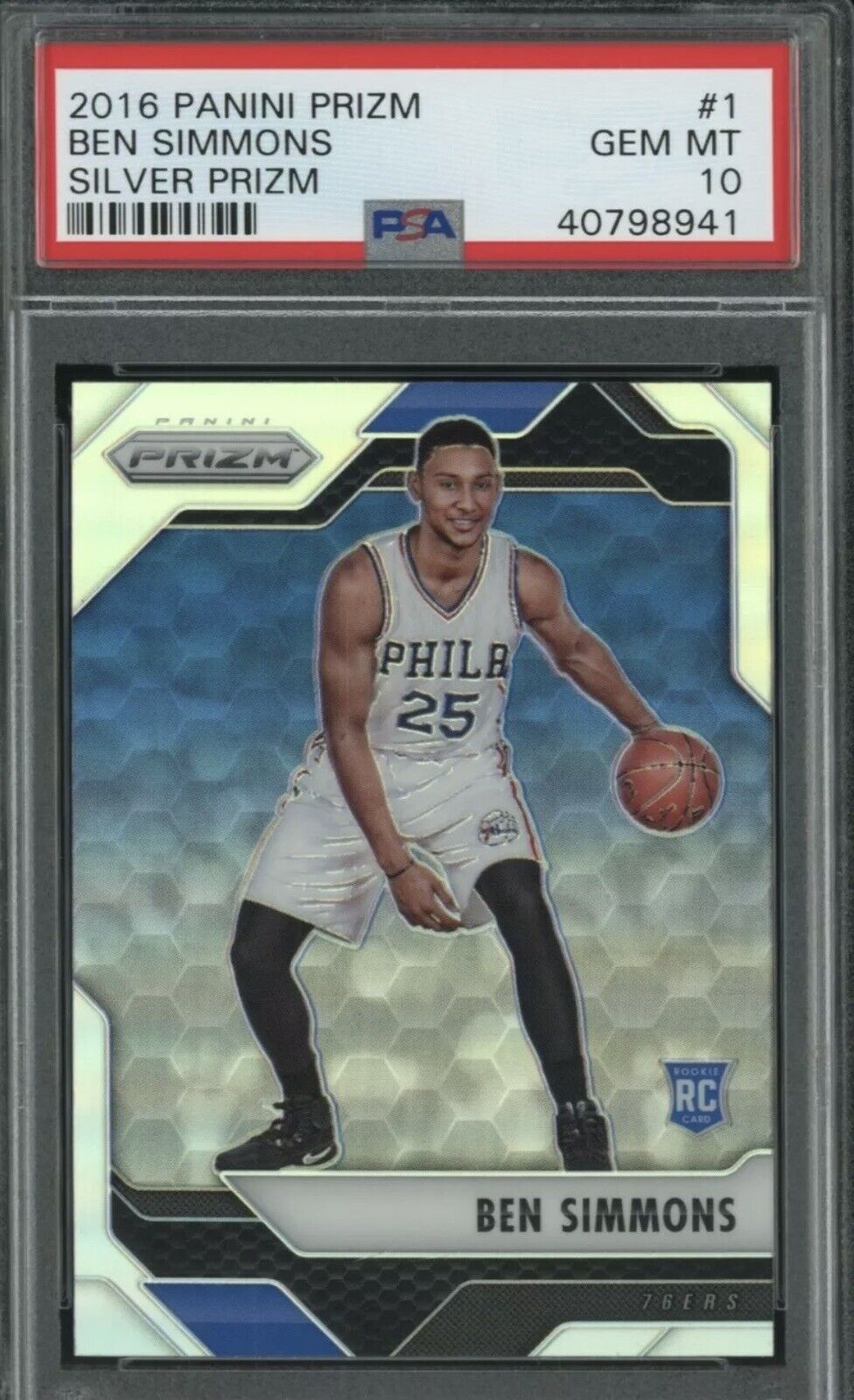 While this can be seen as a bad thing for Simmons' stock in the card market, it really isn't. As everyone is fearful of his cards, this is actually the ideal time to hoard them up. Even at this moment, the PSA 10 Prizm Silver and Base rookie card has rebounded back to $1,875 and $275, respectively. What this means is that there's an opportunity to make a profit with Ben Simmons cards while everyone else is looking the other way.
As of this moment, the hate against Simmons is still high, especially after rumors that he won't attend training camp or play another game unless the 76ers trade him. Instead of focusing on the negative press he's getting, it's better to scoop up the All-Star's cards while interest in them is still relatively low.
Ben Simmons Is Still An Elite NBA Star
No matter what the media or anyone else says about Simmons, the fact remains that he is more talented than most guys in the NBA. There are only a few players who possess his skills, which include elite playmaking and defense.
Although he had career-worst averages in points (14.3), rebounds (7.2), and assists (6.9), those numbers can still turn the tide for any team that surrounds him with the right roster. And even with those stats, his offensive and defensive box scores of 0.8 and 1.9 respectively are still commendable.
.@BenSimmons25 has recorded consecutive triple-doubles for the third time in his career. The only other player in team history to record back-to-back triple-doubles more than once is Wilt Chamberlain.

h/t @statmuse pic.twitter.com/hlGmUALNrB

— Philadelphia 76ers (@sixers) February 12, 2020
The key thing to remember here is that in the right situation, Simmons can still redeem his reputation and value in the card market. With the exception of a reliable jump shot, the Australian point-forward still has sufficient talent to make him stand out. In turn, this will help raise his stock somewhere down the road.
Whether he stays in Philadelphia or gets traded to another team, Simmons has every chance to get out of the hole he dug himself in during the postseason. When that happens, expect those who invested in his cards while they were low to make a killing in the market in the future.