Ask any card enthusiast about the player they want to collect and you'll most likely end up with Kobe Bryant as the answer. Sure, there'll are a lot of people who would go for LeBron James, target old Michael Jordan cards in the market, or collect any of the rising stars in the league right now. But when it comes to the Los Angeles Lakers legend, the Black Mamba himself will always have a special place in any person's collection.
The reasoning here is very simple. Kobe Bryant personified what it truly meant to be an NBA champion, on and off the court. His famous Mamba mentality, scoring prowess, and drive to never yield against the odds makes him a popular choice among card collectors. There's a reason why Kobe Bryant became such deity in NBA history, and that his cards are guaranteed to withstand the test of time.
In this regard, we're going to go for five Kobe Bryant cards that might be the perfect pieces to target for your collection. These cards possess a distinct feature that makes them more desirable to collectors everywhere, making them a safe bet when it comes to value down the line.
1996-97 Topps Chrome Rookie Card
No matter how expensive or elusive this one is, this card still remains one of the top grails for Kobe Bryant collectors that they're willing to pay big bucks for. His Topps Chrome rookie card represents a true gem that can make any collection stand out from the crowd. The fact that this is Bryant's definitive rookie card, complemented by a unique chrome-like finish, is enough reason to splurge on it.
As of the moment, this card commands a premium price on the market. Although it may be out of reach for most people, you can expect its price to continue going up in the coming years. This is a safe investment that can hold its value for the long-term.
2008-09 Topps Chrome
One glance at the 2008 Topps Chrome Kobe Bryant card and you'll know it's a classic. It features the Black Mamba himself going up against The King, Lebron James, during his first stint as a Cleveland Cavalier. This card has a special place among collectors as it evokes so many dream championship matchup scenarios between these two legends, something that never came to reality. 
Just take a look at its recent sales online and you'll see just how high collectors are willing to go for it. Having LeBron James featured on the card just makes it even more of a premium item. If ever you're looking for a timeless card that can only go up in price, this 2008 Topps Chrome offering is one of the options you should consider.
2012-13 Panini Prizm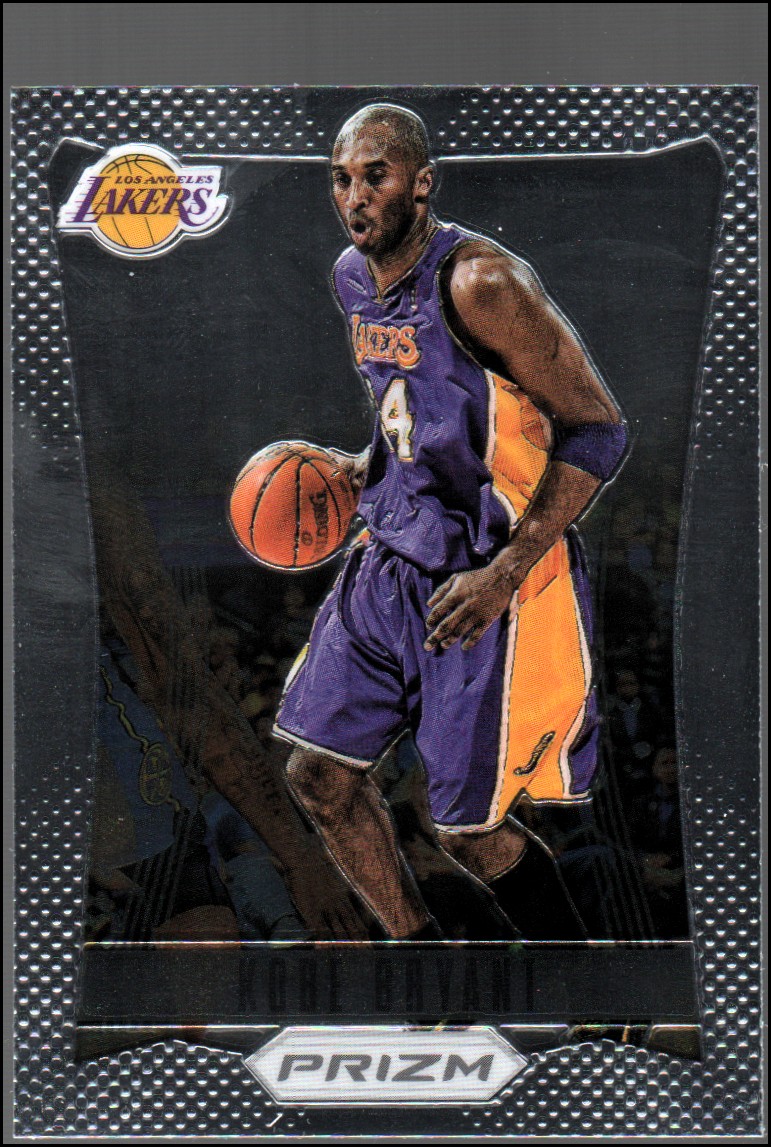 Take a look around the card market and you'll be surprised by how people revere the standalone Prizm. Released in 2012, the Panini Prizm brand remains the standard card within the community. If you're looking for a base or rookie card that can hold its value, you can be sure it's Prizm.
That's why the first edition of this set remains an in-demand product these days. The same can also be said about Kobe Bryant's first Prizm card, which is fetching a high price on the market. Aside from its first-year status, the card's design is as timeless as it can get. And if you manage to grade one with a gem mint condition, you're sure to have a keeper in your collection whose price would only go up in the years ahead.
2018-19 Panini Kaboom
Panini's Kaboom cards are considered to be one of the best inserts available to collectors. The incredible design and its rarity in the market have driven up the card's value exponentially over the years. Panini has afforded the Black Mamba with several Kaboom cards during the past seasons but it's his 2018 variant that seem to be the favorite for card investors and personal collectors alike.
Last December 05, 2020, a 2018 Kaboom Kobe Bryant was sold off on eBay for $3,500. Sure, the price may seem too high for most people but the fact that it's the Mamba's final Kaboom card before his untimely passing makes it more valuable. You can expect this card to go up and hold its value well for a long time.
2016-17 Panini Studio From Downtown
Last on our list is another classic insert, the 2016-17 Panini Studio From Downtown. One glimpse at it and you'll appreciate its clean look, amazing graphics, and the unique way it highlights Bryant as an integral part of Los Angeles City itself. 
These cards were pretty hard to come by when they were released. They're more challenging to catch these days for anything more than a pretty penny, owing to Bryant's legendary status and the rarity of the card itself. Just last month, a BGS 9.5 From Downtown sold for $2,900. Even with its exuberant value, you can sleep well at night knowing that it's just going to go up from this point on.
Of course, these five cards are just a small sample of the market out there. When it comes to purchasing the Black Mamba's key cards, it's always best to research their prices and feel the sentiment of the market towards them. In this way, you would be getting your money's worth when you invest in cards that feature the late, great Kobe Bryant.