Ever since the trade deadline, Tyrese Haliburton has emerged as a guy who's finally found his purpose with the Indiana Pacers. While the Sacramento Kings have flourished with Domantas Sabonis in the lineup, it can't be denied that the second-year guard is having a good stint in his new team as well. Of course, this is a good sign for his rookie cards as well.
With Panini completing its set of products from last year's draft class, people are bombarded with so many options in the market. We take a look at the most epic Tyrese Haliburton rookie cards that have landed in the hobby.
The 5 nastiest Tyrese Haliburton rookie cards, ranked
5. Immaculate Rookie Nike Swoosh Patch Auto 5/5
There's always something so amazing to be discovered when a huge Nike swoosh patch is embedded within a card. The footwear company's trademarked logo is one that evokes the spirit of competition and sports with just one look. In the case of this Tyrese Haliburton Immaculate Rookie Patch Auto from Panini, everything about it will be taken a notch higher.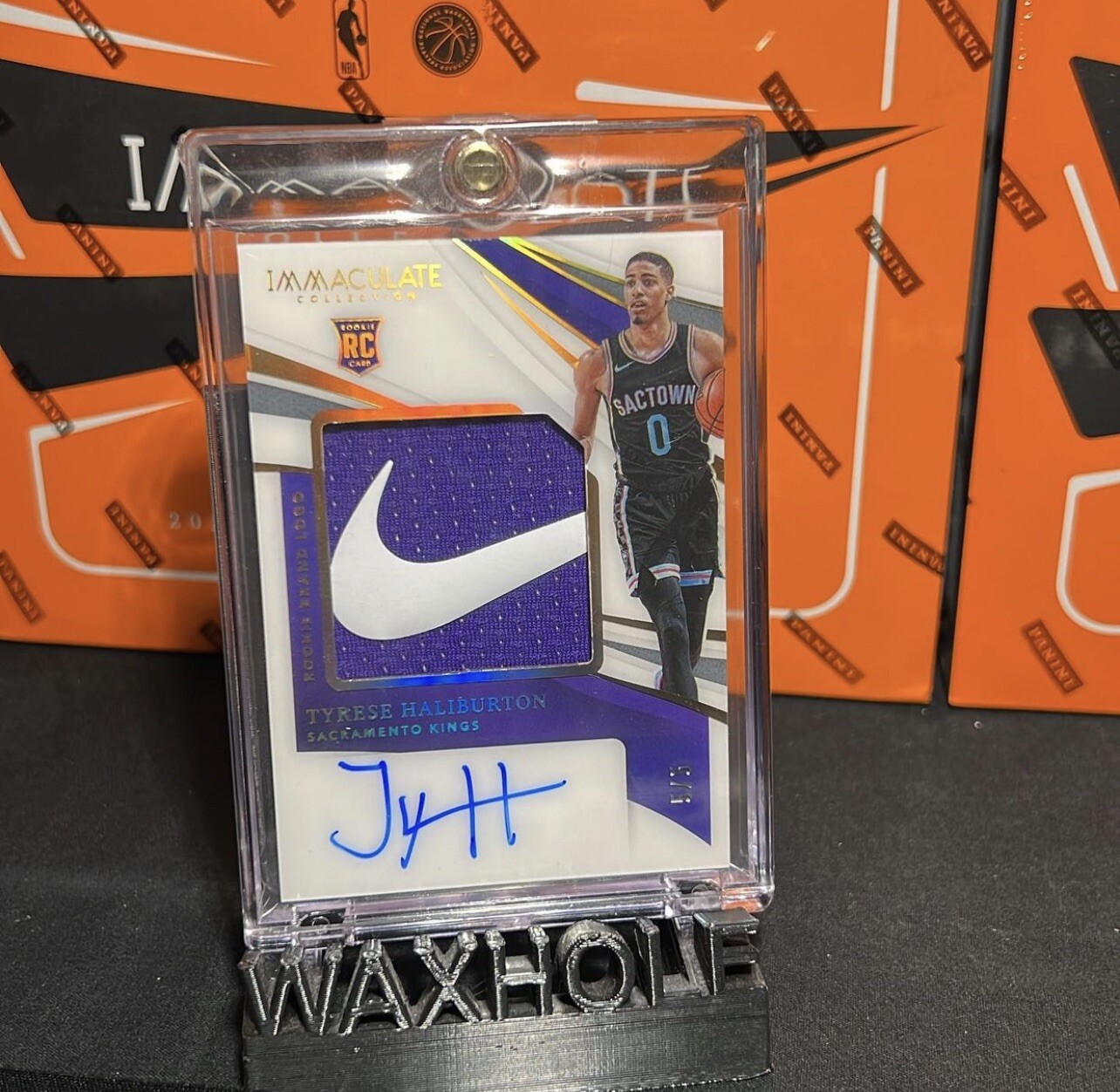 With the Indiana Pacers' young guard on the right, a massive Nike Swoosh patch in the middle, an on-card signature down below, and Immaculate's pristine design bringing every detail together, this pull will surely be a head-turner anywhere it goes. Plus, it's worth a fortune with the last copy of its series being sold for $5,600 on eBay.
4. Prizm Fast Break Neon Green 4/5
Panini's Prizm has always been the standard when it comes to basketball cards. Since its inception in 2012, this brand has been the flagship option for those who are into the hobby. With its unique design and huge appreciation across the market, this one is a sure winner for anyone's collection.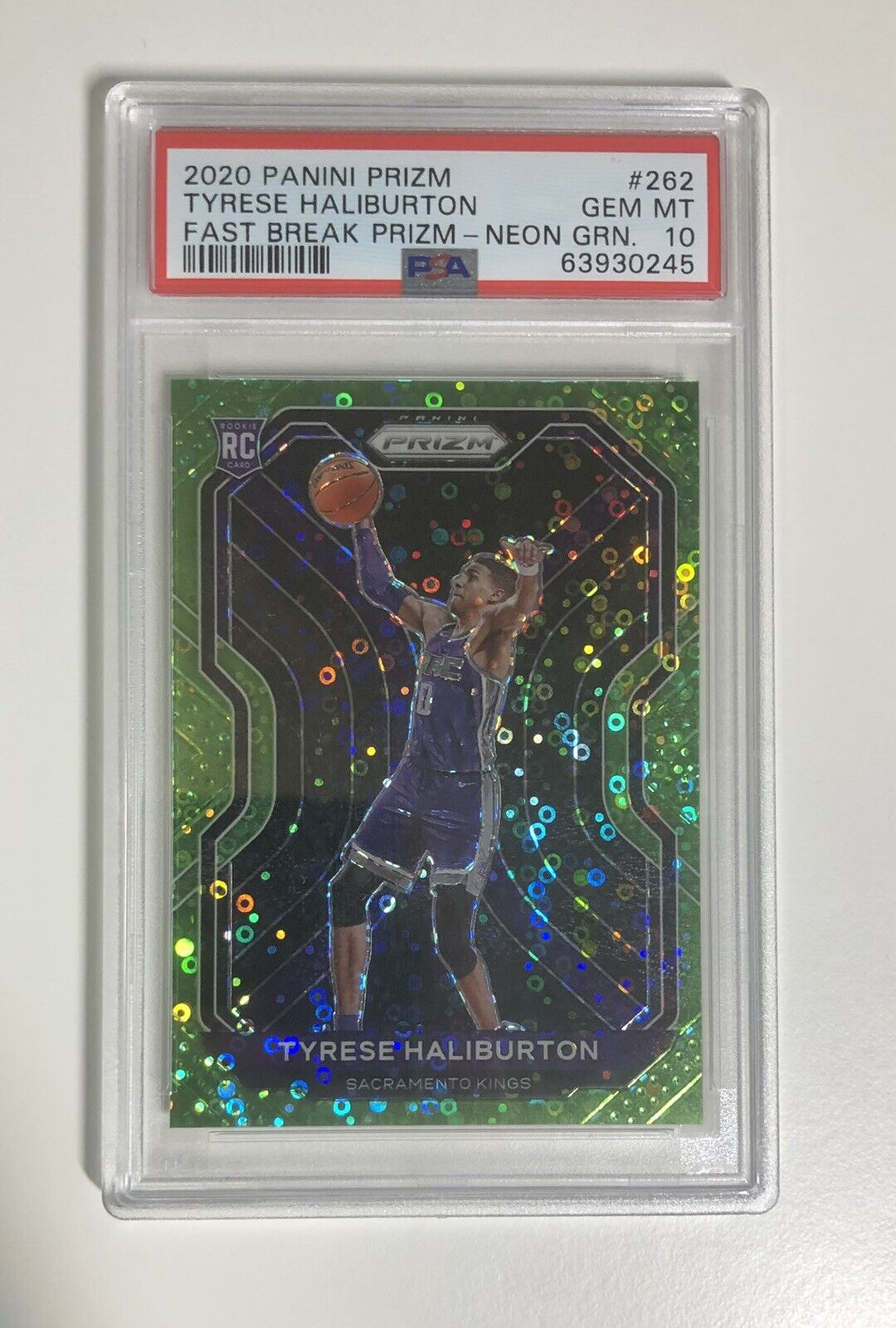 Taking things up another notch is this Tyrese Haliburton Prizm Fast Break Neon Green. With the Pacers' star front and center, the card's distinct neon green disco look will surely be a looker from any angle. It also helps that its limited print run of five copies elevates the card's value. And speaking of value, a PSA 10 slab containing the fourth print went for $6,400 in the market recently.
3. Chronicles Cornerstones Onyx Rookie Nike Swoosh Patch Auto 1/1
For several years, Panini's Cornerstones has delivered some awesome pulls that featured the hottest rookies. The company's latest edition of this card set, which can be found from their Chronicles product, carries the tradition with its distinct design.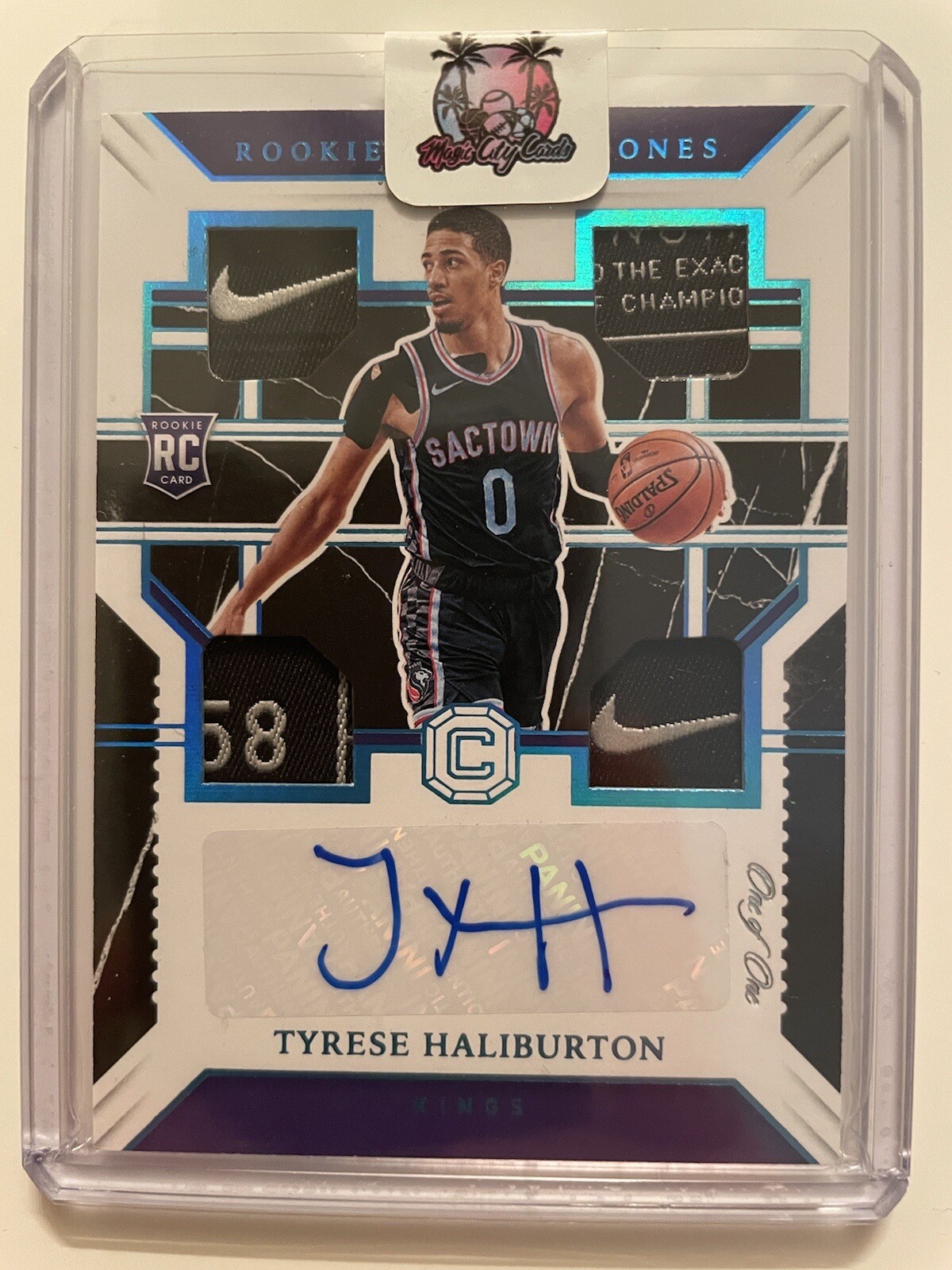 And when it comes to this particular set, nothing can be better than the Onyx Nike Swoosh RPA One of One parallel. In this case, it's Haliburton featured front and center. It has four windows that showcase a sleek Nike patch embedded inside, a sticker autograph on the bottom part, and One of One logo near the right side. And with Haliburton's star continuing to rise the more dominant games he plays for the Pacers, collectors can be sure the card's current value of $10,000 will go up in the coming years.
2. Optic Black Rated Rookie 1/1
Those in the hobby who aren't into flashy cards or loud designs still have a lot of options to consider. Foremost among these is Panin Optic's Rated Rookie set. With its minimalist look that highlights rookies during their first year in the NBA. But above these base cards, collectors can go hunting for the rarer parallels with very short print runs. Among these is a Black One of One.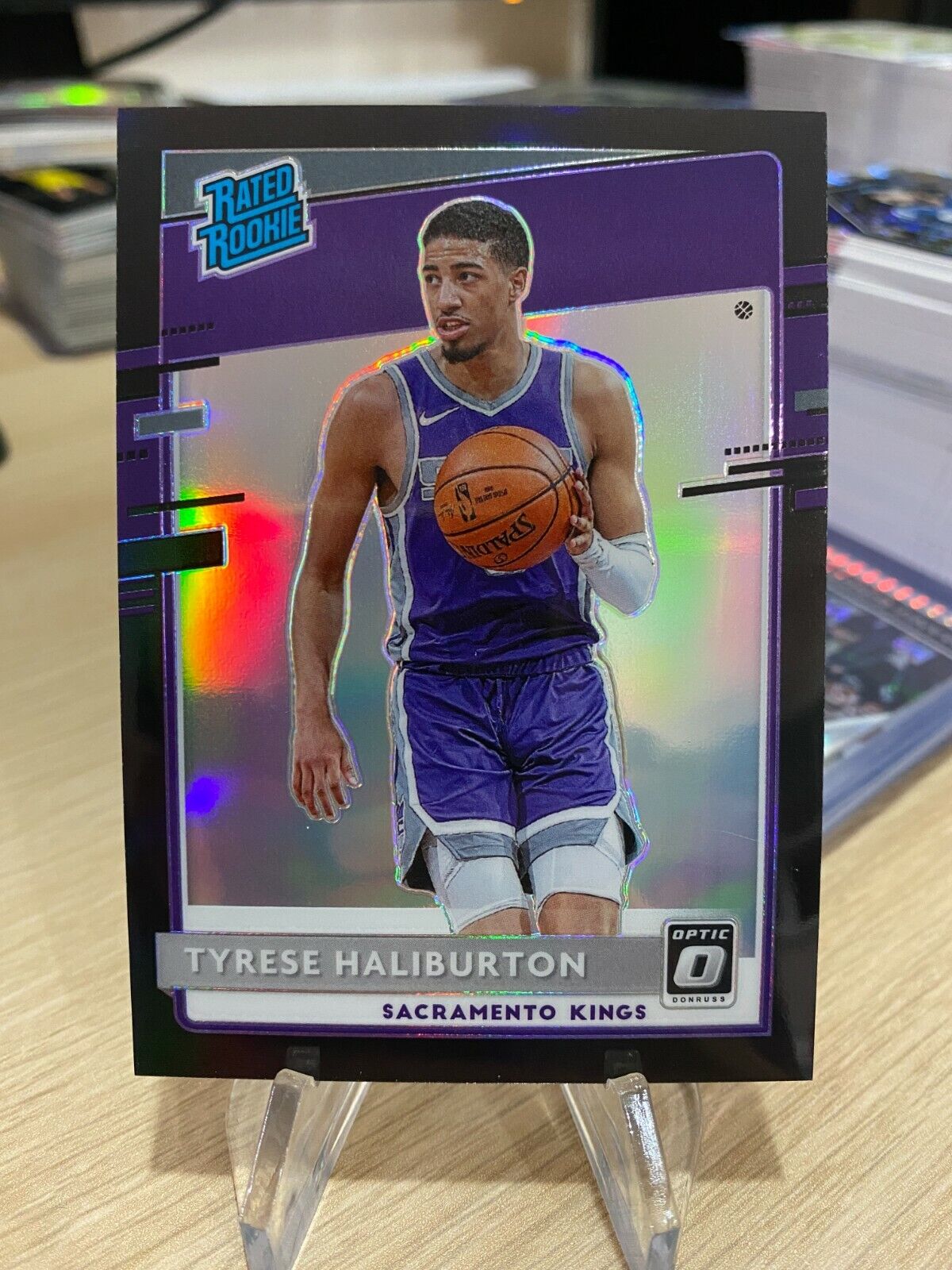 With a player of Haliburton's caliber right on front, this Rated Rookie Black parallel will surely gain a lot of fans in the market. Of course, its value will burst through the roof if it obtains a good score from any proven grading company. But for now, its price is pretty awesome at $10,000 in the market.
1. National Treasures Rookie Patch Auto Gold 1/24
Right on top of this list is a card that's far above Panini's usual offerings. The company's National Treasures set is considered to be among the top card products money can buy in the hobby today. While it features stellar autos from the NBA's best players, the real key here is to chase rookie patch autos.
Apart from last season's draft class, of which LaMelo Ball and Anthony Edwards sit on top, the next rookie to target from this set is Haliburton. This National Treasures RPA Gold parallel numbered to 24 copies with the Pacers' new star is looking good. With a two-color patch on the right and an on-card signature down below, there's no better option out there than this massive pull. And with a BGS 9,5 grade all over it, it's not hard to imagine that this card is worth $18,000.
As Haliburton continues to impress in Indiana, it isn't far-fetched to think that his rookie stock won't benefit from his development in the coming months. If nothing goes wrong with his stint as a Pacer, expect these rookie cards above to go up in value.