Payton Pritchard rookie cards went crazy after 92-point game
Whether you're playing in the NBA or in any other league out there, scoring more than 60 points in one go is harder than expected. That's why guys who went off in that manner, like Wilt Chamberlain and Kobe Bryant, are revered by basketball fans all over the world. But just recently, a rookie from last season became the talk of the town by achieving something similar – Payton Pritchard.
We take a look at what the Boston Celtics' young guard did and the effect it had on his rookie card value in the market.
The Reason Why Payton Pritchard Rookie Cards Have Gone Up
Just last week, Pritchard did something most NBA players haven't come close to achieving – notching 92 points in a single game. This amazing feat on the offensive end occurred in a Pro-Am tournament game in Portland, Oregon, where the 23-year old guard led his squad to a 165-163 victory. This jaw-dropping performance happened days after former Celtic star Isaiah Thomas posted 81 points in the same tournament.
Payton Pritchard scored 92 points today in a Pro-Am tournament game:https://t.co/NdrpObF3Aw
By now you've heard of Isaiah Thomas' 81 pt Pro-Am performance. Today Pritchard was like, "hold my beer." The Celtics guard finished w/ a whopping 92 pts in his Pro-Am game in Portland, OR pic.twitter.com/7bgMiHf4ei

— CelticsLife.com (@celticslife) August 15, 2021
This amazing performance became a reality after Pritchard left the NBA's Summer League for his commitment to play in the Pro-Am Tournament. Even if that's the case, the incoming sophomore averaged 20.3 points, 8.7 assists, 4.7 rebounds, and two steals in his three Summer League games. He also posted efficient numbers of 51.4% from the field and 57.7 % from beyond the arc during those contests.
This outburst comes as a pleasant surprise, especially to Boston fans, after a meager rookie campaign. During his first year in the league, Pritchard averaged 7.7 points, 2.4 rebounds, and 1.8 assists in 19.2 minutes per game. While his numbers don't seem to pop out, his efficiency with the ball tells otherwise. Last season, he posted 41% from deep, 44% from the field, and 89% from the free-throw line.
All of these numbers would come bursting out of the surface in a game against the Oklahoma City Thunder last April. In that contest, Pritchard cooked the competition by posting 28 points on 56% shooting from the field and 40% from downtown.
As a result of his latest high-scoring game, Pritchard's card value instantly shot up on the market. Before this feat was done, his raw 2020 Prizm Silver rookie card was priced at $20. After that monster game, that figure rose up to $50. This sharp increase just goes to show how even a non-NBA game can have an impact on a player's stock in the card market.
The Outlook On Payton Pritchard Rookie Cards For The Upcoming Season
With Boston's roster filled out for the upcoming season, Pritchard has a chance to stand out. Marcus Smart and Kris Dunn will most likely take most of the minutes at the point guard position but either one of them is seen as a credible shot creator or offensive threat.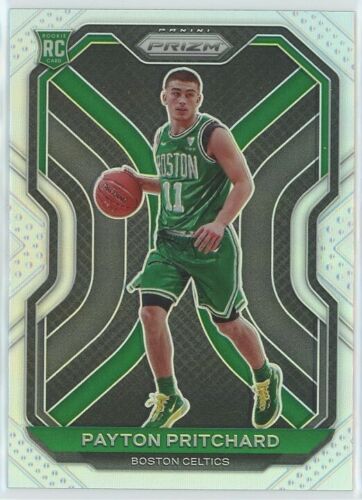 Pritchard, on the other hand, can maximize his playing time by providing an offensive spark from the bench. His shot creation skills will come in handy, especially when Jayson Tatum or Jaylen Brown are resting.
If he manages to become consistent or even excel in this role, Pritchard will see his minutes and rookie card value go up next season. While his prices are still relatively low, collectors should scoop up his cards since they present a good purchase that doesn't pose a lot of risk down the line.