Brooklyn Nets star Kevin Durant has been on a tear lately. After missing an entire season to heal from an Achilles injury, the Slim Reaper is back and playing like he never got hurt at all.
This season alone, Durant is averaging 30.8 points, 7.5 rebounds, 5.2 assists, and 1.4 blocks per game. He's also hitting threes at an elite level by connecting 45% of his six attempts per contest. These numbers, and the impact he has on the court, makes it look like Durant is playing better than before he got injured.
Thanks to his impressive on-court performance for the Nets, Durant is enjoying a resurgence in the NBA card market. The addition of James Harden has also bolstered Brooklyn's chances to win a ring, which bodes well for Durant's stock.
And speaking of stock, there's no better investment out there than Kevin Durant's rookie cards. There are a lot out in the market but there are some that stand out from the crowd. Listed down below are the Kevin Durant cards that will certainly retain their value over the coming years.
4. 2007 Bowman Chrome Gold Refractor Kevin Durant Rookie Card /99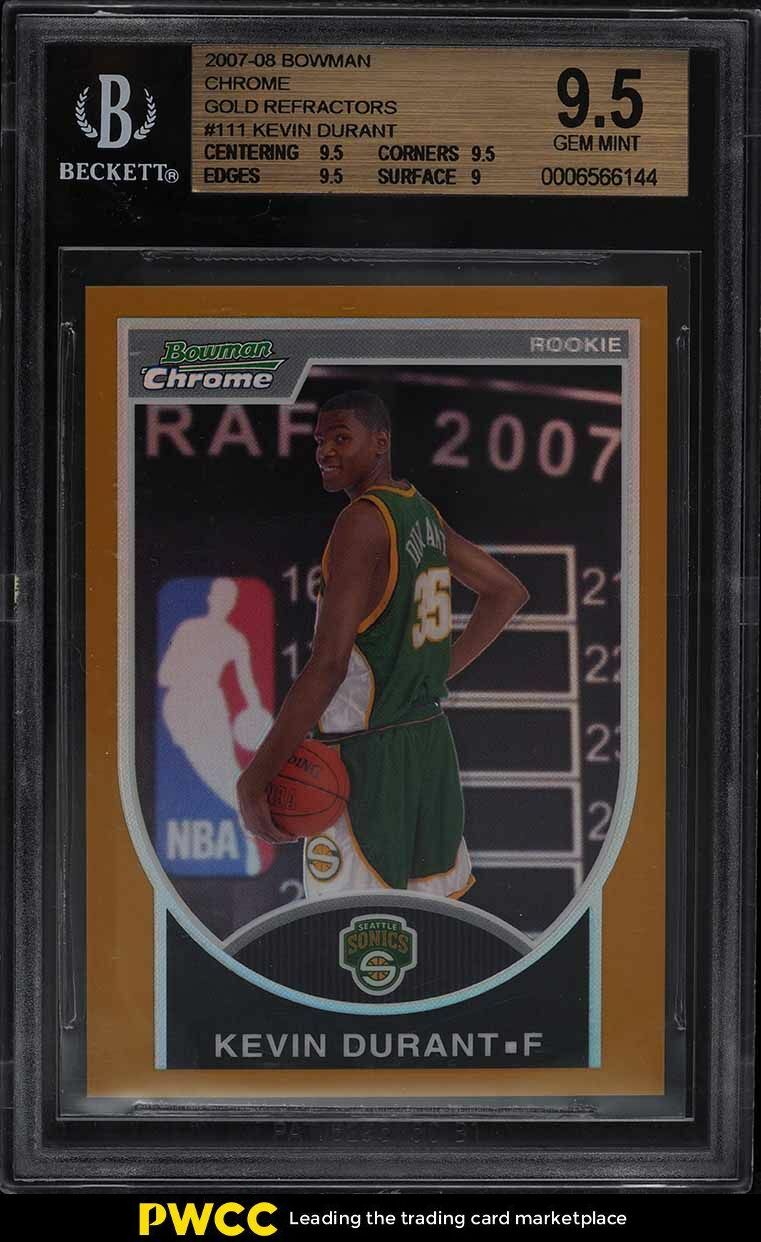 Any card encased in a chrome design will surely turn heads around. That's the case with this 2007 Bowman Chrome Kevin Durant rookie card. Apart from sporting a clean vintage-inspired design, the card's unique gold finish and limited print-run certainly make it more valuable.
Add to those features the fact that this is one of Durant's rookie cards and you've got yourself a keeper. Just recently, a BGS 9.5 graded copy of this card was auctioned off for the whopping price of $19,099. Thanks to its very limited population and Durant's staying power, this card will not just retain its value, it's going to shoot up in the coming years.
3. 2007 Toops Finest Xfractor Parallel Kevin Durant Rookie Card /25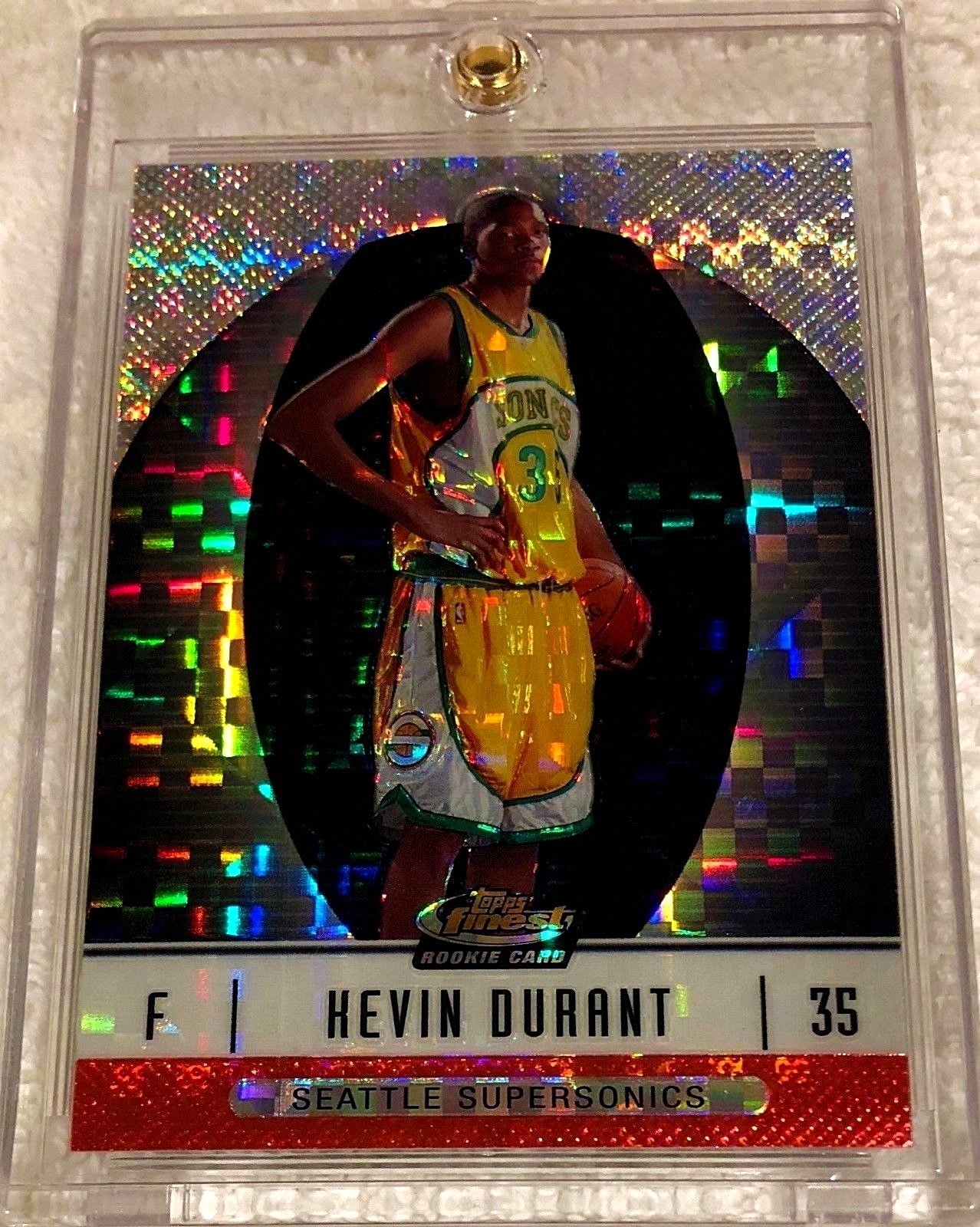 It's rare to see an ungraded card go insane in the card market. In this case, it's Durant's Topps Finest Xfractor rookie card.
The card itself features the Slim Reaper in his Supersonics uniform in the middle of a mosaic-like design. It's also the first of 25 copies printed by Topps, making it a very rare item to own.
A testament to this card's rarity its eye-popping price. A raw copy was sold last January 28, 2021, at $22,500. It has the potential to even go higher if the card gets a gem mint grade.
2. 2007 Upper Deck Black Patch Material Autographs Blue Parallel One of One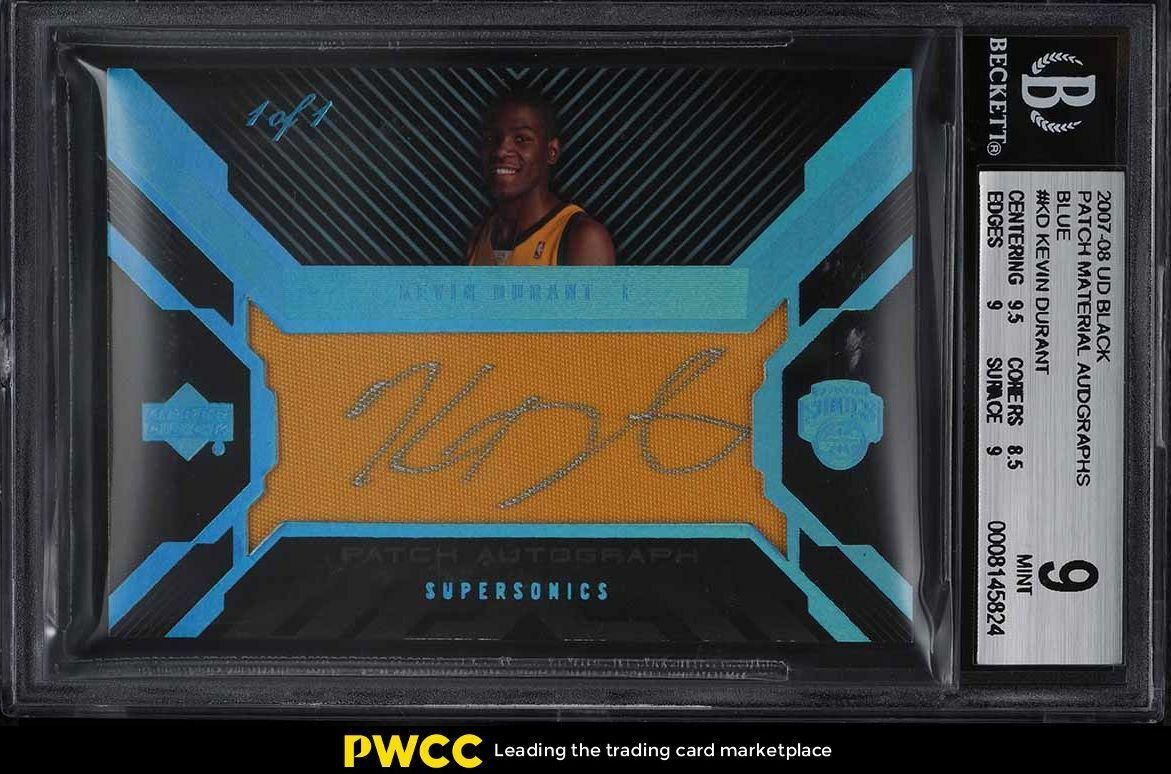 If you ever get a hold of a one of one card that features a future Hall of Famers rookie signature and jersey patch, you'll be tempted to never let it go. Such is the case with this 2007 UD Black Rookie Patch Auto of Kevin Durant.
And if those card features aren't enough to make this a true one-of-a-kind item, its BGS 9 mint grade really seals the deal. Just last January 19, 2021, it was auctioned off for $32,100. While it may seem too much, remember that there's only one card like this in the whole world, justifying its exuberant price in the process.
1. 2007 Topps Chrome Orange Refractor Kevin Durant Rookie Card /199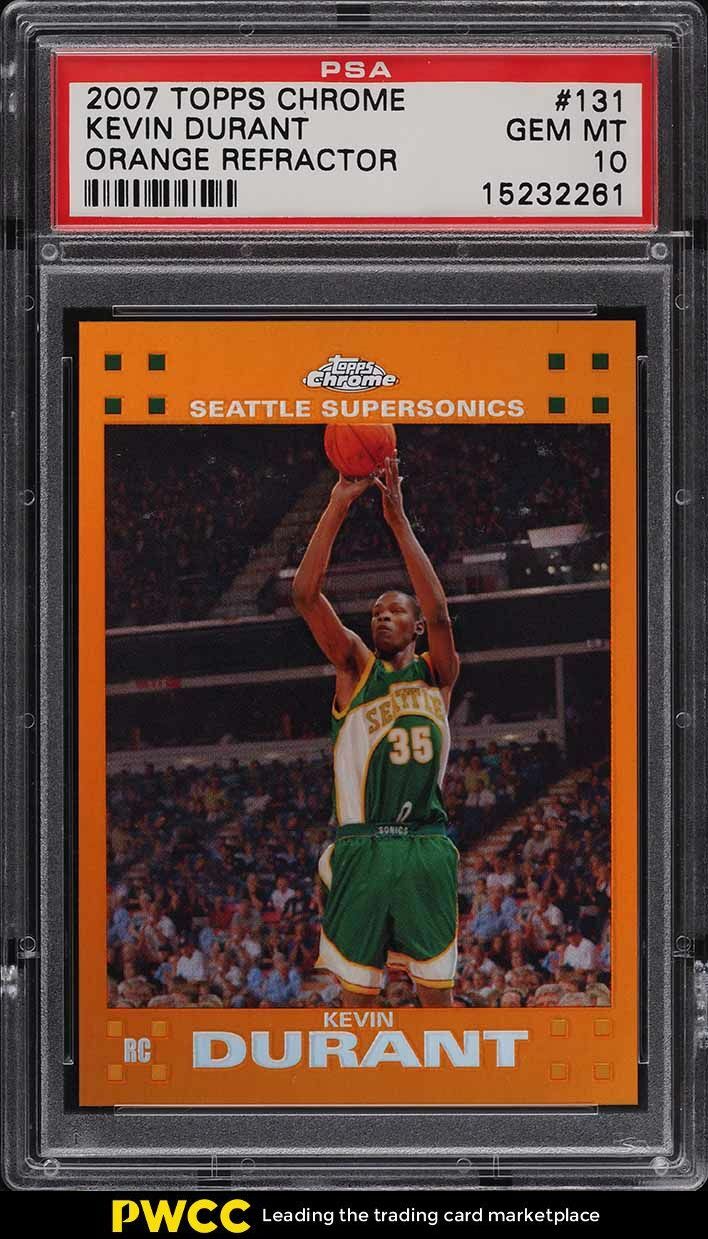 At the top of our list is a card that's one for the ages. Durant's Topps Chrome Orange rookie card, numbered to 199, showcases the Brooklyn Nets star during his first season with the Seattle Supersonics. Its clean look and limited print run will surely help this card to withstand the test of time.
As evidenced by a recent auction last December 30, 2020, a PSA 10 of this card fetched $64,988. Don't hold your breath because that amount can go higher, especially if the Nets make a serious run at the championship this season.