The Dallas Mavericks are going all-in. By trading Dennis Smith Jr., a 2021 first-round pick (unprotected) and 2023 first-round pick (top-10 protected), DeAndre Jordan and Wesley Matthews (both expiring contracts) for Kristaps Porzingis, Tim Hardaway Jr. (three years $54.45 million contract) and Courtney Lee (two years $25.29 million), Dallas goes from boasting $51.3 million cap space this Summer to extending over-the-cap, according to Keith Smith of Yahoo Sports.
Seven months after trading two lottery picks to acquire the rights of Luka Doncic, the Mavericks are hoping that Porzingis — who hasn't played since tearing his ACL last February — meshes with their young roster in 18 months, when he becomes an unrestricted free agent. How Luka Doncic and Porzingis mesh will define Dallas' future.
Doncic' instant translation to the NBA — the Slovenian is producing 20.4 points on 55.6% true shooting, 6.9 rebounds, and 5.4 assists — has accelerated Dallas' timeline to a point where trading two first-round picks for the injury-prone big man proved a safer option than holding out hope that free agency or the draft would yield star talents.
While Dallas is betting on Porzingis' health, the Latvian forward is choosing to play it safe financially. In spite of a report surfacing that Porzingis was planning to sign his upcoming qualifying offer — which would pay him only $4.5 million because he is not considered "starter criteria" — Porzingis will likely test free agency. He will be eligible to command a maximum-offer sheet of five-years $150 million. Buyers should be aplenty; Dallas will have a decision to make.
Questions still remain about when Porzingis will return to action this season, if at all. The Knicks slated his evaluation for mid-February, meaning his return would come at least two weeks after he was confirmed healthy and ready for action. But Mark Cuban and Rick Carlisle have both stated they want to wait until he is fully-recovered, whether that's this season or not.
The fit makes sense on the court, too, especially for Doncic. Prior to the trade, he was surrounded by four starters — Dennis Smith Jr., Wes Matthews, DeAndre Jordan, and Harrison Barnes — who were incompatible with his play-style.
Smith Jr. wasn't a good enough shooter to be Doncic' backcourt buddy. DeAndre Jordan didn't offer scoring-diversity in the pick-and-roll; never popping after setting a ball-screen. Barnes is an isolation-fiend. And with Barnes the only remaining member, Doncic will see continued growth as a passer. Kristaps Porzingis, in particular, offers a more diverse skillset as a pick-and-roll partner.
Before, the "big" defender would simply slink into drop coverage, congesting Doncic' driving lane.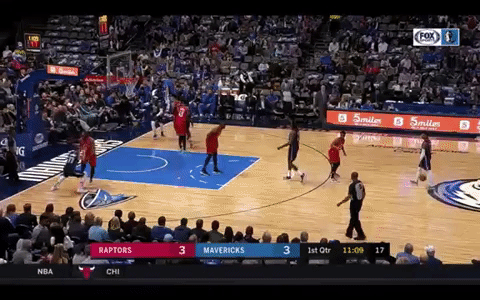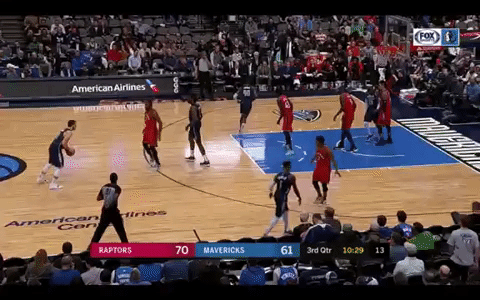 The common denominator in a Doncic-led pick and roll was Dwight Powell or DeAndre Jordan. Both players were threats near the rim, yet offered little versatility on the perimeter — neither as drivers nor shooters. Tall. Athletic. That's about it.
To mix things up, conventional wisdom says Carlisle would occasionally try Nowitzki-Doncic pick and rolls, but…nope. Maybe it was because Nowitzki was too old and slow. Maybe Dallas needed a corner-shooter when an isolation possession reared its ugly head. Whatever it was, Kristaps Porzingis allows Rick Carlisle to jump into the Delorean to run the 2019 version of the Nash-Nowitzki pick and roll.
"We obviously think Porzingis is a great young talent, similar in many ways to Dirk," Rick Carlisle said on his Thursday pre-game ESPN Radio appearance. "This is kind of a Dirk-and-Nash type of situation, only these guys are taller."
Powell and Jordan were, um, not Dirk. Nonetheless, the Slovenian wonderboy has already earned a doctorate degree in the pick and roll. He dissects defenses by skipping the ball to opposite corner shooters or no-looking passes to the roller.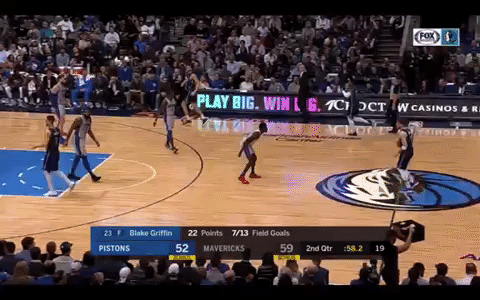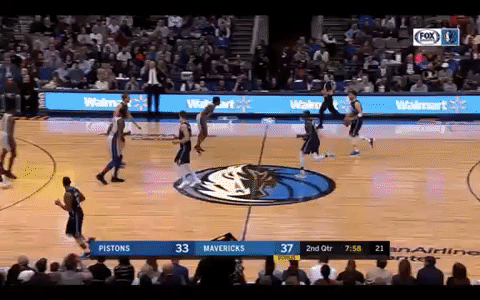 The street isn't one-way, as Porzingis is sped up by the engine of Doncic' creating ability, too. Kristaps Porzingis has never played with a talent of Doncic' talent. 
The closest thing was Carmelo Anthony, who, by Kristaps' rookie season, had fallen off the deep end. After Kristaps' second year, Melo was shipped to Oklahoma City. From then on, Tim Hardaway Jr. was Porzingis' second-fiddle. Yikes. Makes sense that he left.
In New York, Porzingis had to shoulder the load. His efficiency suffered as a result. After ten fiery games — in which he produced 30 points on 60% true shooting and 7.5 rebounds per game — Porzingis' stat-line simmered to 20.7 points 51.6% true shooting and 6.3 rebounds, before tearing his ACL in mid-February. His flame burned out.
The second game of a back-to-back against the Washington Wizards on January 4, 2017, in which he scored only 16 points on 5-13 shooting, painted the picture.
"I'm tired. I'm so tired right now," Kristaps Porzingis said after the New York Knicks lost 121-103 to the Washington Wizards. "I have one day now to rest my legs and then get back and play better and have more energy, and also try and bring the team's energy up."
Energy won't be a problem in Dallas.
The 7'3" center will be receiving dimes from Doncic, who at 6'8,'' has eyes in the sky, able to drop passes from impossible angles. In New York, the Latvian forward would have to relocate after setting the ball-screen.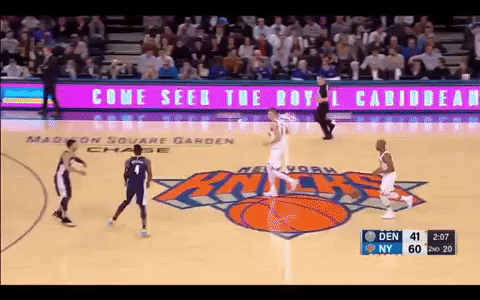 Kristaps won't need to launch bombs when swarmed by double-teams.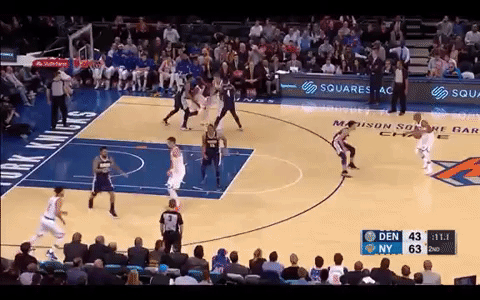 Even without Doncic by his side, Porzingis has already made a name for himself in the pick and roll. Surrounded by limited playmaking a in New York — where Trey Burke and Emmanuel Mudiay alternated at point guard  — Porzingis has proven to be a Swiss-army knife after screening, able to stab defenses in a variety of ways.
Porzingis' two most-efficient areas of shooting are clear: at the rim and from three, which happen to be Dallas' two biggest weaknesses. Dallas has trouble with spacing, 22nd in the league in made triples. Porzingis made 39,5% on 4.8 3PA, one of only three players (Troy Murphy and Channing Frye) over 6'11" have completed. Those strengths make him versatile in almost all situations, but especially pick and rolls.
His ball-screens are matador-like, side-stepping the on-ball defender as if clad in red and avoiding a bull's stampede. In basketball terms, it's called a "brush screen." Sneaky. Ghostly. Whatever you wish to coin it, the outcome tends to be the same: a bucket.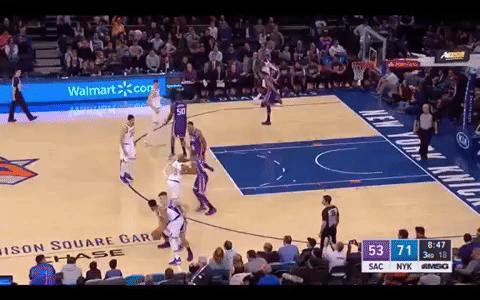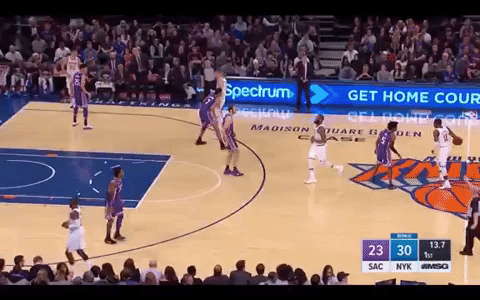 Porzingis isn't your typical ball-screening big man, he also runs around them with vigor, looking to score.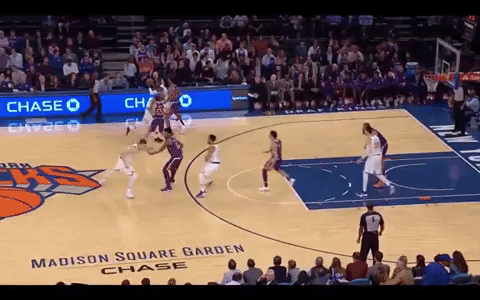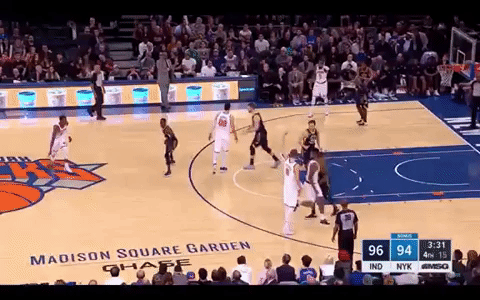 Then, there's the other side of the ball, where Porzingis is no slouch, either. In 48 games last season, Porzingis rated ninth in blocks (2.7) per 36 minutes.
Dallas already boasts the tenth-ranked interior defense (allowing 47.3 paint points per game), which figures to improve. And the tip of the spear — the center position —  just got sharper.
While DeAndre Jordan has a reputation as a rim-protecting menace, he tallied only 1.2 blocks per 36 minutes, a stark contrast of the 2.7 he recorded in 2015, when he was voted the "best defender" at the NBA Player Awards. Simply put, Porzingis represents a major upgrade over DeAndre Jordan defensively.
He covers ground in transition like a giraffe at full speed and snatches souls.
His defense leads to offense:
Porzingis buries players in a half-court setting, too. He uses double-jump ability, a keen instinct to read plays, and solid, hands straight-up technique.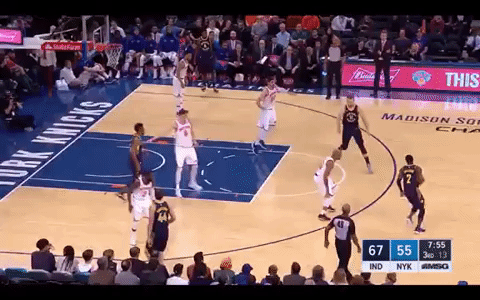 Implying that Porzingis and Doncic are important is an understatement. The two own the keys to Dallas' future, however, the other players involved in the equation hold importance, as well.
As previously mentioned, Dallas rid of DeAndre Jordan and Wes Matthews in the trade. Despite targeting Jordan since 2015, the Mavericks' management decided his lack of skill outside of dunking made him expendable. And they decided Matthews' mini-career revival offensively — 13.1 points on 55.6% true shooting — didn't make up for his porous defense. Those two, however, were on expiring contracts, while the players sent back to Dallas — Tim Hardaway Jr. and Courtney Lee — are attached to inflated contracts.
The risks don't end there. Dallas gave up their formerly-thought franchise player, Dennis Smith Jr., too. The second-year guard sat out six games from January 9 through January 21 after expressing dismay with his role, which saw him take a backseat to Doncic, in which he struggled. Ultimately, Dallas reconciled with Smith, knowing they needed to recoup his value for a potential trade.
The two former Knicks guards could be rotation players. Hardaway Jr. averaged 19.5 points on 50% shooting and 7.5 rebounds and 4.5 assists in two games before dropping 6 points on 2-11 shooting, which pretty much sums up his inconsistent game. And while Courtney Lee is receiving a career-low in minutes, he could fill a possible 3-and-D role, something Dallas is sorely lacking.
At 23-28 and 4.5 games out of the Western Conference playoffs, the Dallas Mavericks can take a stab at the playoffs. If they do, they will officially lose three of their next five first-round picks. The first-round pick sent to New York was top-five protected, giving Dallas no reason to rush back Porzingis. It's possible they submit their name on the tryin' for Zion ballot. (Imagine: Doncic-Porzingis-Williamson. Whoof).
Whichever direction Dallas chooses to take, the trade for Kristaps Porzingis was a risk, but one that could elevate the Mavericks to a new level in the Western Conference.
Statistics and quotes courtesy: NBA Stats, Basketball-Reference, ESPN, Spotrac, and Yahoo Sports.