5 NBA stars whose rookie cards are ready for an epic playoff boost
It's only a matter of time before the regular season ends and the playoffs begin. It's that time of the year when the competition in the NBA is taken a notch higher and only the deserving will be left standing. But the action isn't just happening on the court. It's primed to spill over to the hobby as well. With that kind of excitement just around the corner, there are several guys whose rookie cards are more than ready to explode during the postseason.
While placing your bets on the hottest rookies during the past two seasons is a good way to go, there's still some merit to be had when going for proven stars who are expected to make the playoffs. Shown below are the rookie stock of those guys and why they should be on everyone's radar.
Jimmy Butler rookie cards
There are a lot of reasons why the Miami Heat are sitting on top of the Eastern Conference. Some say the Kyle Lowry's arrival unlocked the roster while others go for their depth that has help them weather a series of injuries to their key players. Whatever the reason may be, it can't be denied that the presence of Jimmy Butler helps elevate Miami to a top-tier team, thanks to his impressive two-way skill set.
In the 43 games Butler played for Miami this season, he is posting averages of 21.7 points on 47% shooting from the field, 6.3 rebounds, 5.8 assists, and 1.8 steals per contest. With him on the floor, the Heat get to play a 7th place offense (113) and a 6th place defense (108.1), allowing them to top the East with a 41-21 record.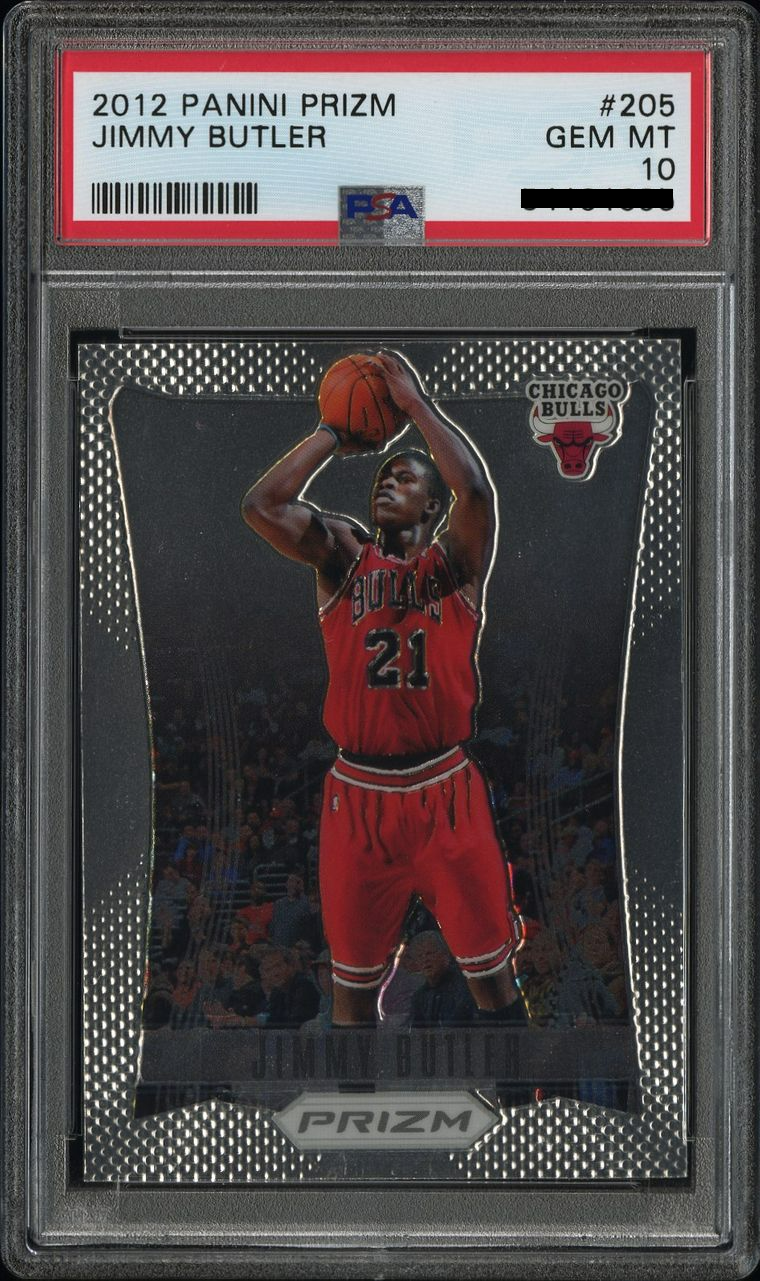 The Heat possesses good odds to enter the postseason with the number one seed. This means that whoever gets the eighth seed will have to face the fury of Butler leading a determined Miami squad. If Jimmy Buckets manages to explode during that first round, expect his PSA 10 Prizm rookie card to rise up from its current value of $174.
Devin Booker rookie cards
A lot of people have already forgotten that Devin Booker once dropped 70 points in one game a few years again. Since that time, the Phoenix Suns' starting shooting guard has been known to be a force to be reckoned with on the offensive end of the court. It only took the arrival of Chris Paul to elevate the whole squad to title contenders, which became a reality during the last postseason.
And in the weeks leading to this season's playoffs, Booker is showing everyone why he's still one of the best scorers in the NBA. In 54 games, the All-Star guard is averaging 25.6 points on 44/36/86 shooting splits while contributing 5.2 rebounds, 4.6 assists, and 1.1 steals per contest. It isn't too far-fetched to think that these numbers will go up a notch as soon as the Suns enter the postseason.
When that happens, Booker's PSA 10 base Prizm rookie card will catch fire from its current value of $525. And with Point Booker handling the playmaking duties in Phoenix, that increase can even come earlier than expected.
Ja Morant rookie cards
Without a doubt, Ja Morant's All-Star leap in his third year in the NBA is legit. While it can't be denied that the talent was obviously there during his rookie and sophomore campaigns, it's only this season that the young guard has shown everyone that he can lead a team to a winning record.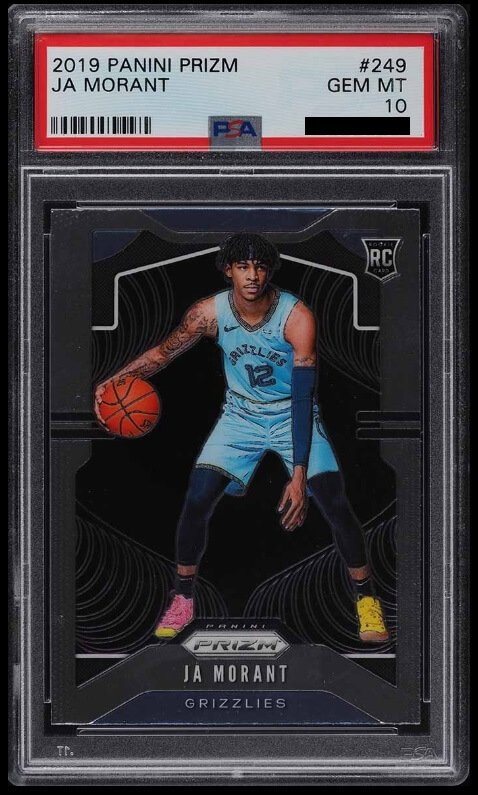 As it stands, Morant is making everyone believe in the 33.3 minutes he gets to play each game. During those contests, the Memphis Grizzlies' franchise player notches 27.6 points, 5.9 rebounds, 6.6 assists, and 1.2 steals. Plus, the All-Star's recent games against the Chicago Bulls and San Antonio saw him score 46 and 52 points respectively. This brings the idea that Morant can certainly replicate these high-scoring games once the postseason starts.
Those in the hobby who have invested in Morant will look forward to those postseason games and hope the Grizzlies make a deep playoff run. In the event this run does happen, expect the All-Star's PSA 10 base Prizm rookie card to blow up from its current price of $292.
DeMar DeRozan rookie cards
As the season progressed from its start last year, Stephen Curry and Kevin Durant were the early favorites to win the MVP award. While everyone was focused on these stars, DeMar DeRozan was building a strong case by playing out of his mind for the Chicago Bulls. At this point in time, it's now clear that the All-Star forward has overtaken more popular names in the race for the coveted award.
DeRozan's resurgence in the Windy City doesn't come as a surprise anymore. Thanks to his averages of 28.2 points on 51/35/86 efficient shooting splits, 5.3 rebounds, and 5 assists per game, this mid-range assassin is able to lead the Bulls to the East's second seed with a 39-23 record.
In a few weeks, DeRozan will be able to enter the postseason as part of a contender once again after his stint with the Toronto Raptors. Seeing him again on the biggest stage and performing on it will certainly do his rookie card stock a lot of good. At this point in time, it's not too hard to imagine that his PSA 10 Topps Chrome card can go up from its current price of $2,400 in the market.
Luka Doncic rookie cards
Before the season hit its halfway mark, there were some who dismissed the Dallas Mavericks for failing to surround Luka Doncic with enough talent to make a meaningful playoff run. The All-Star guard, it seems, has taken matters into his own hands from that point on.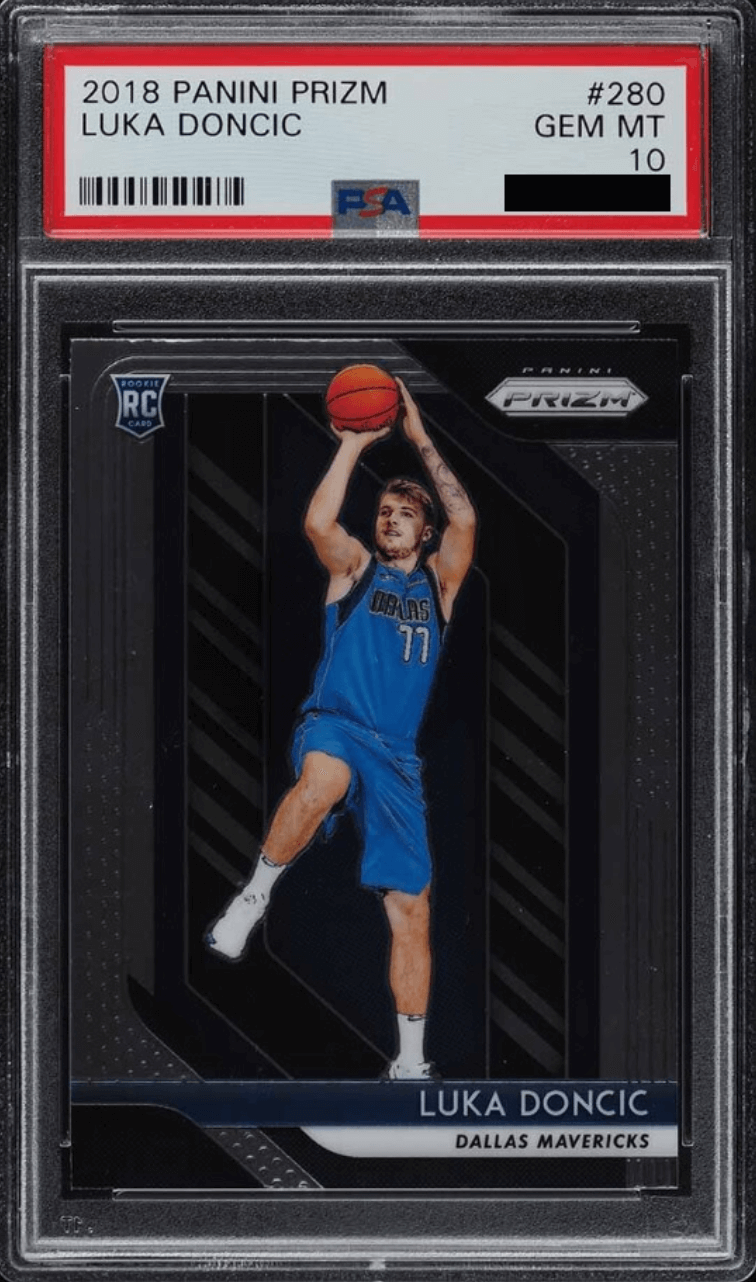 As the regular season races towards its conclusion, Doncic is posting 27.6 points, 9.2 rebounds, 8.9 assists, and 1.2 steals per game. The combination of size, shot creation, and elite playmaking has helped the Mavs go up in the standings into a relatively safe spot in the Western Conference. Expect Doncic to continue his stellar showing into the postseason and his PSA 10 base Prizm rookie card to go up from its present price of $450.
While there are other notable candidates in the card market, these five stars present a safe option for collectors. With their impressive stats and a winning team backing them up, it's a given that they're going to perform well when the playoffs come around.