One of the most common clichés NBA fans use is the term "three-and-D player." The principle of a three-and-D player seems pretty simple. NBA teams like players who can stop their man on one possession and hit a three-point shot on the next. We need to careful using the term "three-and-D."
However, it's not that simple. Finding an NBA player who can hit an open three is easy. Thousands of players in Europe and the G-League fit this bill. Finding a player who can stop his man is a bit harder but still far from a needle in a haystack.
When you break down shooting and defense into its respective facets, it becomes clearer how difficult it is to truly discover a great three-and-D. Hitting open threes only gets you so far. Can this player shoot off of movement? Going to his left? Going to his right? Can he execute a one-dribble pull-up? Does his range extend beyond the NBA line?
Looking at defense: is this player tall, long, or strong? Does he possess good/great/elite athleticism? Is he laterally quick enough to defend the perimeter? Is the player fluid in space? Does he understand angles and spacing? How is his anticipation? Does he rotate to the correct man and on time? Does he know when to help and when to stay at home? Can he stay in a stance and make the player he's guarding uncomfortable? Can he navigate screens and traffic? Is he usually focused and engaged?
When scouting prospects through this lens, the number of prospects that fit even half of these criteria quickly dwindle. The number of players who really know how to play defense in a scheme is minimal. That skill, though, is one of the most important that NBA teams are looking for nowadays.
This draft is filled with prospects at the top of the class with immense defensive potential. Zion Williamson and Nassir Little have the tools and instincts to be a terror on the defensive end. Jarrett Culver and De'Andre Hunter are defensive specialists who, due to their demand, will almost certainly get picked in the top 10. Rounding out the top five of defenders in this class is Penn State senior Josh Reaves. Ranked 16th on my big board, Josh Reaves is the best off-ball defender in this class.
Josh Reaves is like the free safety in a cover-three. Like an elite free safety, Reaves disrupts the flow of the offense even when he isn't making plays himself. His presence alone incites fear in the offense because they know Reaves lurks in the shadows of the passing lanes.
Reaves doesn't win with his athleticism. He is athletic, but not athletic enough to get by using that alone. Standing 6-foot-4 and 210 pounds with a 6-foot-7 wingspan, Reaves' frame is solid but not imposing. His athleticism stems from his impeccable lateral ability and footwork, not explosiveness or burst. Reaves' exceptional feel and IQ is his defining trade on both ends of the floor, specifically on the defensive end. Let's take a gander at tape teams will be watching on Reaves going into the 2019 NBA Draft.
Blowing up plays off of the ball?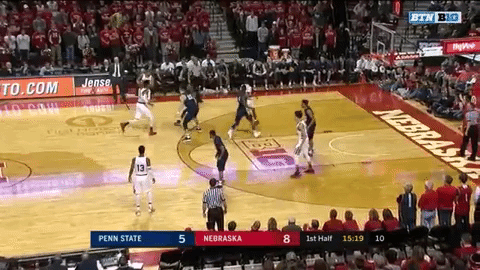 Check.
Effort fighting around screens?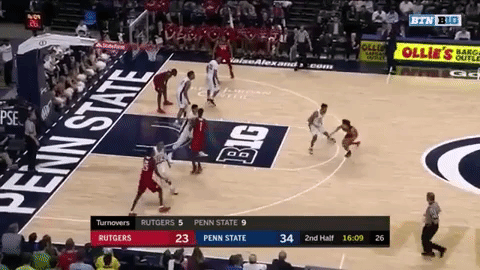 Check.
The main thing keeping Reaves out of draft contention was his combination of frame and lack of spacing. Reaves has improved his three-point shot every season. In the few games of Reaves' senior year, he's burning down the nets, shooting 54.5 percent from deep with a .762 true shooting percentage, per Sports Reference.
With his new-found stroke, Reaves has all of the makings of a top-notch NBA prospect. Let's get into the tape and break down how Reaves out-thinks his opponents.
Offense
Starting with Reaves' less glamorous side, he isn't an overly-skilled perimeter player. His NBA team should know not to put him in many situations where he is relied on to create for himself or others: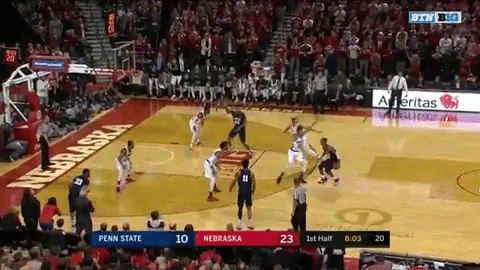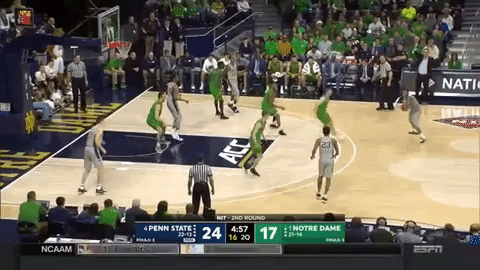 However, he is a very smart player off of the ball and takes advantages of openings in the defense to score. Reaves is an excellent cutter. On the baseline, he routinely catches defenders ball-watching and exploits them for easy finishes: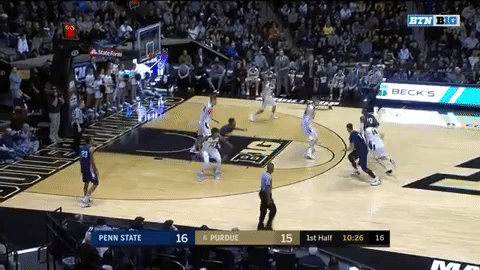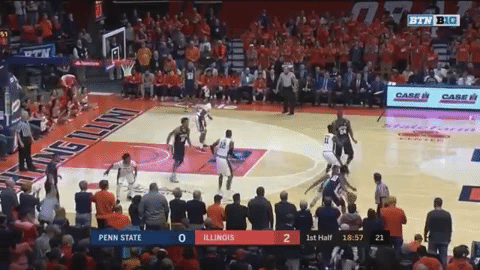 When the defense collapses on drivers, Reaves finds gaps in the defense, slipping into the lane for easy passes: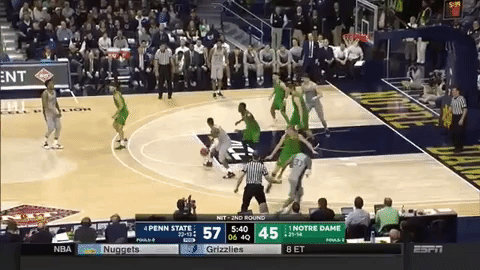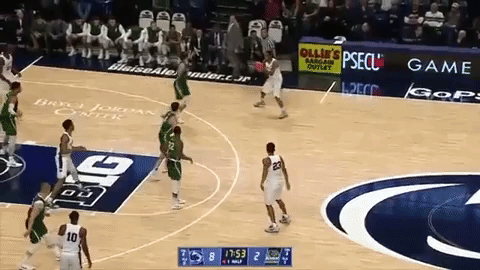 The key to Reaves' success as a pro is a reliable three-point jump shot. As a 6-foot-4 guy who can't create off of the dribble, it is difficult to make it in the NBA. Not everyone turns into Marcus Smart; that archetype is difficult to find and even harder to turn into a good NBA player.
This season, Reaves' three-ball is falling at a high rate, his free throw percentage is great 81.8 percent and his mechanics look solid. He has also flashed some shooting off of movement, which is a great sign for his 2019 NBA Draft stock: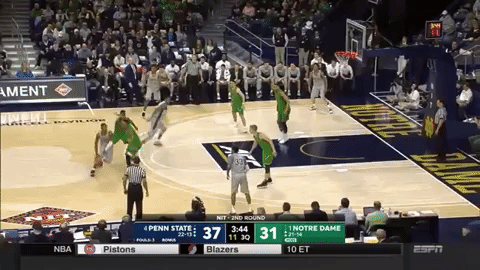 Reaves is a smart passer, displaying solid touch and timing on his dimes:
Josh Reaves isn't a high-octane offensive player but his team isn't asking him to do that. Although he does have the occasional pick-and-roll or isolation in college, those possessions will certainly dwindle in the NBA. If his shooting stroke can translate, that combined with his ability as a cutter and an off-ball mover should have him being an effective enough offensive player in the NBA.
Defense
Now we come to the pièce de résistance, the thing that Josh Reaves does better than most players, if not all the players in this class. When it comes to pure one-on-one defense, Reaves is good but not great. He wins his battles with good technique: hand placement, footwork, and angles. His effort denying the ball and working around screens makes life hard for offensive players, disrupting the flow of opposing offenses: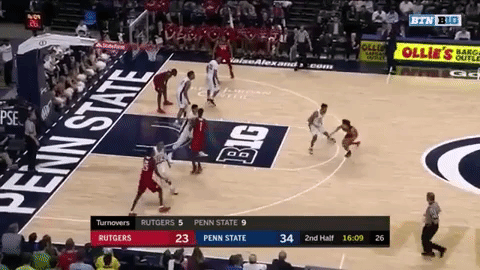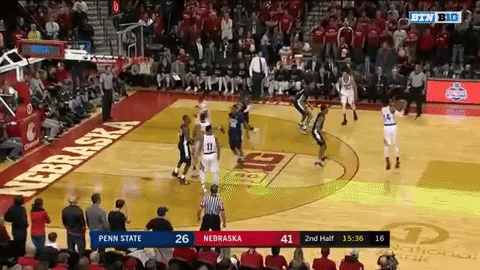 Where Reaves is unique is his uncanny ability to make plays and be a deterrent off of the ball. For most young players, the ability to be a functional team defender is not a skill they have in their toolbox. For Reaves, though, team defense is his greatest strength. Calling Reaves functional as a team defender is a blatant understatement of his ability. His anticipation and pure basketball IQ on defense are some of the best I have seen from any NBA prospect in a long time.
We've seen this play before but Reaves' ability to diagnose this flare screen in a split second and blow this play up is spectacular: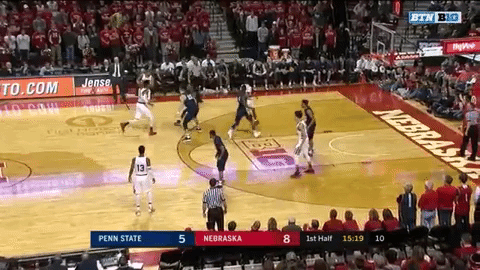 Josh Reaves does his best Odell Beckham impression, skying for this one-handed steal of a cross-court pass to an ostensibly open man: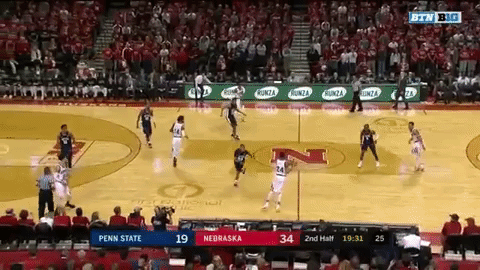 When Reaves is lurking, lackadaisical offensive players are asking to turn the ball over. Reaves' IQ and effort give him the heads up steal here:
There is a reasonable chance the ball-handler did not conceive that Reaves had a chance at getting his paws on this ball. The ball-handler beat his man baseline and the big man has to step up to help. Reaves correctly bumps down to help but his unreal awareness allows him to bump down and cut off a skip pass to a wide-open player at the same time: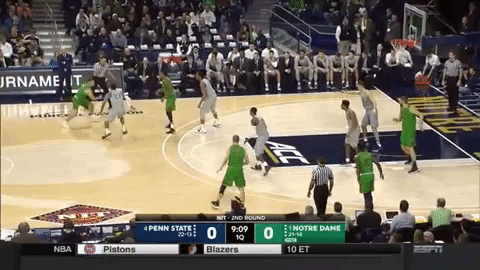 He makes a similar play here, quickly recognizing where he needs to help and swiping the bounce pass: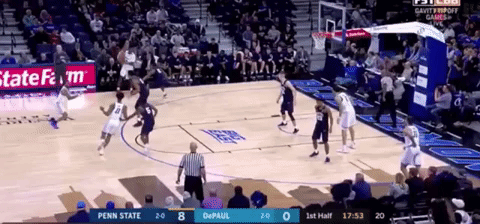 RECOMMENDED
Josh Reaves initially knocks away the ball on the cut but it stays with the offense. He never gives up on the play, sticking with his man and using his length to force this miss: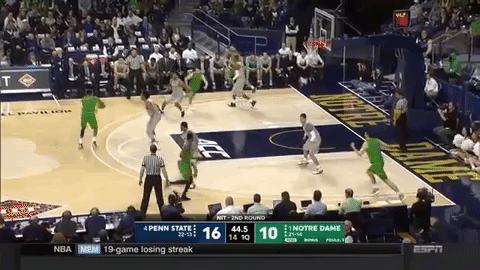 Reaves does a great job flashing at the ball to force the defender to pass on the drive and sprints out to the three-point shot to block the shot: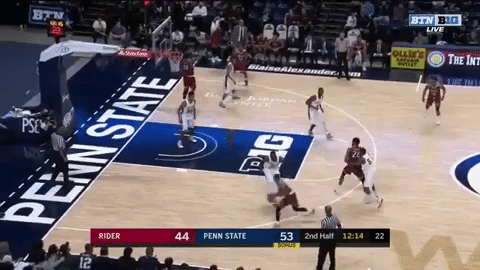 Lazy passes in Reaves' vicinity are a death sentence for offenses; he sports a 6.0 STL% in his senior season so far. Maximizing his length with immaculate timing, Reaves waltzes into passing lanes for routine takeaways: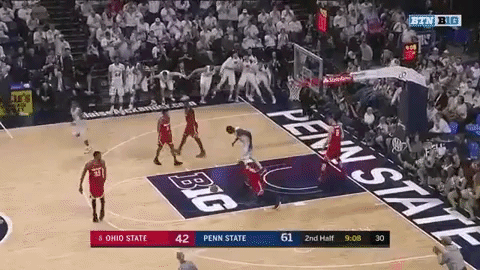 Reaves switches onto the shooter to negate the advantage created by the confusion in the area. This is a textbook example of a modern NBA closeout. He runs the shooter off of the line with a hard initial close and sticks with the play, anticipating the side-step as opposed to the archaic drive: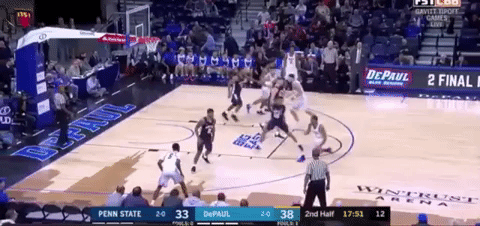 Using his bear-like nose for the ball, he sniffs out this lazy lob and succinctly intercepts it, taking it coast-to-coast.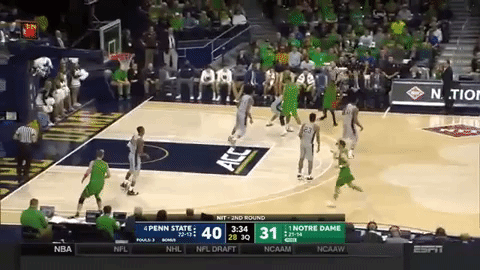 Josh Reaves and co swarm the ball-handler on the trap; he uses his strong, quick hands to poke the ball out to create an open shot: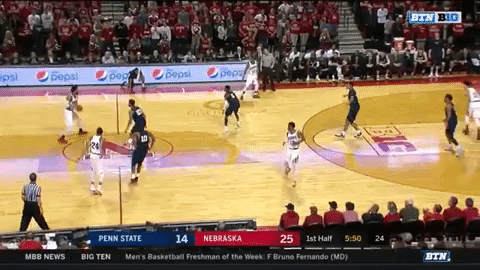 Because he of his elite anticipation, Reaves tends to gamble on plays that he should not and takes himself out of position: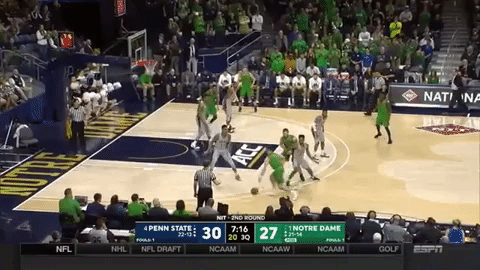 When we typically evaluate young players, their defense, specifically team defense, is something to take with a grain of salt. It is a skill that so few young players have and not many can develop it over the course of their careers. At the time of his first NBA game, Reaves will be a seasoned 22 years old, which will be a turnoff to some teams.
However, his age comes with a refined skill set and his experience fuels one of the best plug-and-play guys in the draft. Because of the demand of the type of player that Josh Reaves is, an NBA team could be calling his name sooner than many fans expect on 2019 NBA Draft night.