The NBA is a star-driven league. When discussing the league's hierarchy, we only give a team as much credibility as their star power demands. Games are marketed as "LeBron's Lakers" versus "Steph's Warriors." A team that possesses a star player becomes an embodiment of that player.
This isn't without good reason, though. One single player can impact a basketball team to a degree not often seen in other major sports. The addition, or subtraction, of a star player can completely alter the outlook of a team, for better or worse.
While it is true that a team can only go as far as their best players will take them, the truly great teams all have one thing shared characteristic: A glue guy. Whether it be Draymond Green, Marcus Smart or P.J. Tucker, many of the league's top teams have one player who, while not being their respective team's best, or even second-best, player, has a skill set that fills all the voids needed to complement the team's stars, helping to forge the team's identity.
Jerami Grant has become that player for the Oklahoma City Thunder.
In his two years since arriving in Oklahoma City, Grant has been the shining example of what an organization with potent player development can do with a young player. Arriving as a rangy, versatile wing, Grant's value was entirely rooted in the potential his physical traits garnered. He played a bulk of his minutes last season as the team's backup center, a position new to him at the time.
While he showed great improvement in that year, particularly as a roll man in the pick-and-roll, it wouldn't be until this season when Grant transformed into the fully realized version of the player he has always had the potential to be — on both ends of the court.
Grant's versatility is his defining characteristic.
Offensively, he serves as an extremely effective big in the pick-and-roll thanks to his fantastic finishing ability that allows him to slice between defenders to score around the rim and quick burst on the roll that makes it appear as if he travels to the rim instantaneously, catching the defense while they are on their heels:
Grant is currently shooting 69 percent on shots at the rim, per Cleaning the Glass. His monstrous length and knack for getting to the appropriate spots needed to take advantage of the cracks and crevices of the opposing team's interior defense make him a fantastic finisher through traffic, but he has also improved at finding ways to score in the paint when the layup is taken away. These are the types of moves the truly great finishers add to their offensive arsenal over time: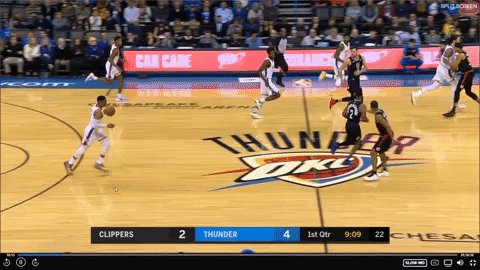 Grant's finishing ability alone makes him a valuable offensive player, but it is the massive improvement to his 3-point shot we have seen develop this season that has made all the difference. Last season, Grant shot just 29.1 percent from 3 on 1.4 attempts per game. Those numbers are up to 37.4 percent on 3.1 attempts per game.
This evolution of Grant's offense was an essential development if he were to ever become a starting-caliber power forward in the modern NBA that prioritizes spacing above all else. Grant's improvement with his perimeter shooting has been fueled by his newfound proficiency from the corners. He is currently shooting 42 percent on corner triples, placing him in the 72nd percentile of players at his position, per Cleaning the Glass.
This spot-up ability from the corner allows him to serve as a floor spacer when he is not directly involved with the action, a vital skill needed for any big playing alongside a traditional center like Steven Adams: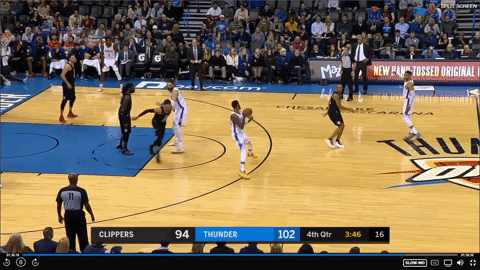 A large portion of Grant's production has come from shots taken as a result of this role, with 19 percent of his field goal attempts (93rd percentile) coming from corner treys.
Like many teams, the Thunder are carried offensively by the individual brilliance of their stars. The trio of Russell Westbrook, Paul George, and to a lesser extent, Adams, gives the team a three-headed attack of offensive talent that is difficult to scheme for. The inability to surround these three with complementary threats was a major reason why the team failed to live up to expectations last season. While the team's shooting guard position is still a work in progress, Jerami Grant has emerged as the perfect power forward for this team due to the aforementioned improvements to his offensive repertoire.
Per Cleaning the Glass, which filters out garbage time, the Oklahoma City offense scores 10.3 more points per 100 possessions with Grant on the court (94th percentile.) While this number is inflated due to the fact that he plays a majority of his minutes with both George and Westbrook on the floor (1,327 out of his total 2,094 minutes played), it goes to show that he is a functional offensive piece who raises his team's level of play while he is on the court, which is all you need from a player in his role.
While Grant has been a major contributor to the success of the Oklahoma City offense, that is not the side of the ball that makes them the daunting contender they are — ranking just 18th in offensive rating at 108.1. Having the league's best defense may have something to do with it, though. The Thunder have held the No. 1 position in defensive rating for much of the season, currently sitting at a league-best 101.7.
This elite defense is what makes the team special. In turn, it is his improvements on the defensive end this season that are now also making Grant special. This correlation is no coincidence.
The Thunder have a strong defensive system anchored by elite defenders like George and Adams (and Andre Roberson, when healthy.) Both of these players belong in the conversation for first-team All-Defense this season, but it takes more than just two great players to construct a unit as dominant as the Thunder defense has been thus far. It takes players who are able to play off these elite talents, using sound fundamentals to mask any holes left unattended by the team's premier defenders, polishing the defense's rough edges.
Grant has become a super-charged version of that player for the Thunder this season.
Grant is one of the league's best help defenders, using his vast range and well-developed shot-blocking ability to swallow up any opponent who attempts to make a living at the rim against the Thunder:
The suffocating combination of Adams' positional interior defense in the team's drop coverage scheme and Grant's ability to come over the top and alter shots with his weak-side help defense and shot blocking is the foundation of the Thunder defense. This interior defense puts opposing offenses into frenzies when they are unable to create effective shots inside, leading to turnovers. The Thunder take full advantage of the disarray their length and swarming help defense creates, which is made apparent by their league-leading 10.4 steals per game.
It is not just his shot blocking that makes Grant such a valuable team defender, but also his mobility defending on the perimeter. He has the footwork and length needed to stay in front of guards and smaller wings when forced to switch. In a league that currently puts emphasis on positionless basketball and versatility, having a big who can defend at multiple levels like Grant is an invaluable asset. The best teams in the league often times attack bigs who are unable to hold their own in space, but Grant is no easy target. He is well-equipped physically for this to not be an issue for him:
The Thunder have a fantastic defensive system that transcends individual skill level, which can be seen by the fact that the team's poor defenders like Alex Abrines and Dennis Schroder are still among the league leaders in defensive rating. Even so, Grant's talent still manages to stand out, improving the team's defense while on the court. The Thunder give up 3.0 less points per 100 possessions with him in the lineup (74th percentile,) even with him playing a majority of his minutes against the opposing team's starters.
While he is still far from perfect and has a ways to go before becoming more than a top-tier role player, Grant has improved the Oklahoma City Thunder more than anyone could have expected before this season began, with his breakout serving to alleviate some of the defensive pain felt by losing Roberson.
Jerami Grant has transformed into the perfect complementary player to the team's dynamic stars. While his impressive offensive numbers may be a product of him being a beneficiary of the presence of these stars, he is quickly becoming a player on defense who those very same players are lucky to have the luxury of sharing the floor with.