The 2018 NBA Draft class may go down as the best of this decade. Loaded with talent from start to finish, this group has collectively exceeded all expectations in year one. Despite the glut of success this group already has seen, there has been one name who has consistently occupied the headlines since stepping foot onto an NBA court for the first time. Luka Doncic.
Doncic immediately exploded onto the scene as a one man highlight reel, spearheading an NBA offense in year one— an accomplishment not many first year pros have on their resume. The hype surrounding the likely soon to be rookie of the year grew so immense that the league wide conversation quickly shifted from one of praise towards the Dallas Mavericks for selecting him to one centered around criticism of those teams who decided their future would be better off by electing to not draft the league's newest budding star.
The Sacramento Kings are one of those teams. The Kings selected big man Marvin Bagley with the second pick in the 2018 draft, with Luka Doncic still in the green room awaiting the moment Adam Silver reads his name off the card rested on his podium.
After months of being panned for deciding to select a prospect with numerous question marks on both ends of the court, who many thought to be a reach with the second overall pick, over the unanimous best prospect in the draft in Doncic, the pressure was mounting in Sacramento. Marvin Bagley had to play well enough so that one could reasonably envision him becoming an exceptional player if the team was to avoid a public perception nightmare.
Luckily enough for the team, Bagley has done just that— morphing the looming feeling of doubt in the organization's decision to select him into optimism for what the future holds for the newest member of Sac Town's promising young core.
Currently averaging 13.9 points, 7.2 rebounds, one assist, and one block on a 50 percent field goal percentage, Bagley's stat line is respectable, but far from mind-blowing. What makes it impressive is the fact that he has done this while registering just 24.8 minutes per game.
If we turn to his per-36 minutes statistics we see averages of 20.1 points, 10.4 rebounds, 1.5 assists, and 1.5 blocks. These numbers would put Bagley firmly in the rookie of the year conversation had they been his overall averages. Of course, there is a reason he is not playing starter minutes.
It is not in the best interest of the team to give him extended minutes over Harrison Barnes, and previously Nemanja Bjelica. But it is clear that Bagley is already able to produce starter level production, if need be, in just his first season.
His offensive game is built around his ability to apply pressure on the rim with his spry athleticism and already impressive finishing ability.
These tools are oftentimes displayed when Bagley serves as a rim runner, able to outrun his defender in transition, resulting in efficient baskets at the rim for the high flyer.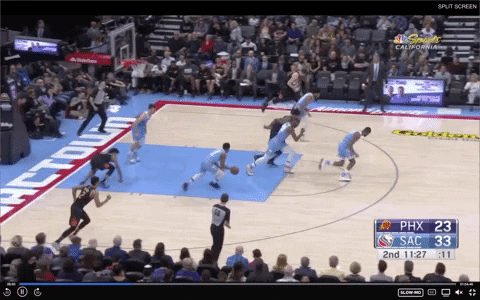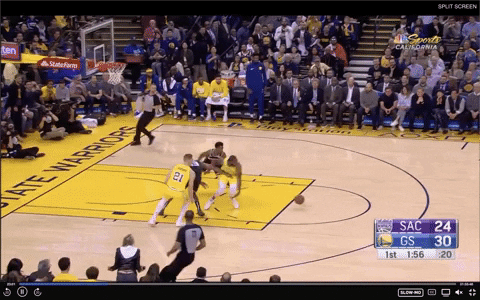 The opportunities to show off this skillset are plentiful in Sacramento. The Kings play at the highest pace of any team in the NBA, averaging 104.49 possessions per 48 minutes. This track meet approach to offense facilitates the need for a rim running big man, a role Bagley is perfectly suited to fill. His abilities are the ideal compliment for the team's identity, and vice versa.
Marvin Bagley shoots a respectable 67 percent on shots at the rim, per Cleaning the Glass, but this is not exclusively to the credit of the fast break opportunities created as a direct result of the team's pace. He has also shown a knack for finishing at the rim in the half court setting— particularly in the post.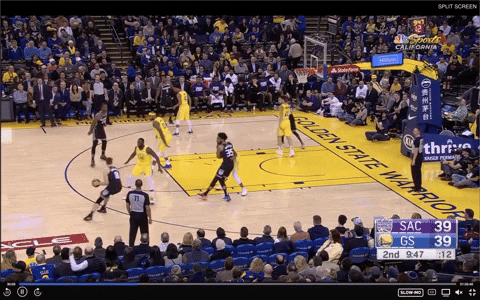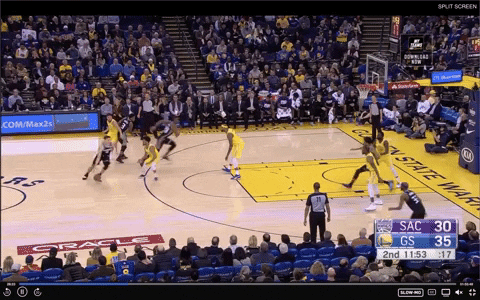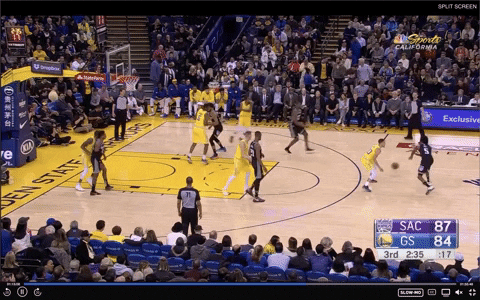 He already possesses the ability to succeed in the post with numerous moves and counters. All three of the above plays occur in just a five minute stretch during Sacramento's recent game against the Golden State Warriors. Bagley was able to dominate the opposing defenders with post spins, drop steps, and step throughs.
The play in which Bagley elevates over Draymond Green for the easy post hook puts on display the main reason he is such a daunting finisher at the rim. He is able to use every bit of his 8'9″ standing reach and high flying vertical to rise up and finish above defenders.
His expansive repertoire of go to post moves in combination with the ability to build off of the success of these moves with effective counters based on how defenders adjust over time shows a level of offensive polish in Bagley's game not often seen in players his age. Even if he never improves in this area, he already has the tools necessary to be an extremely effective down low scorer, providing him with a strong foundation to build his game upon in the coming years as he gains consistency with age.
But the thing is, he very likely will continue to improve in this area as he gains more experience and his body matures, allowing him to better finish through contact and leverage his size and explosiveness to an even greater degree than currently he is able to.
His aggression at the rim also results in many drawn fouls for Bagley. He currently draws a shooting foul on 15.8 percent of his field goal attempts (76th percentile) and increases his team's free throw rate by 3.8 attempts per 100 possessions (87th percentile) when he is on the court.
It would not be shocking in the least if Bagley became one of the league's best foul drawering bigs as he reaches his prime. As of now he is a slightly below average free throw shooter at 70 percent. It will greatly raise his floor if that percentage continues to improve along with his ability to get to the line.
His potential as a finisher alone will likely make him a useful offensive player in this league. It is his jumpshot that will decide his ultimate ceiling as a scorer.
Marvin Bagley is already an above average mid range shooter. Through 47 games, 39 percent of his shot attempts come from mid range (85th percentile) and he has made 42 percent of these shots (63rd percentile,) per Cleaning the Glass.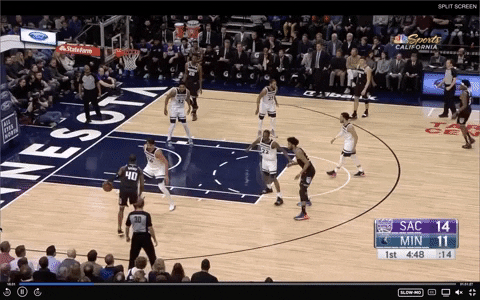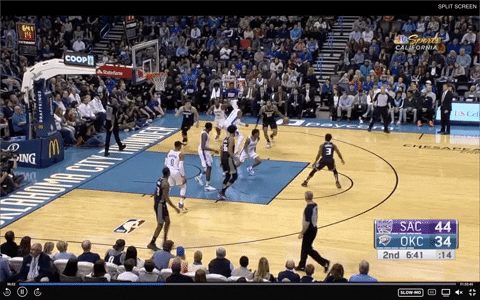 This mid range jumpshot is an essential compliment to his finishing, allowing him to provide at least some spacing when playing off ball. But it is not going to be enough long term.
Bagley is currently shooting just 25% on three point shot attempts. This is obviously less than ideal. If he is ever going to become one of the league's better scoring bigs this must improve. The good news is there is reason to believe it will.
He currently shoots 46% (80th percentile) on long mid range shots, which is defined as shots taken outside of 14 feet but below the three point line. He clearly is capable of shooting. It will just take time to extend that shot a few feet back to reach NBA three point range. While this development is far from certain to occur, we have seen players who have displayed far less shooting ability develop into capable three point shooters.
Bagley's current shooting numbers mirror that of Myles Turner during his rookie year. Turner finished the season shooting 41 percent on each of mid range, short mid, and long mid shots, as well as 23 percent from three. Bagley currently shoots as well or better in each of these areas. Turner is now one of the better shooting bigs in the NBA.
Of course, this parallel doesn't mean Bagley will become a shooter as efficient as Turner. The volume between the two slightly differs and every player develops skills at a different rate. But it goes to show that there is precedent for a player of his current stature to improve greatly as a shooter.
Bagley's offensive value is also greatly raised by his ability as a rebounder.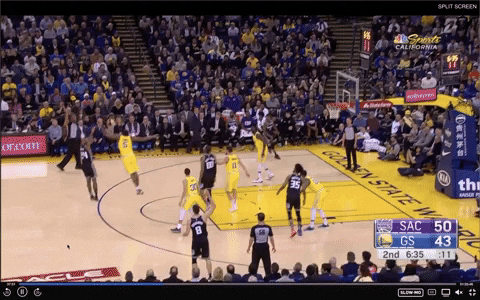 Per 36 minutes, he averages 3.6 offensive rebounds. If converted to a regular season average this would rank seventh in the entire NBA. He rebounds 9.6 percent (71st percentile) of his team's missed field goals and raises his team's overall offensive rebound percentage by 4 percent (91st percentile) when he is on the court.
It is no surprise that Bagley is already an extremely effective rebounder. He dominated on the glass during his time at Duke as well. It is plays like the one above that show why he is such an effective rebounder. Even in traffic with multiple bodies around him he is able to use his gigantic leaping ability to rise above the crowd and come down with the board, snatching it from a height those around him with inferior physical prowess have no chance of reaching.
While it isn't a very flashy skill, his rebounding is a vital aspect of his repertoire, combining with his finishing to raise his floor as a prospect significantly.
Overall, Bagley's play thus far provided us with reason to believe he is going to develop into the offensive force that he was touted to be coming out of college. The skills that ended up getting him drafted so highly have already began to translate at the next level. But the reasons for concern that many had regarding Bagley during the pre-draft process remain present— with those concerns being centered around his abilities as a defender.
While he has shown signs of improvement on this end as his rookie year has unfolded, it is still an area of weakness. Bagley currently ranks just 92nd out of 95 qualified power forwards in ESPN's Defensive Real Plus-Minus metric. His team's defense also allows 2.8 more points per 100 possessions with him on the court (24th percentile.) It's been rough.
But there are a few positives. He doesn't foul much, with just a 2.9 percent foul percentage (90th percentile,) and currently posts a solid 2 percent block percentage (62nd percentile.) Despite the worries around his defense, it isn't all that shocking to see Marvin Bagley blocking shots at a decent rate. His athleticism is naturally going to bring along with it impressive defensive plays around the rim.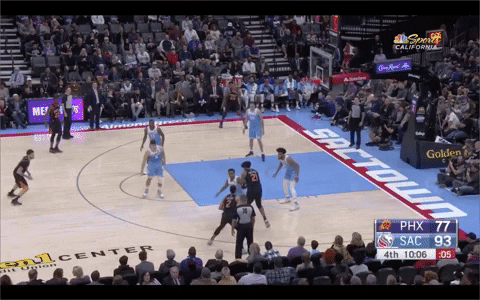 The key for Bagley if he intends to ever become a plus defensive player is developing the defensive IQ to supplement his physical skills. He often times appears to be a step too slow in his diagnosis of plays, resulting in the failure to provide the necessary help defense.
He can also lack defensive discipline at times, causing unnecessary errors like biting at pump fakes or giving up on a play in transition.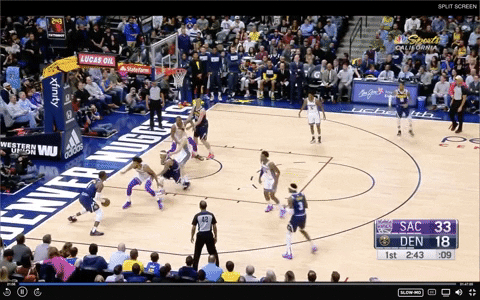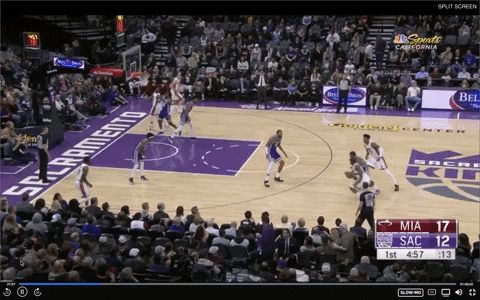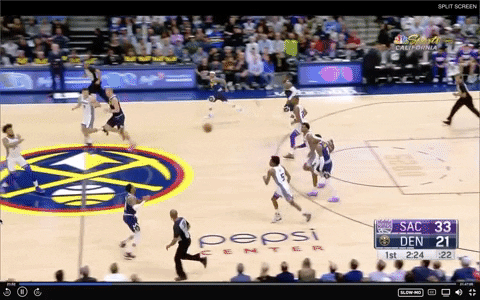 These are all major issues as they are the exact type of small nuances that make all the difference for bigs. Protecting the paint and being the commander of the defense are vital roles for any NBA big, particularly one that has the potential to thrive as a small ball center, such as Bagley.
But things aren't all doom and gloom for his defensive potential. The issues he has are fundamentally vital things that must be fixed if he is ever to be a well rounded star. But they are also skills that young bigs usually struggle with, improving over time as they continue to rack on experience.
Even some of the league's best defensive anchors struggled in the early parts of their career. NBA defense is a much harder task for bigs than for their shorter teammates. It takes time to learn all the particular intricacies of the position that many of the best took years to get down.
He also possesses something that is essential but can't be taught or added over time. Effort. Whatever defensive flaws Bagley has over the course of his career, no one will ever be able to say it was because of lack of effort.
He will likely never be a great defender. He just hasn't shown the baseline talent and IQ of a player who will ever reach that level. But he doesn't have to be. There is a very realistic chance that as Bagley progresses in his career he can develop into a passable defender who will not sink his team, even if he doesn't necessarily elevate them to the highest level. There is also a chance he never does make that jump and ends up being a one dimensional player. Only time will tell.
But if Marvin Bagley ends up the victor in this game of chance, he is going to be a premiere player in this league for years to come.