It's a chilly place in Overwatch right now, as the Winter Wonderland event has just launched. Players can make the most of the festive season to snatch up eight cool new skins, while the event is live from December 16, 2021 to January 6, 2022. Moreover, fan-favorite game modes have also returned to Overwatch. Here's all you need to know about Winter Wonderland 2021, the challenges and rewards.
Overwatch Winter Wonderland 2021 event guide
Winter Wonderland Game Modes
Winter Wonderland has been a mainstay event for Overwatch for multiple years now, and the 2021 edition of the event delivers a cold blast from the past by bringing back four fun game modes, also called Winter brawls, as part of the Arcade card.
Fans have felt especially excited about Freezethaw Elimination, where you get to play 4v4 freeze tag—virtually. Instead of dying, your opponents will be frozen in solid blocks of ice. Meanwhile, you can tag your teammates to thaw them. Freeze everyone on the enemy team to win. Play this mode a lot to unlock some unique sprays.
In the 6v6 brawl of Mei's Snowball Offensive, everyone gets to play as Mei, whose blaster fires one, super powerful snowball. Just one hit is enough to take down your enemies, but make sure you don't miss.
Snowball Deathmatch, meanwhile, is a free-for-all with eight players per match. You can store up to three snowballs in Mei's blaster, so you have multiple shots to take down opponents before needing to reload. Just like Snowball Offensive, just one cold blast is enough to knock out the enemies.
In Yeti Hunt, as the name suggests, players face off against a Yeti who exhibits Winston's abilities—a very angry one, though. Meanwhile, the five other players team up as Meis that have to defeat the Yeti. It may seem like an imbalanced battle of 5v1 but between an angry ice monster and Mei's ice blasters, it's up to the players to turn up as the winners.
Winter Wonderland Weekly Challenges and Rewards
Besides the entertaining Winter brawls, weekly challenges have also returned in Winter Wonderland 2021. As a reward, players can unlock one Epic-tier skin per week as long as you earn 27 points from playing Overwatch. You'll also get icons and sprays at nine and 18 points, respectively. You earn one point for every game, whether arcade, competitive, or quick play, and two points for every win.
Here are the collectibles you can get per week:
| | | | |
| --- | --- | --- | --- |
| | Week 1 | Week 2 | Week 3 |
| Dates | December 16 to December 23 | December 23 to December 30 | December 30 to January 6 |
| Reward at 9 points | Wooltide Tracer icon | Mistletoe Symmetra icon | Peppermint Bark Brigitte icon |
| Reward at 18 points | Wooltide Tracer spray | Mistletoe Symmetra spray | Peppermint Bark Brigitte spray |
| Reward at 27 points | Wooltide Tracer skin | Mistletoe Symmetra skin | Peppermint Bark Brigitte skin |
Winter Wonderland Epic and Legendary Skins
In addition to the three Epic Skins that serve as rewards from completing the weekly challenges, players can also get their hands on five Legendary Skins through loot boxes. Here's a look at all of the eight new skins for Overwatch Winter Wonderland 2021.
Epic Skins
Wooltide Tracer
The Wooltide Tracer skin is probably the coziest of the bunch, with matching soft sweater and fluffy hat to cover her usual spunky hair style. The concept is simple and soft, which might suit your fancy for a winter-themed skin. That said, it's quite different from Tracer's usual mojo, with the close-ranged skirmisher always seemingly ready to jump into the action at any point. Still, a warmer look for the holidays isn't a bad thing.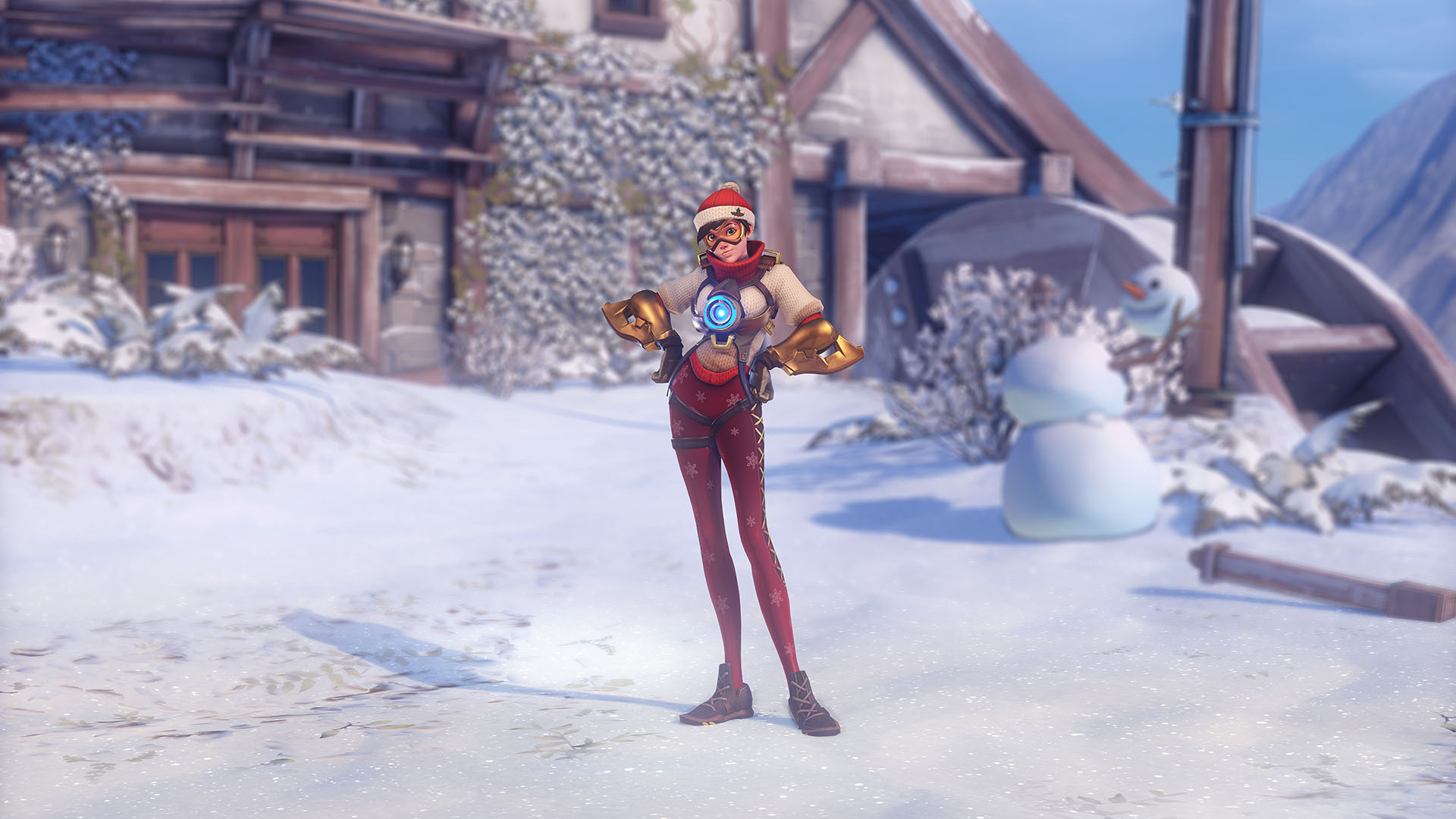 Mistletoe Symmetra
Don't let the bright reds, greens, and golds fool you—Symmetra is still the deadly and dangerous Overwatch damage threat that she is. While the Mistletoe skin adds some festive spirit to the character, including an interesting crown made from leaves and berries, Symmetra's still an intimidating figure to meet on the ice.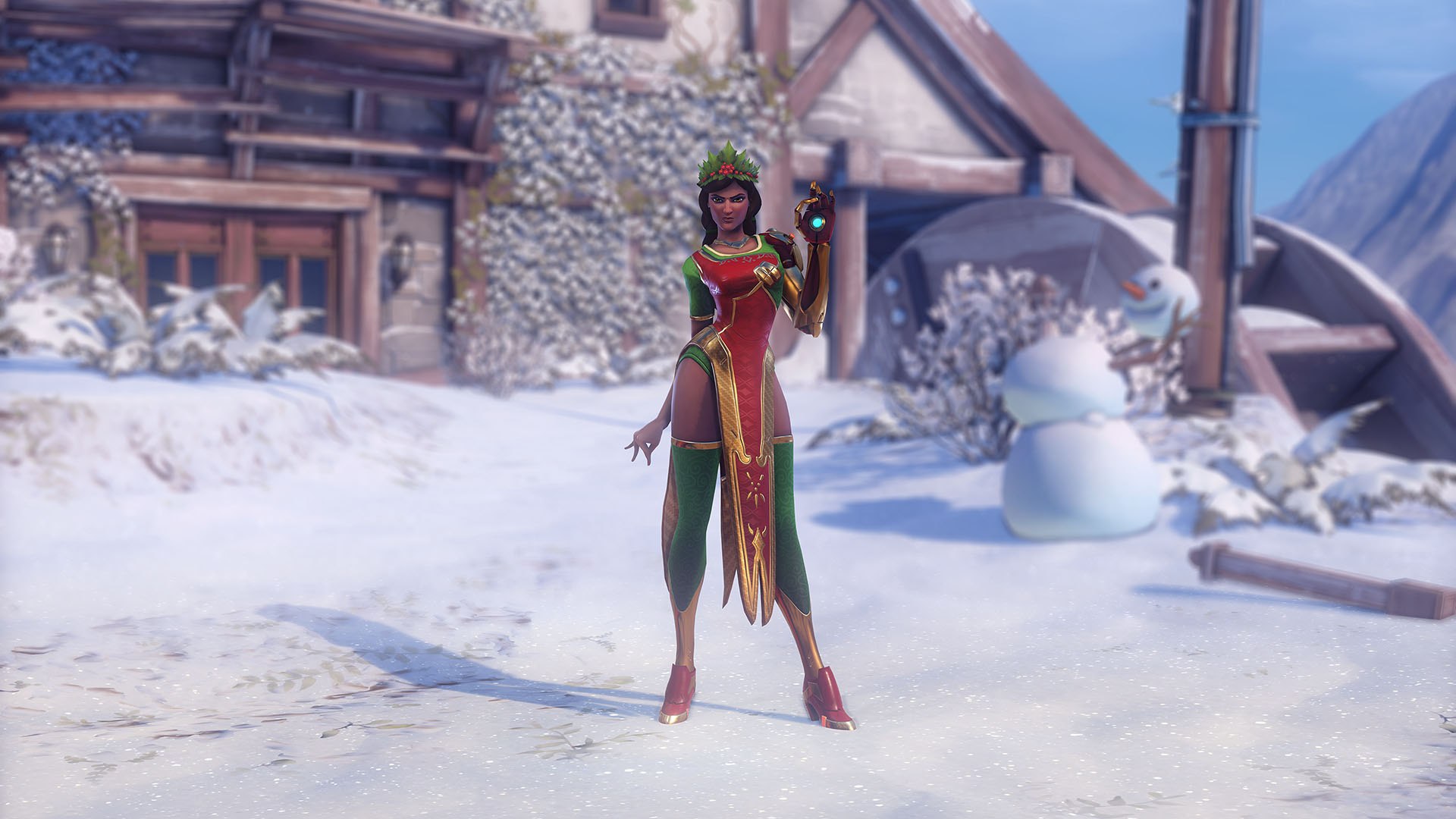 Peppermint Bark Brigitte
The peppermint bark skin concept is interesting to say the least. Brigitte's armor is decked out in red dots—peppermints—hence the name of the outfit. Tough to crack, perhaps that's why the candy served as the inspiration for this character's winter skin.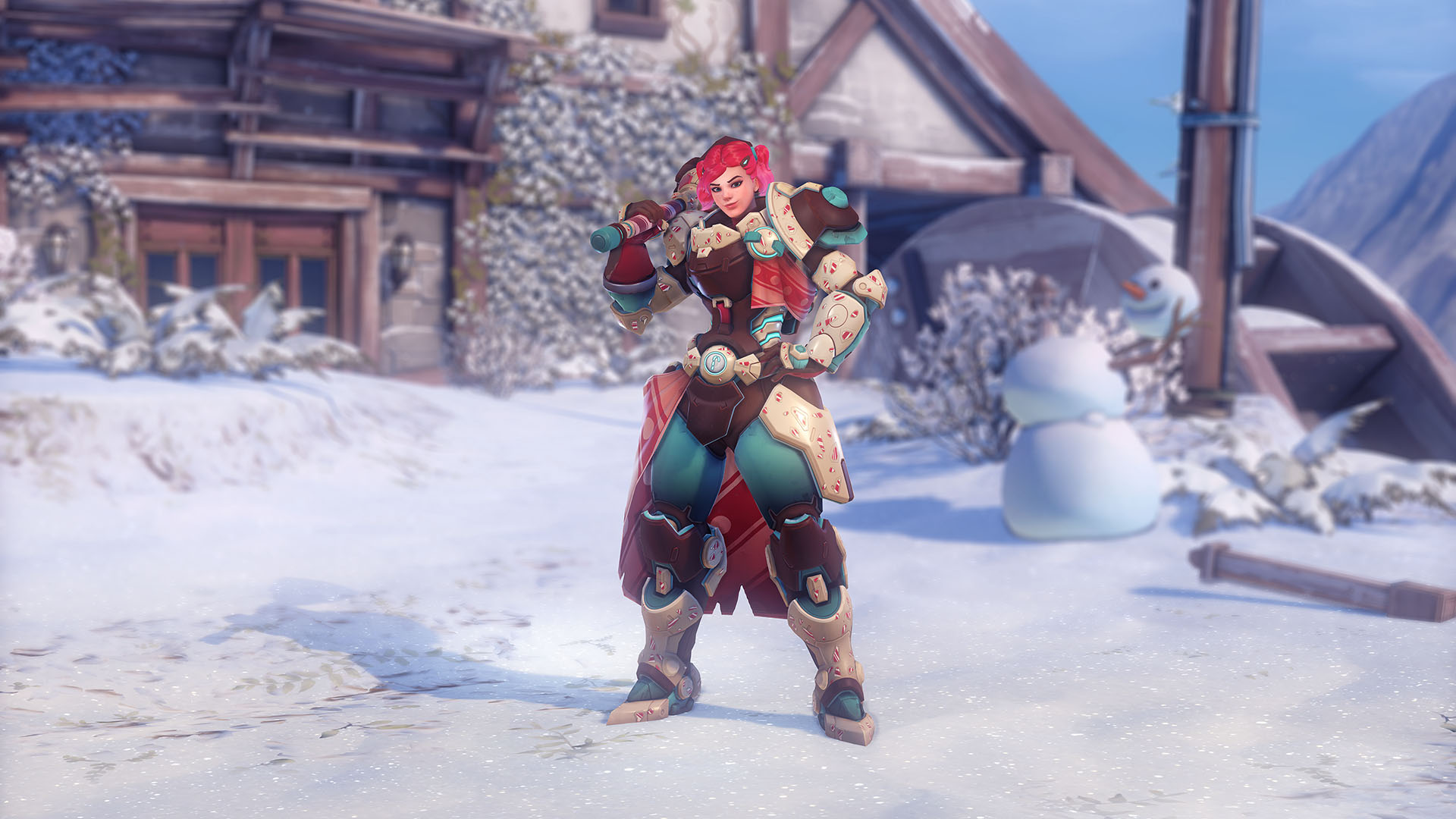 Legendary Skins
Ice Wraith Genji
All the cool things have landed for Overwatch players' favorite ninja. The fighter's katana has turned into razor-sharp ice, with more icicle-shurikens protruding all over the Genji's body. The blue palette is easy on the eyes and truly suits the concept that the creators were going for, showing a nice blend of dark blue armor and light blue frost—fun yet formidable.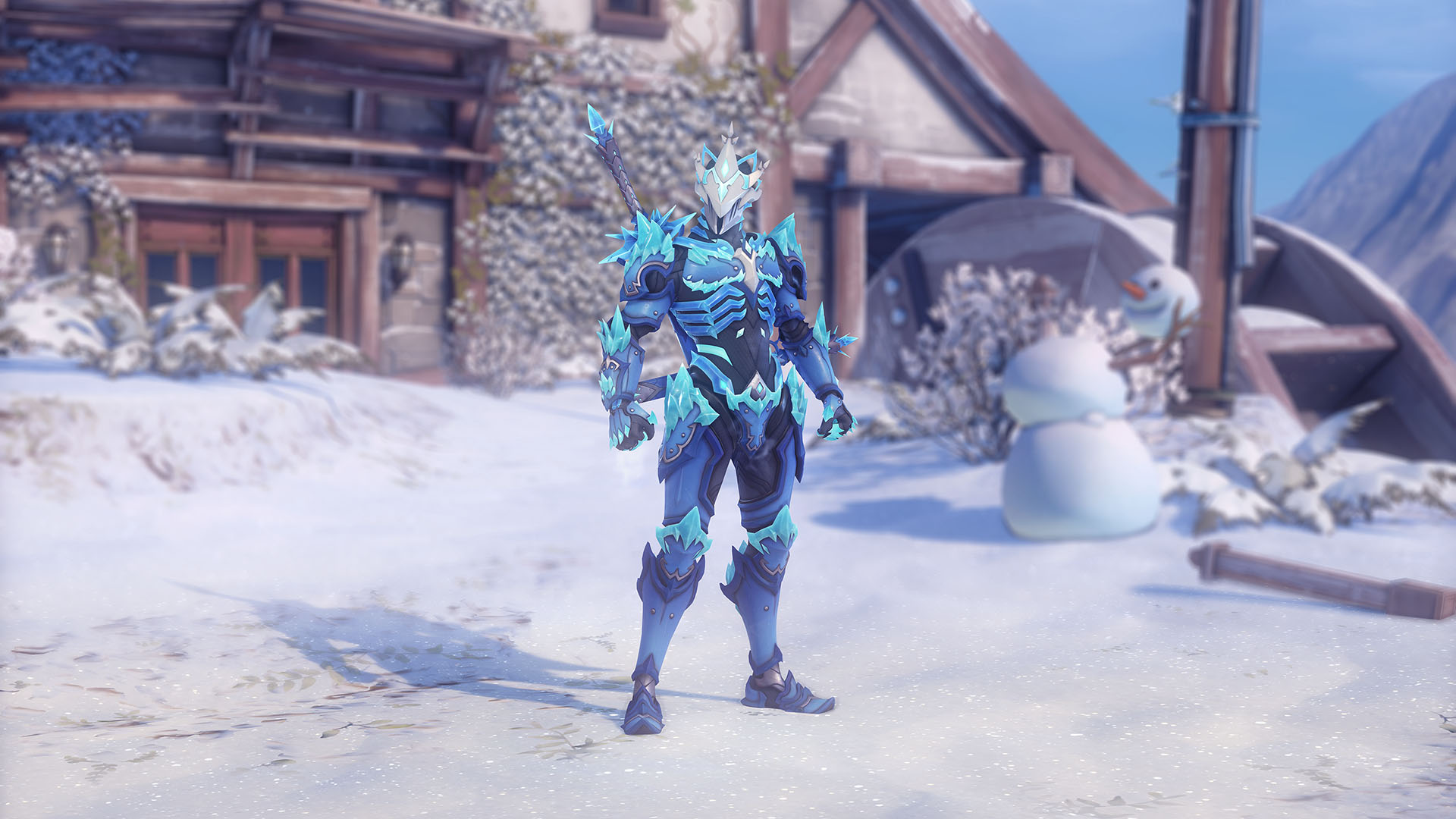 Reindeer Orisa
RECOMMENDED
The Reindeer Orisa skin is just the right balance of terrifying and adorable, complete with a shiny red nose. Of course, the metal and machine-like parts on Orisa's limbs and torso still portray the character as someone you wouldn't want to mess with at all. Now what could those gift boxes contain?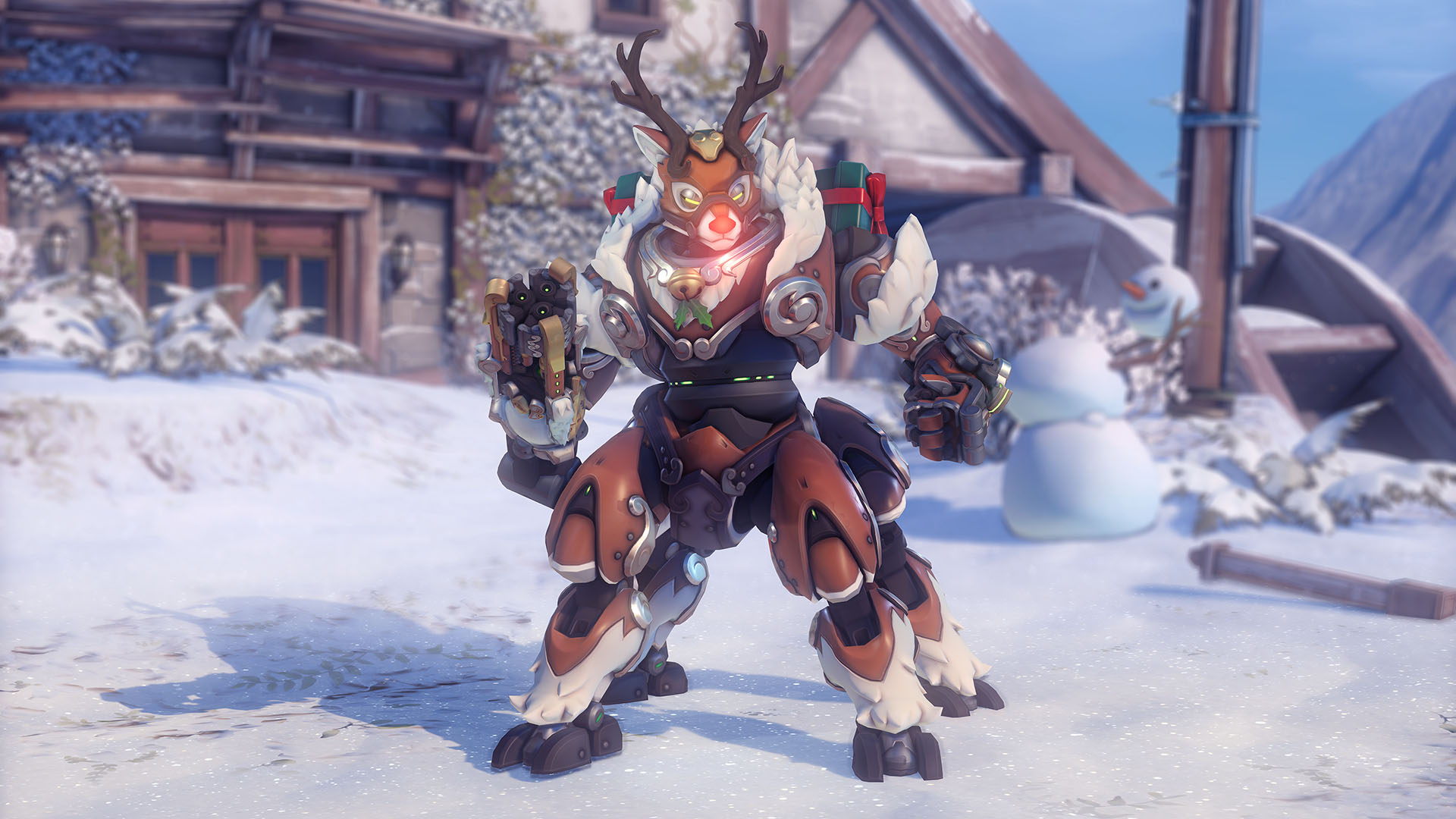 Sleighing D.Va
Aside from the fact that the skin's name is just an impressive play on words (read it a couple times over to get the reference), the appearance and concept is just magnificent all around. D.Va herself puts on a fancy, festive dress, while her mecha is decked out in bright reds that both symbolize Christmas and the color of intense battle that players will get into through the game.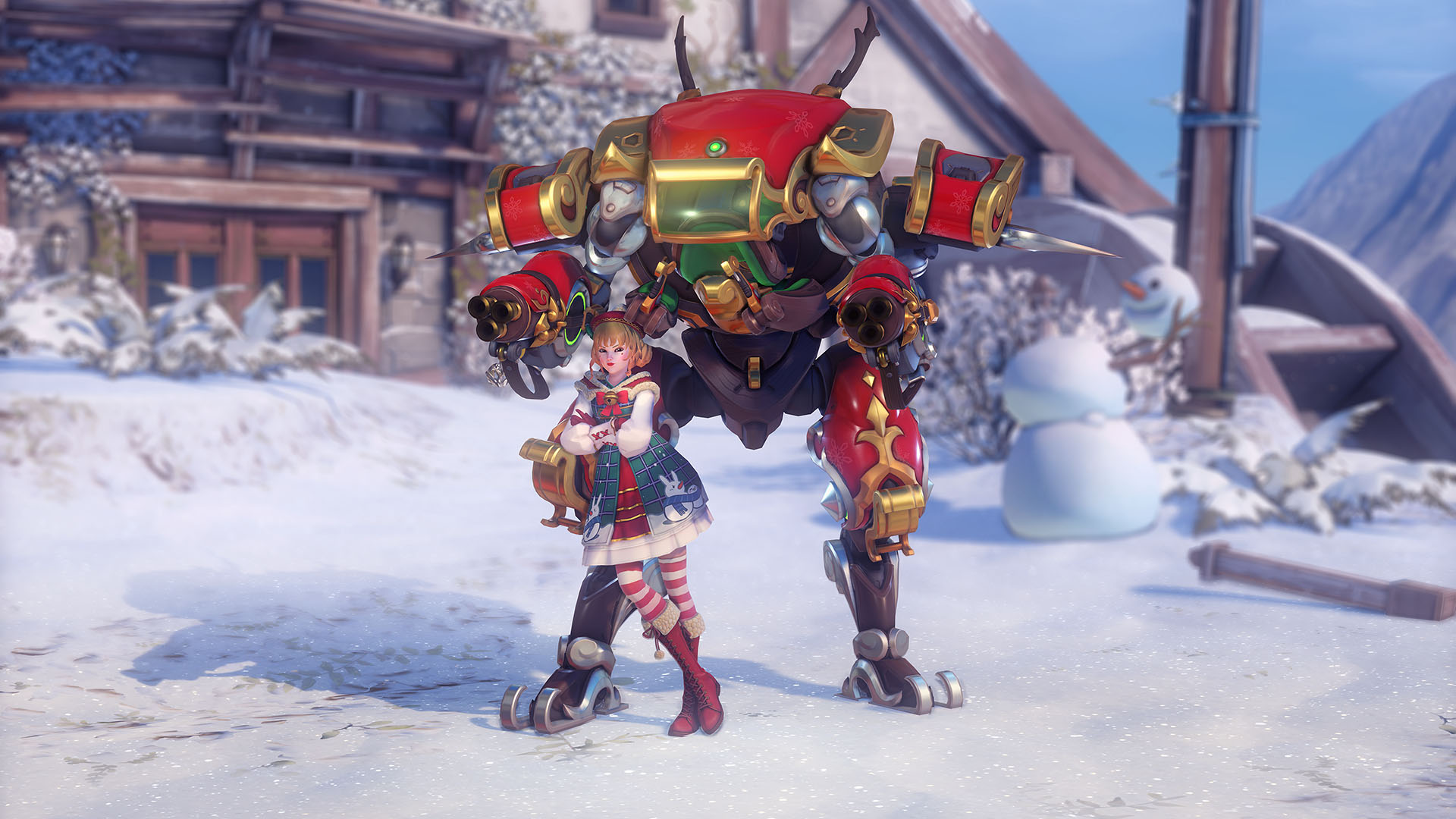 Snowboarder Baptiste
The Snowboarder skin is probably the least compelling or unique out of all the five Legendary skins, but it's still a decent concept for the frosty daredevils out there. Hitting the slopes, Baptiste's usual tactical gear has been replaced in favor of sporty attire and an interesting choice of lime for his weapon.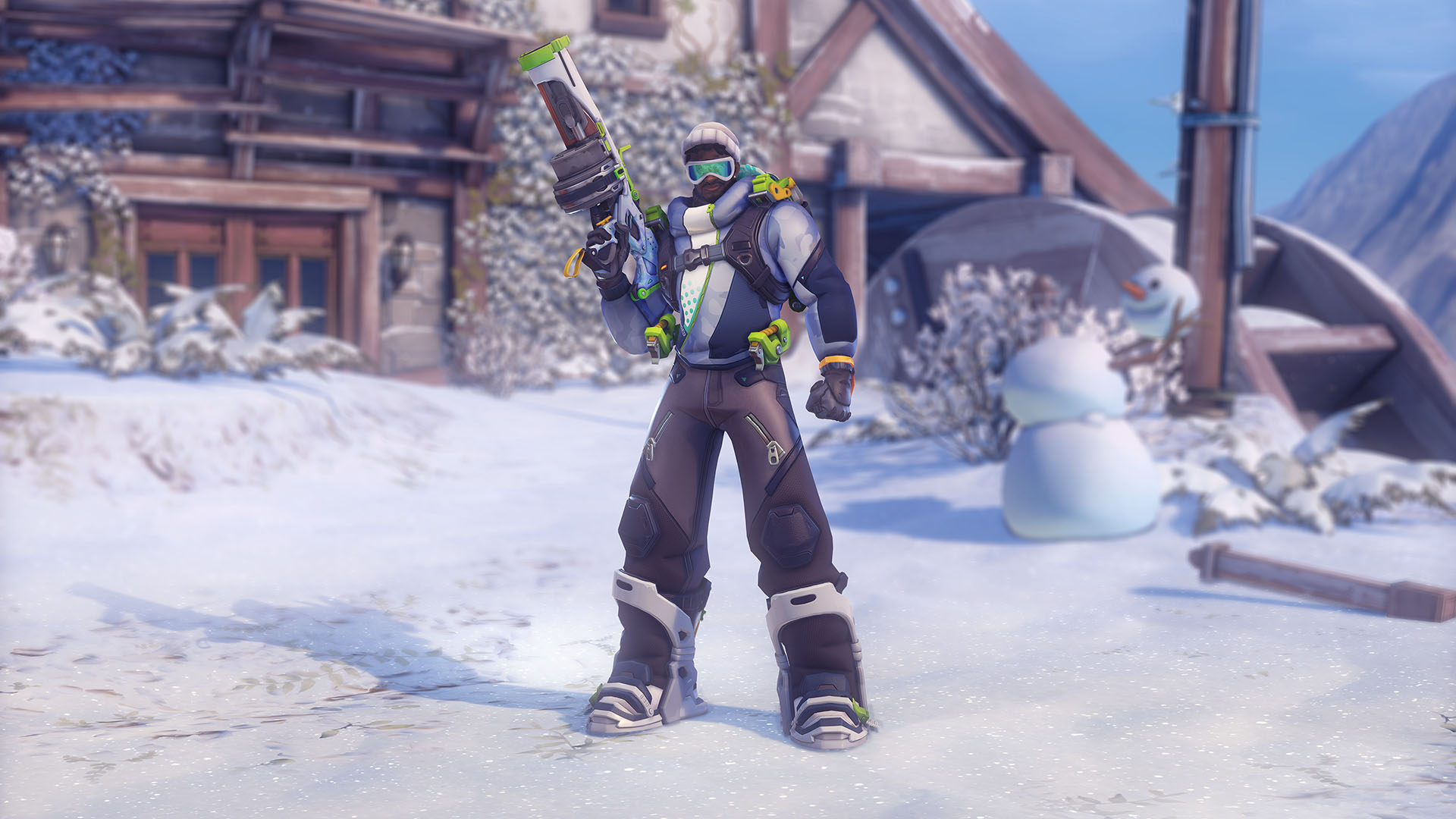 Snowman Wrecking Ball
The final skin is probably the best one yet, where we get to see Hammond operating his mecha-turned-snowman. Hammond himself looks like a miniaturized Santa, while the Wrecking Ball sports a face and carrot nose. Of course, it's still carrying guns (and presents), ready to blast at enemies standing in the way.