We are now one third of the way through the NBA season, and so far, there have been a few serious injuries, with Gordon Hayward, Paul Millsap, and Patrick Beverley all missing significant time. Throughout NBA history, many players have been seriously injured, and some have made remarkable comebacks from those injuries.
Shaun Livingston
The distinction of most devastating injury on this list goes to Livingston. Drafted fourth overall by the Clippers in 2004, he was one of the league's bright young stars. But on February 26th, 2007, his career would change forever.
During a fast break, Livingston went up for a layup, which he missed. He came down awkwardly on his left knee, and it's no overstatement to say that his knee was completely destroyed. His ACL, PCL, and lateral meniscus were torn, his MCL was badly sprained, and his patella and tibo-fibular joint was sprained. The damage was so severe that amputation was a serious possibility. He would not play in an NBA game for nearly two years.
Through a series of low-paying contracts and trades, Livingston would go on to play for Miami, Memphis, Oklahoma City, Washington, Charlotte, Milwaukee, Houston, Cleveland and Brooklyn. In 2014, he signed a three-year contract with the Golden State Warriors worth $16 million. Livingston has been a key role player for the Warriors, helping them reach the NBA Finals in each of the last three years, winning two of them. This offseason, he was rewarded for his efforts with a three-year $24 million dollar contract. While his explosiveness and quickness is long gone, Livingston's mid-range jumper is deadly because of his 6'7" size. At 32 years old, he should have a few years of productive play ahead of him, which is an amazing feat considering he nearly lost his leg.
Paul George
One of the NBA's best players for the past few seasons, George's ascent to stardom was interrupted by a serious knee injury suffered during the 2014 FIBA World Cup. Team USA was playing an intrasquad scrimmage, and James Harden was running down the court on a fast break. Harden went up a layup, which George attempted to block. When George came down, his foot hit the basket stanchion, which was over two feet closer to the court than NBA regulations outline. The game, which was three minutes into the fourth quarter, was immediately ended by coach Mike Krzyzewski. His tibia and fibula were fractured, and he would not step foot on an NBA court for eight months.
Since his return, he has been an All-Star in both of his two seasons, averaging over 23 points per game. He has also made the All-NBA and All-Defensive teams. George was traded to the Oklahoma City Thunder this past offseason, and is currently trying to lead the Thunder to the playoffs, along with Carmelo Anthony and Russell Westbrook. With his contract expiring after the season, he will be one of the most prized free agent targets in 2018.
Grant Hill
Before LeBron James, there was Grant Hill. The Detroit Pistons made him the third overall pick in 1994, and he was supposed to be the NBA's next great player. Through his first six seasons, he certainly looked like he was on his way to becoming just that. In 1999-2000, Hill averaged 25.8 points, 5.2 assists, and 6.6 rebounds per game.
Those numbers earned him a seven-year $93 million dollar contract from the Orlando Magic, who were able to facilitate a sign-and-trade in order to acquire Hill by sending Chucky Atkins and Ben Wallace to Detroit, a move that paid off for the Pistons. A week before the playoffs, during his final season with Detroit, Hill sprained his left ankle.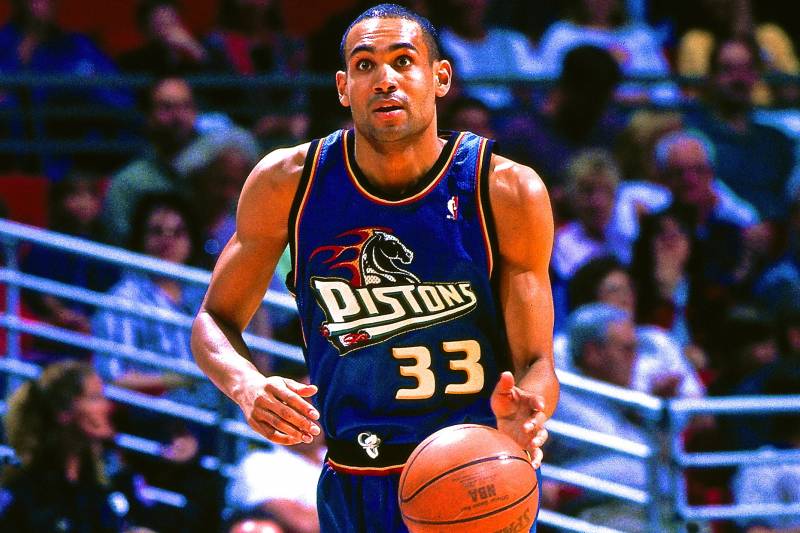 Due to his importance to the team, and wanting to dispel critics who spread rumors that he was faking his injury in order to safeguard his body for his impending free agency, Hill toughed it out, although his Pistons were swept by the Miami Heat in the first round of the playoffs. After signing with the Magic, his ankle injury persisted, and he only played four games in his first season with the team. Things didn't get much better after that, as he played in just 44 games over the next two years. After the 2002-2003 season, doctors discovered that Hill's initial diagnosis of a sprain was incorrect, and that he had actually been playing on a broken ankle, which ended up healing incorrectly. This led doctors to re-fracture and realign his ankle with his leg.
Unfortunately, this was not the end of the ordeal. Just days after the surgery, Hill was rushed back to the hospital after experiencing convulsions and a 104.5 °F fever. He was discovered to have developed MRSA, a serious staph infection, around his operated-on ankle. He would remain in the hospital and would have to endure antibiotic injections for the next six months. He missed the entire 2003-2004 season as a result. He was able to return in 2004-2005, and made the All-Star team. 2005-2006 was the last season that injuries would seriously hamper him, this time he underwent surgery for a sports hernia he developed while favoring his left ankle. Hill would never again average more than 14 points per game, but he accepted his role as a key rotational player for the Phoenix Suns, and was able to play significant minutes until he was 40 years old, when he retired with the Los Angeles Clippers.
Michael Jordan
Three games into his second NBA season, Michael Jordan broke his left foot. He was able to return with 15 games remaining, and, despite the Celtics sweeping his Bulls in the first round of the playoffs, Jordan scored 49 points in game one, and set the still-unbeaten record for most points in a playoff game with 63. He would go on to make the All-Star game in 12 of his 13 remaining seasons, win five NBA MVPs, and six NBA championships. Even after his incredible rookie campaign, no one could have predicted his future success, especially after his injury.
After seven successful seasons with the Knicks, Trailblazers, and Suns, Channing Frye receive some devastating news during a routine team checkup; a virus he contracted had left him with a condition called dilated cardiomyopathy, where the heart is enlarged, and unable to pump blood as well as it needs to. While this would normally be a serious condition, the danger is heightened when an athlete has the condition, especially a sport as physically strenuous and dependent on running as basketball. Frye was forced to sit out the entire 2012-2013 season, and didn't know whether he would ever play basketball again.
Thankfully, he was able to make a full recovery, through his own exercise, which included yoga and golf. In 2013-2014, he was able to play in all 82 games, and was rewarded with a four-year $32 million dollar contract from the Orlando Magic. Frye never found a fit in Orlando, however, and was traded to the Cleveland Cavaliers at the 2016 trade deadline. Along with his friend Richard Jefferson, Frye completely changed the locker room culture in Cleveland, most notably with his Road Trippin' podcast, now famous the world over. He was a key part of the Cavs' 2016 championship team, and is currently a rotational player trying to help Cleveland knock off Golden State again.

While it's certain that all of the players on this list were worried about their various injuries, perhaps no condition was as scary as what Jeff Green endured. After being traded from the Oklahoma City Thunder to the Boston Celtics in 2011, Green finished the season as an unrestricted free agent. He agreed to re-sign with Boston for one year and $9 million. But Green failed his routine physical and was diagnosed with an aortic aneurysm, a severe medical condition in which the aorta is enlarged, greatly increasing the chances of a rupture. If the aorta ruptures, severe internal bleeding occurs, which can result in shock and death. Most people only find out they have the condition when it's too late.
Fortunately for Green, Dr. Lars Svensson from the Cleveland Clinic performed successful open-heart surgery, and Green was able to make a full recovery. After playing for Boston, Memphis, Los Angeles, and Orlando, Green signed with the Cleveland Cavaliers this past offseason. He has been one of their best bench players thus far, and hopes to win a championship with the Cavs. His new lease on life is inspirational and makes it impossible to root against him.
Many NBA players experience career resurgences after disappointing seasons, and some come back from retirement, but the most heartening comeback stories are those of players who defy the odds and make big impacts despite their serious injuries.