When you look at the landscape of the NBA right now, you'll find a select few who are worthy to have a strong presence in the card market. You've got LeBron James and Stephen Curry, stars who have won championships on multiple occasions. There's Kevin Durant, James Harden, and Russell Westbrook, former Oklahoma City Thunder players who have gone on to win the MVP award and accomplish amazing feats. Then, there are Giannis Antetokounmpo cards.
For his part, the Greek Freak's career is one that will draw a lot of collectors to his cards. The two-time MVP remains to be one of the most skilled players on the court and the league's highest-paid star. He's also leading the Bucks back to the playoffs by averaging 28.2 points, 11.1 rebounds, 5.9 assists, 1.2 steals, and 1.3 blocks per contest.
Antetokounmpo's amazing game is transcending onto his value in the card market. That's why he's one of the best names to invest in. We take a look below at five of the Greek Freak's cards that will retain their value in the long term.
2017 Panini Cornerstones Downtown
The Downtown cards remain to be one of Panini's best inserts. Add Giannis Antetokounmpo cards to the mix and you've got a classic card that will age well down the road.
The card's eye-catching design, filled with elements found in Milwaukee, serves to highlight the Greek Freak's impressive tenure with the Bucks. PSA 10 copies of this masterpiece are currently priced at $2,000 on eBay. This number can only go up in the coming years, especially if Antetokounmpo continues to dominate.
2013 Panini Elite Essentials Rookie Patch Auto
Investing your money on a star's rookie patch auto card is definitely a safe choice for the long run. In the case of Giannis Antetokounmpo cards, you might want to check his 2013 Elite Essentials RPA out.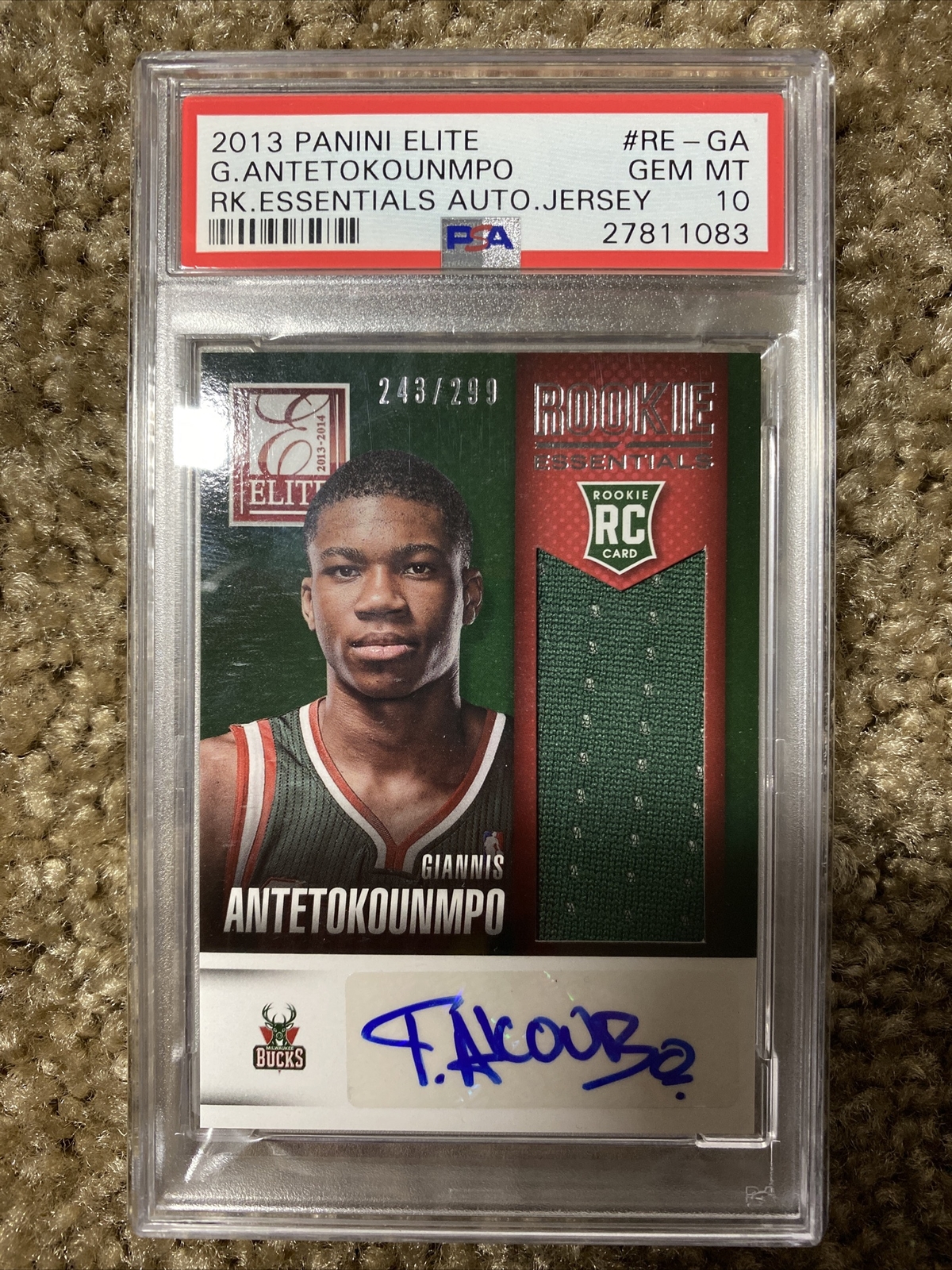 This particular card features the Greek Freak, his signature, and a piece of his jersey on it. Its limited print run of 299 also ensures that there'll be limited copies of this card on the market. 
While other RPA cards of Antetokounmpo are already skyrocketing to the moon, this particular one is still affordable. It's currently commanding $6,002 on eBay. Consider that the Bucks' All-Star has still a long way to go in his career, there's still a lot of room for this card to grow down the line.
2013 Panini Innovation Stained Glass
Just like Panini's Downtown, the Stained Glass insert has always been a head-turner of a card. Its colorful mosaic-like design effectively highlights the feature on it, just like the case with Antetokounmpo's first-year Stained Glass card.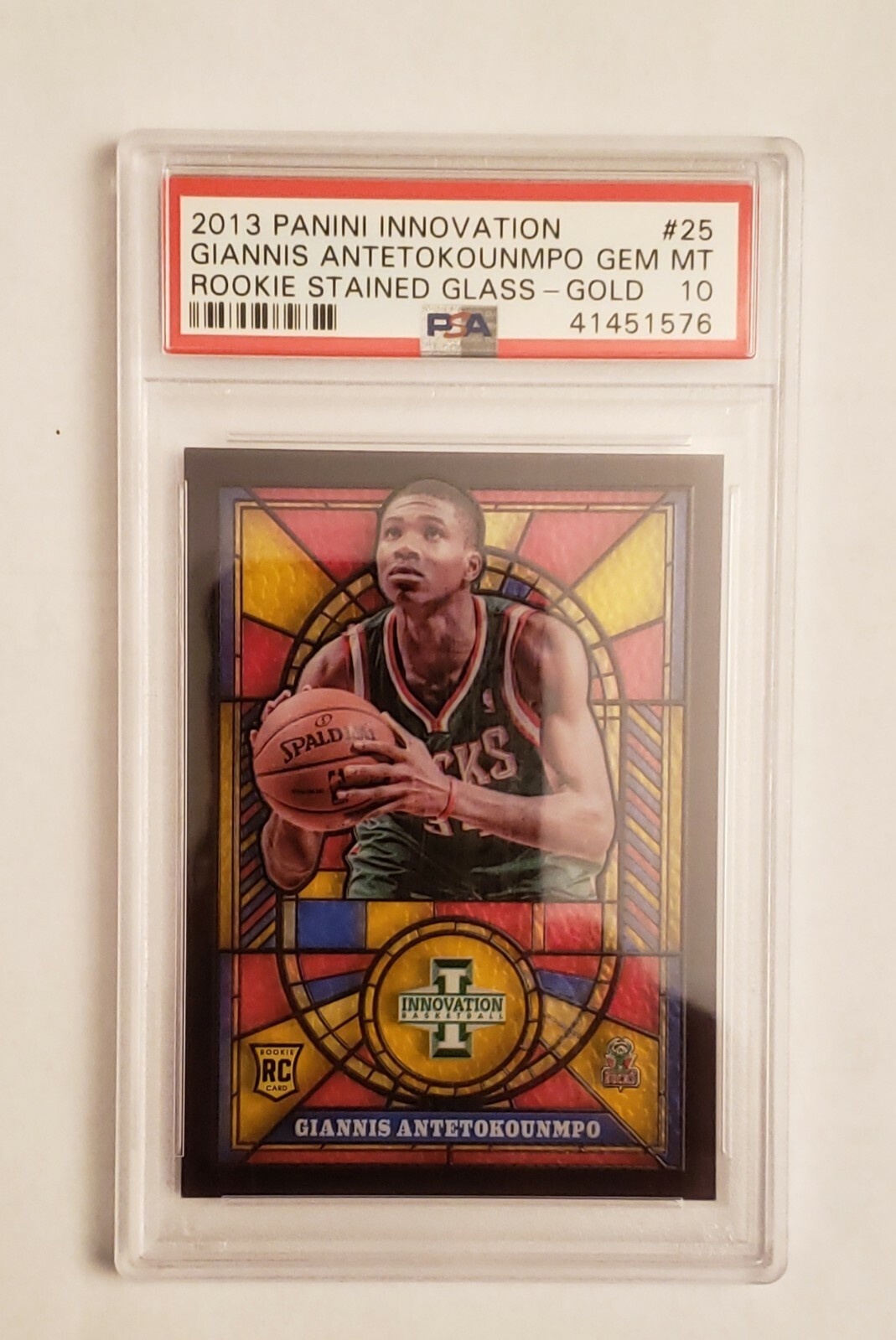 Coming from Panini's 2013 Innovation set, this card places the Greek Freak front and center. The design highlights the All-Star and makes him pop out of the card. Current PSA 10-graded copies of this valuable card are already shooting up to $14,000. The fact that this one was released during Antetokounmpo's rookie year ensures that its value will continue to go up.
2013 Panini Select Silver Rookie Card
The Select brand has always been one of the most sought-after products from Panini due to its limited hobby-only format. It only stands to reason that this rookie Giannis Antetokounmpo card, especially the Silver parallels, from this brand will always command a good value on the card market.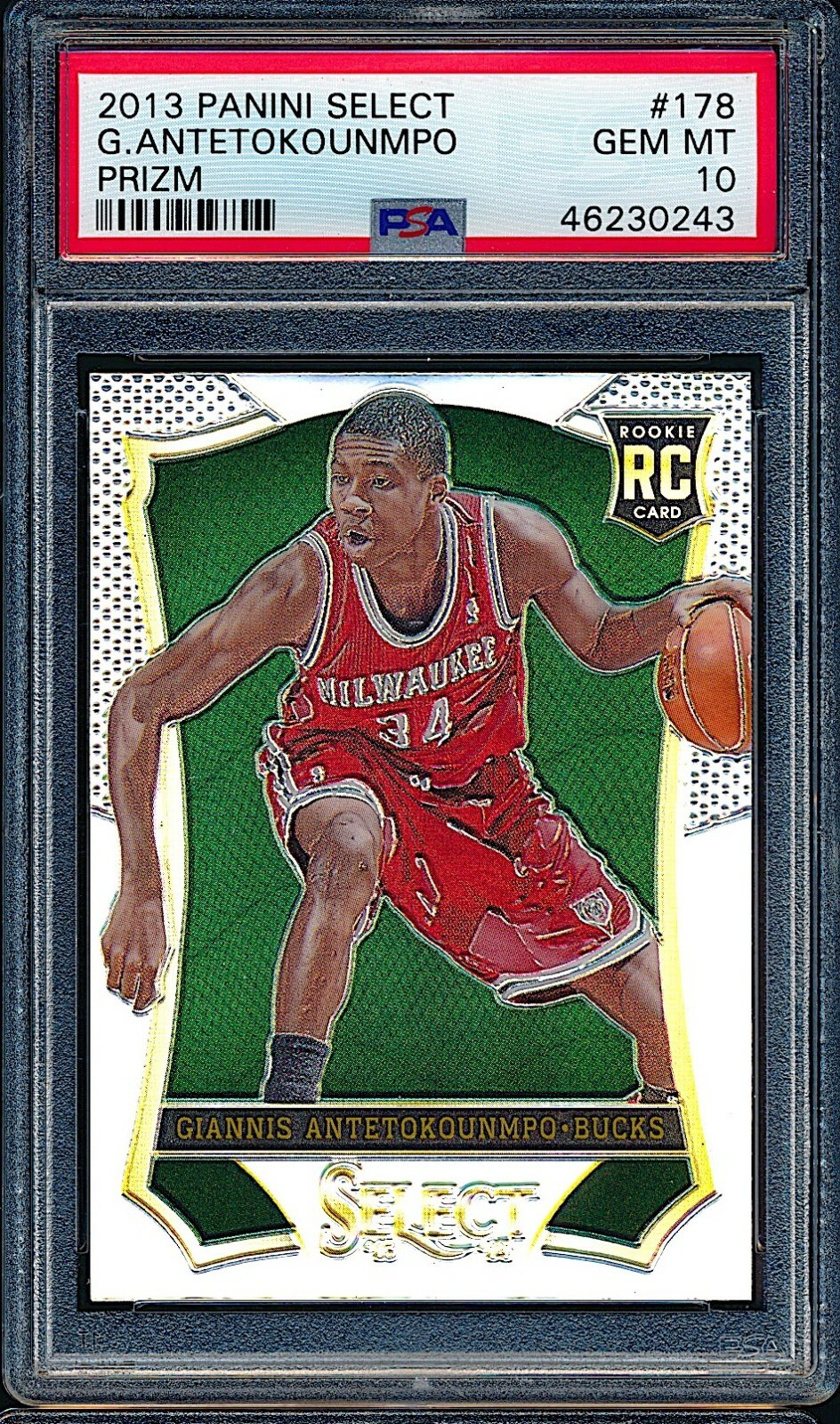 The combination of a card with a short print run and an All-Star like Antetokounmpo will always be deemed valuable. As of now, PSA 10 copies of this rookie card are fetching $15,000. This number can still go up since there are a lot of years left in the Greek Freak's prime.
2013 Panini Prizm Siler Rookie Card
Prizm has always been the standard for every basketball card collector. Rightfully so because its chrome finish and classic design will always look good in any collection. This is certainly the case with Antetokounmpo's 2013 Prizm Silver rookie card.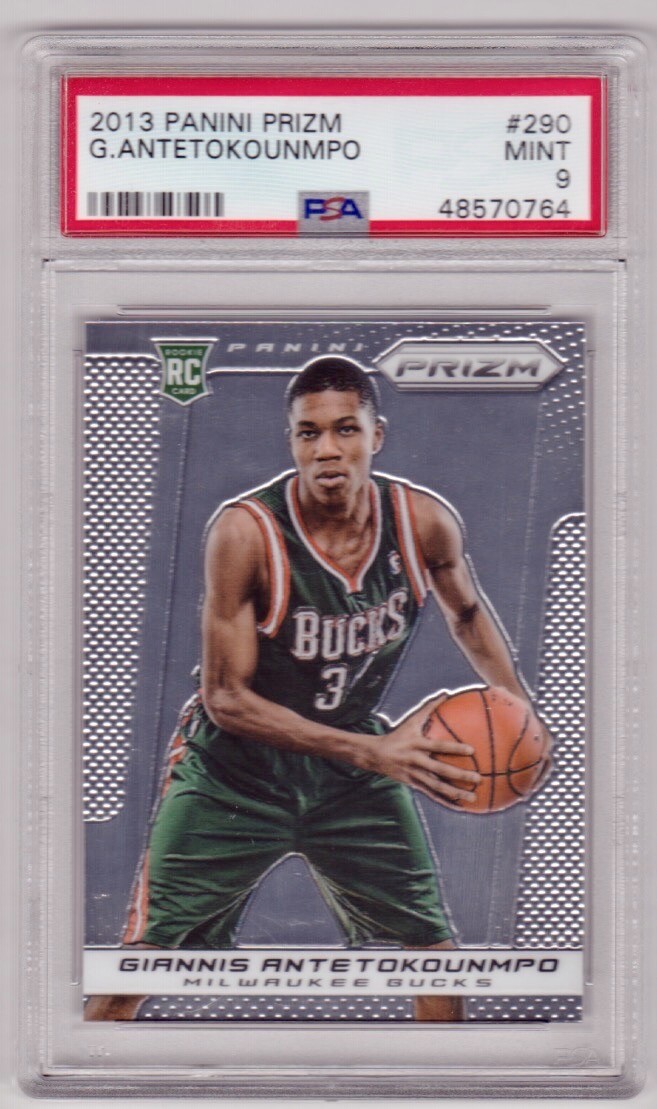 This particular card represents Antetokounmpo's first year in the league. Coupled with a short print run, card fans are ensured that its value will never go down. Although its current price of $30,700 is already off the charts, the card is already a wonderful and safe investment option for anyone.
There are only a few active players in the NBA who are great long-term card investments. Antentokounmpo is certainly one of them. By investing in the cards shown above, you won't go wrong, especially if you choose to hold them for a long time.