No matter what he says or does off the court, Kevin Durant will remain one of the best players to have ever played the game of basketball. The same thought can also be applied to his cards in the market. The elite set of skills he possesses, paired with years of experience, virtually makes him a generational talent that can transform any team to title contenders. They're also the reason why KD is a can't-lose investment for any card collector.
5 Kevin Durant cards for every KD collector
Like LeBron James and Stephen Curry, Durant is among the few active players in the league who can command a premium when it comes to their card value. And in a season when he's averaging 27.1 points, 6.8 rebounds, and 5.1 assists after recovering from an Achilles injury, you can bet your money on this future Hall of Fame candidate.
We take a look below which of Durant's wide variety of offerings in the card market are good investments to hold for the long-term.
2019 Panini Chronicles Prizm Update Silver
Even with all the injuries they've experienced this year, the Brooklyn Nets are still one of the heavy favorites to win the title. The presence of Kyrie Irving, James Harden, and Blake Griffin, among others, ensure that this team's offense is always firing on all cylinders. Add Durant to the mix and the East will be theirs for the taking.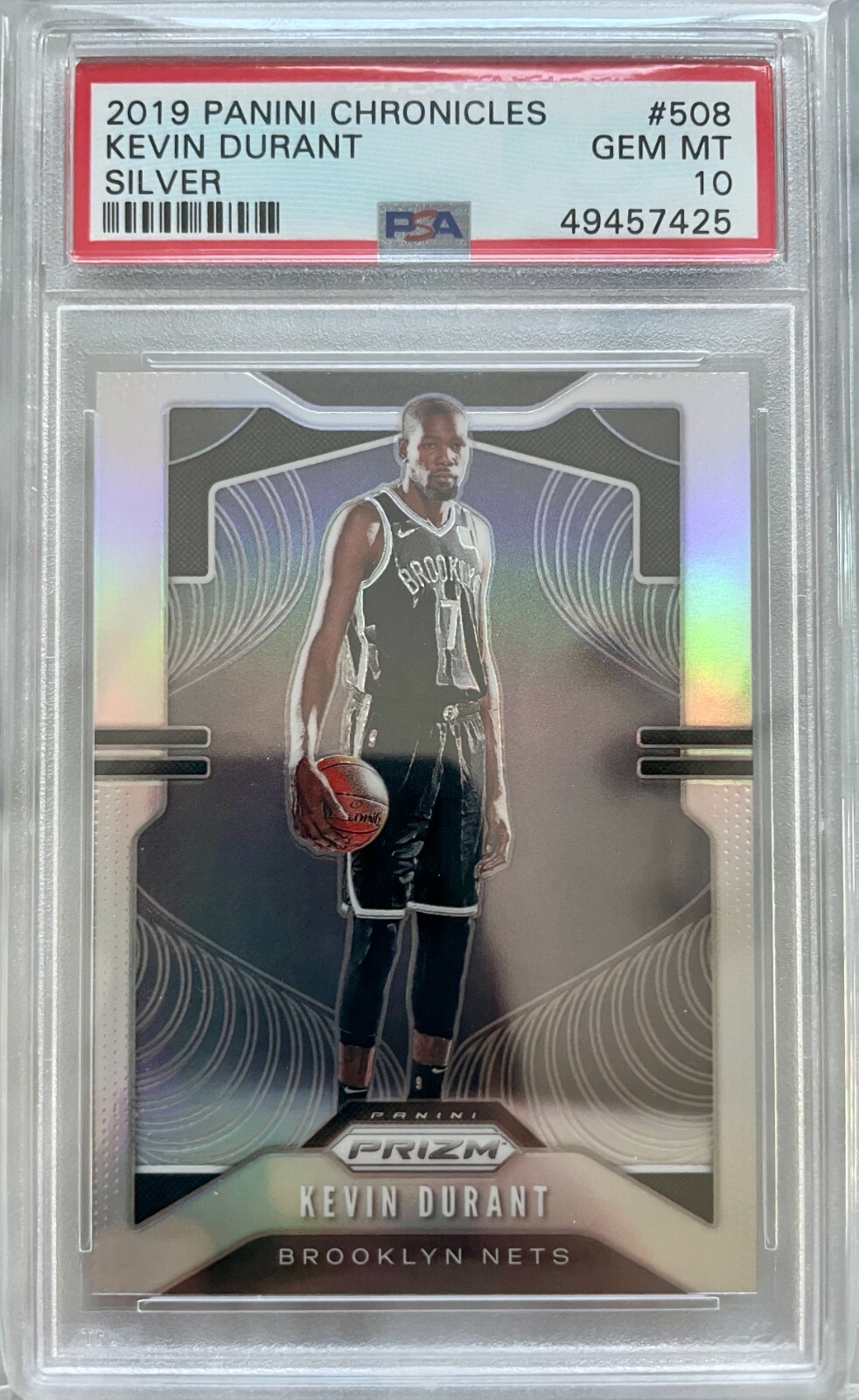 In the event Brooklyn does indeed win the title this year, going for Durant's first Prizm card in a Nets uniform would be a wise investment to make. The card's short print run also ensures its value will remain high even after the season is done. As of now, Durant's PSA 10 Prizm update card is valued at $1,300.
2016 Panini Cornerstones Downtown
Durant's stint with the Golden State Warriors, no matter how controversial it was, will always be one of his career highlights. During this time there, the All-Star finally became a two-time champion and two-time Finals MVP, cementing his legacy in the process.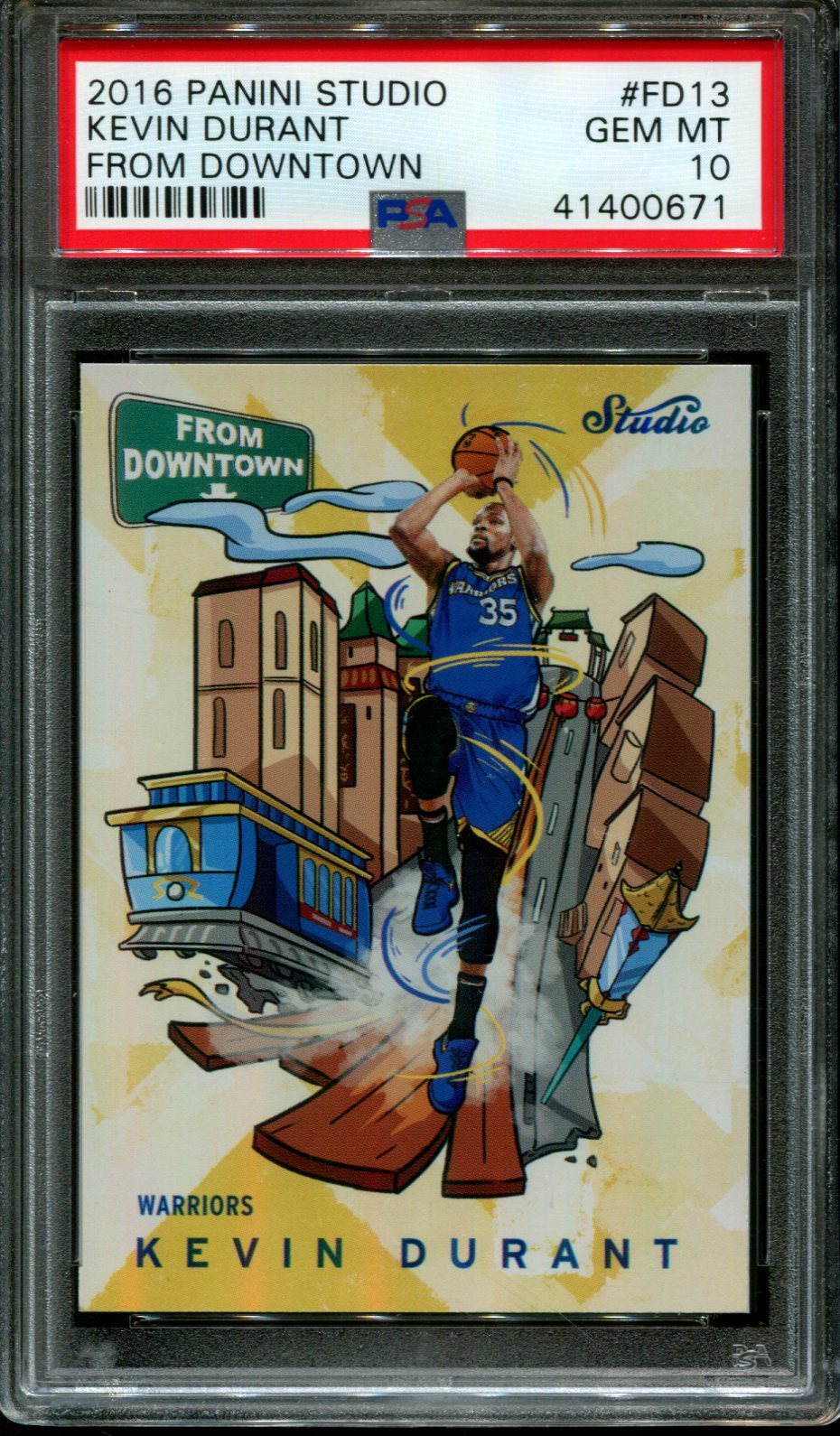 If you're looking to invest in a Kevin Durant card that represents his tenure with the Dubs, one of the best options to invest in is his 2017 Downtown. The card's captivating design, featuring Durant in a Warriors uniform and well-known elements from San Francisco, is sure to age well in the coming years. The card itself is currently priced at $1,525 on eBay.
2007 Topps Durant Rookie Card
Those who are aiming for the Slim Reaper's rookie card but have a limited budget should aim for his 2007 base Topps card. The design mainly features Durant in his yellow Seattle Supersonics uniform and a vintage-inspired look that's clearly associated with Topps.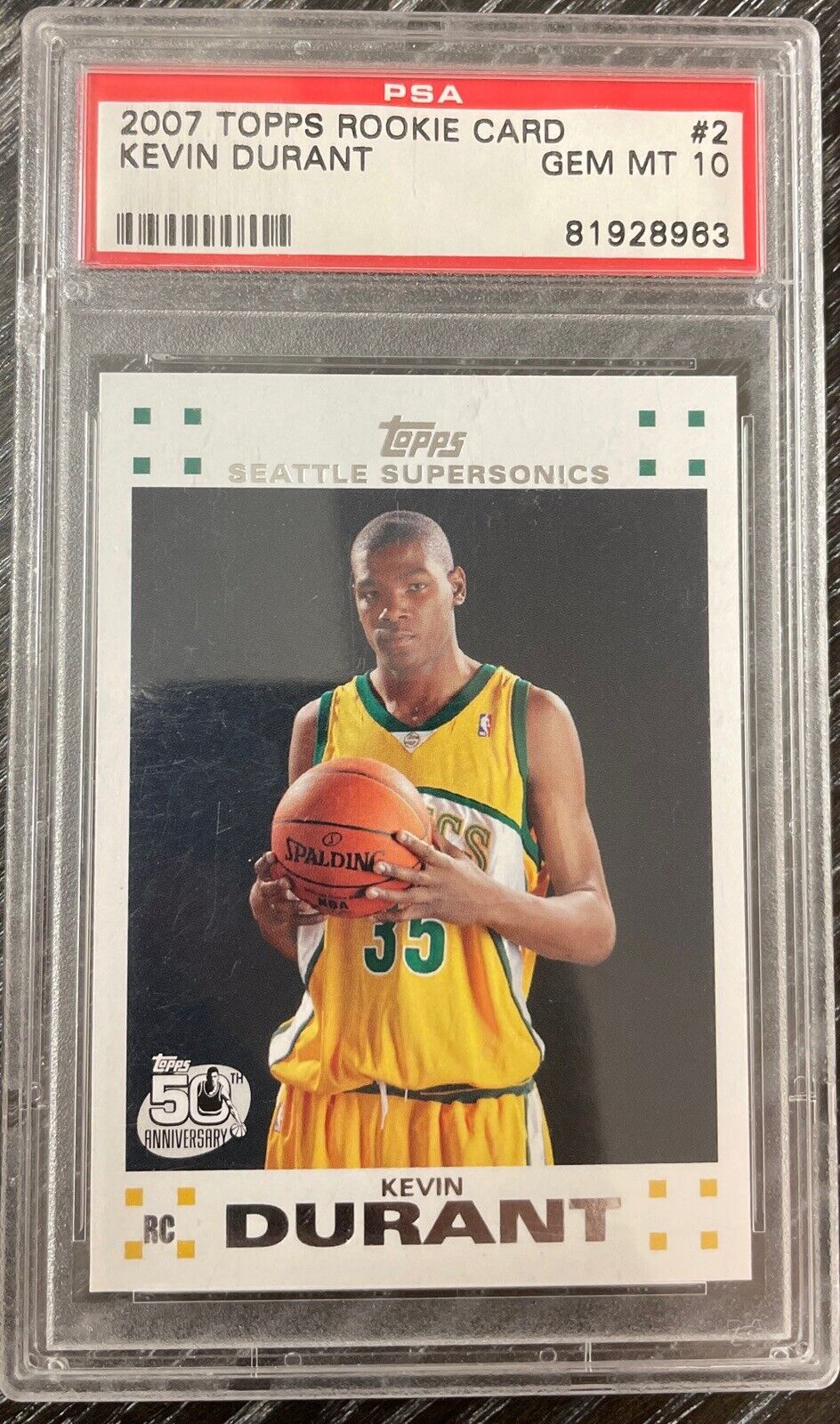 When searching for this card, it's best to check the edges, surface, and corners for any sign of damage. It's around 14 years old and finding one that looks good might be harder than you expected. A safer course of action is to invest in a PSA 10 graded copy, which is going for $1,875 right now.
2007 SP Authentic Rookie Patch Auto /200
Owning a rookie patch auto of any All-Star is surely a goal for any serious card collector. When it comes to Durant, it's a must to have this kind of card, if given the chance.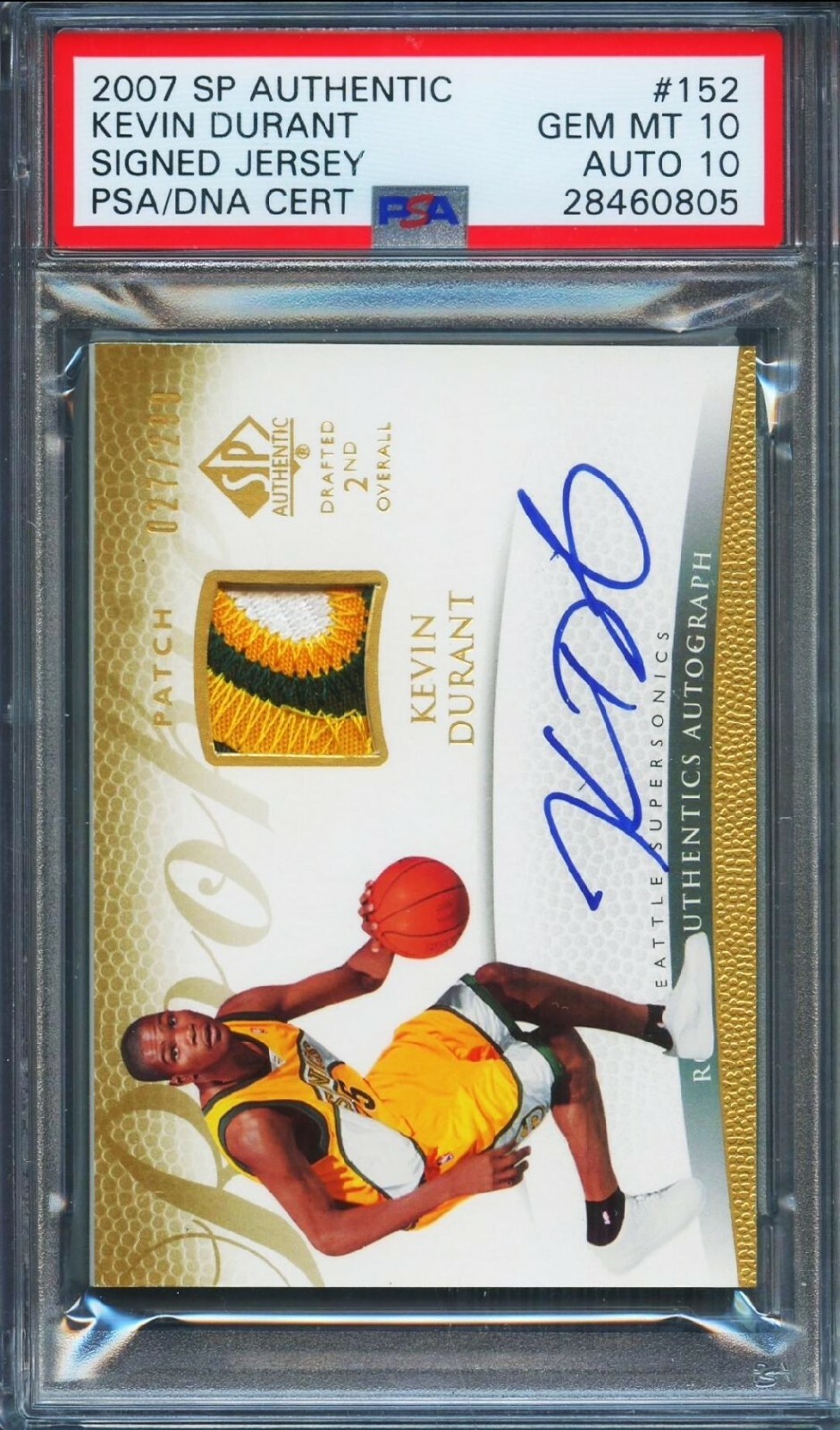 If you do have the money to spare, a good option to go for is Durant's 2007 SP Authentic Rookie Patch Auto numbered to 200. It features the two-time champion's on-card autograph, a good chunk of his jersey patch, and a limited print run that only serves to boost the card's value. Those who can get this grail would have to fork some serious cash because the card's current PSA 10 value is at $30,000.
2007 Topps Chrome Rookie Card
When it comes to Durant's definitive rookie card, it doesn't get any better than his 2007 Topps Chrome offering. The card's clean look and chrome finish highlights the Slim Reaper in all his glory as a first-year player in the league.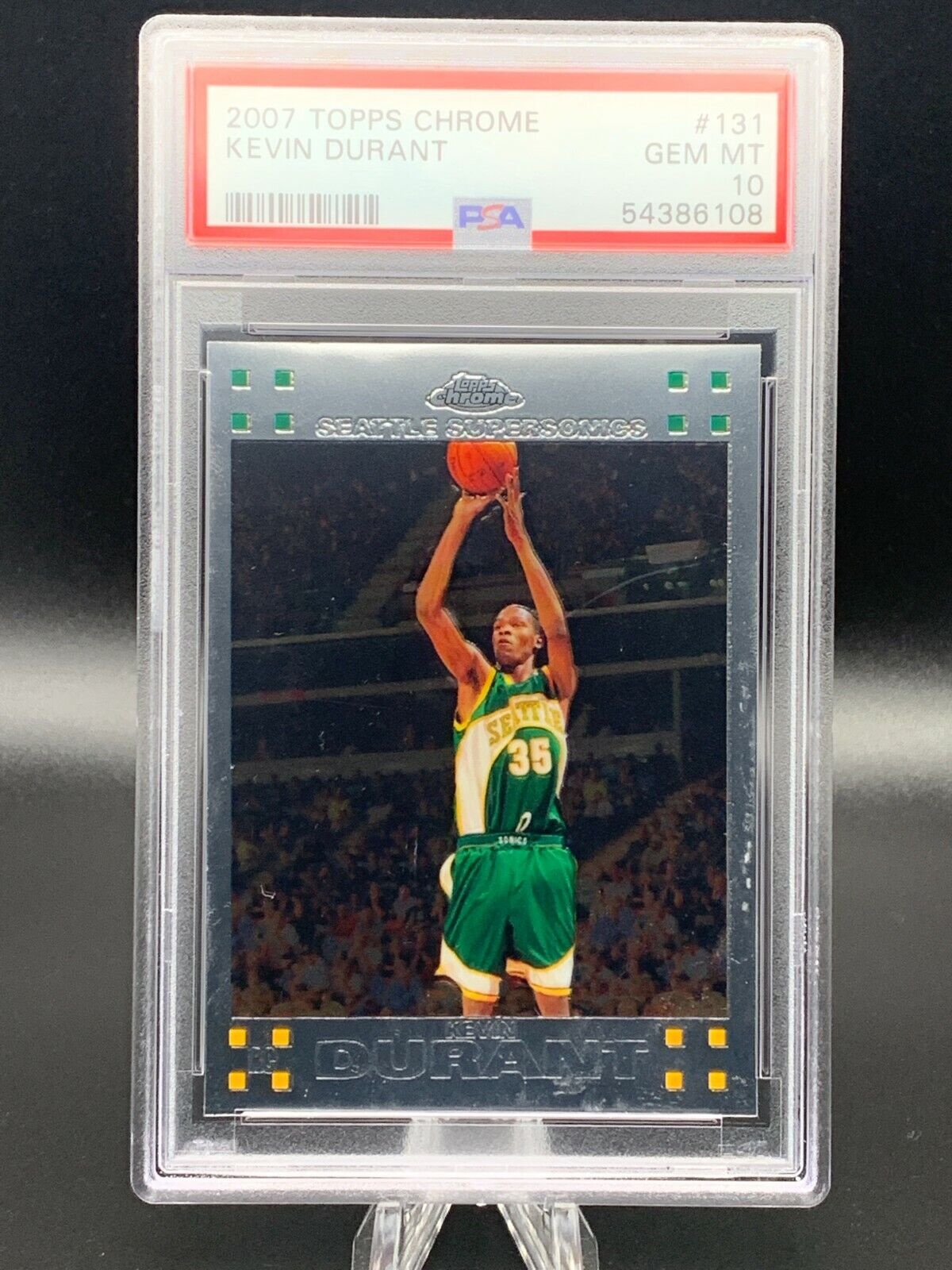 Those who think that this is the Kevin Durant rookie card to own should prepare some serious cash. It's valued at $9,300 on eBay and can potentially go up as the postseason progresses.
For sure, Durant is a lock towards being one of the greatest basketball players ever. If you're looking to have one or several of Kevin Durant's cards in your collection, the five mentioned above are a good place to start. Once he hangs up his jersey and retires in a couple of years, these cards will surely retain their value over time, making them a wise long-term investment option.