Investing in Giannis Antetokounmpo cards is a huge risk right now
There's no doubt in everyone's minds that the Milwaukee Bucks and its legions of fans are on cloud nine right now after winning the NBA Finals. Giannis Antetokounmpo card collectors, in particular, are riding the wave of their investments as his stock in the market has been surging since the past few days.
But with every high will come a low at some point. We take a look below at why investing in Giannis Antetokounmpo cards isn't as great as many expect right now. We also take a look at the Greek Freak's current state in the card market to get a perspective on where he is headed value-wise.
Current State Of Giannis Antetokounmpo Cards In The Market
It's no secret that the Greek Freak's stock in the card market is on the rise after Milwaukee trumped the Phoenix Suns in six games. Keep in mind, though, that before that happened, Giannis Antetokounmpo's stock fell down from a peak of $3,150 last April. It only began to rise again after the Bucks got past the Miami Heat and Brooklyn Nets in the first and second rounds respectively.
Antetokounmpo's stock was slowly inching its way upward during the Eastern Conference Finals against the Atlanta Hawks. Except for a short period of doubt due to his knee injury scare, his PSA 10 rookie card value reached the $2,000-mark when the NBA Finals started.
From there, Antetokounmpo's rookie card value didn't look back anymore. Even when the Bucks lost the first two games to Phoenix, Cream City's All-Star forward performed like a man possessed on the court. And for the remaining four contests, Antetokounmpo went to another level and fully realized Milwaukee's long dream to bring another title to their city.
Thanks to this massive catalyst, Antetokounmpo cards went off like a rocket to the stars. His PSA 10 2013 base Prizm rookie card, in particular, is now valued at $2,350 on eBay. But while some collectors may think now is the ideal time to pounce on those cards, waiting for the hype to die down is the wisest course of action when it comes to the Greek Freak's stock in the card market.
The Risk Of Buying Giannis Antetokounmpo Cards Now
The first thought of a casual collector would be to get a rookie card or two of Antetokounmpo after clinching his first ring. But while this is the obvious play to entertain, it doesn't mean it's the most practical move to make right now.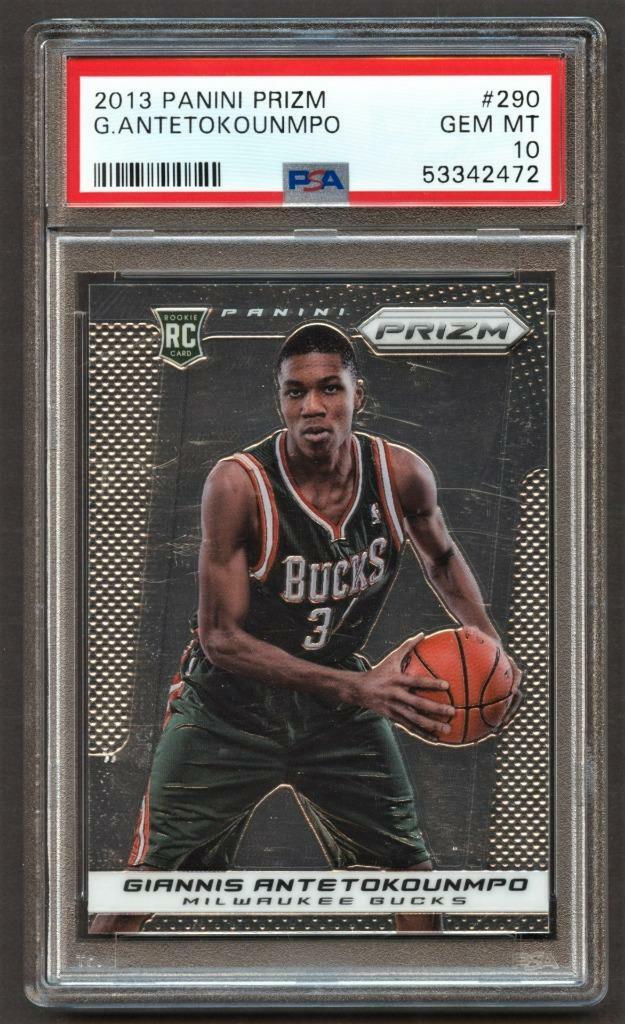 Keep in mind that anything that goes up needs to come down at some point in time. That's the same thing too with Giannis Antetokounmpo cards in the market. Collectors who purchased his stock at the peak will be left with a card that has dropped in price in a couple of months. In the end, money will be lost and you'll have a hard time selling it at the price you paid for it.
The right play here is to wait for a couple of weeks, or even a month, for Antetokoumpo's value to drop. Collectors need to be vigilant in checking eBay's price comparisons for his PSA 10 rookie cards to get a good gauge on when to buy one. 
Just remember that the hype for basketball cards will rise up rapidly again weeks before the new season starts in November. Smart collectors will use that window of time to stock up on their Giannis Antetokounmpo card investments for their collection or to make a profit out of them in the market.