Giannis Antetokounmpo just made his card investors filthy stinking rich
Last week, basketball fans were treated to a jaw-dropping NBA Finals performance, courtesy of Milwaukee Bucks star Giannis Antetokounmpo. After going through the gauntlet in the Eastern Conference and falling down two games to none against the Phoenix Suns, The Greek Freak completely unleashed himself. His monstrous dominance paved the way for the Bucks to win their first title in half a century.
Now that the 2020-21 season has come and gone, the dust has settled to reveal Giannis Antetokounmpo card investors as the winner. We take a look below at how that happened and the current state of The Greek Freak's cards right now.
The Rise Of Giannis Antetokounmpo Cards
Before finally winning the title this season, Antetokounmpo and the Bucks had the reputation of being monsters in the regular season before disappointing in the playoffs. This had happened multiple times during the past few years, with notable losses to the Toronto Raptors and Miami Heat. That almost became a reality again this year when Antetokounmpo hyperextended his knee against the Atlanta Hawks in the Eastern Conference Finals.
This man @Giannis_An34 out there putting on a damn clinic! Just a few weeks ago, the basketball world thought he was done with a serious knee injury. He was back a week later, and now he is minutes away from winning his first NBA championship. #MILvsPHX #NBAFinals pic.twitter.com/neq7Zu7LF1

— Coach K (@ShowerShoeLord) July 21, 2021
Thanks to the gruesome look of the injury that heavily circulated social media, almost everyone thought Antetokounmpo's chance to advance was good as done. The market also reacted to this incident, with The Greek Freak's 2013 PSA 10 base Prizm rookie card going down from $1,974 to $1,350 in a span of one day.
Fortunately, Khris Middleton and Jrue Holiday got the job done by eliminating Atlanta. At this point, the Phoenix Suns had the momentum going into the series, especially with fears that Antetokounmpo was still not 100%. To everyone's surprise, this was the exact time when the Bucks All-Star went supernova.
Giannis GOES OFF for 33 of his 50 points in the 2nd half, fueling the @Bucks Game 6 victory en route to their first NBA championship in 50 years!

50 PTS | 14 REB | 5 BLK | 17-19 FTM pic.twitter.com/PcP9FGokFH

— NBA (@NBA) July 21, 2021
Even with Cream City falling behind in the series during the first two games, Antetokounmpo still performed like the best player on the court. His impressive tenacity and skill finally paid off in Games 3-6, when the Bucks won four straight contests to bag the title. All in all, Antetokounmpo played like a Hall of Famer by averaging 35.2 points, 13.2 rebounds, 5.0 assists, 1.2 steals, and 1.8 blocks in almost 40 minutes per game.
With his ascension as an NBA champion, those who purchased Giannis Antetokounmpo cards have finally been rewarded. As a result, most of The Greek Freak's rookie card investors have already cashed in on his victory.
The State Of Giannis Antetokounmpo Cards
Hobbyists who purchased stock of Giannis Antetokounmpo at the end of May will be glad to know that their investment has reached its full potential. During that point, Antetokounmpo's PSA 10 base Prizm rookie card would crater down to $1,975 from its previous peak of $3,150 during the last week of April.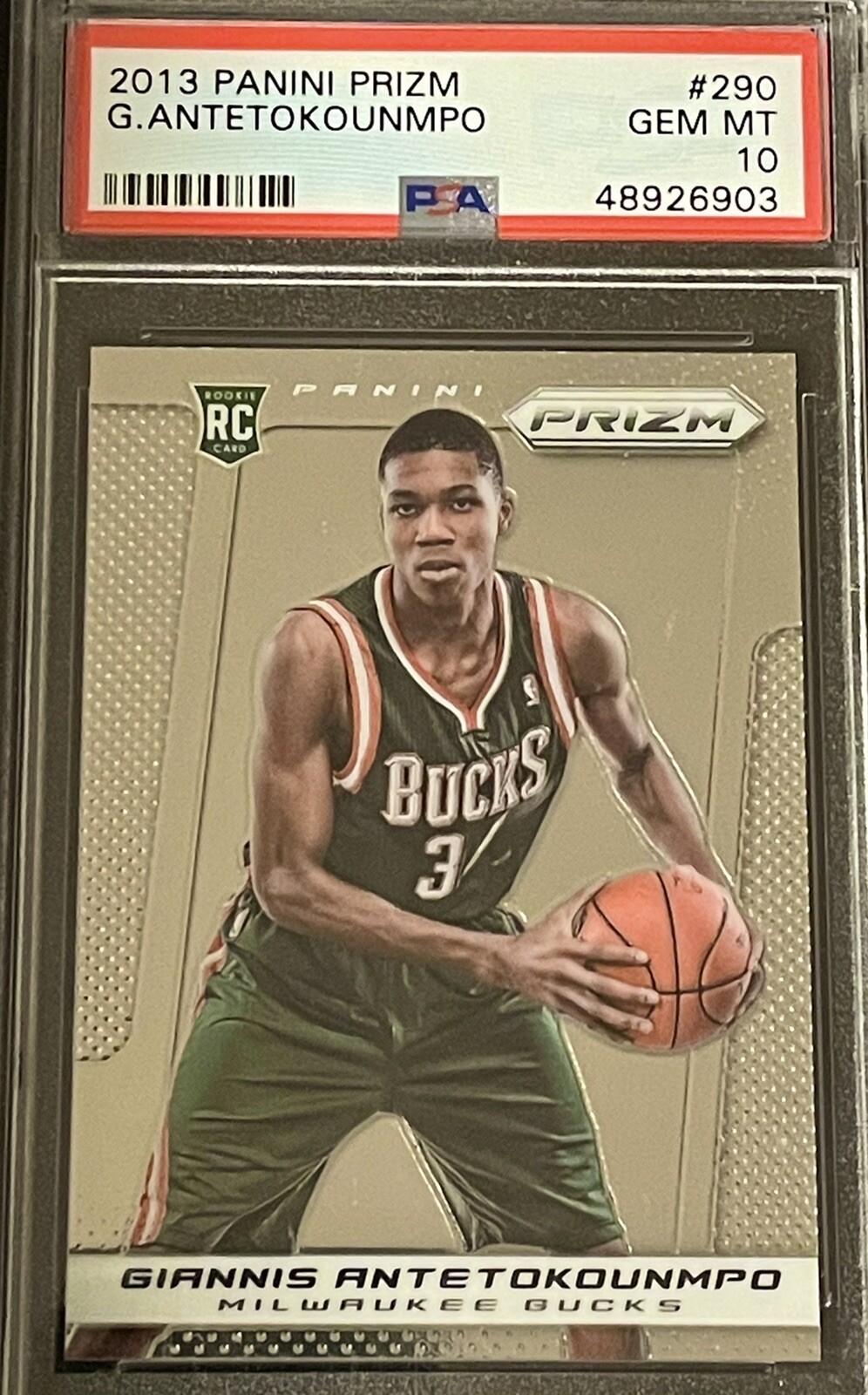 After Antetokounmpo's historic championship run with the Bucks, that same card is now valued at $2,600 on eBay. His PSA 10 Select and Hoops, two of his other popular rookie cards, are currently priced at $1,700 and $602, respectively.
Hours after winning his first ring, Antetokounmpo said he was proud of winning the title the hard way without joining a superteam. That same feeling is now being felt by Giannis Antetokounmpo card collectors who have stuck with him through his ups and downs. Now, they're right there with The Greek Freak in reaping the rewards of their card investment choices.