On Sunday, Victor Oladipo will have the chance to do what the star who preceded him in Indiana never could: beat LeBron James. Paul George tried to pack James' bags four times. He failed four times. Now, the star no one saw emerging gets his shot. And he's so close.
While the first-round series is knotted at three games apiece, the Pacers have outplayed the Cavs from the jump. And Oladipo's unique aggression has presented the Cavs with a problem George never posed. And perhaps a problem they simply cannot solve.
Avoiding Isolation
Paul George's elite standing is not in question. But while George certainly fills up the stat sheet, he is heavily reliant on isolation.
Here's the thing about isolation offenses: bad defenses feed on them like parasites. A bad defense clings to an isolation offense and slurps from it the nutrients needed for survival.
The Cavs have a bad defense. That is, perhaps, putting it mildly. The Cavs have an abhorrent defense; the type of defense that, to NBA fans, is the Spalding equivalent of a horror film.
But isolation is the great equalizer. James, for his myriad defensive foibles, was a perfectly adequate isolation defender this year, ranking in the 50th percentile. Give him time to set, play one-on-one, and he'll fare decently. The same can be said of most Cavs players.
Get them moving? Don't let your children stay up to watch that.
But while George had an isolation frequency of 17.5 percent in his final year with Indiana, Oladipo isolated on just 10.3 percent of his possessions this season. Just look at the results of running the simplest of non-isolation sets against Cleveland's porous defense: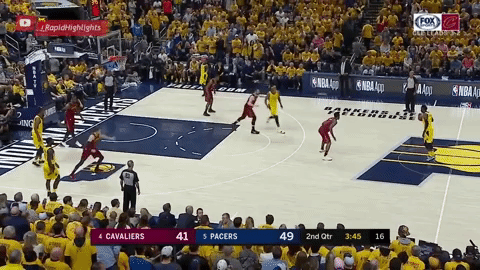 Rather than taking JR Smith one-on-one, as George often did, Oladipo calls for a high screen from Myles Turner and the Cavs set a trap 30 feet from the hoop.
It highlights the philosophical contrast between George and Oladipo. While George would usually pass out of the trap and reset in isolation, Oladipo turns the corner and beelines towards the rim. All three remaining Cavs defenders shuffle toward the paint to help on either Oladipo or Turner.
By the time Oladipo is in the paint, all five defenders are out of position with all four of Oladipo's teammates left open. The newly minted star measures his options, homing in on Turner, who is left with an easy shot. The unwillingness to settle for an isolation opportunity exposes Cleveland's greatest weakness and allows Oladipo to manufacture a high percentage shot.
It's not just in the half-court set that this anti-isolation aggression benefits Oladipo. Here he is running a basic fast break: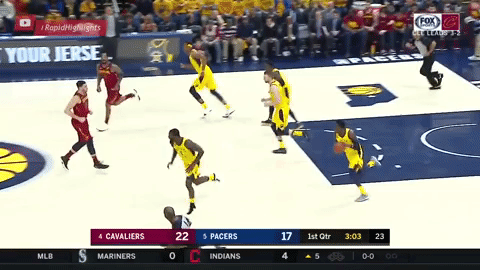 Watch Oladipo drop it into third and hit the throttle. That little boost puts the defense on its heels and three men in burgundy jerseys gravitate in Oladipo's direction. As Oladipo nears the 3-point line, all three retreat. As they scramble to locate their defensive assignments, the sharpshooter is left with a wide-open shot.
All it took was the eagerness to pressure the team defense, rather than waiting to rely on his own shot, and Oladipo was left with a highly-efficient look.
Moving North-South
The 3-pointer may be in vogue in the NBA right now but there is incomparable value in getting to the rim. This year, Oladipo attempted 383 shots at the rim. George, in the concluding season of his Pacers career, had a relatively meager 189 such attempts.
While the now-Oklahoma City Thunder forward prefers to meander in the giant swath of isolated perimeter hardwood, the Pacers' All-Star shooting guard moves north-to-south like an opportunistic running back. Against a team starting a stretch-four masquerading as a center, such action is venomous.
If Oladipo is a running back, then the Cavs are a defense with neither linebackers nor safeties.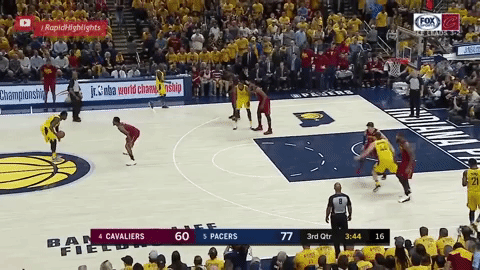 Again, Cleveland tries to trap but Oladipo, by keeping his feet moving, never lets the trap come to fruition. He quickly gets around the feckless initial defense.
A few plays later, he punctuated the approach:
As soon as Oladipo gets the ball, he goes. He doesn't wait, let the defense reset, and slowly size up his options. He attacks with vitriolic energy and finds the rim far more rapidly than any Cavalier can.
That's something George hesitated to do. He was always at his most comfortable when slowing things down and dueling his adversary in isolation, usually settling for a jump shot. There's something to be said for that, of course. But when countered by a defense with more holes than the finest Swiss cheese, it's simply not exploitative enough.
Even with Oladipo's shot not falling, the aggression and movement of his offensive approach have put Cleveland's shaky defense on skates. And it has Indiana on the verge of finally vanquishing James.
George never could. Oladipo very well might.