Getting into the hobby of collecting NBA cards can really be overwhelming, especially if you have no idea where to start. More often than not, most beginners would focus on the big names, such as LeBron James or Steph Curry. The thing is, you'll be better off chasing rookies and their stock in the card market. Right now, there's no better bet out there than Shai Gilgeous-Alexander of the Oklahoma City Thunder.
SGA Cards – The best rookie card bet in the NBA
Before entering the NBA, Gilgeous-Alexander played one season with the University of Kentucky Wildcats, where he averaged 18.6 points, 7.1 assists, and 4.1 rebounds per game. During the 2018 Draft, he was chosen by the Charlotte Hornets using the 11th pick then traded to the Los Angeles Clippers right after. Now in his third year in the league, SGA is truly becoming a force to be reckoned with, both on the court and in the card market.
We take a look down below why Shai Gilgeous-Alexander rookie cards are a sure bet for collectors and investors alike.
(1) SGA's immense ceiling is undeniable
During Gilgeous-Alexander's first year in the NBA, he posted 10.8 points, 2.8 rebounds, 3.3 assists, and 1.2 steals as a Clipper. All things considered, he notched respectable numbers while starting in 73 out of 82 games that season. 
The following year, SGA was traded to the Thunder for Paul George. His partnership with Chris Paul in the backcourt paid dividends in terms of his development. The young star would see his numbers go up to 19 points, 5.9 rebounds, and 3.3 assists in 34.7 minutes on the court.
Gilgeous-Alexander's third year in the league saw him ascend to near-All-Star status. With Paul and Dennis Schröder playing for different squads, SGA is given the opportunity to lead the Thunder. The young guard rewarded OKC's trust in him by posting career-highs of 23.7 points, 4.7 rebounds, and 5.9 assists per contest. His 57% success rate from the field, 41% from downtown, and 80% from the charity stripe are evidence enough of his improving efficiency this year.
87.1% of Shai Gilgeous-Alexander's baskets are UNASSISTED.

That is absolutely ridiculous.pic.twitter.com/V3ZgkfHC1m

— thunder film room (@YosefNBA) April 21, 2021
SGA's progression as a rookie, to a sophomore, to the Thunder's current franchise player signifies an upward trend when it comes to his development. With the help of a few more seasons, he will truly ascend to the high ceiling everyone is projecting him to reach. SGA's rookie card value is sure to follow.
(2) SGA is the future of the Oklahoma City Thunder
Last season, Gilgeous-Alexander shared offensive duties with Paul and Schröder as a triumvirate of guards that effectively blitzed their opponents. In fact, this trio broke all expectations of the Thunder last year by leading them straight to the playoffs when everyone projected them to tank. Now, with his former teammates gone, SGA is the undisputed star of Oklahoma City, and his cards can't go anywhere but up.
This notion is clearly backed up by an uptick in his usage rate this year. During the 2019-20 season, SGA enjoyed 23.7% usage rate. Now, that number has gone up to 27.8% Moreover, he is also leading the Thunder in scoring, assists, field goal attempts, and minutes per game.
With more playing time given to him, Shai Gilgeous-Alexander has a lot of room to grow and blossom in OKC. In turn, this will bode well for his stock in the card market.
(3) Shai Gilgeous-Alexander rookie cards are really undervalued right now
SGA has been out of the lineup since the end of March due to a foot injury. With him out of sight, his demand and value in the card market has dipped. As of now, Gilgeous-Alexander's PSA 10 base Prizm rookie card is valued at $185 on eBay right now. This figure is a far cry from what this card was demanding a day before Gilgeous-Alexander got injured, which was $325.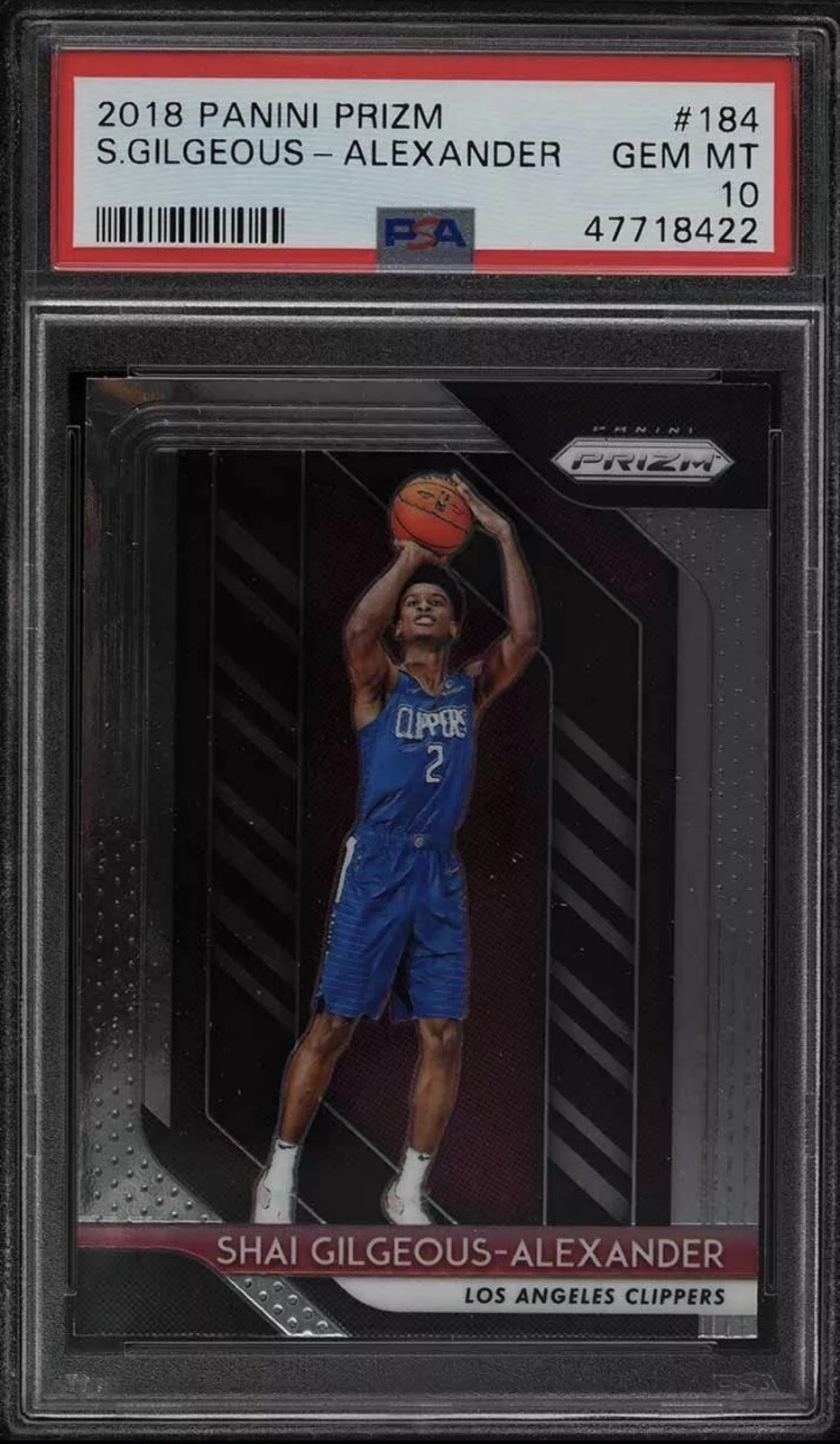 This is exactly the case with Shai Gilgeous-Alexander's rookie and non-rookie cards in the market right now. While some people would think that his value is dropping, the best perspective to have is that they are criminally undervalued right now. Gilgeous-Alexander is a safe player to place your bets on, which can't be said of most young names in the NBA right now. His affordable prices now can only mean there's a lot of potential profit to make when he comes back next season and maintain his present numbers.
If you're on the lookout for a compelling player to invest in, there won't be any better option out there than Shai Gilgeous-Alexander. SGA's cards are not as expensive as Luka Doncic or Zion Williamson ones but for the price you can get him for now, the pay-off could be even bigger.. Barring any drastic injury or issue in the future, any investment in SGA is a good bet to hedge on.