For sure, modern basketball cards are on fire right now. You won't find a more in-demand product in the card market than those that feature the hottest names in the NBA, especially with Panini rolling out their new releases this year. But while these modern offerings are the first choice fans flock to, there's still a good investment to be found in the vintage card market. A good place to start is by hunting a box of 1989 NBA Hoops cards.
This particular product was released for the 1989-90 season, a time when the popularity of junk wax cards was approaching its peak. The release of this product also coincided with the passing of an old era in the NBA and the arrival of a new one, making it a sought-after set at that time. We take a look below why card fans, both young and old, should give this classic product a look.
The card design is as timeless as it can get
Take one look at a base 1989 Hoops card and you'll see how far it is compared to today's loud and flashy designs. The player is featured in a simple rounded-rectangle box with his name on top and team down below.  
While the card design seems so simple, it's not necessarily a bad thing. Its overall look has the chance to defy age and trends to become a true classic as the years go by. Plus, the card is guaranteed to look great when it's encased inside a PSA or BGS slab,
Key rookie cards
Like any other card set, the 1989 NBA Hoops cards have its fair share of awesome rookies. Some of the biggest names you can chase are David Robinson and Steve Kerr, to name a few.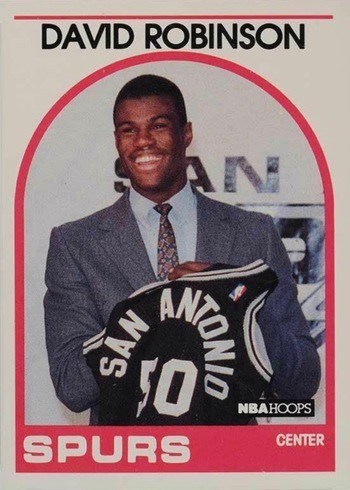 For those who are wondering if there is any value to these rookie cards, the answer is yes. Robinson's PSA10 Hoops rookie card is valued at around $238 while Kerr's is going for $273. Keep in mind that these prices can go up, especially during the offseason when demand for modern NBA cards goes down.
The biggest stars from the late 80s and early 90s
Apart from chasing the key rookie cards, collectors and investors alike can also hunt the hottest stars from this era. Of course, the biggest stars to chase from the 1989 NBA Hoops set are Michael Jordan, Larry Bird, and Magic Johnson. Other notable names to look out for are Scottie Pippen, Karl Malone, Reggie Miller, Charles Barkley, and Hakeem Olajuwon, among others.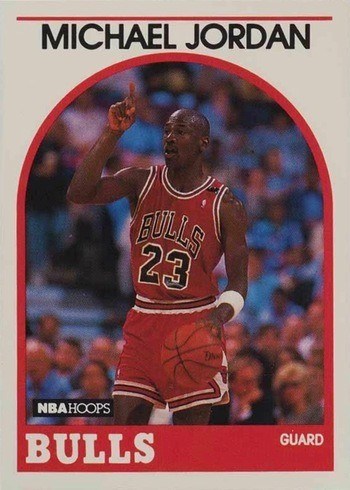 Going for this particular product presents the best of both worlds. That's because it has the biggest names from both the 80s and major stars during the 90s. If you want a product that offers a lot of chances to hit those amazing players, 1989 NBA Hoops cards are your best choice.
A lot of bang for the buck
It's a given that the 1986 Fleer set, the one featuring Michael Jordan's definitive rookie card, is out of reach for most people. Rightfully so because a single box auctioned on eBay reached $225,100.
Ripped this Sears exclusive "Yellow" 1989 NBA Hoops Set. Got a PERFECT Jordan out of it! #NBAHoops #RIPJunkWax pic.twitter.com/mAkfMYkPFV

— T.Y. (@tylerwdwyer) February 23, 2021
On the other hand, a 20-box case of 1989 NBA Hoops recently sold for $6,000 last month. You get more cards and more chances to hit those key players. As a result, you get to flip these NBA cards to make a good profit out of them and keep some copies for your personal collection. In this way, you make the most out of your investment in this product.
Just keep in mind to carefully check the condition of these NBA cards. Since they're more than three decades old, there's a strong chance most of them have sustained some form of wear and tear. If you do manage to stumble on a key card in mint condition, hold on to it have it graded right away. Overall, avid card fans won't regret getting this product and discovering how awesome it is.