Derrick White of the San Antonio Spurs has his own story to tell. It is part of the larger fabric of professional basketball and its constant evolution.
The NBA Draft is the annual time when basketball fans find out where their favorite prospects will begin their NBA stories. There are always a handful of future lottery picks that everyone comes to know before they even have the chance to shake Adam Silver's hand and rest the cap on their head. The front-facing logo on that cap will become, in essence, the next chapter of their lives.
Expectations are high for these players. Some of them prove to be the idealistic version of themselves, the players  their new team's fans hoped they would become, blossoming into stars. Most don't, though.
Every class of NBA hopefuls has a group of players who, despite their pre-draft pedigree, fail to live up to the mountainous expectations bestowed upon them, for a variety of reasons. These players are quickly labeled as "busts," they are not alone in their subversion of the expected outcomes of their careers.
Every class also has a group whose players outperform their own expectations relative to where they were drafted. These players are the diamonds in the rough that every team is trying to unearth in the late first round and the whole second round of the draft.
You know the names. Draymond Green, Nikola Jokic, Isaiah Thomas, Ruby Gobert, and so on. Many hugely impactful players are found in the final 40 picks of the draft.
Derrick White is the newest name on this ever-evolving list.
White was selected by the San Antonio Spurs with the 29th pick of the 2017 NBA Draft. After a rookie season that was shortened by injury, he was primed for a breakout year as a "pro sophomore." After losing starting point guard Dejounte Murray to a torn ACL before the season began, the Spurs needed White to emerge in a big way. Luckily enough for the team, he has done just that.
White's season didn't begin on a high note, though. During a preseason game against the Hawks on October 10, he tore his left planter fascia, forcing him to miss an extended period of time due to injury. Again. Despite the first reported (expected) recovery time for his injury being eight weeks, White was sidelined for just a month, returning to the team's starting lineup on November 7.
As you would expect, it took White time to fully recover from his injury. Because of this slow start he found himself in and out of the starting lineup to start the season. Over his first 22 games White averaged just 5.7 points, 3.3 assists, 2.7 rebounds, 0.8 steals, and 0.1 blocks with a 39.4 percent field goal number and 24.2 3-point percentage while playing 20 minutes per game. It was a less than ideal start.
But things quickly turned around for White. He has now started each of his last 39 games, proving to be one of the most promising two-way players in the NBA. During this stretch White has averaged 12.2 points, 4.3 assists, 4.2 rebounds, 1.2 steals, and one block with a 50.3 percent field goal percentage and a 35.8 percent three point percentage while playing an increased 29 minutes per game.
His production has improved in every way, but these numbers don't illustrate what makes White such a remarkable young player. In just the second season of his career White is already one of the best defensive guards in the entire NBA. Let that sink in— it's not an exaggeration.
He currently ranks first among all point guards in ESPN's defensive real plus-minus metric, fourth if you add shooting guards. While, of course, this metric isn't the be-all and end-all, we have plenty of evidence that points to this number not being a fluke. When you watch White play, you see a player who looks like an essential part of any list of the league's premier defenders.
He has fantastic footwork and instincts, allowing him to effectively fight around screens and prevent penetration by opposing ball-handlers: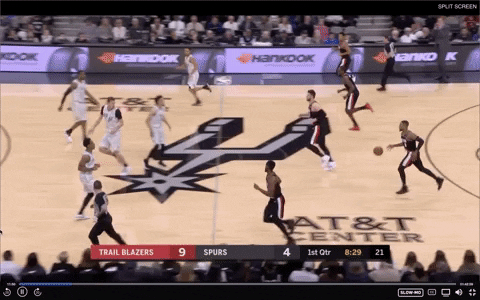 He does an extremely effective job of moving his feet and keeping a wide, fluid base while also making great use of his off hand to maintain contact with the ball-handler. This allows him to stay balanced and keep up with whatever movements the shifty Damian Lillard makes, preventing any useful penetration.
Here he shows just how sturdy his base is, throwing his body in front of Jamal Murray and denying him entry into the paint without committing a foul, making him look like a clumsy child who just sprinted full force into a brick wall: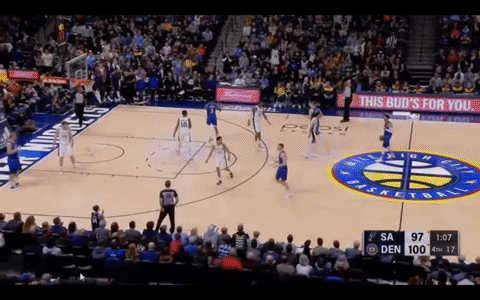 He is also able to exert his will against players with a size advantage, such as this play where he suffocates 6-8 Luka Doncic as he attempts to bully his way to the rim: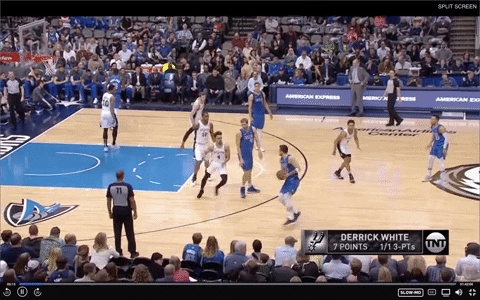 This provides an element of switchability to his game that is vital in the modern NBA.
White consistently shows this level of technical discipline while defending on the ball and against drives to the rim. This is of immense value to any team, but it is especially valuable to the Spurs, who run a large amount of drop coverage against ball screens, meaning their big men drop down into the paint when opposing teams run pick and roll, leaving the guard to fight over the screen.
A guard like White who can weave around screens and limit penetration by opposing ball-handlers does wonders to mask many of the weaknesses in drop coverages that are exploitable with a lesser perimeter defender.
A drop coverage's biggest weaknesses are:
1) A high level off-the-dribble shooter who can take advantage of the open shot windows created by the defensive big man in the action not coming up to cover him off the screen.
2) A roll man who can finish dump-offs over help defenders when he is left open, because the defensive big is forced to pick up the ball-handler's drive if his defender can't recover on time.
Here Damian Lillard attempts to accomplish the former but is forced into an incredibly tough shot by White's unexpected recovery, which also allowed LaMarcus Aldridge to not have to fall into the latter scenario and leave Jusuf Nurkic open at the rim: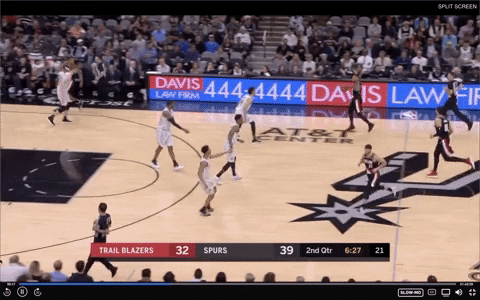 These pick and roll coverage abilities have a clear impact on the team's defense. Opposing teams shoot 2.8 percent worse on mid-range shots and 3.9 percent worse on shots at the rim when White is on the court, per Cleaning the Glass. Schematically he is the perfect fit in San Antonio. It is no surprise that the team's defense allows 3.7 fewer points per 100 possessions (82nd percentile) with him in the lineup.
White is also one of the league's most active perimeter defenders, consistently bringing chaos to the court. He is first among all point guards in block percentage (1.3 percent), per Cleaning the Glass.
His skill as a shot blocker is very unique. While he is a great shot blocker at the rim for a guard, many of his blocks come against jump shots. He has an impeccable sense of timing when defending these shots, often giving such a strong contest that he gets a piece of the ball.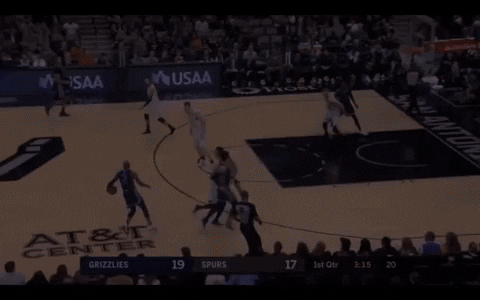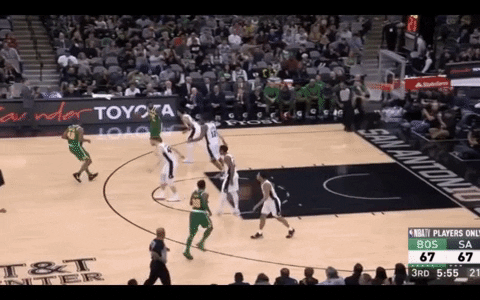 He also currently leads all guards in contested shots per game (9.7) and is second behind only Victor Oladipo in 3-point shots contested per game (4.5), per NBA Stats. He is constantly making his presence felt against shooters, whether he manages to block the shot or not.
I mentioned how White makes great use of his quick hands and instincts when maintaining contact with ball-handlers on the perimeter and blocking shots. He also uses these traits to jump passing lanes like an NFL safety playing a hook zone and poke balls loose like a pass rusher stripping an unsuspecting quarterback in the pocket.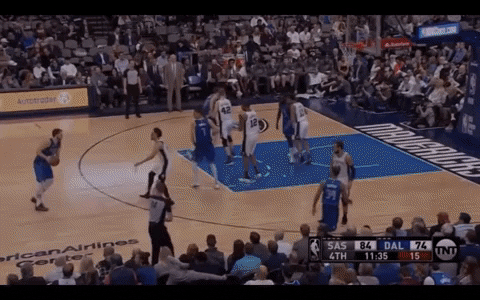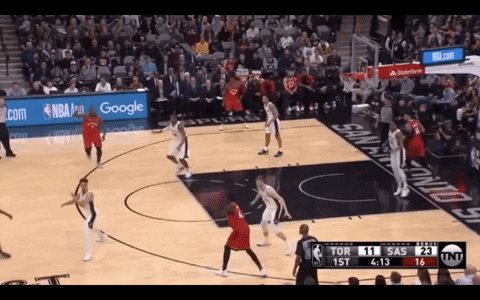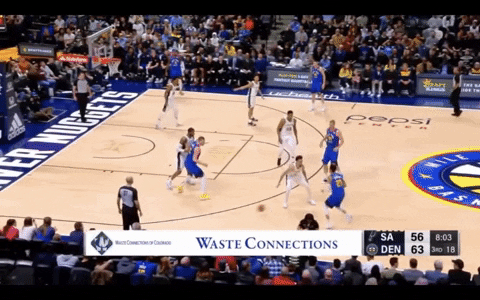 He currently ranks in the 81st percentile in steal percentage (1.9 percent) and it's easy to see why.
White has been arguably the best defensive point guard in the NBA this season and should receive serious consideration for a spot on an All-Defense team at the end of the year. Playing alongside Dejounte Murray, an All-Defense team defender himself, the Spurs should have the best defensive backcourt in the NBA for the foreseeable future.
White isn't just a one-dimensional player, though. What amplifies his value is the polished offensive skill set that supplements his monstrous defensive abilities.
The Spurs' offense revolves around the ability of their ball-handlers to knock down shots off the dribble at an efficient clip—30.4 percent of the team's shots come on pull-up jump shots, and they make 44.7 percent of them. The Spurs rank first in frequency of mid-range shots taken and second in percentage of those shots made (43.7 percent.) They also rank first in 3-point percentage as a team (40.4) but are dead last in frequency of threes taken. These numbers are all a result of the team making a concerted effort to take only the best shots it can, making sure it doesn't force any bad looks.
This offensive approach wouldn't be possible if they didn't have lead guards who could consistently take and make those pull-up jump shots. Along with Patty Mills and Bryn Forbes, Derrick White is one of these players.
White shoots 45 percent on mid-range shots (88th percentile). These shots make up 40 percent of his shot distribution (72nd percentile). A vast majority of these attempts come off the dribble navigating around screens, where he has a knack for locating the pockets of a defense's pick and roll coverage and carving it up with surgical precision: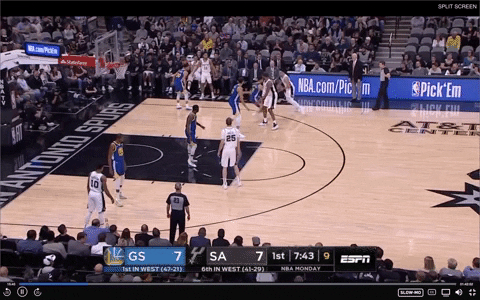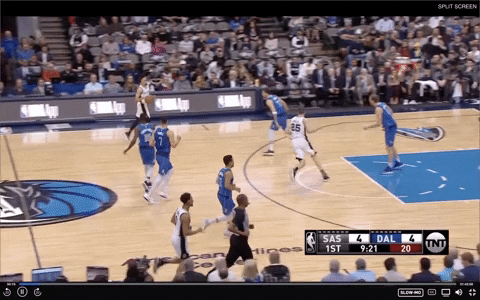 As the starting point guard of the most mid-range-heavy team in the NBA, White's abilities in this area mirror the team as a whole.
His skills as a pull-up shooter also translate to the shots he takes behind the arc. He has just a modest 35 percent 3-point mark this year, thanks to the fact that he has made just 31 percent of his spot-up attempts, but he has made 39.4 percent of his pull-up threes— albeit on a small sample size, with just 25 percent of his total shots coming from three and seven percent on pull-up threes.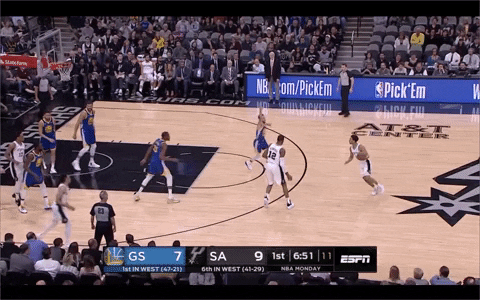 The limited sample means we can't make any definitive conclusions about White's 3-point shooting quite yet, but his shooting percentages elsewhere, shot mechanics, and shot selection make it reasonable to believe he will be a quality shooter. Shooting well from deep with regularity will be essential for White in the future, playing alongside Dejounte Murray and DeMar DeRozan, two lackluster shooters.
While his skills as a shooter are the most important element of his offensive repertoire, he is no slouch at the rim. White currently shoots 61 percent on shots taken at the rim (70th percentile.) He doesn't have a particularly quick first step or lengthy frame that would allow him to naturally succeed at the rim, but he makes up for his lack of a physical advantage with crafty dribble hesitations and fakes, as well as a great ability to finish through contact.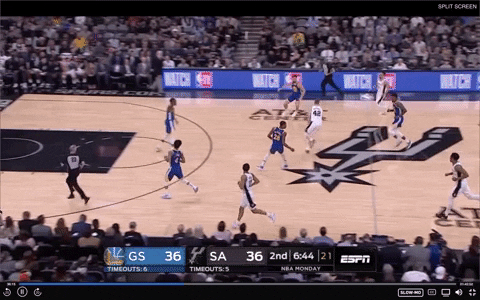 He isn't the most dynamic scorer and still has plenty of areas he needs to improve, such as his lackluster playmaking for a point guard with an assist percentage of just 20 (24th percentile.) But even if he never improves at all from the player he presently is, he already has a well-developed offensive toolbox which, in conjunction with his truly elite defensive capabilities, makes him one of the most intriguing role players in the NBA.
The San Antonio Spurs have consistently managed to avoid a total rebuild by reloading their talent pool with the success of late-first round and full second round draft picks. The emergence of Derrick White this season is the latest example of just that. He isn't the first, and won't be the last, late-round gem found by the legendary Spurs front office, but in the future he may be the most important of these players in determining just how bright the post-Aldridge, and maybe even post-Popovich, era is in San Antonio.