The 2017 Utah Jazz were among the league's most surprising teams. Led by the top defense in basketball, and unforeseen major contributions from the 13th overall pick, Donovan Mitchell, the Jazz were the league's hottest team in the second half of the regular season, closing out the year 31-10.
This seemingly insurmountable momentum was carried into the postseason, where the team would eventually find themselves on the winning end of a thrilling first round playoff series, where they ended the season of the Oklahoma City Thunder in six games. They would eventually fall victim to the league's most unstoppable offense and soon-to-be MVP in their round two matchup with the Houston Rockets.
Coming off of a season defined by over achievement, hopes were sky high for this season's Jazz team, with many penciling them in for a top four seed before the out stretched limbs of Ruby Gobert could secure a single opening tip. In turn, expectations were just as high for the team's rising star and offensive locomotive, Donovan Mitchell.
As the season continued to develop, so did the realization that both the team and it's 6-foot-3 impetus were massively under performing the expectations they had earned in the season prior. This was no coincidental correlation. The team lives and dies by Mitchell.
While the Jazz are a team without a lack of capable offensive players, Mitchell's ability to create his own shot and be the driving force of the offense is a skillset belonging to no other player in Salt Lake City. Because of this, the competency of the team's offense is highly dependent on his ability to knock down shots. When he is on, their offense becomes a unit adequate enough to contend in conjunction with the team's elite defense.
Through this season's first 35 games, Mitchell was simply not performing at the level needed for the team to find success. Shooting just 29% from three and 41% from the field, a clear regression was taking place as the infamous sophomore slump was affecting it's latest victim. These struggles were caused by a multitude of factors. Defenses had begun to adapt to the Spida's venom in year two, realizing new ways to dampen the potency of his offensive impact.
He found himself being forced into more difficult jump attempts as his driving opportunities, the foundation in which his game is built on, were limited by opposing units. As a rookie, 31% of Mitchell's shots came at the rim. That number is down to 27% this year, per Cleaning the Glass.  His percentage of shots from three is also down to 34% from 37% last season. In turn, Mitchell's percentage of shots from mid range has risen from 32% to 40%.
This alteration in his shot distribution is the crux of what has been ailing Mitchell's offense. Defenses have learned how to make him uncomfortable. On top of this, Mitchell was also seemingly finding ways to make himself uncomfortable. He looked like a young player who was falling victim to the pressures that come with burdening the responsibility of carrying a team at such a young age. I know, this is an absolutely shocking development.
This understandable issue became an obstacle in which Mitchell needed to overcome in a hurry, as it was negatively affecting his game. He appeared to be forcing the issue at times, trying harder than need be to be the offensive star many expected him to be.
We can go on for days listing all the reasons he has struggled this season, but in the end they all lead us back to one central issue. He simply hasn't been hitting enough shots.
Combine the individual struggles on the part of Mitchell with the team's defense beginning the year failing to replicate the level of dominance displayed last season, ranking just 14th in defensive rating through 20 games, and it is easy to see why the Jazz have been on the outside looking in of the playoff picture for almost the entire season.
Despite occupying the 14th seed for several dreadful weeks, the Jazz have now right the ship, currently sitting in the 8th seed. This return to relevance in the playoff conversation comes as a result of the team winning seven of their last eight games, with this resurgence also coinciding with the personal revival of Donovan Mitchell's season. Mitchell's performance during the team's last six games has arguably been the best stretch of play of his young career. He has completely flipped the tides of both his and the team's season, resurrecting his performance on the year from the deepest pits of disappointment, surging to the highest peaks of dominance we have ever seen from the 22-year-old guard.
In these six games, Mitchell has posted box score averages of 30 points, 5 assists, 4.5 rebounds and 1.3 steals with .47/.47/.81 shooting splits. He has been dominant in every sense of the word. This offensive surge is in part a result of the myriad of injuries the Jazz have sustained to nearly all of their other guards, forcing Mitchell to shoulder even more of the creation load.
While no team wants to suffer injuries, the time missed by Ricky Rubio, Dante Exum, and Raul Neto may end up being blessings in disguise, as they may have been the catalysts needed to mold Mitchell into a more well rounded player.
A large portion of the credit for Mitchell's increase in production as of late can be attributed to his hot shooting streak from three on a relatively high volume. Taking nearly eight three point attempts a game, he has knocked down 47% of them. This is made all the more impressive given the degree of difficulty seen in Mitchell's shot mix from deep. Of his 7.8 three point attempts per game, five came off the dribble. While it is great to see him take and make these shots at such a frequency, hot shooting comes and goes.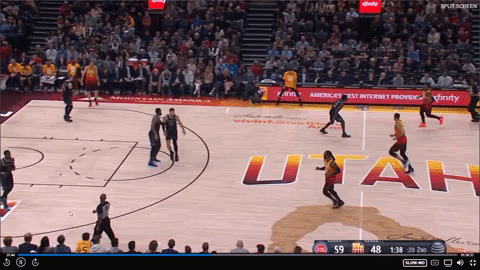 What is the more encouraging aspect of his recent play is his shot selection. Mitchell has done a far better job at manufacturing easy buckets at the rim, a threat that's establishment opens up the rest of his offensive repertoire.
While his volume of shots in the paint has remained similar, something you would like to see increased, he has been far more efficient on shots taken in that area. In this stretch, Mitchell is shooting 59.5% on shots within five feet, a dramatic increase from the 53% he shot on comparable shots in the 35 games prior.
He has been forcing the issue less and as a result encountering much better looks at the rim, leading to an increase in scoring efficiency.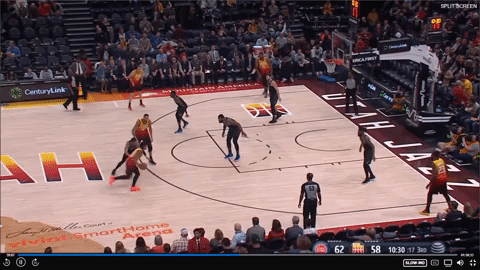 As previously mentioned, the Jazz have dealt with a litany of injuries at the point guard position as of late, forcing Mitchell to be the team's starting point guard at times. Since entering the league, Mitchell hasn't had to shoulder much playmaking duties, as evident by his very low assist statistics. He has had a score first mentality, and rightfully so given he construction of the team and the role he has been needed to fill. But these last six games have shown that Mitchell has the potential to be the playmaker many want him to be, if asked to do so.
He has averaged five assists per game and an assist percentage of 26.1%. This is comparable to playmakers like Eric Bledsoe, Blake Griffin and Draymond Green this season. While these are, admittedly, not mind blowing numbers, they are clear improvements over what we have seen from Mitchell up to that point. But it is not just the numbers that have been encouraging in regards to his potential playmaking propensity.
He has shown the abilities of a player who is more than capable of making the necessary reads to effectively run an offense in the present and flashes of a player who may one day become a well above average creator of shots for others. He already excels in drive and kick situations.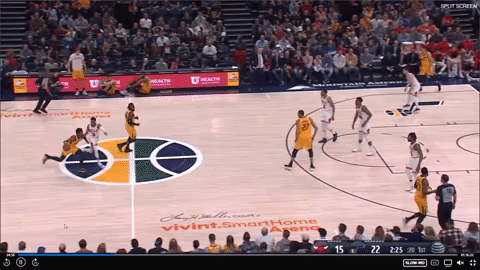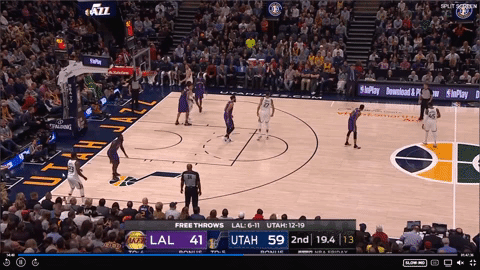 No. Donovan Mitchell is unlikely to hit 47% of his three point attempts, and he probably won't continue to average 30 points a game. But that's not what makes his recent domination so important. His performance in the last six games is a sign that Mitchell is indeed capable of taking over a game on any given night.
It's a trend in the right direction for a player and team who's seasons were in desperate need of just that. And if fortunes break right for the Utah Jazz, it's a sign of what's to come in the future for one of the league's budding super stars.