Consistency can be monotonous. Sleep-inducing. Dull. It's why people rarely stay with one employer for a lifetime. It's why an established meal pattern can grow stale and invoke change. But consistency can also be effective. The mark of great shooters is consistency. They preach and practice routine, and bear it out through their results.
Greatness is consistent. Year in and year out, NBA intelligentsia expects LeBron James to drop 25-7-7 and the San Antonio Spurs to win 50-plus games.
Since trading star wing Jimmy Butler and ushering in a rebuild, the Chicago Bulls' NBA Draft agenda has bred consistency. In the 2017 draft, they nabbed Lauri Markkanen. This year, Wendell Carter Jr. was the franchise's preferred prospect of choice.
Markkanen and Carter, both one-and-done big men from blue blood programs in Arizona and Duke, were each the seventh pick in the draft. As a rookie, Markkanen was a bit of a revelation, averaging 15.2 points and 7.5 rebounds on .434/.362/.843 shooting splits en route to an All-Rookie First Team honor this past season.
Carter, meanwhile, was the darling of numerous draft analysts (including yours truly, if I'm even considered a draft analyst). He dominated the Summer League circuit in his five games, averaging 14.6 points, 9.4 rebounds, 1.6 assists and 2.6 blocks on 55 percent shooting, generally looking like the best player on the floor each night as he earned an All-NBA Summer League First Team nod.
As two top-10, homegrown lottery talents, this frontcourt tandem will serve as the nucleus of Chicago's rebuild, having already flashed star potential against NBA competition — albeit to varying degrees. And while their selections may scream consistency, Markkanen and Carter have complementary skill sets to help lead the Bulls back into relevance.
Markkanen is a 7-footer with the scoring arsenal of a guard, which should give Carter space to operate down low. During Markkanen's freshman campaign, Bulls head coach Fred Hoiberg, heralded for his offensive schemes, creatively employed the sweet-shooting forward and explored the depths of his game.
The Finnish rookie worked off screens: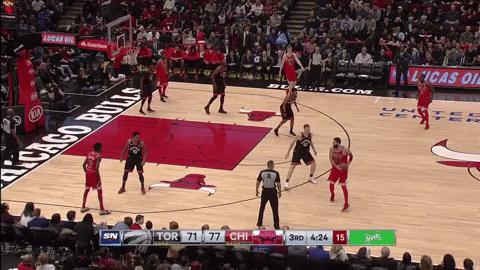 He faded out of pick and pops for threes: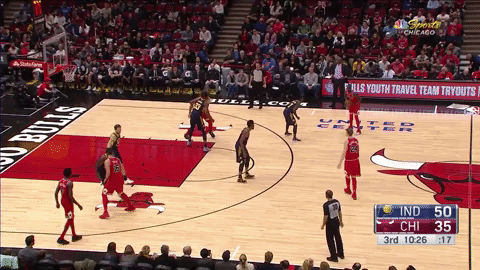 He even executed some pick and rolls as a ball handler: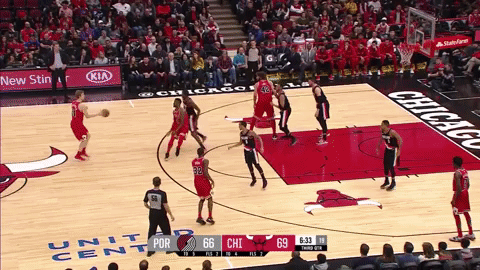 And proved capable of self-creation off the dribble: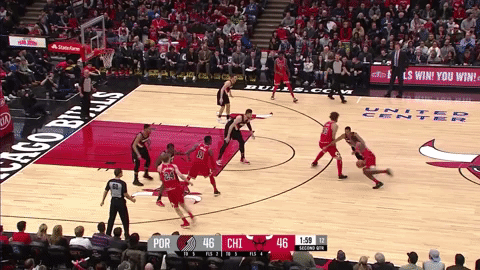 While Markkanen wasn't particularly efficient in most of those sets, that type of shot diversity from a 7-footer is a rare gem, even in the contemporary NBA, making his offensive upside tantalizing as he works to become a more consistent scorer. Expect more of that guard-like usage during the 2018-19 season and beyond from Markkanen, especially considering Carter's blend of throwback post game, quick-witted decision-making and budding three-point stroke.
In Hoiberg's motion-based, egalitarian offense, Markkanen, a perimeter-oriented big, and Carter, a savvy post player with a diverse interior scoring profile, should thrive. They'll pair together to eventually form a devastating inside-out duo — a dynamic Carter is comfortable in, akin to the high-low attack he formed with Marvin Bagley III at Duke.
Carter doesn't move as fluidly or possess the refined ball-handling trait of Markkanen but he's a skilled passer whose range extends beyond the arc, which should allow him to wear whatever hat Hoiberg requires of him.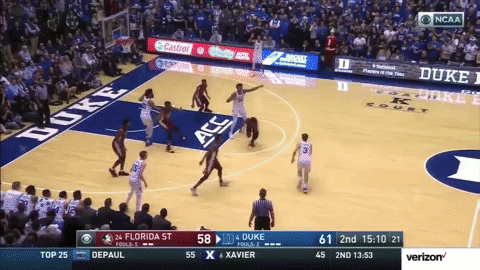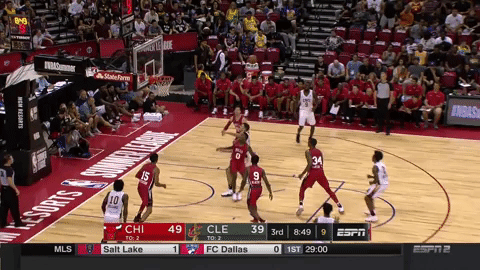 The Bulls were beautifully terrible last season but of all their frontcourt pieces, Markkanen was at his best alongside Robin Lopez — a defensive-minded big who anchors the paint and occasionally make plays for others, a tier that feels like Carter's baseline as an NBA player.
In the long term, Carter should be able to replace Lopez as Markkanen's profitable frontcourt buddy. He'll serve as a juiced-up version of Lopez in pick and rolls — attracting more gravity on dives to the rim with the ability to make impressive reads out of the short roll  — and can space the floor in a way Lopez never has.
That malleability should serve Carter and the Bulls well in Hoiberg's system. Unlike some of the other big men from this year's draft, his game doesn't demand a high volume of touches. Carter can embed a sizable footprint into each contest with very few plays run directly for him.
He'll clean up the glass — Carter is a ferocious rebounder — and snag some second-chance points; he'll make life easier for teammates with hard-nosed screens either off the ball or in pick and rolls; he'll collapse defenses down low and sling it to the open man; he'll occasionally bury a trailing three from the top of the key.
While Markkanen's offensive potential is mouth-watering, his defense will likely be a thorn in his side for years to come. Enter Carter, who, outside of Jaren Jackson Jr., is the best rim protector in this year's draft class and has the instincts, timing and skill to cover for Markkanen's deficiencies — a familiar occurrence as Carter was often forced to mask the defensive shortcomings of his Blue Devil teammates last season.
Wendell Carter Jr. hosted a block party in that first half with 4 rejections in 14 minutes of action. He's such a good interior defender. Here are 3 of his blocks: pic.twitter.com/9C32rZZGUi

— Jackson Frank (@jackfrank_jjf) July 8, 2018
Carter wasn't the only former Duke star Chicago acquired this summer, however. Last week, it penned Jabari Parker to a two-year, $40 million deal with a team option for the second year. Parker, the former No. 2 overall pick in the 2014 NBA Draft, is seeking a new beginning in his hometown. But while some have labeled the signing a home run for both sides, such a projection seems to be done so through rose-colored lenses.
Sure, the team option on that second year is friendly but Parker was brutally ineffective last season and could potentially siphon minutes away from Carter, Markkanen (both unlikely, though) or 2018 first-rounder Chandler Hutchison while making Bobby Portis or Denzel Valentine appear expendable — two youngsters who showed significant improvement last season and might have carved out a place in Chicago's future.
To throw gas on the fire, ESPN's Zach Lowe tentatively reported that had Giannis Antetokounmpo called for Parker to be retained, Parker would still be a Milwaukee Buck, which should give Parker's future employers pause considering Antetokounmpo is approaching his prime, hell-bent on maximizing his short- and long-term title odds.
It isn't all bad, though. Parker is still just 23 years old and only a season removed from averaging 20.1-6.2-2.8-1.0 on .490/.365/.743 splits. If he's able to put together a fully healthy campaign and rekindle that 2016-17 spark, Chicago has landed another über-talented chip for its rebuild, one that can create off the bounce and stretch the floor.
But early reports suggest Parker, a natural 4, will start at the 3-spot, which will only further exacerbate his defensive struggles. He's a matador defensively, routinely burned by quicker forwards  — an issue that made him unplayable at times during last year's postseason. Sliding Parker down to the 4 and Markkanen to the 5 is a defensive disaster that simultaneously pushes Carter off the floor.
Markkanen and Carter are the 4 and 5 of the future in Chicago and it's difficult to envision Parker not being the odd man out, even if his game returns to, or exceeds, its previous heights. Adding him to the fold for one or two seasons, without a crystalized long-term role, has the chance to stunt the development of other core wing pieces (primarily Hutchison and Valentine).
After shipping out Jimmy Butler 13 months ago, it didn't take the Bulls long to forge an established core of youthful assets. With Zach LaVine staying put in the Midwest, Chicago rosters a host of under-25 talents. Many, such as LaVine, Parker and Kris Dunn, are engulfed by question marks that make their path to playoff usefulness, let alone stardom, hazy. Two stand perched atop the rest, though: Lauri Markkanen and Wendell Carter Jr.
Multifaceted, flexible forwards like Royce White, Melvin Ejim and Georges Niang were hallmarks of Hoiberg's most talented Iowa State teams. In Markkanen and Carter, Chicago is emulating that philosophy while hoping one of its other baby Bulls pops (a proficient lead ball-handler would be preferred).
The NBA community is years away from having a definitive answer but early returns suggest Chicago's rebuild is an example of consistency being more than just monotonous, sleep-inducing or dull.
Or, to put it succinctly, it might just be effective.