5 sickest Justin Herbert parallel and insert cards you'll find
NFL card collectors always gravitate towards the big names due to their popularity and good value on the market. The likes of Tom Brady or Patrick Mahomes II are proven choices whenever hobbyists are looking for cards to invest in. Of course, there are other guys in the NFL worth looking into when it comes to potential with cards. One of these is Justin Herbert.
As the NFL kicks off a new season, collectors will be looking forward to Herbert's sophomore campaign after an impressive rookie year with the Los Angeles Chargers. We take a look below at some of the sickest parallel and insert cards of this up-and-coming quarterback.
2020 Mosaic Gold Fluorescent Rookie Card
Just like its NBA version, Panini's Mosaic set for NFL is a hit in the market. With its trademark chrome-based design and sleek look, this product embodies a fresh new take of your favorite football stars.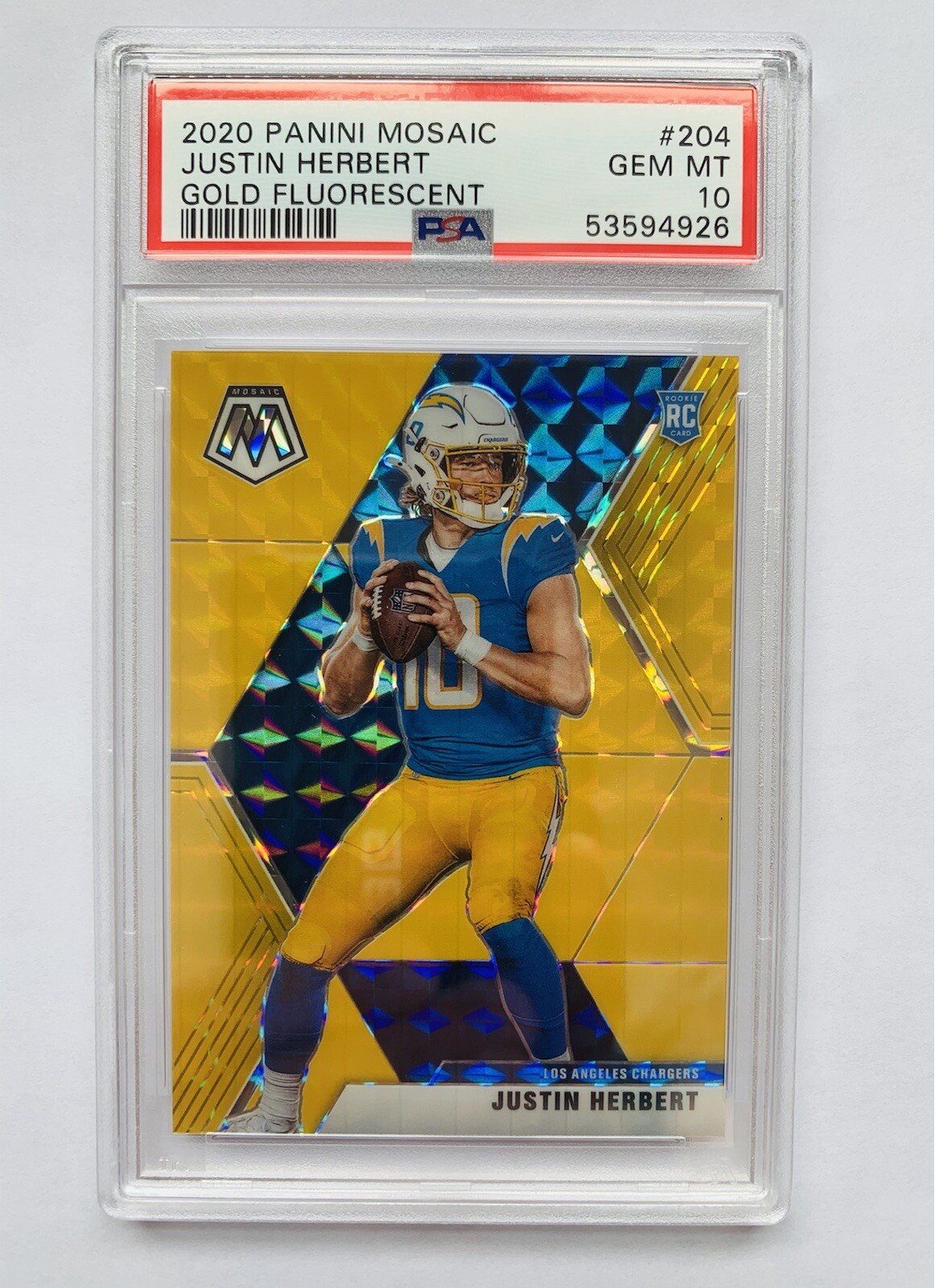 Of course, among the hottest names in the hobby is Herbert. His rising stock can be clearly seen in his Mosaic Gold Fluorescent rookie card. Limited to only 20 copies, the card's stunning look certainly improves the Chargers' young stud in the center. That's why it isn't surprising a PSA 10 slab of this insane pull recently reached $11,995 on eBay early last month.
2020 Prizm Blue Ice Rookie Card
Panini's newest Prizm set is definitely one for the books. With its well-known machined design and chrome-based goodness, collectors won't go wrong with the company's flagship product when it comes to their football card needs.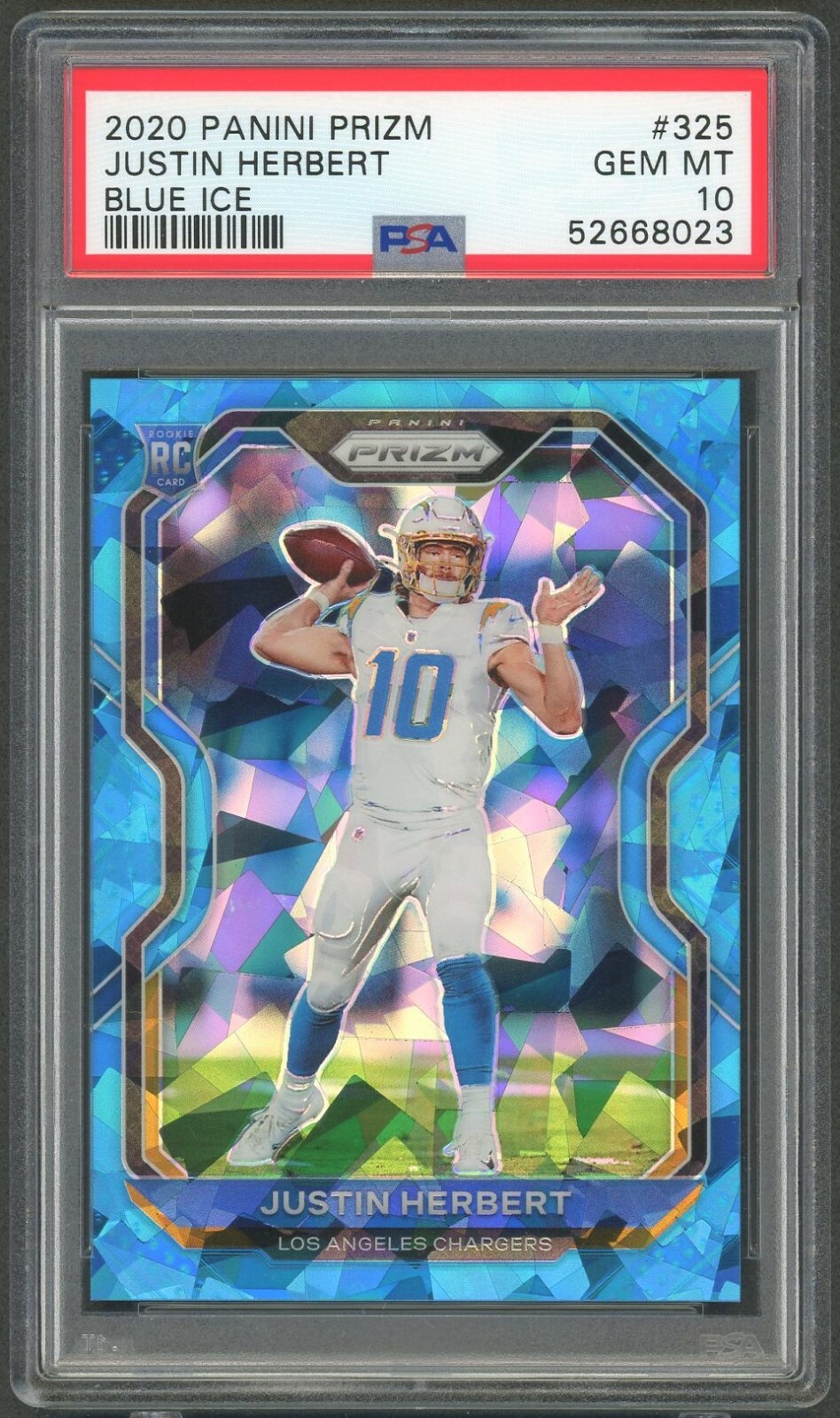 The same thought also applies to this sick Justin Herbert Blue Ice rookie card parallel encased in a PSA 10 slab. The card's cool color, limited print run to 99 copies, and its gem-mint condition is definitely something to behold. And with Herbert's stock on the rise, it's a given that this awesome pull can go up to $12,000 on the market.
2020 Optic Rated Rookie White Sparkle
Panini's Optic Rated Rookie has always been a winner among football card collectors. The card's retro-inspired look gives a new light on the hottest rookies each season. Of course, one of the hottest on the market right now is those that feature Herbert on it.
Proof of this is Herbert's Optic Rated Rookie White Sparkle card. Its eye-popping sparkle design and low print-run solidify the card's value in the market right now. In fact, one encased in a PSA 10 slab fetched $14,300 last July. Collectors can expect the price of this Justin Herbert rookie card to go up as the season progresses.
2020 Select Field Level Tiger Stripe
Those who are familiar with Panini's Select set know how valuable and in-demand its Zebra parallels are. For the latest iteration of this product, the company decided to introduce a new variant – Tiger Skin.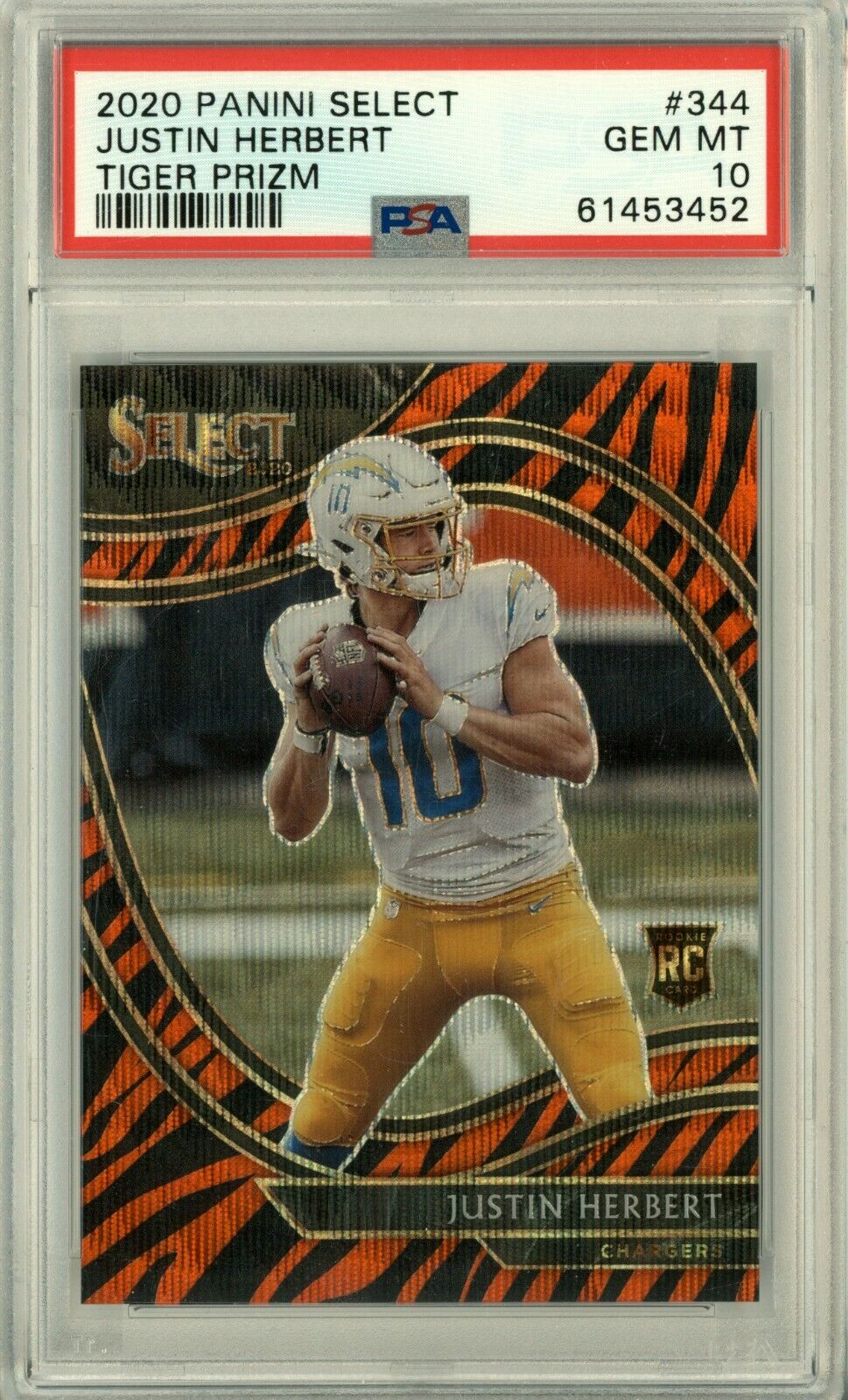 This new parallel is shaping up to be a winner among collectors. Add Herbert's rookie profile, match it up with a Field Level variant, and the result is an undeniable blend of value and rarity. No wonder a PSA 10 copy recently fetched $19,600 when it was sold late last month. 
2020 Prizm Stained Glass
While every other entry on the list featured Herbert in a parallel card, this one insert stands tall above the rest. Panini's Stained Glass card has long been one of the most impressive inserts they have from their basketball-centric products.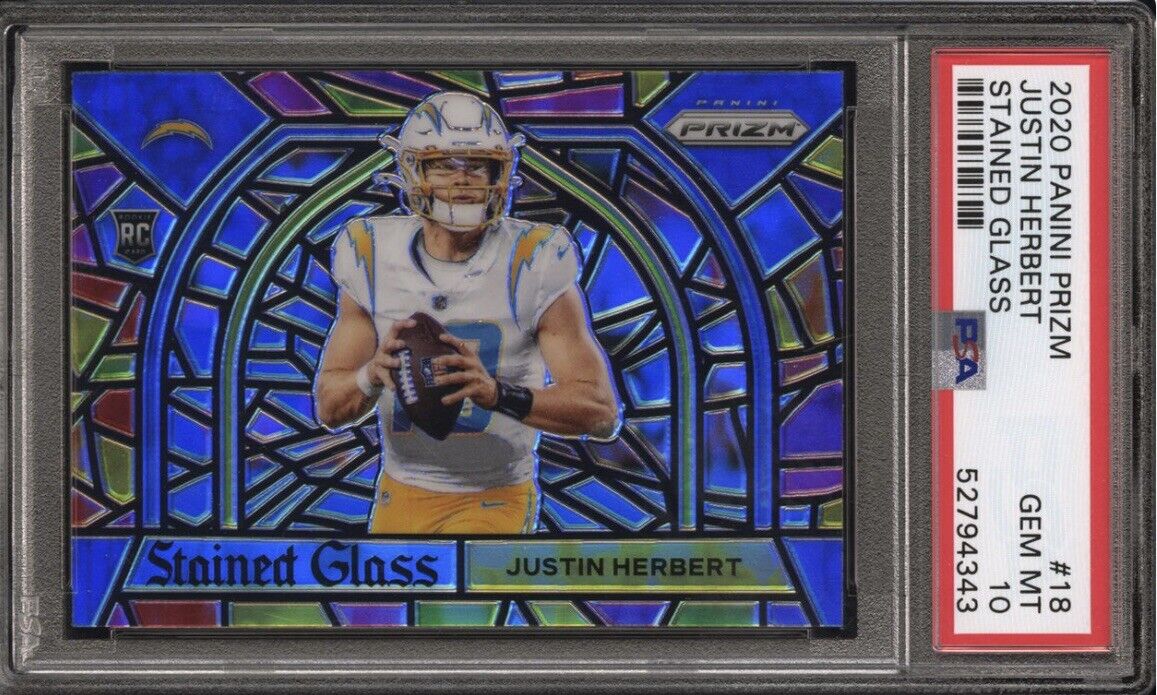 While the NBA version set the standard, this one for NFL stars is really taking it to the next level. The card's intricate horizontal design boasts a variety of colors that aim to enhance Herbert's profile right in the middle. And with the cards hard to come by, it's a no-brainer that a PSA 10 copy can cost up to $20,000 on eBay.
With the NFL kicking off to a new season, collectors are going to stay glued to the action and see which player's stock rises up the most. Those who go for Justin Herbert have a good chance to see their investment reward them in the coming months. When that happens, his parallel and insert cards can potentially skyrocket past the stars.