The NFL has changed. With the swapping of run-heavy offenses for pass orientated ones, teams look at younger back differently. No longer do veteran backs dominate the league like they once did. Though the mainstays will continue cashing out and thriving, teams are favoring young backs.
The thought process behind it simple: good offensive lines and schematics can spawn run games; if you get a back on a rookie contract that's talented enough, you can build a cheap, productive, rush attack.
Productive backs on rookie contract are coveted assets; each of the five on this list fits the bill. But not only do they figure to be implemented in their respective offenses, each will breakout in 2019.
Nick Chubb – 23
As a rookie in 2018, Nick Chubb fell just four yards short of a 1,000 yard rushing season; now in 2019, he has the opportunity to top that. Though Kareem Hunt is now in-fold, Chubb is the established starter—in large part because Hunt will miss the first eight games of the season due to a suspension—and should benefit from the Browns' revamped offense.
A big, bludgeoning back, Chubb showed bell-cow back potential as a rookie. After Carlos Hyde was shipped off to Jacksonville, the Georgia product was inserted in the starting lineup and shined. In the ten games after the trade, Chubb tallied 823 yards and six touchdowns. Over a 16-game season, running at the same rate, the back would've recorded 1,317 yards and nearly ten touchdowns.
Chubb will benefit from a now dynamic Browns offense come 2019. Defenses will be forced to spread the box and play smaller packages against a Baker Mayfield/Odell Beckham Jr./Jarvis Landry pass offense, in turn, creating more favorable looks for Chubb. If the offensive line, now without Kevin Zeitler, performs up to par, Chubb should have no problem putting up big numbers.
Sony Michel – 24
If the Patriots' playoff run ending in a Super Bowl win taught us anything, it's that Sony Michel is a very good back and focal point of their offense—and Tom Brady is immortal. In three games, Chubb's partner at Georgia ran for 336 yards and six touchdowns—reaffirming that he was the right selection at the backend of the first round in 2018.
Michel wasn't just a playoff star; in the regular season, he nearly topped the 1,000-yard mark with 931 despite playing 12 games and starting nine. He was the feature back with James White and Rex Burkhead taking third-down/passing duties. That should hold true come next year, especially considering the Patriots' need for a stable run game.
Michel should be a 1,000+ yard rusher in his second season as a pro. His skill set is eerily similar to LeSean McCoy's, as his elusiveness and instinctive running make for a fair share of broken tackles. The Patriots' offensive line should be able to pave lanes for Michel, while Tommy Terrific keeps defenses in-check and worried if Michel can stay healthy—a big if—there is little doubt that he will pick up where he left off.
Kerryon Johnson – 21
It's been a long time since the Lions had a stable rush attack, it's been just as long since they've had a back as promising as sophomore Kerryon Johnson. In his rookie year, the Auburn product ran for a solid 641 yards and three touchdowns; in just ten games played; in a committee. Unfortunately, he suffered a knee injury, forcing him to end his rookie year short on injured reserve.
Dear #Lions fans, @AyeyoKEJO is a very good running back. Also, this zone run with a motion lead-back reminds me a lot of what OC Darrell Bevell does. Love the fit between run-heavy OC and elusive, yet powerful and patient back Kerryon Johnson. pic.twitter.com/Yka5yjIROS

— Avery Duncan (@averydduncan) May 27, 2019
Fortunately, Johnson's knee—an ailment in the past—didn't require him a surgery. This is just one aspect of an ever-increasing stock for Johnson. Not only will he be healthy, most figure he'll be the lead back in newly-hired offensive coordinator Darrell Bevell's run-orientated offense. Though C.J. Anderson is now on-board, Johnson showed that he deserves the lead role in an offense that won't be as pass-happy as it used to be. Including in his upward rise is comfort in the new rushing scheme; Bevell will likely use zone runs; which fits Johnson's skillset to a tee.
For a long time, the Lions flat-out ignored the run, but the same can't be said for next year's team. Bevell will implement a run-heavy offense that's seen the likes of Adrian Peterson and Marshawn Lynch thrive in it. Johnson should be able to follow suit. His game that predicates on patience, elusiveness, and a bit of power is an ideal pairing with Bevell's playbook. If he stays healthy, Johnson will lead the Lions' rush attack; there's no reason why he can't thrive under a new OC and improving offensive line.
Marlon Mack – 23
The Colts must see something in Marlon Mack. Instead of targeting a Le'Veon Bell in free agency with their boat-load of cap space, the team decided to stick to Mack to lead their rush attack; like last year. I won't be the first to tell you that doing so is a good thing, despite Bell's skill set, and Mack's lack of experience.
Running behind a suddenly great offensive line, Mack shined in 2018. In his 12 games played (ten starts), the back compiled 908 yards and nine touchdowns on a 4.7 average per carry—if he played all 16 games, his stat line would've resembled 1,211 yards and 12 touchdowns. Nonetheless, the second year back proved his worth. Towards the end of the season, he solidified his role as the bell-cow, with Nyheim Hynes taking over third-down receiving. In the last five games of the season (including playoffs), Mack rushed for 119+ yards three times.
Mack's ability to hit breakout hinges on his health. Though the Colts brought in Spencer Ware in free agency, there isn't a doubt as to who is the lead back. Although not particularly fast, Mack's vision and patience were an ideal fit for what the Colts did in 2018, expect the same for 2019.  If Mack avoids the injury bug, there shouldn't be many reasons as to why he can't be massively productive next season.
5. Aaron Jones – 24
Packers fans and fantasy football owners can agree on one thing: Aaron Jones needs more touches. Throughout the 2018 season, Jones showed potential to be the Packers' best back since Ahman Green, but former head coach Mike McCarthy must've not viewed him the same way. Despite McCarthy limiting Jones' snaps, the back found a way to be uber-productive in Green Bay last season.
On just 133 attempts in 2018, Jones recorded 728 rushing yards and eight touchdowns. He also added to the passing game, as he reeled in 26 passes for 206 yards and a score. In just the second half of the season, he had 22 rushes over ten yards. The NFL community often dubs Jones as the breakout back of 2019, but it's not just due to his production.
Though standing at 5-foot-9, 208-pounds, Jones is a do-it-all back, elusive back with an explosive first step and power to boot. New head coach Matt LaFleur won't only see that and increase his snaps; he'll likely make him a focal point of the offense.
LaFleur stems from the Shanahan offense that feeds backs with outside zone running–it's helped so many backs similar to Jones rise to stardom, think Derrick Henry last year. Considering that Aaron Rodgers will run the offense, defenses won't focus on Jones heavily, in turn creating lighter boxes to exploit with the zone run. If he stays on the field, he will be the lead back, and perhaps the star of the Packers' backfield.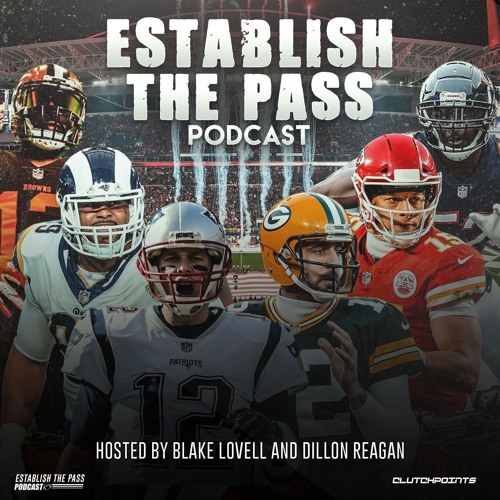 Week 6 Recap & Top Waiver Wire Pickups For Week 7 | CP NFL Pod