A 4.37 second 40-yard-dash, a 40.5-inch vertical, 27 bench-press-reps, a 134-inch broad jump, and a historical lineage of NFL players propped now Seattle Seahawks receiver D.K. Metcalf into the limelight. But, it wasn't enough to overlook his issues pertaining to his lack of agility, route-tree, and injury history. From expected first-round pick to the No. 64 overall selection in the 2019 NFL Draft, Metcalf surprisingly fell to Pete Carroll's lap in a place most expected he wouldn't be.
We know that Metcalf is an athletic marvel that measured in at a chiseled 6-foot-3 and 228-pounds. What we don't know is just how effective he'll be as the successor to Doug Baldwin in the Pacific North West.
Metcalf, almost famously, has his knocks on the field. Before getting into his positives, those notable weaknesses should be mentioned. After re-breaking-down his film and re-watching his combine tests, here is what scares me most about Metcalf:
Notably small route-tree. At Ole Miss, his game was limited to go routes, fades, hitches, comebacks, and slants.
As a route-runner, his game has very little nuance to it. He tends to beat cornerbacks via his size, speed, and strength as a route-runner.
Inconsistent on contested catches. He's bigger and more athletic than most anybody on the field, but his decision making at the catch-point is questionable. Sometimes he doesn't time his leaps well, or he won't "wall-off" defenders with his back.
Drops, drops, and more drops. Over and over again, Metcalf failed to catch the ball due to concentration drops.
He's a boundary receiver through-and-through. His lack of a true route-tree will mean he will rarely see horizontal breaking routes called for him. Meaning, we won't see him in the slot anytime soon.
Tightness. His poor 7.38-second three-cone-drill isn't a fluke. He doesn't have the flexibility to bend and turn his hips on a dime.
Reading leverage can be hit-or-miss. Sometimes he'll go out when he should go in and vice-versa.
Not in the game film, but, his season-ending neck injury is scary. He's also hurt his foot in the past. The culmination of these two injuries is a lot of missed playing time.
Now, on a more positive note. Here are the strengths that I noticed in his game (hint: there are a lot):
Surreal foot-quickness off the release. You can tell that he's put time and thought into his release packages as they are creative and effective.
Limitless catch radius. Metcalf's blend of size and athleticism help him reach catch points most can't. He's physical when fighting defenders mid-air as well.
He has an absurd blend of quickness and long speed.
In terms of YAC ability, Metcalf isn't a dynamic force, but he's not one to be messed with. He's physical, attacks ball carriers, and has the speed to run-laps around defenders.
We know he doesn't possess a broad route-tree, but the routes he does run, he runs well. His release helps him blow by defenders. Though he has his inconsistencies, when he reads leverage correctly, he's simply unguardable.
Uses his hands to deflect the defenders. In general, his upper body usage is physical, and he takes violent rips to reel the ball in.
Excellent body control. He can contort his body to low or high passes mid-air, which shows up when he is tasked with endzone fade routes.
He's an explosive athlete in every sense of the word. It doesn't matter if he's shifting directions, sprinting past defenders, or leaping for the ball, he far too often is the best athlete on the field.
His blocking is what you'd expect it to be for such a big, athletic prospect. He will more often than not pave ways for ball-carriers behind him.
The result of these strengths and weaknesses is a limited, albeit exciting prospect. D.K. Metcalf isn't going to eat in the slot, nor will run many double-move routes, but he does a lot very well. His athletic profile and measurables signify a deep-threat. And his game does too.
Pro Football Focus' grading of the Ole Miss prospect reflects the notion that Metcalf is an explosive, yet one-dimensional player. Per the analytics firm, he only had four college career snaps in the slot. On vertical-breaking routes (go/back shoulder/fades), Metcalf recorded a 90.9 receiving grade and tallied 11 explosive plays. But, on other routes, that number dips to a lowly 60.8.
Before entering the NFL, most draft pundits came to this consensus; in order for Metcalf to thrive, he'll need to have a quarterback that can deliver the deep-ball efficiently and consistently. Luckily, he has just that in Russell Wilson.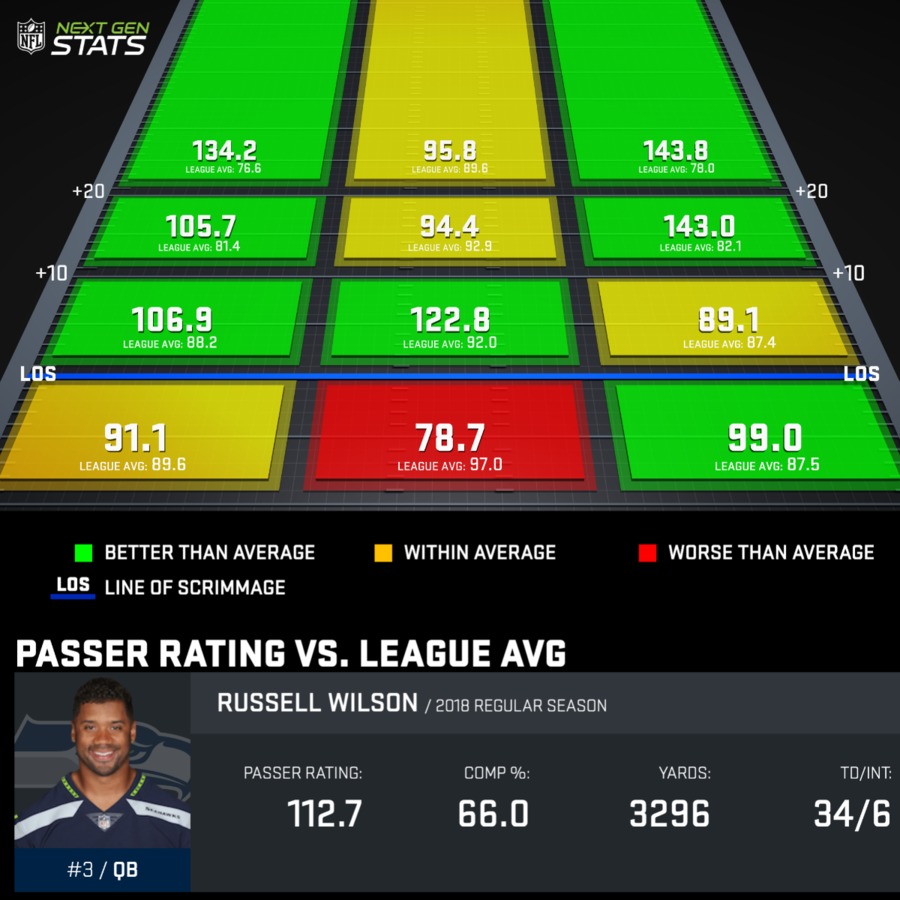 Per NFL Next Gen Stats, Wilson's best throws in 2018 came when he threw the ball down the field. As noted in the picture above, he has far above league average on all throws 20+ yards. His left-side 134.2 QB rating and right-side 143.8 QB rating are head-turning numbers.
Wilson should be able to provide Metcalf with the deep-ball throws he desperately needs. This instantly boosts the receiver's value to the team. But it isn't the only reasons why; his coach, Pete Carroll, is too. Carroll has adapted to his players in the past and has gotten the best out of their limited skillsets.
If Carroll can prove that he can adapt his passing attack to his receiver's restricted, head-turning skillset, Seattle will get the most out of Metcalf. The Ole Miss product is in the best situation possible; he has the right quarterback in place, an open-minded head coach, and should start immediately as the receiver position is a need for the team.  Though he won't be the versatile chess piece Doug Baldwin was, it's hard not to love his value at No. 64 overall.
Final verdict: Ultimately, D.K. Metcalf's success in Seattle hinges on his health. He's a limited player by all means, but what he does well, he does really well. He's, in every sense, an outside, vertical threat. Luckily, he'll have one of the best deep-ball throwers in the league in Russell Wilson. Seattle's QB-WR pairing legitimately has the chance to shred defenses weekly.