"Thrust" was the buzzword Chris Paul fed to the media contingent during his postgame presser to satisfy their hunger for soundbites. Following the Houston Rockets' 127-105 route of the Golden State Warriors in Game 2 of the Western Conference Finals, Paul and others within the Rockets organization emphasized their success in the transition game.
In Game 1, the Rockets had just three fast-break points. In Game 2, that number ballooned to 12 (11.4 per game in the regular season, 9.4 in the playoffs). Paul was the mastermind behind that effort. With Chris Paul on the floor, the Rockets' pace was 103.65, which would rank first among all teams during the regular season. Without Paul, that mark tumbled to 99.1 (17th league-wide).
"We just played at a better pace," Paul told reporters postgame. "… We just tried to push it, play a little faster."
Chris Paul's playstyle is slightly anachronistic. In an era defined by pace and space, he is a puppeteer whose fingerprints are all over slow, methodical possessions, which often result in midrange jumpers for himself. While his penchant for the midrange required some stylistic alterations when he was traded to Houston, his calculated pace made for a seamless transition, given Houston's middling pace of play (99.73 in the regular season, 14th-fastest).
Paul, who finished with 16 points, six assists, four rebounds and three steals, was calculated on Wednesday evening, but in a different sense. He actively looked to push on the break a number of times and exposed Warrior defenders who trotted back and expected an isolation or pick-and-roll set on the offensive possession.
It took a while for that effort to surface, though, in due time, it finally did. Following a missed three-pointer from Nick Young, Paul snatched the rebound and orchestrated the spacing necessary to clear the lane for P.J. Tucker: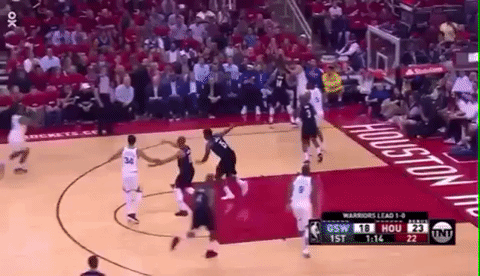 Later in the quarter, after a scrum for a loose ball, Paul was off to the races, sparking a Gerald Green dunk that electrified the Toyota Center crowd: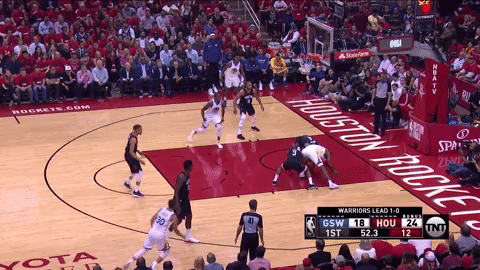 With four Golden State defenders behind Paul once Tucker feeds him the ball, CP3 wastes no time organizing a 3-on-1 break. He instructs Clint Capela to run wide in order to give him two options as the facilitator. Once Shaun Livingston is retreating and has seemingly opted to stop the ball handler, Paul hits Green in stride, who hammers home a powerful slam.
The jam capped off an 8-0 Houston run the Rockets used that spurt to establish an advantage they would never relinquish from thereon.
"Sometimes we get bogged down," Rockets head coach Mike D'Antoni said. "But, [it's] usually because we can't get out in transition."
After Klay Thompson left a runner short, Paul again took advantage of Golden State's lackadaisical transition defense, ensuring that Houston's offense wouldn't get bogged down: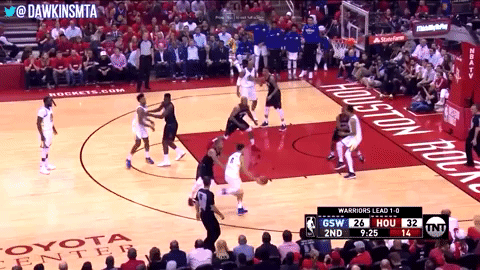 From the moment Capela gathers the rebound, Paul is calling for it. Finally, just before halfcourt, Green grants him his wish. Thompson is late getting into his defensive positioning so Paul bullies his way to the rim and finds a cutting Capela, who scores while David West hacks him from behind.
To put a bow on the early-game transition sequences, Paul unveiled some crafty dribbling moves before slinging it to Tucker in the corner for three of his playoff career-high 22 points: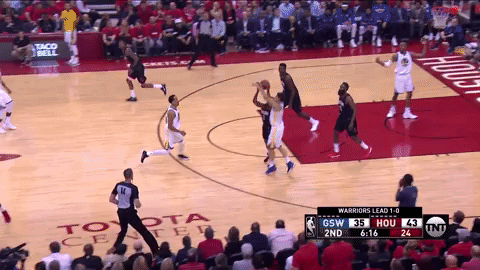 "We'd rather get out and run and get some threes up, which we were able to on some transition-type shots," D'Antoni said.
In the first half, Paul deferred to others, tallying five assists, while struggling to put the ball in the basket, going just 1-of-5 from the floor. During the third quarter, a frame Golden State is notorious for bull rushing opponents in (league-best plus-18.5 net rating in the regular season, league-best plus-24.9 in the playoffs), Paul was in attack mode.
He dropped 11 of his 16 points in that period (4-of-6 shooting) as Houston outscored the Warriors 31-29, combating their third quarter wizardry.
It didn't matter who defended Paul as the 6-foot veteran was determined to create his own offense: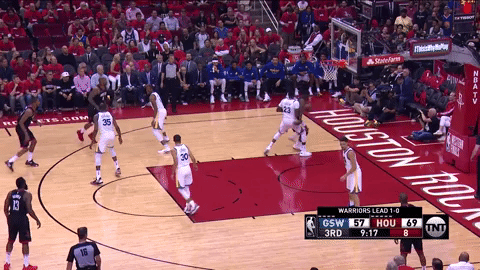 Thompson takes away the three-point ball and forces CP3 into a contested, one-legged floater, but it didn't matter. Paul was, as the kids say, "in his bag."
Minutes later, Paul shed Curry's defense and nailed another runner in the lane: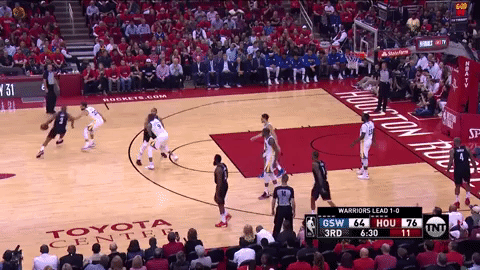 Then, Draymond Green and Kevon Looney were the victims of Paul's newfound offensive rhythm. Paul shook Green free with a swift between-the-legs dribble and stepped back to create added separation: Looney, a frequently targeted defender for Paul and James Harden on switches throughout this series, was burned toward the end of the quarter as CP3 absorbed the blow and still managed to finish the scoop shot:
Perhaps the most noteworthy development in Game 2 was the fact that Paul-led lineups sans Harden finally prospered. During the regular season, Paul owned a net rating of plus-12.1 without Harden on the court. Through 11 playoff games, that mark had cratered to -5.1. On Wednesday, though, in 10 minutes without his co-star, Paul notched a plus-11.0 net rating.
The Rockets acquired Paul in order to field lineups spearheaded by Hall-of-Fame floor generals for 48 minutes each night. Finally, with Houston's back seemingly against the wall, that's exactly what happened.
"Chris was great, played a great game," Warriors head coach Steve Kerr said. "… You expect that from Chris Paul."