In what became an unprecedented move, the Milwaukee Bucks elected to boycott a playoff game in August to raise awareness for individuals who lost their lives due to police brutality. In this piece on NBA players boycotting games, we'll lay out a timeline of how the team reached this momentous decision, as well the ripple effect it had across all platforms of sport.
In an effort to provide transparency, the term "boycott" will often be used in this piece; though players and coaches in the NBA Bubble categorically defined it as a strike and not a boycott. The boycott verbiage was chosen due to most fans' first impression of the situation; and now what it actually was.
Know their names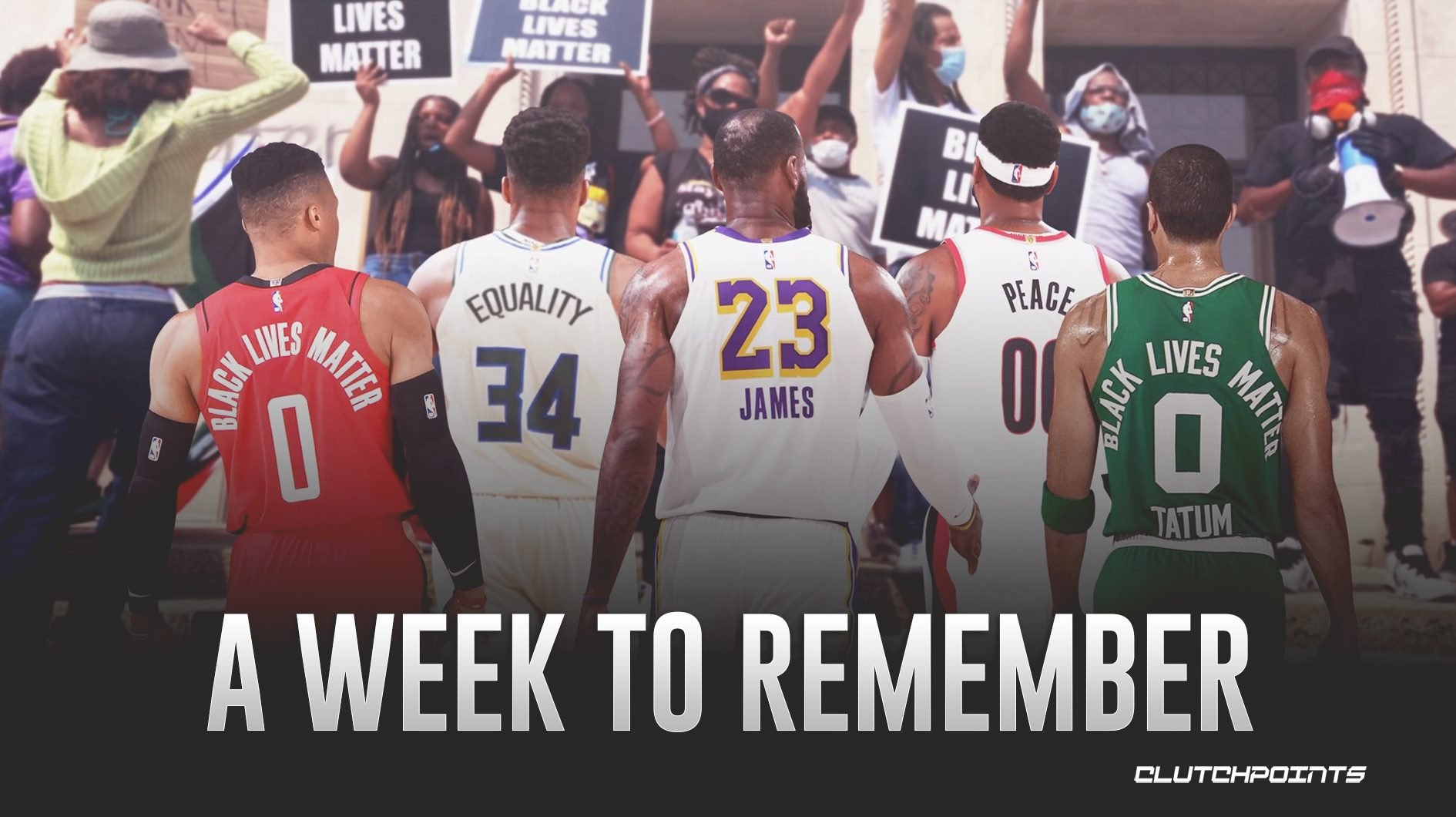 Before we dive in on why the Bucks decided to step away from their Game 5 matchup against the Orlando Magic, it's worth remembering some of the black men and women who lost their lives at the hands of police officers. The list is rather long these days, sadly.
Rayshard Brook, 47
Daniel Prude, 41
George Floyd, 46
Breonna Taylor, 26
Atatiana Jefferson, 28
Aura Rosser, 40
Stephon Clark, 22
For a complete list of names lost due to police brutality, head over to this link from aljazeera.com.
June 6: Giannis Antetokounmpo lends a hand to protestors
In light of George Floyd's death at the hands of police in May, Giannis decided to lend a personal hand to the Black Lives Matter movement. In a video from Hannah Jewell of FOX6 Now, Antetokoumpo was seen passing out waters to protesters in the Milwaukee area. In addition to his aid in person, the Greek Freak also addressed the deaths of George Floyd and Ahmaud Arbery via Twitter last week.
Giannis Antetokounmpo passing out water to protesters @fox6now pic.twitter.com/FcxaNtr0gh

— Hannah Jewell (@HannahJewellTV) June 6, 2020
August 23: The final straw
For the Bucks, the final straw was seeing an unarmed Jacob Blake shot in the back multiple times by police officers in Kenosha, Wisconsin, which is about 40 miles south of Milwaukee.
The incident took place on August 23, 2020. Blake, a 29-year-old African American man, opened the door of his SUV and leaned in during a police confrontation. Officer Rusten Sheskey opened fire, reportedly hitting Blake seven times in the backside, leaving him paralyzed from the waist down. Making things a bit worse is the fact that three of Blake's children were in the backseat.
August 26, pregame: NBA Players Boycotting Games
Following Blake's shooting, a new swell of emotion poured out from the black community. They wanted real change, as well as real police reform.
Like many others, Bucks guard George Hill was shocked by the footage of Blake's shooting. As a result, he and several of his teammates penned personal letters to announce that the team would not be playing in their Game 5 matchup against the Magic. The players were fed up, scared, and trying to get a point across.
Magic players and referees were on the basketball court, preparing for the game. However, Milwaukee never took the floor. In total, athletes from six NBA teams decided not to play on this night.
"We're tired of the killings and the injustice," Hill told Marc J. Spears of The Undefeated.
"We are calling for justice for Jacob Blake and demand the officers be held accountable."

Sterling Brown and George Hill read a prepared statement from Milwaukee Bucks players after they decided to boycott playoff game to protest shooting of Jacob Blake. https://t.co/azTJO3IxPt pic.twitter.com/6yTTmz3Efo

— ABC News (@ABC) August 27, 2020
Notably, the Bucks' management team stood behind its players 100 percent:
"We fully support our players and the decision they made," Bucks owners Marc Lasry, Wes Edens and Jamie Dinan said in a joint statement, via WBUR News. "Although we did not know beforehand, we would have wholeheartedly agreed with them. The only way to bring about change is to shine a light on the racial injustices that are happening in front of us."
Following suit
"F**K THIS MAN!!!! WE DEMAND CHANGE. SICK OF IT"

-LeBron James chimes in on the Bucks' boycott pic.twitter.com/Nkv9JqR2IS

— ClutchPoints (@ClutchPointsApp) August 26, 2020
The Bucks' decision to boycott their playoff game against the Magic left a deep impression, as several other teams followed suit. Subsequently, the NBA willingly adjusted its postseason schedule to accommodate the peaceful protests from its players.
Milwaukee's strong statement was felt across all platforms of sport. Teams from the WNBA, MLB, MLS and many other professional leagues decided to call off games of their own in support of a growing Black Lives Matter movement. Big games were postponed, including playoff matchups between the Oklahoma City Thunder and Houston Rockets, as well as the Los Angeles Lakers and Portland Trail Blazers. And in baseball, two members of the St. Louis Cardinals sat out of their team's game with the Kansas City Royals.
"The baseless shootings of Jacob Blake and other black men and women by law enforcement underscores the need for action," the NBA Coaches Association said in a statement, via WBUR News. "Not after the playoffs, not in the future, but now."
RECOMMENDED
Lakers superstar LeBron James offered a public statement shortly after the boycott was initiated, noting that change doesn't happen through mere conversation:
Change doesn't happen with just talk!! It happens with action and needs to happen NOW! For my @IPROMISESchool kids, kids and communities across the country, it's on US to make a difference. Together. That's why your vote is @morethanavote ✊🏾 #BlackLivesMatter

— LeBron James (@KingJames) August 27, 2020
August 27: Moving forward
Though there was some fear that the remainder of the 2019-20 NBA season was on the ropes, the players decided to end their boycott on the following day (Thursday). The decision wasn't made easily. Reportedly, some felt the playoffs should be put off entirely, while others were willing to return to the court.
The players gathered inside their Disney World bubble complex for several hours after the Bucks made their decision, formulating a plan of action. The meeting ended without a clear resolution. Deliberations extended into Thursday morning, when the league's Board of Governors held their own conference. Ultimately, the parties involved decided that play should go on.
The issues of racial injustice and police reform were at the forefront during the NBA's restart in the bubble. As a a show of their support, the league permitted its players to express their emotions in a variety of ways, including meaningful nameplate messages on the backs of their uniforms. Messages like "Unity," "Equality," "I Can't Breathe" and "Black Lives Matter" were a constant reminder of the lives that have been lost on these fronts.
In the end, the Bucks' decision to boycott their playoff game against the Magic rose a considerable amount of awareness for the issues at hand. However, there is clearly more work to be done.