When it comes to basketball, spirits have been bleak in Sac Town for quite some time. The Sacramento Kings have been the epitome of dysfunction and roster malpractice for over a decade, failing to make the playoffs every year since 2006. This 12 year drought is the longest in the NBA, and it's not close.
Despite 12 straight seasons in the lottery and the arrival, and subsequent departure, of one superstar, the Kings' future has never given much reason for optimism — until now, that is. This season has seen Sacramento become arguably the most surprising team in the entire league. The team that was thought to be one of the few easy wins on a nightly basis in the western conference has managed to begin the season with an even 11 in both the wins and losses column.
While there are several players and factors that have played a part in this variance between expectation and outcome, there is one man who's play this season is the embodiment of the newfound hope the Kings have in their quest to return to relevance. The man who is the foremost reason this team has made the on the court leap we have seen play out this season. The man who has quickly became one of the most promising young point guards in the NBA. De'Aaron Fox.
Coming off of what was, by all accounts, a poor rookie season, De'Aaron Fox has a case to be the league's most improved player after making the leap to a level only the most optimistic of his supporters expected him to play at this season.
Fox has improved in almost every statistical way imaginable. As a rookie, he averaged 11.6 points, 4.4 assists, 2.8 rebounds and one steal while shooting 30.7% from three and 41% from the field. He also had a net rating of -10.1, a Player Impact Estimate of 7.4, a True Shooting percentage of 47.8%, and a Real Plus-Minus of -4.27. I know, that is a lot of numbers to take in at once. But just know, they are all very bad.
These early struggles weren't surprising, though. Young point guards, especially those whose skill set is build around athleticism, are expected to struggle at first. No alarms were sounded off for Fox, nor should they have been. It was obviously going to take time for him to adjust to the NBA. What wasn't obvious was just how quickly this adjustment would come to fruition for the sophomore guard.
Through 22 games, Fox has improved upon every single one of the aforementioned statistics (and every other one you can find, save for free throw percentage.) He is currently averaging 17.3 points, 7.5 assists, 4 rebounds, and 1.4 steals while shooting 37.3% from three and 45.9% from the field. H
e also has a net rating of 1.7, Player Impact Estimate of 11.7, True Shooting percentage of 55.1%, and a Real Plus-Minus of .99. While he is still far from perfect, the numbers say he has made substantial improvements. What we see on the court tells the same story.
One of the driving factors for Fox's offensive boom is due to the pace the Kings are playing at. Head coach Dave Joerger has instilled a mindset in this team that revolves around one word. Run. At all times. Even after made baskets by the opposing team.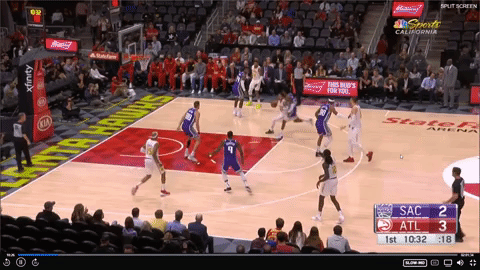 These de facto fast breaks, as well as the more traditional fast breaks the team takes advantage of, play to the strength of Fox, allowing him to use his break neck speed and crafty finishing ability to create easy shots at the rim. On top of the scoring opportunity this pace brings for Fox, it also allows him to use his abilities as a playmaker to their full capacity.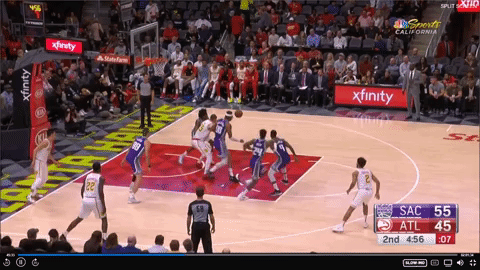 The defense collapses as they are forced to respect Fox's ability to finish when he penetrates like in the clip above. This places the defense into a difficult conundrum, allowing Fox to leverage his transition acumen into points for others.
The Kings are currently playing at the second highest pace in the NBA at 105.98. Fox shoots 65% on shots at the rim (84th percentile for his position), per Cleaning the Glass and has an assist percentage of 31% (76th percentile.) Last season, the Kings were dead last in pace at 95.59, Fox shot 60% on shots at the rim (67th percentile), and had an assist percentage of just 24.1% (27th percentile.) While these numbers aren't solely dependent on one another, there is a clear correlation between their rise and offensive success for Fox.
But it is not just his pace and finishing ability that had led to this offensive surge. Fox's improved shooting has been just as important, if not even more so long-term. As previously stated, Fox has upped his three point percentage by nearly a full 7% this season. His percentage on catch and shoot threes has gone from 30.9% to 40% and his percentage on pull up threes has gone from 31.9% to 36.2%.
While it is obviously great that Fox has improved his percentages this much, the frequency at which he is shooting them has just as much of an impact on his game. His percentage of threes has gone up from 20.6% to 23.1%. This may not seem like a huge difference, because well… it's not. But when combined with his improved efficiency, it has a massive effect on his game. A combination of increased volume and increased efficiency is the perfect recipe needed to craft a great shooter. 
It also helps him due to the fact that these added three point attempts are taking away inefficient mid range attempts. He still currently takes more mid-range shots than you'd like, but he is trending in the right direction (51% of his shots came from mid-range last season and 48% come from that area this season, per Cleaning the Glass.)
This bump in both volume and efficiency from three is also exactly what Fox needed to properly balance his offensive attack and become a true threat from multiple levels. Teams can no longer play under screens against him or sag in transition because of the threat of his pull-up three, allowing him more opportunities to beat defenders off the dribble and finish at the rim. This dual threat in the pick-and-roll and transition is present in the repertoire of all the game's best scorers.
There are plenty of lead guards who can thrive in a transition heavy environment. What can separate Fox from this pack and potentially make him a truly special point guard is the ability supplement a multidimensional pick-and-roll scoring threat with high-level half-court playmaking, becoming more than just another transition savant.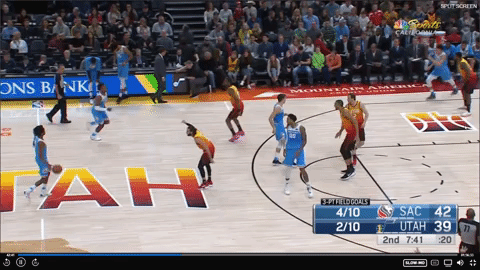 Fox doesn't currently register many of his assists in the half court setting, but that is just due to the nature of the team's offense. Most of his assists come in transition and when the team is operating in the half court they don't run a ton of pick-and-roll.
But he has displayed the necessary passing ability and vision, such as in the play above, that you can be confident he is capable of being an effective half court playmaker, if given the chance. This is an ability that's presence is essential in the repertoire of a point guard belonging to the upper echelon of players at the position– a group the Kings youngster has the potential to become a perennial member of, 
De'Aaron Fox is far from a finished product and still has a long way to go, particularly on the defensive end, before he can ever become a fully realized version of the player he has the potential to be. Even so, the progress he has shown this season gives reason to believe that he is a future star in the making. And more importantly, it gives the city of Sacramento something they have been deprived of for far too long. Hope.