There was a time when Derrick Rose was considered one of the best players in the NBA. He was an MVP. He was explosive. He was exciting. He was changing the point guard position. But one fateful afternoon in April 2012 altered the course of his career forever. This is the sad story of the Derrick Rose injury history.
In spite of the fact that the Chicago Bulls were up by double figures over the Philadelphia 76ers late in Game 1 of their first-round playoff series and had essentially salted things away, Tom Thibodeau left Rose in.
You know the rest of the story.
Rose went down in excruciating pain with what looked to be a severe knee injury, and it was later revealed that he had torn his ACL.
His career has never been the same.
He missed all of the 2012-13 campaign while recovering from the injury, and when he tried to return in 2013-14, he tore his meniscus in his other knee, making his comeback seem that much more improbable.
It was.
Derrick Rose Comeback 
Derrick Rose been able to stick around ever since, as his ability to go on scoring binges every now and then remains. Just ask the Minnesota Timberwolves, for whom he scored a career-high 50 points early in the 2018-19 season.
But there is also a reason why Rose, who signed with the Detroit Pistons, is now on his fourth team since being traded from the Bulls during the summer of 2016.
Gone is Rose's signature explosiveness and unreal athleticism. Instead, Rose is known by most as just a high-volume, inefficient chucker who bogs down the offense and can't play a lick of defense.
Sure, he boasts a solid career average of 18.8 points per game, but he also owns an ugly true-shooting percentage of 52.3 percent and an effective field-goal percentage of 47.7 percent.
Efficiency is certainly not the name of the game for Rose, who, even in his heyday, was never a good perimeter shooter and relied almost exclusively on his natural athleticism and superb body control to score points.
Derrick Rose Injury History
Now, Rose is over 30, and with injuries continuing to mount, you have to wonder just how much longer he can handle the rigors of the NBA.
In total, he's missed nearly as many games as he's played. In 2010, he only missed five due to a neck and wrist combination.
He has played in just 76 games combined over the last two seasons, and the last time he played 70 contests in one single campaign was back during his MVP year in 2010-11. He missed 23 games two seasons later due to numerous issues, including issues with is big toe, neck and back. We have even reached the ACL tear, from 2012, which cost him 99 games.
After missing a random game due to a slight ankle issue, Derrick Rose injured himself in a huge way yet again, with both his ankles failing him in November 2014, costing him 76 more games. After that, it was a string of small injuries, some featuring tendonitis (which is not ideal), and a random vanishing act from the New York Knicks.
Rose has maintained a shred of relevancy due to the fact that he can still score, but he has become more of a punchline rather than a valuable contributor at this stage.
And that's sad.
We'll never know how good Rose actually could have been. He only had three fully healthy seasons to start his career, and even then, he erred on the side of inefficiency.
Perhaps Rose's lack of an outside shot would have done him in even without the injuries, especially in an ever-changing NBA landscape that values floor spacing and defensive versatility—two attributes that Rose certainly did not have—above all else.
Or, maybe Rose was just so naturally gifted that he would have been able to remain an elite player for many years, a la Russell Westbrook (although the modern game has even taken some of the shine off of Russ).
It's a mystery that will obviously never be solved, and it's one that will haunt Derrick Rose for the rest of his life.
Who Is To Blame?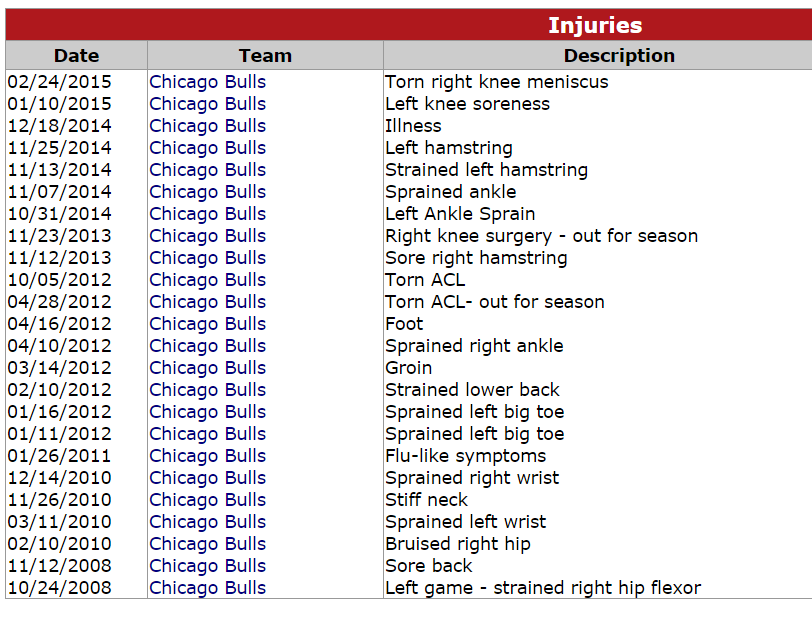 Blame Thibodeau all you want, but let's remember that Rose was already showing cracks in the armor during that 2011-12 campaign, as he played just 39 games during the lockout-shortened 66-game regular season.
Given Rose's violent style of play, in which he placed an abnormal amount of pressure on his legs, maybe this was inevitable. Some have even brought up the argument that Rose never really learned how to land properly after dunks and layups, which put unnecessary strain on his knees.
So maybe this had nothing to do with Thibodeau's insistence on draining his starters and everything to do with a body that was already breaking down even at a very young age.
Or, perhaps Thibodeau just accelerated the inevitable.
Who knows?
What we do know is that an incredibly promising NBA career was destroyed by injuries, and while Rose certainly would not be the first player to experience such a tragedy, he was certainly the most notable.
Rose will be eligible for the Hall of Fame one day, which will undoubtedly spark a spirited discussion among basketball aficionados and even the most casual fans.
For reference, there has never been a player who has won an MVP award and missed the Hall of Fame, so Rose has history on his side, but his career is so odd and so atypical that all of that may end up going out the window once the time for voting comes.
Regardless, let's all remember Derrick Rose for what he was during that short period of time. Just, you know, don't also forget about all the other stuff when he retires, as well.