For the better part of the past decade, the Memphis Grizzlies battered teams through a war of attrition. After seven consecutive playoff campaigns built around the universally underrated talents of Marc Gasol and Mike Conley, the Grit and Grind era of the Grizzlies finally ground to a halt last season.
After a 7-6 start to the season, the foundations started to crumble under a set of shaky feet. It started with Conley, whose season was limited to 12 games with Achilles and heel issues.
Memphis lost its first nine games without its steely floor general and, shortly after, its resolve. Gasol was unhappy about being benched late in games, placing David Fizdale's head under the coaching guillotine.
The Grizzlies fared no better under J.B. Bickerstaff, finishing with a 22-60 record, which was one game better than the league-worst Phoenix Suns.
Rather than using its worst season in 10 years as a reason to rebuild, Memphis split the difference, adding Jaren Jackson Jr.—another big man with gritty defensive potential and new age outside shooting ability—with the fourth overall pick.
With the clock ticking on Gasol and Conley, here are three keys to propelling the Grizzlies back into playoff contention:
4. Revitalizing Marc Gasol
The Grizzlies have never been a great offense but last year, they bottomed out to 27th in the league with a 101.8 offensive rating.
For years, Memphis bludgeoned opponents in the post when all else failed. With Gasol just one of three Grizzlies to suit up in over 70 games, one would think getting low post buckets would be the least of Memphis' problems.
Think again.
The Grizzlies spend 6.3 percent of their possessions posting up, a frequency that ranks 15th in the league. The bulk of those possessions were calamitous.
Gasol was the biggest problem, shooting just 38 percent on 5.2 post ups per game, but he wasn't the only one to blame. No matter which of the many makeshift point guards filled the role last year, the entry passes were often sloppy lobs that put their bigs under pressure the second they caught the ball.
By the end of the train wreck, only the Atlanta Hawks shot worse than Memphis' 39.3 percent on post opportunities last season, and they shot 444 fewer attempts than the Grizzlies.
Post play is a dying art in the NBA but the Grizzlies are still heavily reliant on Gasol. And while he has ventured beyond the three-point line more frequently, his post-up game is still his most reliable source of self-creation.
Last season, post-ups comprised only 27.7 percent of his offense, down from 32.0 percent the season before, and scored just 0.77 points per possession, down from 0.94 points per possession.
Gasol remains a brilliant facilitator for a big man, averaging 4.2 assists per game last season. The only problem is without Conley and with Gasol's own dwindling scoring punch, the Grizzlies lack any threat to pull at a defense.
Dropping JaMychal Green and Jackson next to a motivated Gasol should offer a contrast of frontcourt options between Green's athleticism and Jackson's size, with both able to space the floor to some degree.
Jackson's most ready tool is his defense and floor spacing, but there's some size to develop on the block and hopefully rekindle some of the high-low connections the Grizzlies made a staple of their attack.
3. Mike Conley Leading The Offense
Without Conley, Memphis simply lacked enough playmakers to warp the defense or deliver pinpoint passes.
According to Synergy Sports, the Grizzlies screeners scored just 1.05 points per possession in pick-and-roll situations last season, which was the ninth worst mark in the league.
Conley is a master at navigating around screens to make a play. When he was healthy and firing in 2016-17, he graded in the 82nd percentile shooting or passing after coming off a screen.
Conley and Gasol have formed a tight bond over their time together in Memphis and the sum of their two-man game often equals to more than its parts. Between Gasol, Conley, and new addition Kyle Anderson, the Grizzlies have enough intelligent, experienced playmakers to keep a viable offense so long as they get past their perennial Achilles' heel.
2. Long-Range Shooting
The Grizzlies had many problems last year, of which many can be rationalized by injuries. Shooting, however, remains to be a scourge on Memphis' game.
Memphis attempted only 9.2 three-pointer per game last season, which was the seventh fewest in the league, converting on a sixth-worst 35.2 percent.
Of the nine players who made 50 appearances last season, Tyreke Evans—who is now in Indiana—was the only one to hit more than 36 percent from three. The Grizzlies didn't procure any well-known three-point snipers this off-seasons but they did bring under-the-radar shooter Garrett Temple.
Temple shot 39.2 percent from three last season, including 42.8 percent on catch-and-shoot attempts. He is a classic off-ball mover with size, an archetype Memphis has sorely lacked.
Jackson will also help to spread the floor at either of the two frontcourt positions. Jackson had a triple for every occasion in the Las Vegas Summer League. Despite his funky release, he has a quick trigger and deadly accuracy for a big man.
With Conley back setting the table, Jackson should have plenty of catch-and-shoot opportunities. If he can splash them like he did this summer, the Grizzlies will look like a different team behind the arc.
1. Health
Simply put, the Grizzlies were absolutely crushed by injuries last season. Along with losing Conley, rotational Tyreke Evans, Green, and Ben McLemore all played less than 60 games. And that's without even digging into Chandler Parsons' long list of injury troubles.
With the roster decimated by injuries, it's not difficult to figure out why the Grizzlies were bait for even the smallest sharks in the league. Only four teams endured more games missed by injury than Memphis last season and by the end of the year lineups featuring Kobi Simmons, Ivan Rabb, and MarShon Brooks were regular viewing for fans at the FedEx Forum.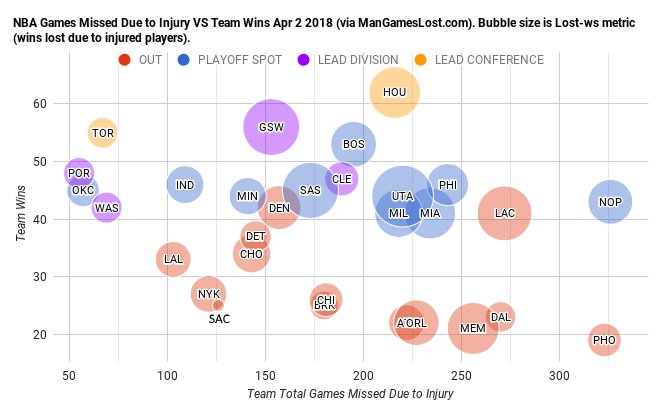 The first step towards a return to relevance is a reversal of this misfortune.
A healthy nucleus accompanied by new recruits Kyle Anderson, Garrett Temple, and Jackson is just what the doctor ordered in Tennessee. The biggest question is whether Conley's lost season was bad luck or the new reality of depending on him and Gasol.
Healthy Grizzlies teams have always exceeded expectations. The only question is whether Memphis can ever count on health again.