After John Wall was ruled out for the year with an Achilles injury, most Washington fans pined for a tank. That stance made sense, as last season, the Washington Wizards were 23-18 (+5.7 net rating) with Wall healthy and 20-21 with him injured (+0.8 net rating).
But by jettisoning promising wing Kelly Oubre, for the not so promising Trevor Ariza, Washington management signaled it was trying to make the playoffs even without it's $170 million star. Yet they were sniffing the lottery at 13-22, giving fans more reason to resent Grunfeld and co.
The Wizards reeling off five of the last nine games (wins over Milwaukee, Boston, and Philadelphia) suggests management's bet has paid off for the time being. Following a nail-biting loss to first-place Toronto, Washington was one game back from Charlotte for the eighth seed, making it unlikely they dangle trade bait at the deadline.
When Wall went down with an injury last season, the "Everybody Eats" mantra quickly gained traction, but for the most part, it didn't apply. After all, the statistics showed Washington was better with Wall in nearly every category. But this season, everybody is, in fact, eating.
They are passing more on the offensive end, leading to a 4.6 jump in offensive rating (from 107.6 to 112.4). And each player is embracing their responsibility defensively —  they're holding opponents to 109.4 points per 100 possessions, an improvement over the 112.5 defensive rating leading up to Wall's injury.
After appearing to be on his last legs in Phoenix, Trevor Ariza — who bordered a triple-double last game against Toronto — is posting his best overall numbers since his first go-round in Washington. Tomas Satoransky is a player every coach would want: rarely playing outside of himself and defending three positions. G-league graduate, Thomas Bryant, is a flaming ball of energy on both ends. And the only problem surrounding Otto Porter before was a lack of touches, and now he's receiving them.
The largest beneficiary of Wall's absence, however, is Bradley Beal. In the last nine games, he's producing a blistering 30.2 points on 58.1 TS%, 6.4 assists, and 5.4 rebounds. And with Wall out for the remainder of the year, Beal's per-game averages of 24.8 points, 5.0 rebounds, and 5.0 assists figure to rise even further.
Nonetheless, those numbers place him in esteemed company; Giannis, James Harden, Kevin Durant, Stephen Curry, LeBron, and Blake Griffin. That's it. That's an MVP ballot.
Having been named an all-star the last year, Beal was already regarded as one of the league's top shooting guards. This season, Beal has practically become Washington's second point guard next to Tomas Satoransky. He has been gifted freedom in the form of newfound ball-handling duties  — his 30.8 usage in the last nine games would be a career-high.
"I feel like as soon as we knew John was going down, everybody kinda ruled us out anyway. You didn't have to write it," Beal told Fred Katz of The Athletic in an interview. "And my mindset is, I already knew that going in, so I just want to control what I can control and try to help this team make the playoffs."
Beal was right, there were obstacles to replacing Wall. The biggest issue with Wall being out was filling in the shoes of his passing ability. Satoransky is a solid but not spectacular passer, Jeff Green offers playmaking down-low, but beyond that, Washington was left with few options. Replacing Wall's talent with one player was a recipe for disaster, so instead, Scott Brooks and the Wizards — who average 44 more passes per game without Wall — decided to employ an all-around passing attack.
Bradley Beal is the ring-leader. He knows how to get his teammates going. He makes the drive and kick pass right before the defense has time to make a decision.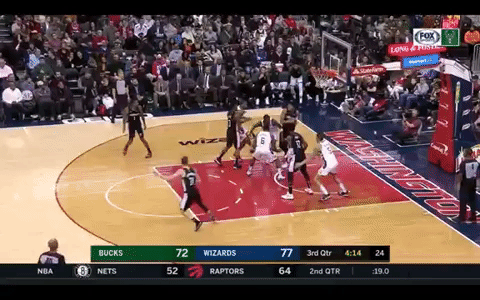 When Beal is on the court this season, Washington boasts a 109.5 offensive rating. When he is off, that rating sinks down to 108.8. Even though Otto Porter Jr. and Jeff Green have higher offensive ratings, Scott Brooks rarely staggers Beal with Porter Jr. and Green because a lineup without the former would struggle to create shots. Putting him in the right situation is not the only reason Beal is excelling, however. He clearly made personal improvements in the offseason.
This season, Beal's handles are tighter. In his bag are a fresh mix of in-and-out and crossover tricks. He also makes sharper passes, hitting shooters' pockets even when on the move. The statistics show these additions on full display, his 22.4% assist rate sandwiching him between Lonzo Ball and Dennis Schroder. He is only becoming more potent as a creator, too (last game he tossed 15 assists), nearly tripling his career assist rate the last nine games (3.6 to 6.4).
Back away from the statistics, however, and the improvements become more clear. Scott Brooks, for one, is not surprised to see Beal improve.
"He's gotten better. … You know the guys that put the work in, and Brad puts the work in every summer, has gotten better every year he's been in this league," coach Scott Brooks told The Athletic. "He has a couple more levels and (he's) not necessarily gonna add something, but he's gonna get better at the things that he's done and is doing."
An area Scott Brooks may well be referencing is the pick and roll, where Beal has materialized as a maestro. With one of the top pick and roll players missing action, the Wizards needed Beal to answer the call in this area. Thus far, the former Florida guard has answered it and then some. Here, he makes quick reads to open shooters.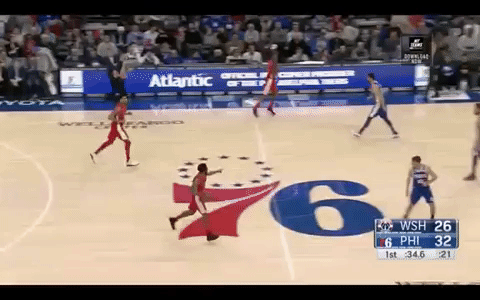 If the lane bleeds open, Beal "snakes" the screen while keeping the defender attached to his hip. He reads defensive schemes with quarterback vision, flinging it to the corner or delivering it to the roller.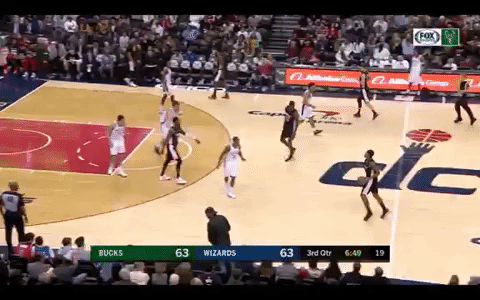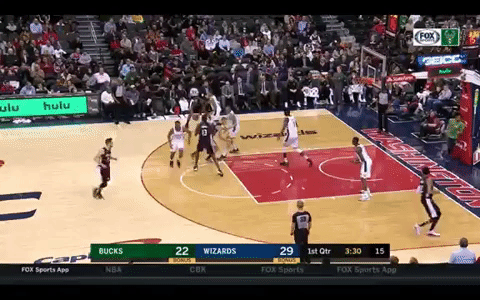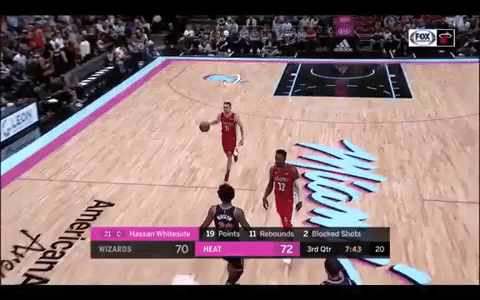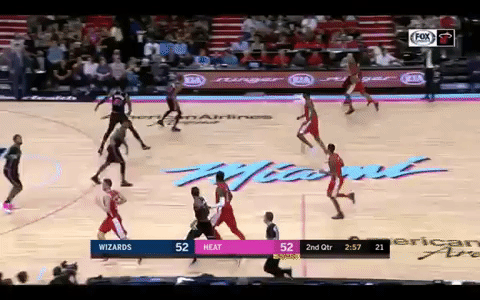 Aside from inching along as a top-notch creator, Beal has developed into an efficient scoring threat by tweaking his shot-resume to near-perfection. At the start of the new year, another resolution for Beal seemed to be to trim his mid-range shots (13.5% from the mid-range is a career-low) all the while taking it strong to the rim (26.9% is a career-high) and shooting globs of triples (37% is the second-highest).
As one of the zippiest point guards in the land, Beal's main priority — whether through the pick and roll, cutting to the rim, or transition — is to whiz by the last line of defense before a shot-blocker has time to set up shop.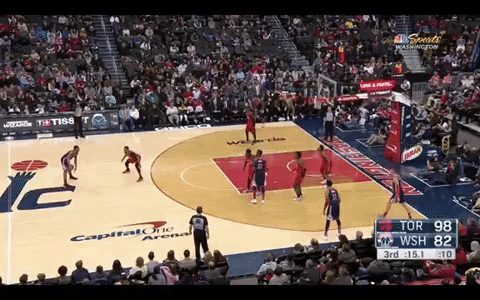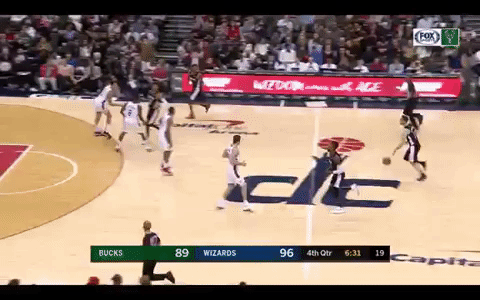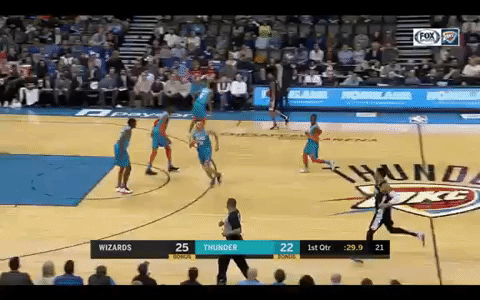 When the shot-blocking big is in position to swat Beal, the guard explores other paths to scoring. He's in the mold of a bulldozer, able to clear his path of any planted trees: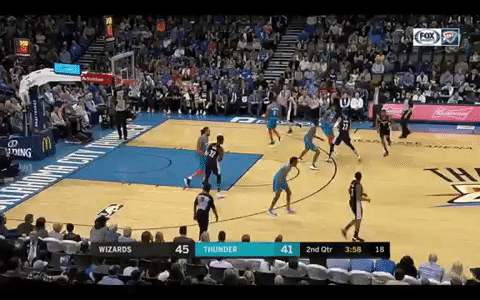 That's not to say Beal plays with reckless abandon, as he deploys his newfound high-arcing floater over the branches of shot-blockers: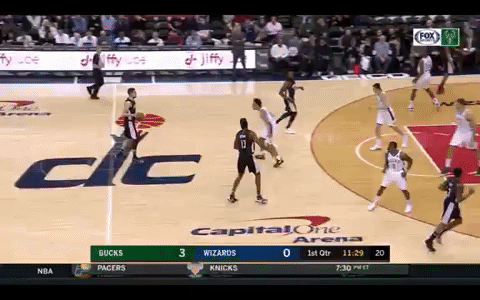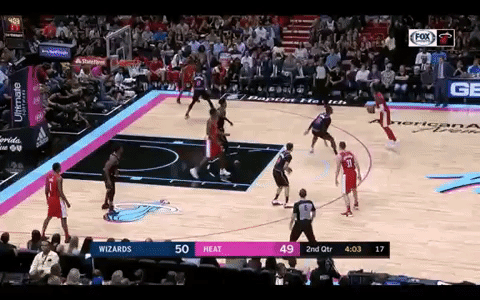 When he isn't attacking the rim with ferocity, he's stepping behind the line with efficiency in mind. Even though Beal is shooting a career-worst 35.7% from three, there's something to be said that continues to show trust in the process, with a previously mentioned career-high deep bombs.
Regardless of any demeaning statistic, Beal comes up big in the clutch (like last game against Toronto, he hit a three-pointer to send the game into overtime).
In those moments, Beal is likely to smack a pull-up in transition. In fact, most of his three-point shots come in the form of a pull-up. In this stretch, Beal is one of only three players (Donovan Mitchell and Stephen Curry being the others) to post a 44% three-point clip on 4.0 or more 3PA on pull-up shots. However, Beal's pull-up maneuver was a common sighting in recent years. It's the rare shots in which he has added to his game that renders him a larger threat than ever when he controls the rock.
On top of the pull-up game we saw last year, Beal has implemented the step-back jimmy to his game. Step-backs are used by some of the top guards — Harden and Donic come to mind — as a way to create separation without wasting time with a dribble. Some argue it bends the rules, and Beal no doubt leverages this caveat to his advantage.
One way he uses the step-back is in the pick and roll. When the big goes into "drop coverage," Beal darts behind the line like a heat-seeking missile.
By becoming a well-rounded player, Beal is simply everything Wall isn't. There's no way around it. Even though Wall dished out 8.7 assists per game, he lassoed the ball until the perfect assist or scoring opportunity peaked over the horizon. Beal, on the other hand, gracefully toes the line of passing and scoring.
From top-to-bottom of the roster, Washington is experiencing a revival of sorts in the absence of John Wall. And with Bradley Beal taking the next step into superstardom — learning how to create, navigate the pick-and-roll while becoming a wholly efficient scorer — Washington has tabbed their star of the future.
With Beal staging a mini-revolution, tanking seems out of the realm for his team. The relationship is symbiotic, too. By holding back on trading their new franchise star, management has chosen to vie for the eighth seed in a weak Eastern Conference. The biggest question, then, is whether this winning is sustainable. But with the 28th-rated strength of schedule over the remainder of the season according to Tankathon, Washington could, in the very least, head into all-star break and reassess whether they are a buyer or seller.
No matter what, Beal being in the driver's seat brightens Washington's future. And with Wizards fans having few things to look forward to, that should be considered a success in of itself.
All statistics courtey of: BasketballReference, NBA Stats, and Tankathon.