Even with all the doubt and criticism thrown against them, the Brooklyn Nets are putting a great case for them to be considered as favorites to win the title. On one hand, the Eastern Conference powerhouse is surging at the right time, thanks to Kevin Durant playing well. At the same time, there's the steady presence of Kyrie Irving that's keeping their squad alive in the playoffs.
While most card collectors are focused on Durant, and to some extent, James Harden, there's a pretty compelling argument to be made for Irving. We take at two solid reasons why the All-Star point guard is a great sleeper hit for NBA card investors.
Irving Played More Games Than Durant and Harden This Season
After spending so many years battling wear and tear, it isn't surprising to see some of the Nets' All-Stars succumbing to injuries this season. Out of the 72 games Brooklyn has played this year, Durant suited up for 35 of those contests while Harden was present for 36.
Of Brooklyn's Big Three, it's Irving who has played the most games this season. Uncle Drew played and started in all of his 54 appearances, averaging 34.9 minutes per game.
What this stat tells collectors is that Irving is the most reliable star in Brooklyn's lineup. This makes him a more dependable player to invest in, as compared to Durant and Harden.
Irving Is Consistently Playing Well For The Nets
Playing with Durant and Harden, two of the most talented offensive players in the league, has certainly kept Irving below the radar. While some collectors consider Uncle Drew the least in this trio, his on-court performance tells otherwise.
During the regular season, Irving averaged 26.9 points on 50% shooting efficiency from the field, 40% from downtown, and 92% from the free throw line, making him part of the 50 40 90 club. He also contributed six dimes, 4.8 boards, and 1.4 steals per game to Brooklyn's second-place finish in the East.
How many examples do you need of @KyrieIrving's sharp shooting? 50? 40? 90? pic.twitter.com/qZvOqvUndC

— Brooklyn Nets (@BrooklynNets) May 16, 2021
Irving's production in those 54 games has translated well into his fifth playoff appearance. In five games against the Boston Celtics in the first round and two facing the Milwaukee Bucks, the All-Star is posting 24.4 points, six rebounds, and four assists. Irving is also shooting 48% from two and 38% from deep on 7.9 attempts per game.
No one was more hype for this @KyrieIrving moment than his dad 🎥 pic.twitter.com/PME3oFpXjo

— Brooklyn Nets (@BrooklynNets) June 8, 2021
Irving's ability to generate offense by himself or create plays for his teammates is crucial for a Nets squad pushing to make the Finals. With his steady presence in the backcourt, Brooklyn fans and card enthusiasts will count on Uncle Drew more than ever to help them advance in the postseason.
The State of Kyrie Irving Cards In The Market
Like the overall state of the card market in recent weeks, Irving's value has been going down. In the middle of April, his PSA 10 base Prizm rookie card was priced at $1,375.A few weeks later, that figure went down to $960. This week, it dropped further to $852.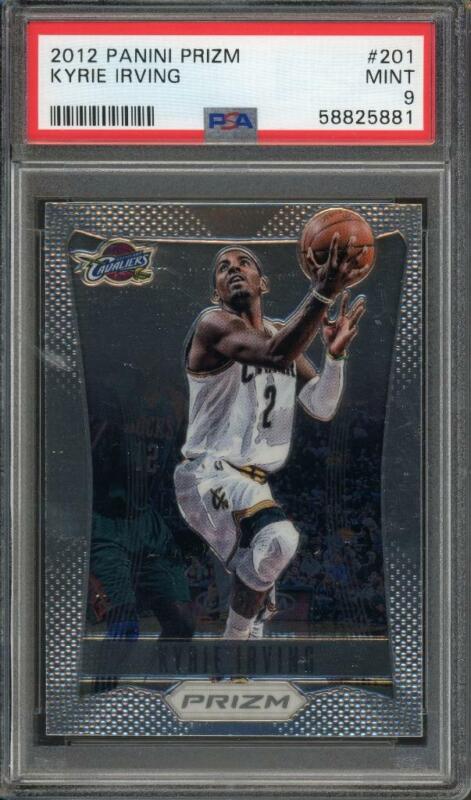 While the steady decline of Irving's card value is evident, this can be seen as a great opportunity to get more of his stock. Keep in mind that he is an NBA champion, multiple-time All-Star, and playing for a team that can go the distance this postseason.
All it takes is one insane game from Irving sometime in the playoffs or the Brooklyn Nets winning the championship. If these things occur, his value will jump up at the hype generated by these possible scenarios. With his prices more affordable than ever, now is the ideal time to hoard on those Kyrie Irving rookie cards in the market.