For the longest time, Zach LaVine has lived with the reputation of "just" being an amazing dunker and good scorer. Sure, he has been a constant source of quality offense for the Minnesota Timberwolves and the Chicago Bulls over the years. But that's just the thing. Lavine's scoring prowess has never amounted to anything more than just empty stats and a losing record throughout his career.
This season, LaVine has finally unleashed himself, much to the surprise of everyone outside of Chicago (and maybe some inside too). And as he's carrying the Bulls on his shoulders, the two-time Slam Dunk champion is also enjoying a surge in popularity and demand in the card market. We take a look below at LaVine's incredible breakout season and how it impacts his card value.
Zach LaVine's ascension to stardom
At first glance, you'll find it hard to believe Zach LaVine has been in the league for seven years now. Drafted in 2014 by the Timberwolves with the 13th pick, LaVine would captivate the world by winning the Slam Dunk competition that year against Aaron Gordon. He would emerge victorious against Gordon the following year.
While LaVine's popularity surged because of his Slam Dunk titles, his career would go around in circles in Minnesota. After spending the first three years of his career with the Timberwolves, LaVine, along with Kris Dunn and a first-round pick, were traded to the Bulls for a package headlined by Jimmy Butler.
Since then, LaVine has shouldered the Bulls' offense over the past few years. This season, though, has been a pleasant surprise because of a massive leap he's taking. The veteran is currently averaging 28.5 points per game while shooting 58% from the field, 43% from beyond the arc, and 85% from the charity stripe. He's also getting career-highs in assists (5) and rebounds (5.3) in the 33 games LaVine has played this season.
Zach LaVine drops 35 PTS on 14-21 shooting the day after being named an #NBAAllStar for the 1st time!@ZachLaVine x @chicagobulls pic.twitter.com/JlKEr8weO3

— NBA (@NBA) February 25, 2021
LaVine's newfound dominance has placed everyone on notice, especially with him being named an All-Star for the first time in his career. These recent developments have only taken him to a new level. They also caused the guard's stock to go higher in the card market.
The state of Zach LaVine cards in the market
LaVine's 2014 Prizm, which is considered his definitive rookie card, has been on the rise recently. Before the season started, PSA 10 graded copies of this card were being sold at an average of $330. That price has almost doubled at the end of February to $599, with some auctions even reaching $750. This represents a steady growth for LaVine's stock over the span of two months.
It isn't just LaVine's Prizm card that's getting a boost. His other notable rookie cards in the market are also going up too. The most notable of these cards is a BGS 9.5 2014 National Treasures Rookie Patch Auto /99, which reached $14,208 after 35 bids on eBay. Coming in at second is a BGS 9.5 2014 Select Courtside Gold rookie card /10 at $10,000, which is no slouch either in the price department.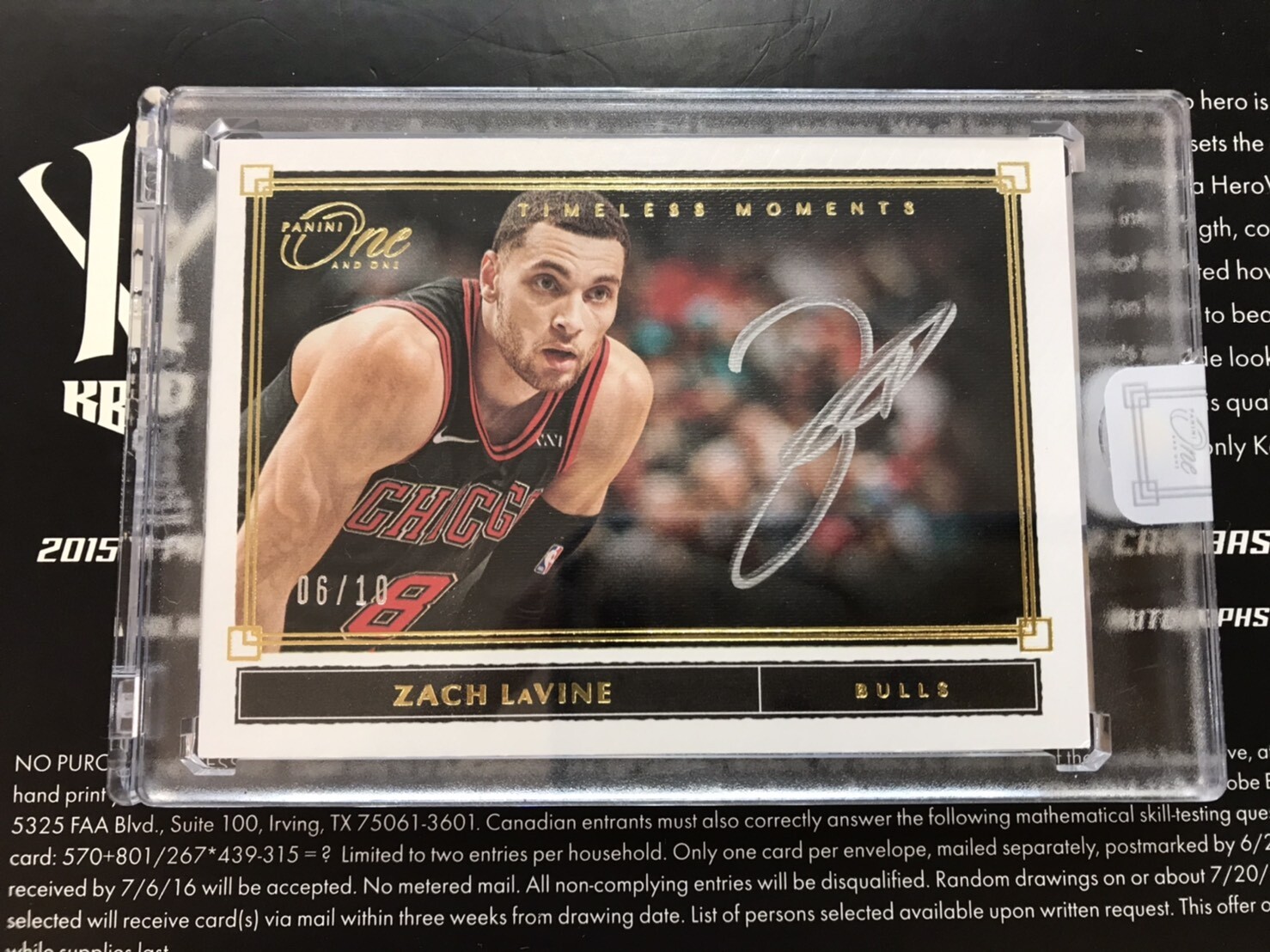 It's not only LaVine's rookie cards that are enjoying the spotlight right now. His 2019-20 Panini One and One Timeless Moments /10 autographed card is getting a share of the pie as well. Four cards in this set of 10 have been sold off late last month at $1,799 each. With how LaVine is trending up right now, it's expected that these cards will shortly follow soon.
What should you do with your Zach LaVine cards?
Those who have invested in Zach LaVine and in his cards have finally been rewarded after sticking with him for so long. This surge in popularity and demand has increased the All-Star's value across the card market. As such, this can be considered as the perfect time to cash out on the Bulls' face of the franchise. Here's why.
The Chicago Bulls, for the foreseeable future, will remain a fringe playoff team. If the team won't be able to surround LaVine with another All-Star and better pieces, they won't stand a chance against the very best teams in the East and stay stuck in the middle. Unless the Bulls get better or LaVine gets traded to a serious contender, his value will remain stagnant. That's why now is the best time to sell Zach LaVine cards while there is still demand for them in the market.
Of course, this piece of advice won't apply if you're a diehard Zach LaVine fan or holding out hope things turn around in Chicago. In any case, it's best to keep a close eye on his on-court performance and market value. In doing so, you will be making wise decisions on how to handle your LaVine stock moving forward.