It has been an eternity since Klay Thompson last played in an NBA game. In the two seasons since that time, LeBron James and Giannis Antetokounmpo have won the championship while almost every team has drastically restructured their roster. With the Splash Brother about to return soon, the Golden State Warriors have a better chance of making a deep playoff run.
Before that happens, it's best to hoard more of Klay Thompson cards in the market right now. Shown below are five must-nab cards of the Splash Brother before he comes back soon.
2012 Select Rookie Silver Auto
When Panini first released their Select brand, Klay Thompson was in the midst of his first year in the NBA. As it turns out, both Thompson and the card product itself became crowd-favorites amongst basketball fans and hobbyists.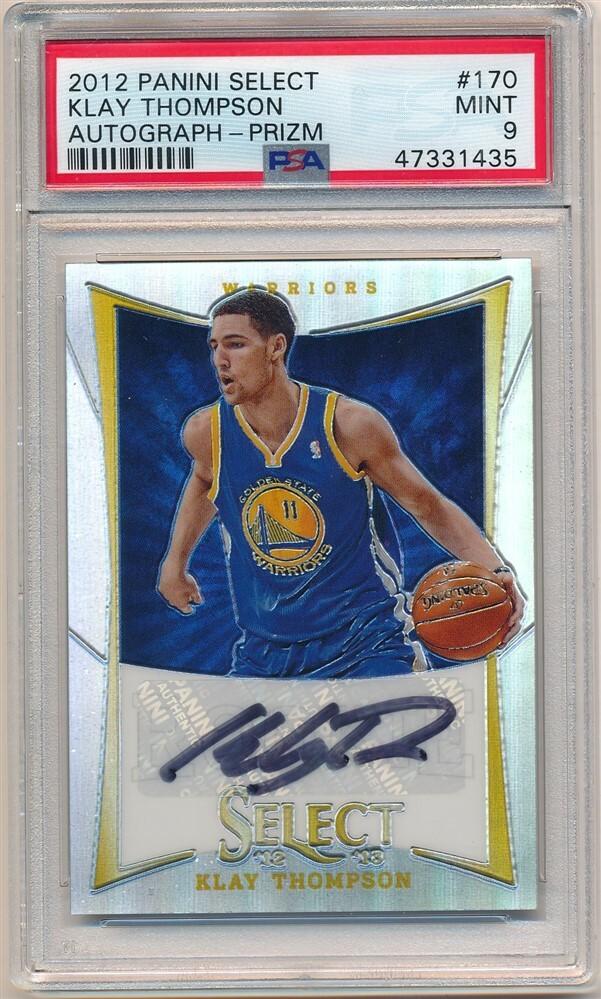 It's no wonder why Thompson's 2012 Select Silver Rookie Auto clearly gives life to that exciting time. The card's classic look and limited population to 149 copies make it a must-have for fans of the All-Star shooting guard. While a PSA 9 slab of this card goes for $689, a gem-mint PSA 10 will certainly go higher as time goes by.
2012 Marquee Rookie Card
While Panini's Marquee set wasn't widely appreciated as Prizm or Select, it's still a good way to get rookie cards at a fraction of a cost. And with someone like Klay Thompson included, there's bound to be some collectors looking for this product out in the wild.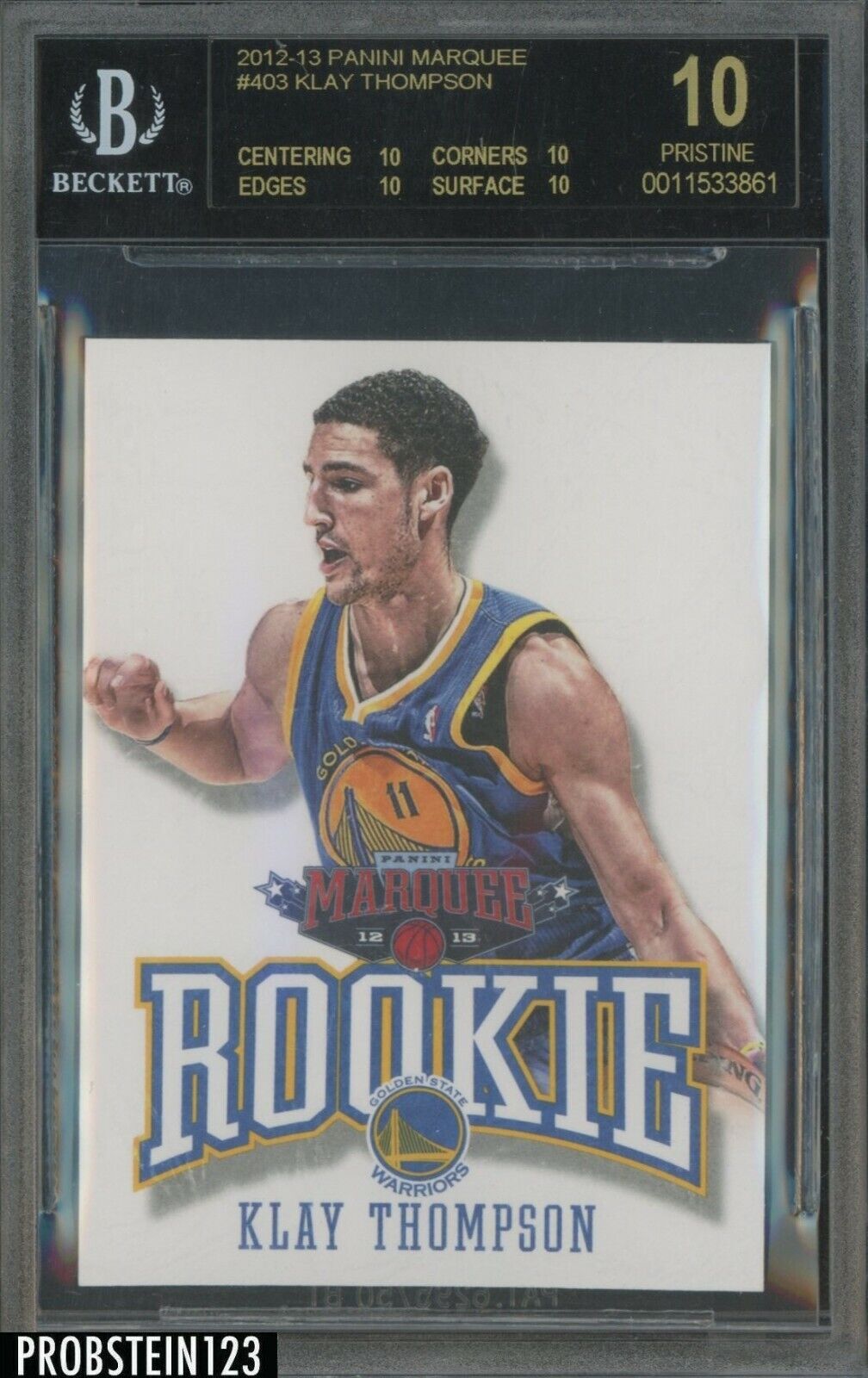 This is the reason why it's hard to find Thompson's 2012 Marquee rookie card in the market right now. The card's clean design features the shooting guard front and center with a rookie label down below. While it works as a raw card, a graded one is even better. A BGS 10 Black Label slab of it recently notched $1,044 on eBay last month.
2015 Preferred NBA Finals Patch Booklet
The 2015 NBA Finals featured a James-led Cleveland Cavaliers going against an upstart Golden State Warriors squad with Stephen Curry and Klay Thompson at the backcourt. In Game 2 of that series, the latter exploded for 34 points, five rebounds, and two steals. Thompson and the Dubs would eventually win in six games and the championship itself.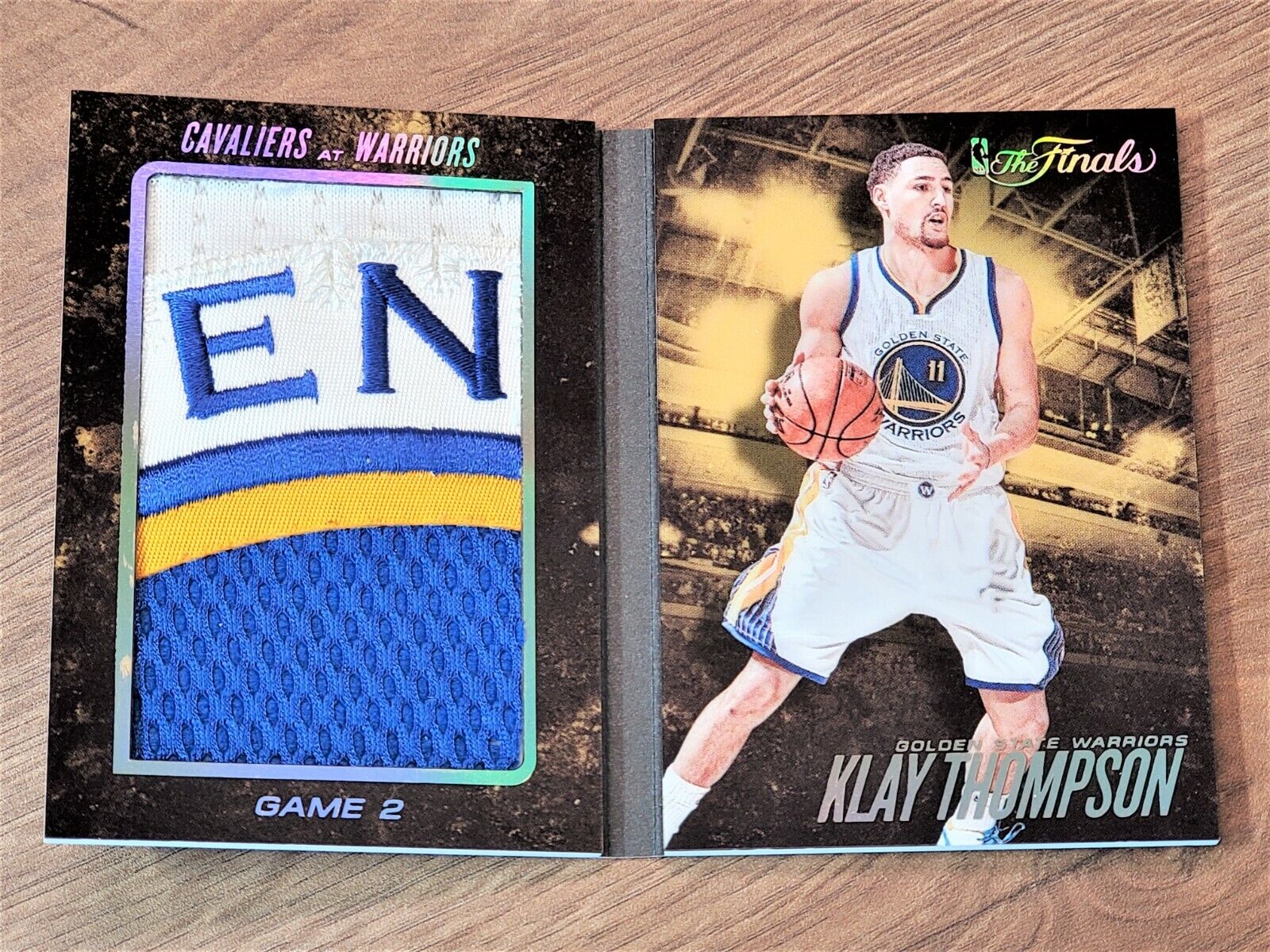 Panini's 2015 Preferred NBA Finals Patch card of Thompson clearly captures the excitement of that moment for hobbyists. And with 23 copies ever made, collectors can be sure of the rarity of this wicked pull. A raw copy recently sold for $1,399, which all things considered, is a steal for avid Klay Thompson card collectors.
2012 Prizm Silver Rookie Card
Although Select is loved by most collectors, Prizm still remains the undisputed king when it comes to chrome-based basketball cards. That's why first-edition cards of this product garner a lot of attention and demand in the market. Among the players chased the most by hobbyists is no other than Thompson himself.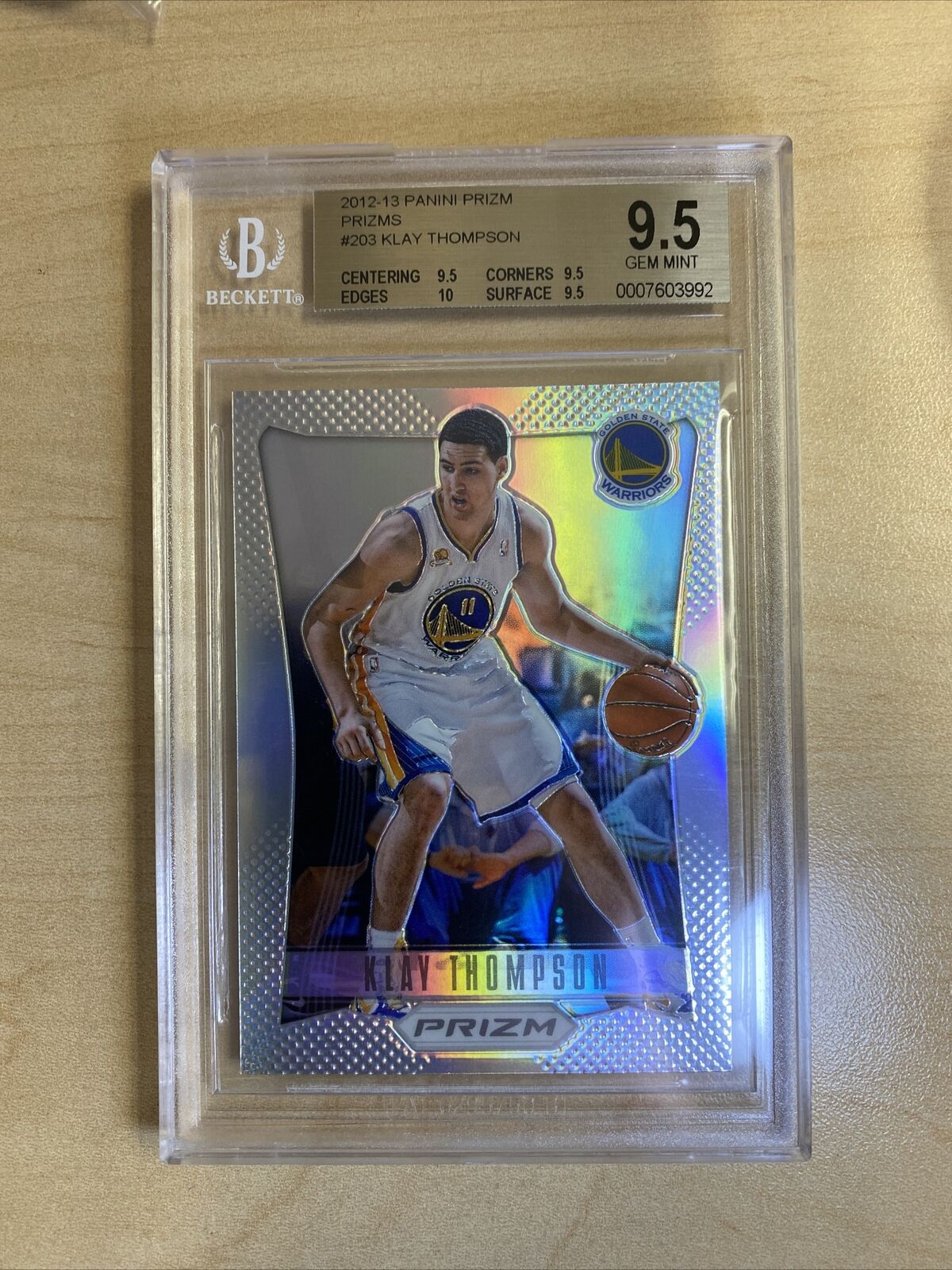 The card's iconic look goes well with a young Thompson in its center, especially if it's a Silver parallel. Right now, a BGS 9.5 gem-mint copy of this wicked card goes for $5,000 right now.
2012 National Treasures Rookie Patch Auto
Those with money to burn would certainly skip Prizm and Select. Instead, they would go straight for high-end products, such as Panini's National Treasures. Of course, for Klay Thompson collectors, his 2012 Rookie Patch Auto from the said set is the absolute must-have.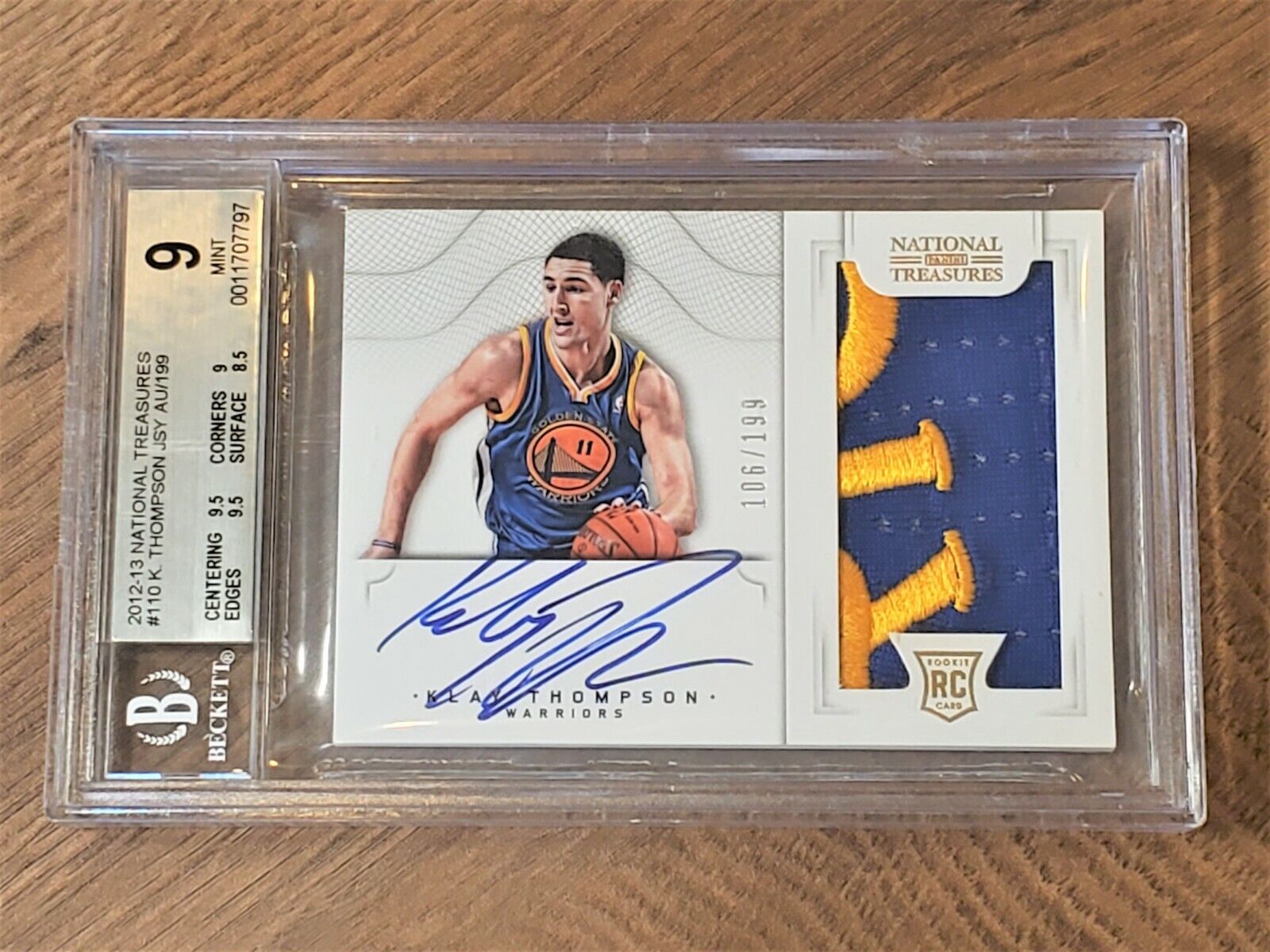 This rookie card features Thompson's first year in the league, a massive patch, an on-card autograph, and a limited print run of only 199 copies. With all of those details, there's nothing more collectors would want for in a Klay Thompson card. As of now, a BGS 9's running value is already at $8,100 on eBay.
With the All-Star poised to come back soon, the Warriors can make a run towards a good spot in the postseason, and potentially, the NBA championship. If Thompson is even near to his form a few years ago, his stock will really jump at the get-go. Better grab his cards right now while everyone else is looking the other way.