It has been pretty hard to root for the Minnesota Timberwolves this season. The Houston Rockets have lost 16 in a row, but it's the Timberwolves with the worst record in the NBA at 9-30. The roster has been ransacked by injuries and health protocol issues for the better part of this year, not to mention Malik Beasley's suspension and firing Ryan Saunders as the team's head coach last month. Needless to say, this season has been a train wreck for the Timberwolves and their fan base.
While the negatives far outweigh the positives, there is still some ray of hope for Minnesota. The top pick of the 2020 NBA Draft, Anthony Edwards, has been balling like crazy since the end of February. In the last seven games, the 6-foot-4 rookie is averaging 23.8 points, including a 34-point outburst against Damian Lillard and the Portland Trail Blazers.
Let's examine Edwards' performances during Minnesota's last two games against Portland and how they have affected the rookie's card value. 
Edwards vs. Lillard
The Timberwolves and Blazers faced off for the second time this season last Saturday, with the latter getting the 125-121 win. In that contest, Edwards notched a respectable stat line of 21 points, eight rebounds, and three assists in 29 minutes. Meanwhile, Dame led his team to the victory by pouring in 25 points, five rebounds, and 10 assists in 35 minutes spent on the court. 
The following night, however, was a different story for Edwards and the Timberwolves. Right off the bat, the rookie torched the Blazers with a career-high 34 points, four rebounds, two assists, and a steal in 36 minutes. He also displayed a very efficient game by hitting 42% of his 14 attempts from downtown, 50% from the field, 100% from the free-throw line, and this sick dunk over Robert Covington:
WELCOME TO THE ANTHONY EDWARDS DUNK SHOW. (via @NBA) pic.twitter.com/GZVydqAWkV

— SLAM (@SLAMonline) March 15, 2021
On the other hand, Lillard scored 38 points to lead all Blazers scorers. The Timberwolves narrowly escaped with a 114-112 win over Portland. Edwards' career-high game against Lillard has put the entire league and card fans on high alert about his promising upside.
The Anthony Edwards rookie card market
Since Panini's latest Prizm set for this year hasn't dropped yet, we turn to Edwards' most popular offering right now: his 2020-21 Donruss Rated Rookie card.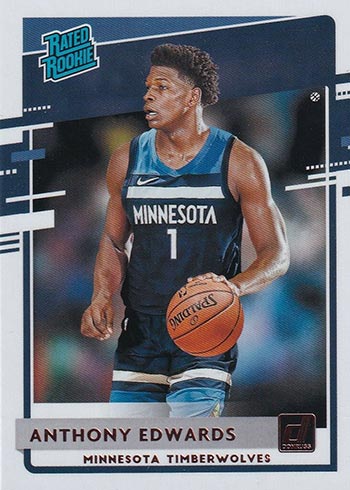 This product first came out at the start of March. As with anything new, Edwards' base rookie card from this set initially fetched a $50 price on eBay. The amount plummeted to $10 last week, the lowest ever.
A day after Edwards' monster game against the Blazers, his Donruss Rated Rookie card jumped up to $30, where it is currently hovering. This is a good sign for those who invested in the Ant-Man because it means the market is now warming up to his card value. If Edwards continues to play like this, there's a big chance demand for his cards will slowly grow.
The verdict on Anthony Edwards rookie cards
Seeing Edwards play is like watching the second coming of Dwyane Wade to the NBA. Even if LaMelo Ball has made a pretty strong case as this season's top rookie, there's still plenty of praise to go around for Ant-Man.
After balling out for the past few games, it's safe to say that Edwards has a bright future ahead of him. Those who have invested in his cards have made a safe choice because there's nowhere for this rookie to go but up. If you see a good deal on an Anthony Edwards rookie card or if you have a chance to get the upcoming Prizm set, do so because you won't be losing money on the Timberwolves' rising star.