Drake's recent $200,000 Flawless binge hunt for the elusive Triple Logoman has placed the spotlight on this wicked card. While his search has resulted differently, another Logoman has surfaced in another part of the world, China to be exact, and with the Boston Celtics' Jayson Tatum on it. With the hobby's attention being focused more on these cards, it's only fitting to celebrate a massive pull like this one.
 

View this post on Instagram

 
In a photo shared by Hobby's Best Cards on Instagram, a Jayson Tatum Logoman One of One patch auto pull was shown in all of its awe and glory. The said card was reported to have been pulled in China a few weeks ago. With Drake's Triple Logoman hunt putting more attention on the hobby and the Celtics surging through the Eastern Conference, this Tatum piece of memorabilia is certainly a keeper.
The value of this Jayson Tatum Logoman in the market
It's pretty hard to gauge an accurate price for short-printed basketball cards, specifically those that have the One of One badge on them. Since they're the only one of their kind in existence, collectors must use previous sales of Logoman cards and pair those values with how the player is performing on the court. In the case of Tatum, the Celtic's impressive performance should also be considered.
As of the moment, there are no Jayson Tatum Logoman cards sold on eBay. The closest that can be considered is his 2020-21 Panini Impeccable Silver Logoman card, which sold for $1,000 last month. As the name suggests, the card holds a 1 troy ounce of silver inside with the NBA logo embossed on it. While it's not an actual patch from a uniform, this particular card is still awesome nonetheless. But of course, a One of One pull with an actual Logoman patch is still the way to go in the hobby.
The most expensive modern Logoman card on eBay right now is one that features Ja Morant on it. The All-Star point guard's 2019-20 National Treasures Rookie Logoman patch card sold earlier this year for $30,107 on the said e-commerce platform, which is a pretty hefty price tag. While it's an authentic rookie Logoman card, it could have gotten a much higher value if Panini made it into a true One of One.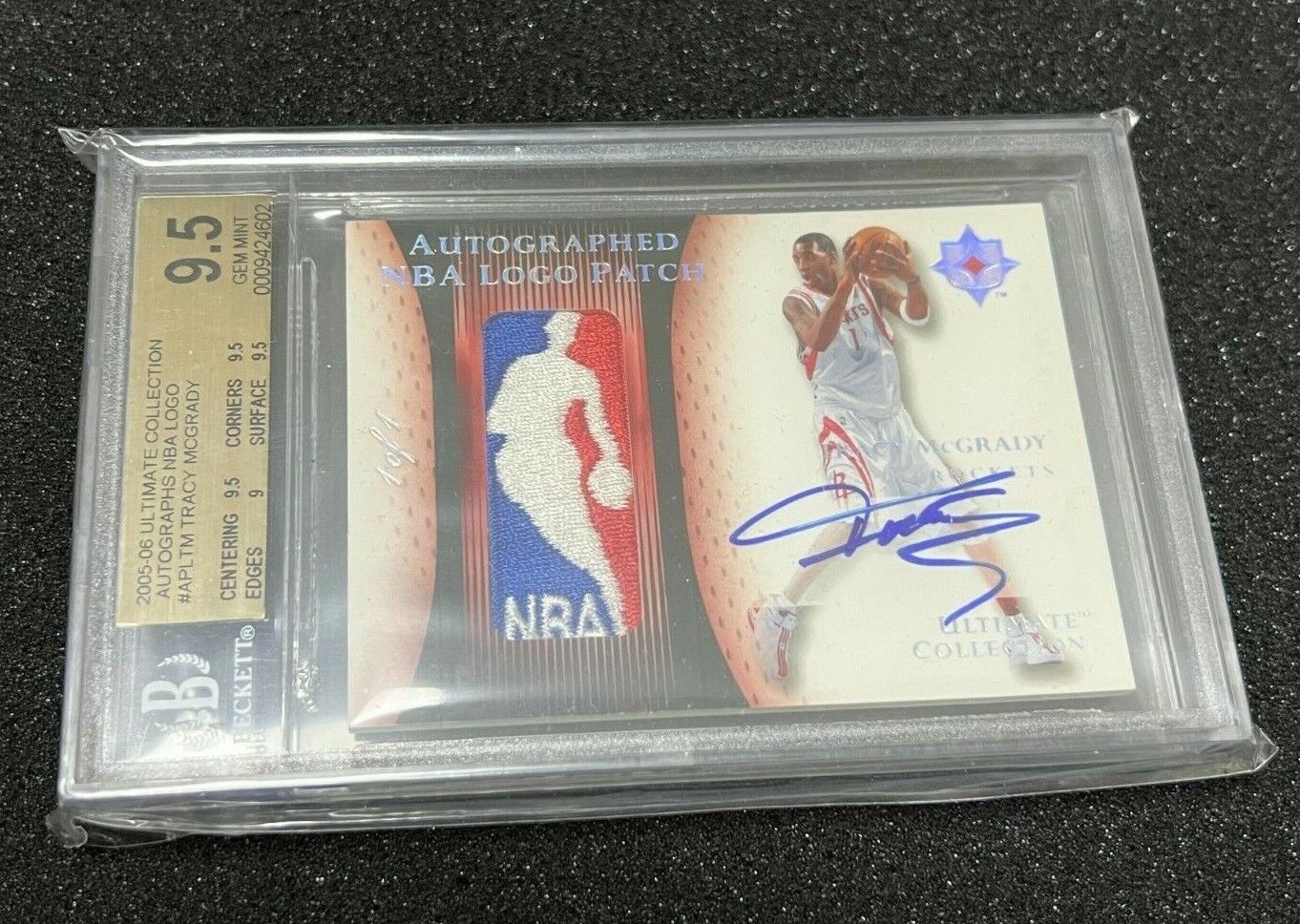 Another sale of Tracy McGrady's 2005-06 Upper Deck Ultimate Collection Logoman patch auto can also be considered when gauging Tatum's pull. The said card, which was encased inside a BGS 9.5 slab, is a true One of One. With these details in mind, and a player of McGrady's caliber front and center, it's no wonder the said card sold for $50,100 after 86 bids on eBay.
It remains to be seen what this Jayson Tatum card will go for once it hits the market. It's safe to say it can conservatively break the $5,000-mark and even get a higher price if it's encased inside a gem-mint slab. Furthermore, the said Logoman card can even exceed expectations if the Celtics go far in the postseason with Tatum leading the way.
The Celtics' impact on Jayson Tatum's card value
Earlier this season, the Celtics looked more like pretenders than actual contenders. But after getting it together since the start of this year, Boston has surprised everyone by reaching the fourth spot in the Eastern Conference.
As it stands, the Celtics are the first in the NBA when it comes to defense by only allowing 106.2 points per 100 possessions. While their 12th place offense (112.7 per 100 possessions) can use some improvement, it can't be denied that Tatum's role on that end of the floor has been very important for his team.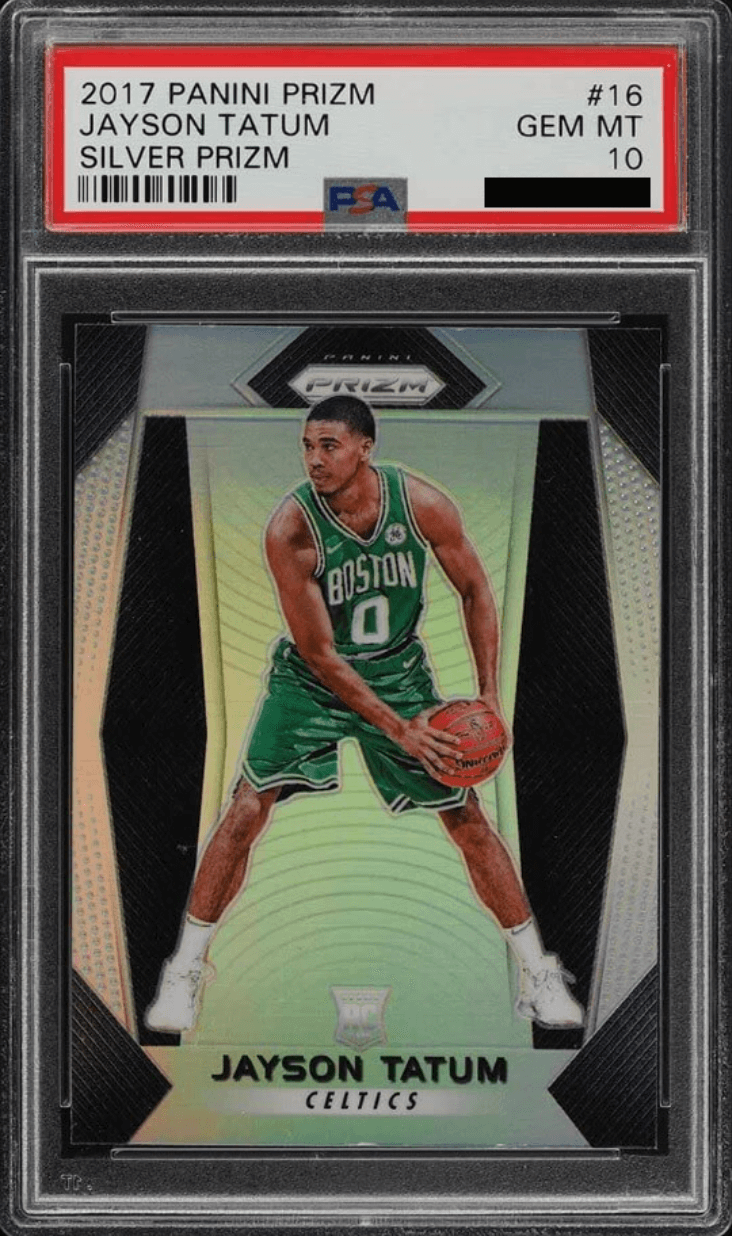 In the 68 games Tatum has played this season, the All-Star forward is averaging 26.9 points on 44% shooting from the field, 34% from deep, and 85% from the free throw line, while making 8.2 rebounds and 4.3 assists. With this kind of production, it's safe to say that Tatum's card price is a good one in the market. In fact, a recent sale of his PSA 10 2017 Prizm Silver rookie card was valued at $1,176 on eBay.
As the postseason approaches, more and more eyes will be on Tatum and the Celtics. In turn, this will also potentially add more fire to his latest Flawless Logoman card once it hits the market. In any case, the All-Star's stock is looking good at this point in time.