Sacramento Kings center DeMarcus Cousins is entering his seventh year in the league, six of those seven years have been filled with trade rumors due to his volatile temperament and the organization's lack of stability for the past decade.
This time, though, it looks as if Cousins might be on the move once and for all, as there's heavy speculation in front offices around the league.
"I'd say they have three months, tops," one Western Conference general manager told Sean Deveney of the Sporting News, requesting anonymity because he is not allowed to speak about other teams' players. "Probably more like a month, or month-and-a-half, because the closer they get to the (February trade) deadline, the less they're going to get back. If you're trying to trade him the week of the deadline, it's going to be tougher."
The Kings are not going to throw the towel this early in the season, especially after just getting point guard Darren Collison back from his eight-game suspension – but the more time that elapses, the less likely it will be to get assets back for the team.
Sacramento has five straight home games (all against the league's upper echelon) beginning Wednesday and running through Thanksgiving. If they fail to get results during that stretch, league executives expect changes to come.
Cousins has one year remaining on his contract after this season, worth $17 million this year and $18 million the next. It's a great deal for the one of the best offensive players in the league, a center with robust numbers of 26.6 points, 8.6 rebounds, and 2.9 assists per game who is only 26 years old. Teams would have their mouths water for talent like that, which is a virtual plug-and-play in almost any offense.
But in Boogie's case, a team would have to be willing to take in the headache that will be his fines, technical fouls and inflammatory reactions that could spark controversy within the organization. Cousins is a brilliant talent, but one mired with a temper that can fly off the handle.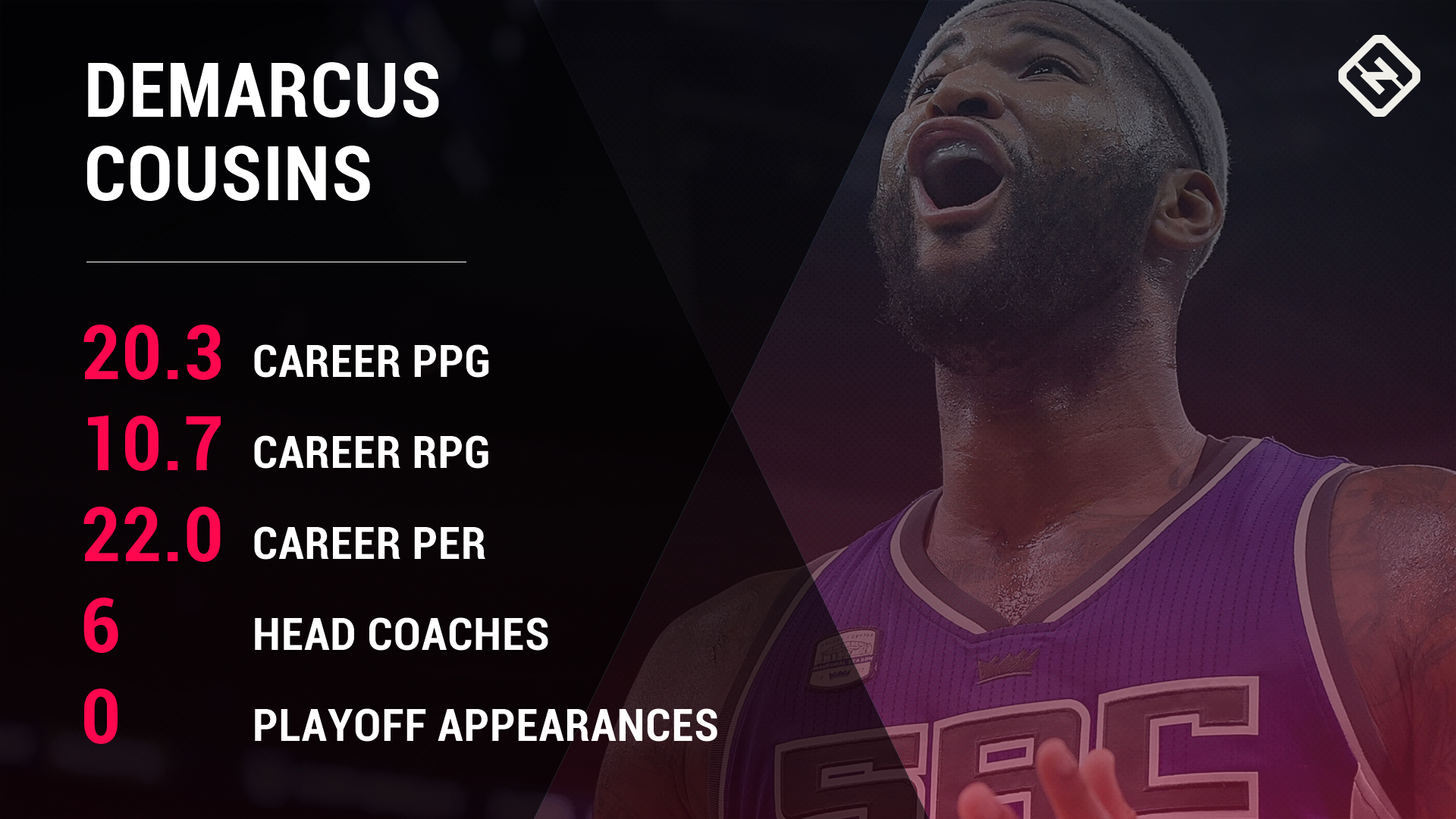 Last Thursday on TNT's Inside the NBA, Hall of Fame center Shaquille O'Neal suggested the All-Star center could soon be dealt mainly due to his lack of leadership in Sacramento.
There have been two main issues which have kept the franchise from actually moving the big man thus far.
"You have one owner in Sacramento who does not want to give him up," an Eastern Conference GM told Deveney. "And you have 29 other owners who don't want to overpay because they are scared the guy is going to be a headache and is going to hurt the organization."

"Owners are thinking about how much they've got to pay the coaches DeMarcus might get fired."

"It is not going to happen unless the Kings cave a little," a West GM said. "No one is going to give up too much for someone who might ruin your team's chemistry this year, then ruin it next year when he is playing for free-agent money. If they don't see that, then I don't think it changes and I don't think he goes anywhere. I don't know that is good for them or for him, either. But that's the reality."