Taylor Heinicke rookie cards explode after heroic win for WFT
More often than not, it's always the proven stars who get to win the game for their teams. When it comes down to the bottom line, football fans can place their bets on Tom Brady or Patrick Mahomes II to get that victory. But in the case of the Washington Football Team, it happens to be Taylor Heinicke. As a result, his cards are exploding after his most recent performance.
After an action-packed battle against the New York Giants last week, the hype surrounding WFT's quarterback is in full swing. We take a look below at Heinicke's performance and how it boosted his stock in the card market.
The Reason Why Taylor Heinicke Rookie Cards Are Exploding
Before the season started, there wasn't really anything to look forward to when it came to Heinicke. Of course, that quickly changed when he found himself playing the starting QB role against the Giants last Thursday.
Taylor Heinicke: 300+ yards in each of his last two starts

🔺2020 NFC Wild Card vs. TB: 346
🔺Week 2 vs. Giants: 336 pic.twitter.com/USGV4HEc72

— PFF (@PFF) September 17, 2021
While things got bleak for the WFT sometime during the contest, Heinicke came out in force and led a rally against New York. The quarterback fueled a comeback by leading a two-minute drive that saw Dustin Hopkins going for a 43-yard field goal just as time expired.
Washington came out with a 30-29 victory against New York in a thrilling match between two NFC East teams.  Thanks to this win, the WFT now possesses a 1-1 record with Heinicke starting as quarterback in place of Ryan Fitzpatrick, who is expected to miss six to eight weeks due to a right hip subluxation.
Heinicke ended the game by completing 34 of 46 passes for 336 yards. He also had two touchdowns, one interception, and consistently made throws down the field, including those thrown into tight spaces. Football fans will see Heinicke and WFT go up against the Buffalo Bills this week.
What a journey it's been for Taylor Heinicke 🤯

‣ Unranked in HS
‣ Undrafted in 2015
‣ Cut/waived four times
‣ Backup in the XFL
‣ Signed to Washington's practice squad in 2020
‣ Made first NFL start last season

On Thursday, he got his first NFL win as a starter 👏 pic.twitter.com/Bgo7leN2At

— SportsCenter (@SportsCenter) September 18, 2021
Although the complete outlook on Heinicke this season can't be measured within the span of two games, his upside can be clearly seen in those contests. After entering the NFL as an undrafted rookie for the Minnesota Vikings in 2015, the 28-year old is finally getting a chance to prove himself on the field.
It remains to be seen whether Washington keeps Heinicke in the starting QB role or returns to Fitzpatrick once he recovers from his injury. One thing is for sure, though, interest in Talor Heinicke cards is trending up right now in the market.
The Current State Of Taylor Heinicke Rookie Cards
Thanks to his late-game heroics against the Giants, Heinicke's stock is being devoured by football card enthusiasts. Just last week, his raw 2015 Prizm Silver rookie card was valued at $50. After Washington's win, the price has gone up to $150 on eBay.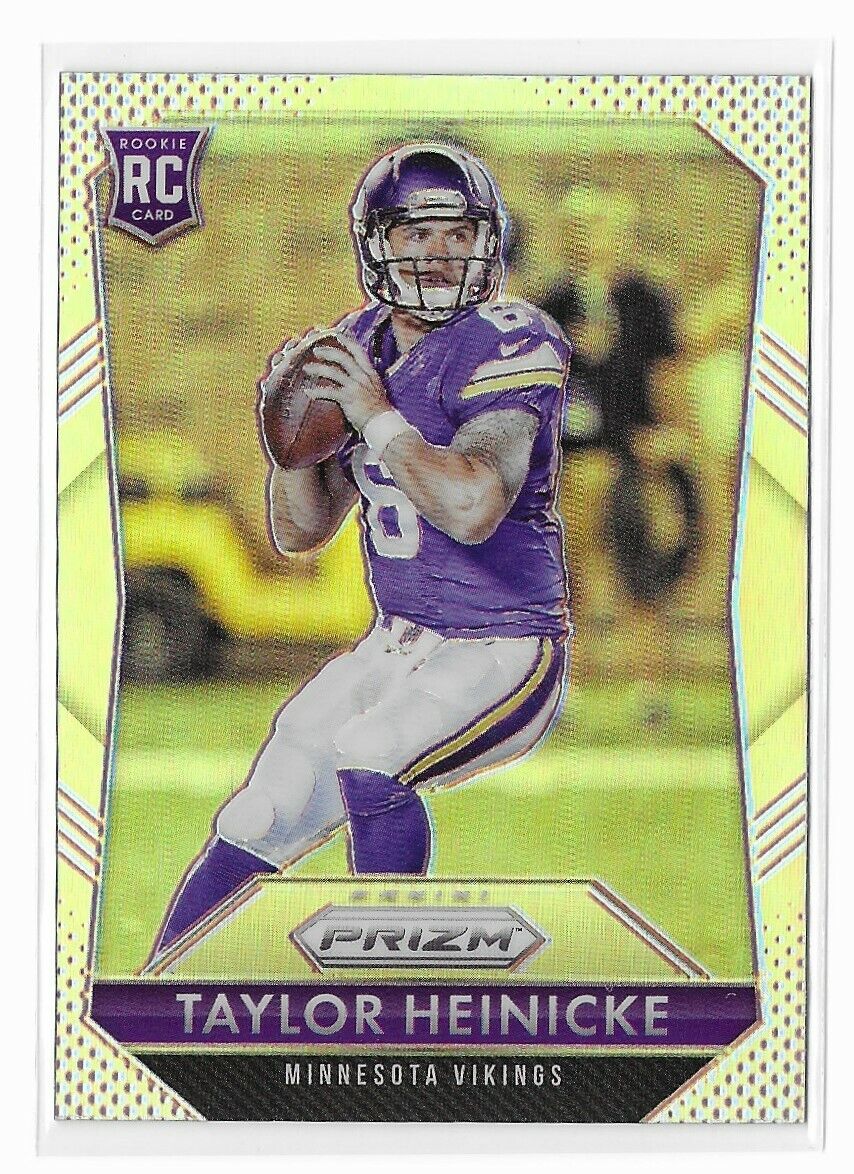 Even his base Prizm rookie card is getting in on the action. At the end of July, it was valued at $9. Now, it's resting at $25 after peaking at $36.
Based on the prices above, the market has reacted in favor of Heinicke's stock. If he manages to remain consistent with his performance, collectors can also expect his prices to steadily improve. Of course, nothing is set in stone when it comes to the NFL. What's best is to scoop up those Taylor Heinicke rookie cards at the best price possible just in case his leap this season is the real thing.