If you haven't seen Shaquille O'Neal play, you haven't witnessed what true on-court dominance is like. The 7'1" center entered the league way back in 1992 as the Orlando Magic's number one draft pick after an illustrious stint playing for the Louisiana State University.
From there, O'Neal would enjoy a 19-year stretch playing for numerous teams in the NBA, most notably the Los Angeles Lakers. The big man would also go on to garner multiple All-Star appearances, titles, and Finals MVP awards, among others. 
But even with all of these accolades and accomplishments, O'Neal's stock in the card market has been mostly quiet when compared with several greats, like Michael Jordan and Kobe Bryant. This isn't the case anymore because during the past few weeks, his card prices have soared. We take a look down below why Shaquille O'Neal rookie cards are spiking up the way they are right now.
One of the NBA's most dominant players
The whole world had never seen someone like O'Neal when he entered the NBA during the 1992-93 season. Right from the get-go, the center would average 23.4 points, 13.9 rebounds, and 3.5 blocks per game during his rookie season. O'Neal would go on to lead the Magic to consecutive playoff runs, including a Finals matchup against the Houston Rockets in 1995.
While O'Neal was posting league-leading stats with Orlando, his true potential would never be realized during his stint there. It was only after signing with the Lakers in 1996 did the center took a massive leap in his career.
Entering Mar. 6, 2000, Shaquille O'Neal's career-high was 53 PTS, which came for Orlando vs. MIN on Apr. 20, 1994.

O'Neal (22-31 FG, 9-13 FT) exited that game with 9:13 left in the 4th quarter.

Catch Shaq at his dominant best now on #NBATogetherLive https://t.co/qm8TP5csmF

— NBA History (@NBAHistory) March 30, 2020
O'Neal would go on to play seven seasons for the Purple and Gold, where he won three rings in Los Angeles with Bryant and Phil Jackson. He would also post insane numbers, especially during the 1999-2000 season, when Shaq led the league in scoring and field goal percentage. At this point, there was no better player down in the post than O'Neal himself.
After losing to the Detroit Pistons and feuding with Bryant and the Lakers management, O'Neal was traded to the Miami Heat for a package headlined by Lamar Odom. His pairing with Dwayne Wade, a young star rising through the ranks back then, would produce the franchise's first championship when they defeated Dirk Nowitzki and the Dallas Mavericks in 2006
Shaq's career, from then on, would dwindle in the following years, He would play for several teams, like the Cleveland Cavaliers, Phoenix Suns, and Boston Celtics, before finally retiring in 2011. In the end, O'Neal amassed 28,596 points, 13,099 rebounds, and 2,732 blocks during his 19-year career in the NBA.
How nostalgia plays a role in O'Neal's surging card stock
The recent card explosion is not only exclusive to today's hottest players and all-time greats. It's now expanding to personalities that have carved their own place in NBA history. Case in point – Shaquille O'Neal.
This sense of nostalgia has led fans to discover certain players and the accomplishments they've had while in the NBA. O'Neal is clearly benefitting from this trend as more and more people are searching for his cards.
It can also be said that those who witnessed Shaq's entry into the league or his championship runs with the Lakers are now capable to purchase his rookie cards. The influence of this older market is now slowly trickling down to a younger fanbase, who are also discovering O'Neal's impressive career. Whatever the case may be, Shaq's surge in the card market cannot be denied anymore.
The state of Shaquille O'Neal rookie cards
We now take a look O'Neal's 1992 Topps rookie card and how it's doing in the market. Towards the last week of January, PSA 10 graded copies of this card normally commanded a $700 to $850 price range.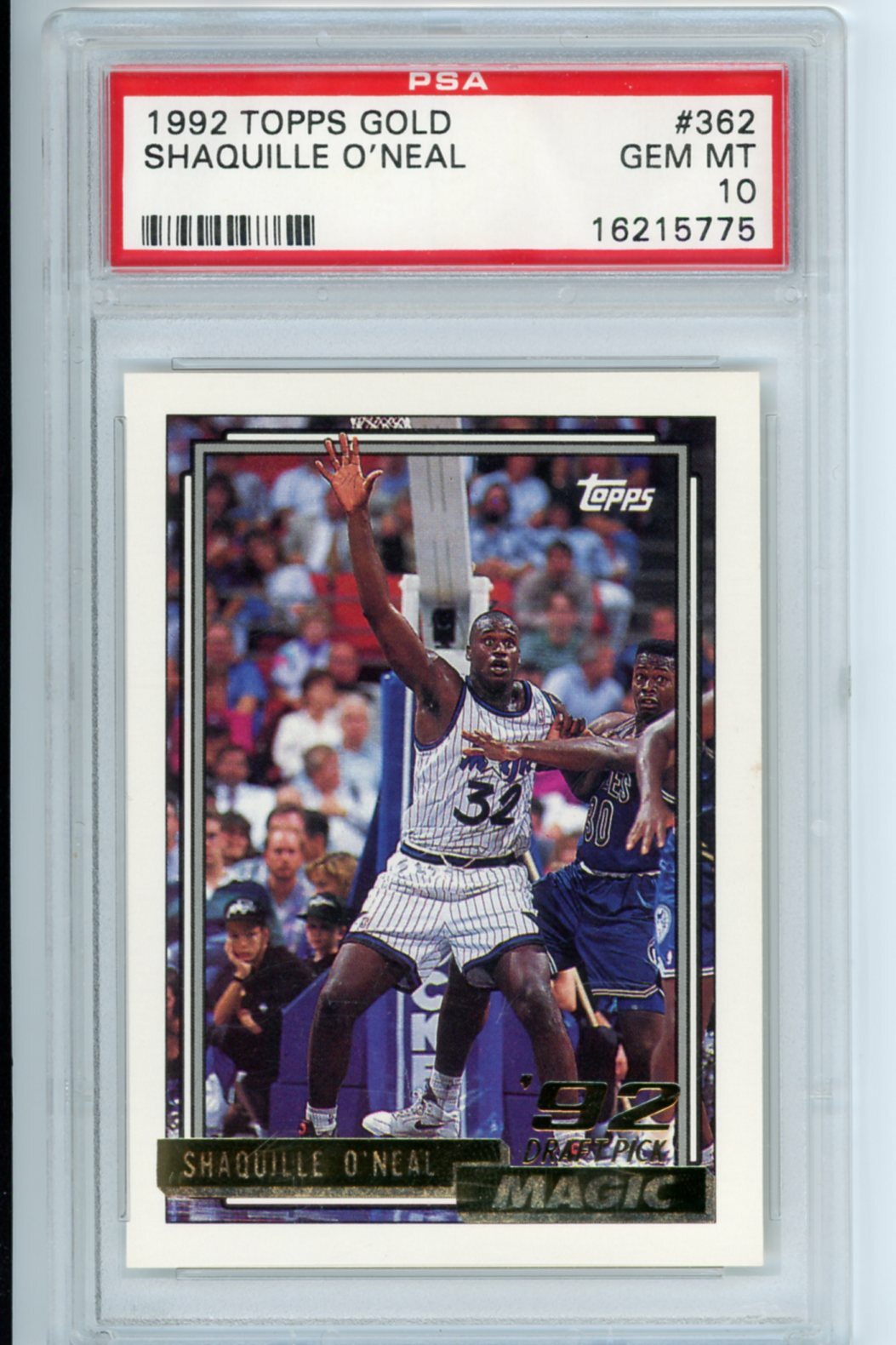 It's a different story altogether one month after. This week alone, a PSA 10 1992 Topps Shaquille O'Neal rookie card is fetching $1,275 to $1,500 on eBay. A PSA 10 gold variant of this card even reached $6,100 recently. These prices all but confirm that Shaq's card value has dramatically increased in the span of one month.
Those interested in joining in on the fun need to wait. Normally, prices for vintage cards go up during the regular season while those for modern cards are either stagnant or tumbling down. This trend will reverse after the All-Star break and during the playoffs itself. When that happens, O'Neal's stock will drop, giving folks a perfect opportunity to invest in his cards.