The NBA is in the midst of the greatest talent boom in the history of the league. There are more star players than ever, particularly in the backcourt. Because of this, many players in today's NBA are far less celebrated than they'd be had they been born ten years prior. 
This generation will be remembered as the decade that saw basketball be revolutionized by legendary ball handlers and the game breaking gravity created by their relentless attacks from a range that would have seemed unfathomable ten years prior.
Despite the glut of guard talent, there are two players who history will remember as the sparks that lit this evolutionary torch that has forged the modern NBA. Stephen Curry and James Harden. Not Damian Lillard, though. 
Lillard has deserves to have his name thrown into this conversation for quite some time. But despite a first team all-nba selection last season, he isn't viewed by the public with the same level of respect garnered by his aforementioned peers.
Maybe it's those two MVP sized shadows looming over him that have caused Lillard to become under appreciated. Or maybe it's because of the way the last two postseasons have ended for Portland. Or maybe the common NBA fan just doesn't care about Portland at all.
Regardless of the reason, none of that matters anymore. Things have changed. Now, through his play, Lillard is ensuring that you won't be able to tell the history of the NBA without his name. He won't be forgotten.
After a dramatic 15-point fourth quarter comeback, the Trailblazers finished off the Oklahoma City Thunder on Tuesday night, winning the series 4-1. This wasn't just another mundane gentleman's sweep, though. It has all the makings of a career defining series for Lillard.
This series culminated with a legendary individual performance that saw Damian Lillard drop 50 points in an elimination game that's ending will be remembered for years to come.
While this was an all-time performance from Lillard, it's the extracurriculars that went into this series that make the spoils of victory that much sweeter.
Lillard and Oklahoma City point guard Russell Westbrook aren't friends. This no secret. There has been on-court animosity between the two of them since Westbrook said this to Lillard in January:
"I've been busting your ass for years" Russell Westbrook to Damian Lillard pic.twitter.com/YCWzRh035J

— kyle (@knicks_tape99) January 23, 2019
To the surprise of no one, this newfound rivalry continued into the playoffs. Lillard and Westbrook went after each other all series, both playing like men with a point to prove.
Westbrook has been considered one of the NBA's elite point guards for quite some time but is coming off of a season that has many suggesting the former MVP's best days are behind him. Damian Lillard is coming off of a postseason series against the New Orleans Pelicans that saw the higher seeded Trailblazers lose in a sweep while Lillard was put into a torture chamber by New Orleans guard Jrue Holiday for four games. It's easy to see why emotions were high. Both players had everything to prove.
Lillard finished the series averaging 33 points, six assists, 4.4 rebounds and 2.4 steals with .46/.48/.84 shooting splits. He was dominant in every sense of the word. But these averages fail to show why his performance was so special.
Damian Lillard made his mark on this series in a way only the games best players can. His presence was felt on every play. He played with a level of poise that made it feel like he had control of the game any time he was on the court. It was the polar opposite of how he performed a year ago against the Pelicans.
New Orleans was able to dismantle Lillard from the inside out. To say they made him uncomfortable is an understatement. They trapped him anytime he would attempt to run a pick and roll, forcing Lillard to make quick reads through suffocating pressure. Lillard folded under this pressure.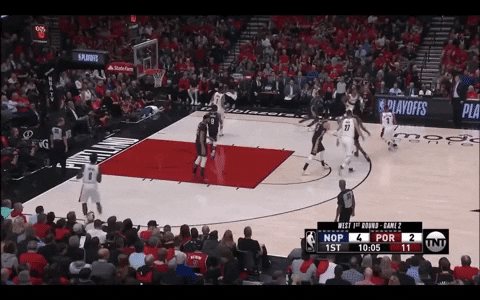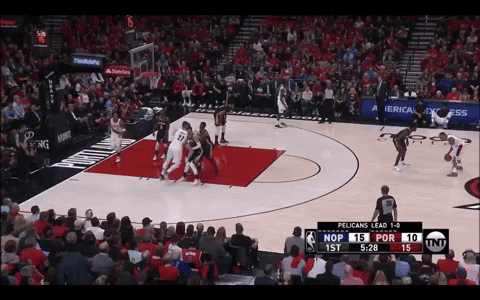 The Damian Lillard we see now was only made possible because of this embarrassment on the biggest stage. He went through the wringer and came out better for it. The Lillard we see now is a scorer and decision maker well equipped to take on all the pressure you could possibly throw at him.
His cool under pressure is on full display when you look at how he handled the daunting Oklahoma City defense in this series. He wasn't so easily trapped and stifled as he was a year ago. Lillard completely dissected the Thunder's pick and roll coverage, seemingly knowing what Steven Adams was going to do before Adams himself even knew and making the appropriate counter.
Damian Lillard would run away from the screen when he saw Adams begin to hedge hard and initiate the trap, split the two Thunder defenders right down the middle when they least expected it, and shoot over the slow footed Adams when he failed to respect Lillard's ability to launch a three at any time.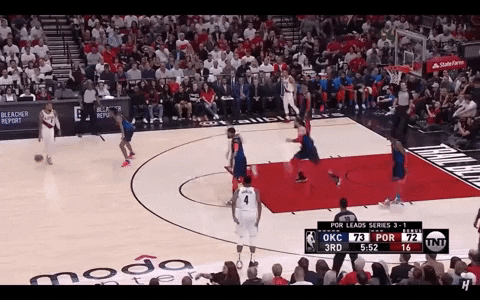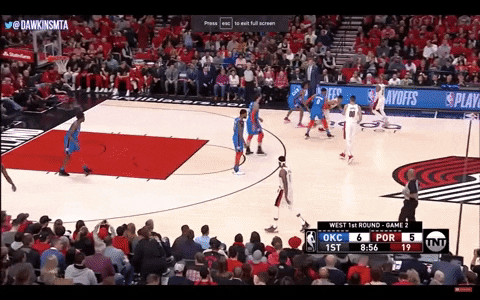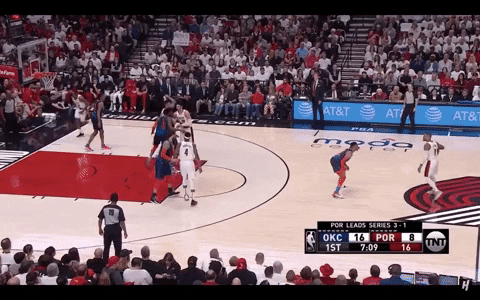 He had all the moves needed to systematically dismantle the high pressure defense with surgical precision.
The best players are able to identify their shortcomings and improve upon them. We're currently seeing Lillard undergo this necessary evolution and do just that.
In a way, this ability to adapt and overcome is almost symbolic of the rivalry between Lillard and Westbrook. The new and improved excellence of the taciturn Lillard was able to overcome the brash bravado of Westbrook, a player who has dealt with the same weaknesses and bad habits that have been holding him back for years. They are the antithesis of one another in a way that makes their clash the perfect metaphor for the duality present in the psyche of elite athletes.
Yes, it's just a first round matchup, but this victory means everything for Damian Lillard. After two straight postseasons mired in disappointment, Lillard has finally proven he belongs. He has finally proven his staunchest of supporters right. He has finally proven that he is one of the best players in the NBA and should be respected as such.
There is no one better equipped to describe this moment than Lillard himself.
"There has been a lot of talk, a lot of back and forth, and that [the game winning shot] was the last word," Lillard said in his post game press conference after game five.
Lillard got the last word against Russell Westbrook, but he also got the last word against those who doubted him and expected yet another first round exit and lackluster performance. It is left to be seen how Lillard will continue this moment as the playoffs continue. Maybe he will lose a series in a crushing fashion yet again as the postseason goes on. Or maybe he won't. Maybe this is just who Damian Lillard is now. A player who gets the last word.